I know it's been a little over a month since they opened, but now that another little person has taken residence in my home, the outside life has been severely limited. So when a morning meeting in town recently got on the schedule, my mouth started to water with the possibilities for lunch.
My first desire was to actually try Agu Ramen in Moiliili. Brah! Based on all the pictures I've seen online, that place looks legit. Seriously looked like some of the meanest ramen joints I've eaten at in Japan. Unfortunately, they are still currently only open during dinner hours (from 5pm).
The other "hot" ramen place that has been hitting the coconut wireless lately was Hokkaido Ramen Santouka, a Japanese chain with 52 locations spanning the globe in places like California, Chicago, New Jersey, Canada, Hong Kong, Taiwan, Singapore, Malaysia, Indonesia, Philippines, and Thailand, in addition to Japan where it all got started. This is where today's ramen will be.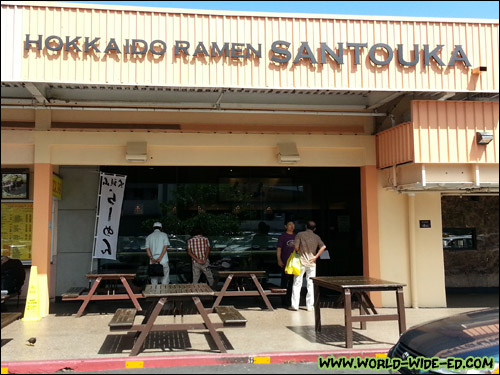 Outside Hokkaido Ramen Santouka
Located in the old Ezogiku location in the food court area right outside Don Quijote Honolulu, Santouka has a reputation (for good reason) of having a long wait. Following my mid-morning meeting, I picked up my friend Bari somewhat early in the hopes of avoiding that crowd. We got there a little before 11:30, and it was already packed (they open at 11am)! Luckily, we were only the second group on their sign in sheet, and there were a handful of groups just finishing up so our wait was only about 5-10 minutes. #BoomKanani!
We got a seat at the "bar" which had some strange saddling type chairs to sit on. I wish I took a picture of it. Not long after looking at the menu, the waitress asked if we were ready to order. Not quite ready, I hastily spurted out miso ramen. Boring, yes, but that's always a safe bet.
I was actually interested in a thicker soup base like the kotteri or paitan bases we're all used to from places like Tenkaippin or Yotteko-Ya, but according to the menu's description, it sounded like I would be ok: "Santouka's mild and creamy broth, made from pork rib and broth is deliberately simmered for two days. We maintain the cooking standards of Japan at every Santouka location worldwide."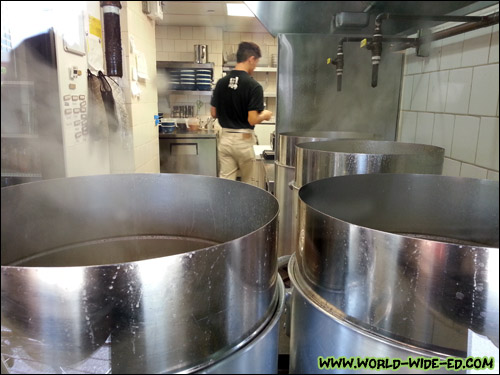 Soup bases be simmerin'
The wait for the ramen wasn't long. In less than 10 minutes, behold… a steaming bowl of miso ramen was in front of me.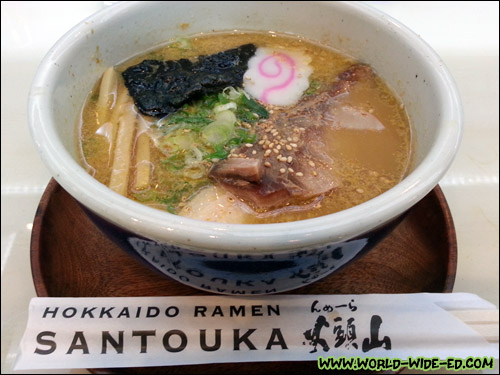 Miso Ramen – Miso flavored ramen. Pork broth seasoned with miso (fermented soy bean paste) – $9.50
The options here are pretty standard: Shio (salt), Shoyu (soy sauce), Miso and Kara Miso (spicy miso). You can apparently choose the fattiness of the soup base and the firmness of the noodle, but if you don't ask, they'll give it to you Japanese style (standard soup base with al dente/firm noodles).
You can order from three different sizes: Small, Medium and Large with a different price for each one. For the Shio, Shoyu and Miso, the Small is $8.50, the Medium is $9.50 and the Large is $10.50, while the Kara Miso is $8.99 for the Small, $9.99 for the Medium, and $10.99 for the Large. The photo above was a Medium. Bari went for the Medium Kara Miso and asked for it to be "extra spicy" as well.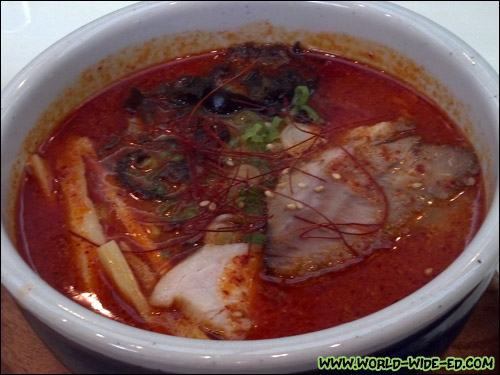 Kara Miso Ramen – Spicy hot miso flavored ramen. Pork broth seasoned with hot spices and miso (fermented soy bean paste) – $9.99 [Photo Credit: Bari Carroll]
The color is misleading because – according to Bari – it wasn't that spicy… Although the sweat pouring out of his forehead said otherwise. 8)
Overall, it was an OK experience there. Ramen was fresh and fast with the noodle firmness I wanted. Soup base wasn't quite what I wanted, but good for being miso based. Workers and clientele were mostly from Japan, which is always a good sign. Hopefully, things won't change once they send the grand opening employees back to Japan. Then again, it will probably take me a while to get back out of the house again anyway…
For more on ono kine ramen restaurants here in Hawaii, check out my Hawaii Ramen Quest series here: Part I | Part II | Part III | Part IV | Part V
Hokkaido Ramen Santouka
801 Kaheka Street (food court outside Don Quijote Honolulu)
Honolulu, HI 96814 (Street View)
(808) 941-1101
Open 11am-11pm daily
[youtube=http://www.youtube.com/watch?v=g6fspcsRH8U&w=500&h=400&rel=0] Tarp Surfing in Hawaii – VH07V Style (Click to Play!)