Call me Jiro because I always dream of sushi. And in those dreams, I typically envision a small, dark, packed-to-the-brim hole-in-the-wall with a certain "je ne sais quoi" aura. Behind the sushi bar stands a stoic, elder sushi master who earned that title of "master" by working his way up the sushi making ranks for decades. With an air of arrogance, he'll take his time with your order, giving off the impression that he's doing you a favor by serving his food.
Local sushi chef James Matsukawa takes that visual and completely flips it on its head. Barely 30, he is the energetic owner of Kona Kai Sushi, a somewhat undiscovered sushi restaurant on Coyne Street, that just celebrated its 1 year anniversary in July. And although Kona Kai does give off that appealing, hole-in-the-wall vibe, Matsukawa is anything but old and stoic.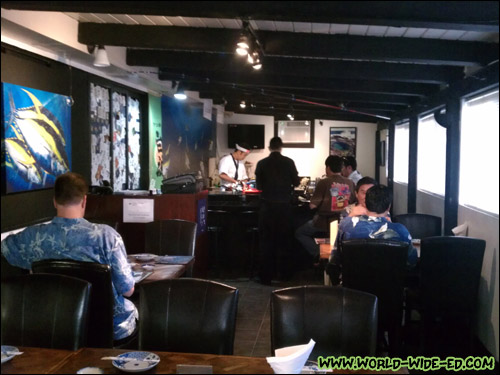 A look inside Kona Kai Sushi
Matsukawa grew up in Kealakekua on the Big Island where his love for fishing began early when, at the ripe old age of 10, he started hanging out with the old timers, regularly fishing for menpachi, akule and papio.
Years after moving to Oahu, he worked as a line cook at Kabuki Restaurant before moving behind the sushi bar under master chef Yoshio Kazama. He continued his practice at countless other Japanese restaurants like Kohnotori, Jimbo's, 808 Kapahulu, Shigezo, and Sushi Izakaya Shinn until a stint at Sushi Sasabune changed his life forever.
"It was like sushi boot camp." describes Matsukawa. "I think it was the hardest place to work, both mentally and physically. Long hours at a frantic pace. I basically lived there, but it has been the most influential experience to this day by far."
Under master chef Seiji Kumagawa's careful tutelage, Matsukawa was taught to be extremely disciplined and to respect the fish. It was not about how to do things, but why.
He then moved on to the popular izakaya Tokkuri Tei, which influenced him in an entirely different way.
"Tokkuri Tei showed me a more casual way of doing sushi. The clientele atmosphere had a lively, easy going energy typical of an izakaya (in Japan)."
After Tokkuri Tei, he felt that he was ready to open his own restaurant in the form of Umi no Sachi on 11th Ave in Kaimuki. Unfortunately, due to inexperience and poor business relationships, it closed after only three months. Matsukawa then took an 8 month hiatus, regrouped and was ready to sushi again.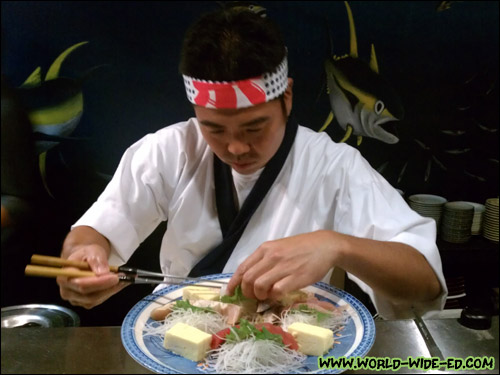 James Matsukawa
Enter Kona Kai. Named after his roots (Kona) and his love for the ocean (Kai), Kona Kai brings the best of Matsukawa's experiences and serves it to his highly targeted clientele.
"We don't advertise and we really don't want to. Sasabune taught me that word of mouth (advertising) is the most important."
On a recent trip with the boys from Lawai`a (the Fishing magazine I write for), we went omakase style and here is what we were served: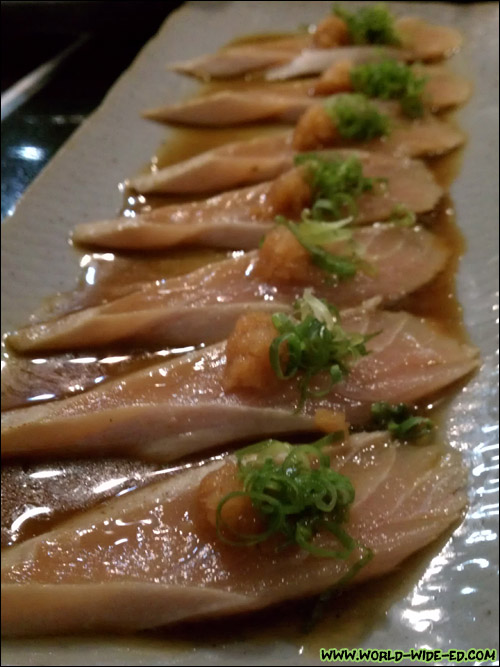 Seared Canadian Tombo (albacore tuna) with ponzu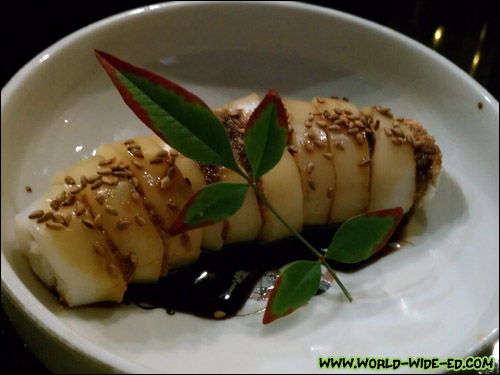 Baby Calamari stuffed with Blue Crab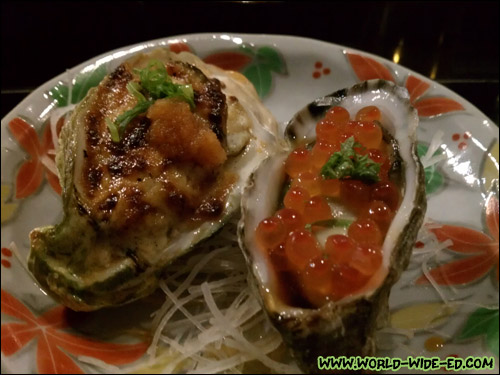 2 types of Washington Oysters: 1 baked & 1 fresh with Alaskan King Salmon Caviar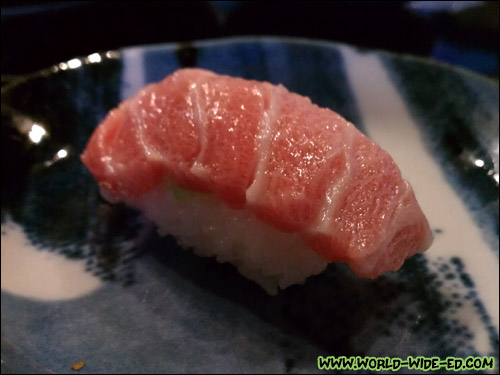 Spanish Bluefin Sushi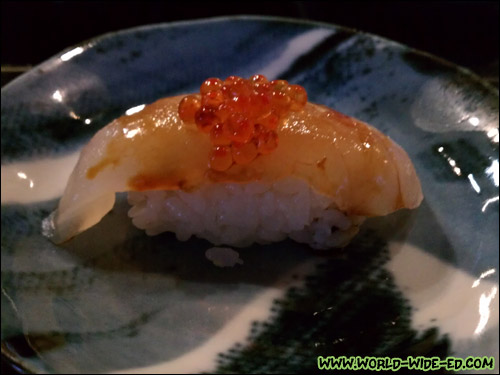 Red Snapper from Southern Japan (Kyushu) with Canadian Rainbow Trout Caviar with reduced shoyu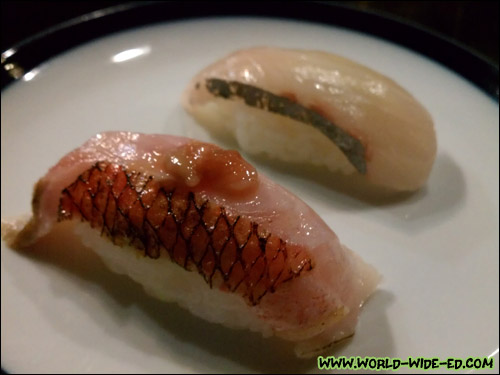 Shimaaji from Shikoku (background) & Golden Eye Snapper with Shiokara on top (foreground)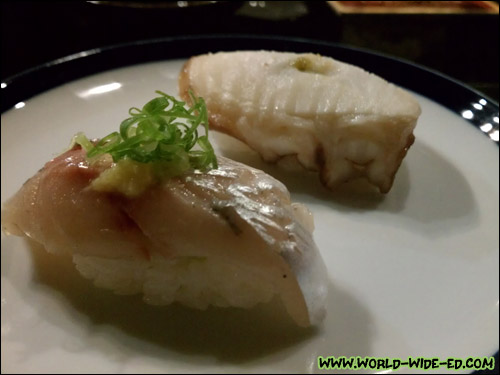 Hokkaido Tako, simmered with shoyu, massaged by hand with daikon for 45 minutes (background) & Aji (Japanese Akule) with ginger and green onions (foreground)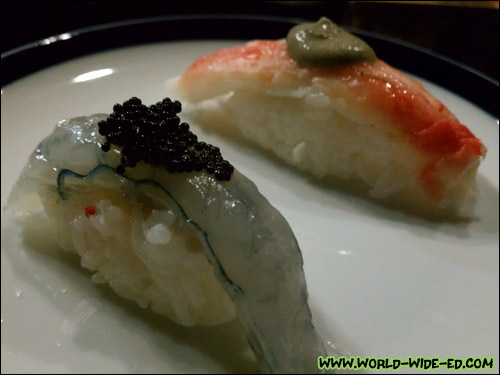 Russian King Crab with Kani Miso (background) & Prawn from New Caledonia with black Flying Fish Caviar (foreground)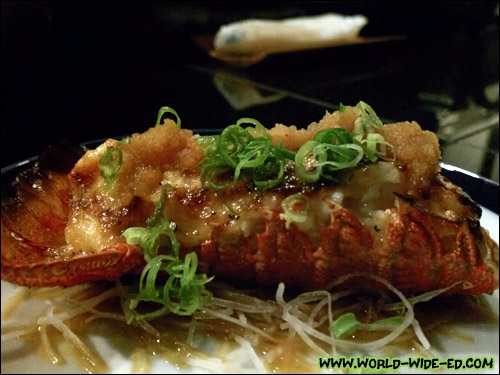 South African Rock Lobster tail from the Tristan da Cunha islands
Matsukawa wants to create an atmosphere where his clients become his friends. His main goal is to continually top his customers' last visit.
Many of the dishes from our night were brok' da mout' amazing. Creative, yet fundamentally sound. If he is planning on topping that the next time around, sign me up!
(Previously published in Lawai`a Magazine)
Kona Kai Sushi
2535 Coyne Street
Honolulu, HI 96822
(moved to the below 3579 Waialae Ave, Honolulu, HI 96816 address)
Tue-Sat: 6pm-12am
Sun: 5pm-10pm
(808) 594-7687
[youtube=http://www.youtube.com/watch?v=g6fspcsRH8U&w=500&h=400&rel=0] Tarp Surfing in Hawaii – VH07V Style (Click to Play!)