One thing good about having a dad from the muthaland is that he gets the scoops on ono kine Japanese grindz. Whether it be old time favorites that only the "insider" Nihonjins know about, or new joints about to open, papa Sugi is often in the know. Such is the case with Marukame Udon.
Early last month (April 1st to be exact), this pseudo-fast food Japanese noodle chain (known there as "Marugame Udon") opened their first Hawaii location in Waikiki after opening 467 (and counting) locations across Japan. Thanks to an ad in a Japanese paper that pops subscribes to, we were able to get the jump and check it out just two days later.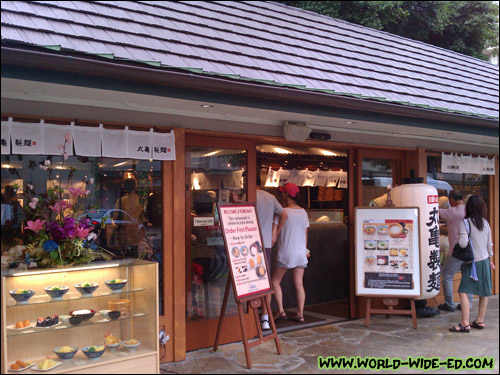 Outside Marukame Udon in Waikiki
From the looks of the shot above, it seems like you can just waltz right in whenevah you like, but don't get it twisted, Marukame is usually mad busy, with crazy lines going out the door! Thankfully, it was not the case on this occasion (on a Sunday, a little before 5pm). Moms and wifey actually had some time to stop and smell the roses, er udon.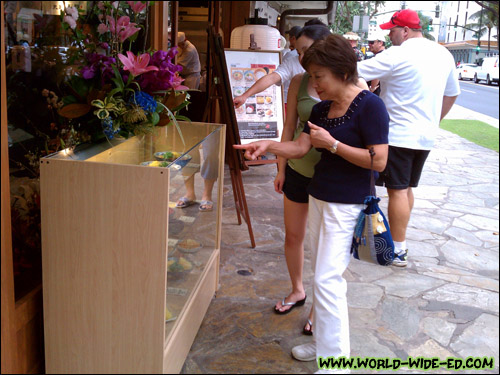 Wifey and moms deciding what to order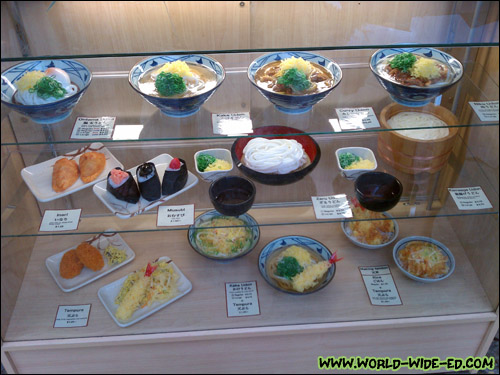 Here's what they were looking at (shokuhin/plastic food display)
Since it was indeed Waiks (located on Kuhio where the old Jack in the Box used to be), pops dropped us off earlier in the hopes of us snagging a place in line as he looked for parking. Since there was no line to speak of, I used this time to snap up photos of the joint before the mad rush came.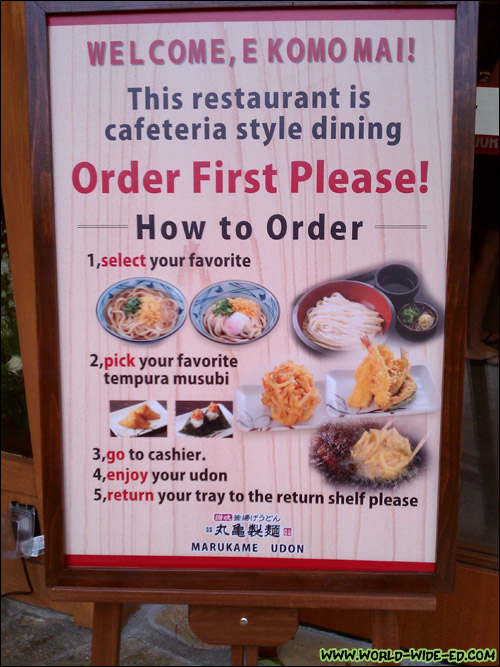 "How to Order" menu from Marukame Udon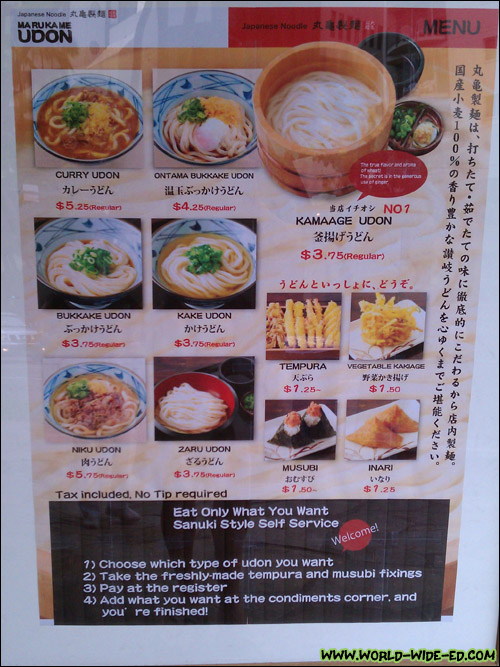 Marukame Udon Menu
Basically, it's cafeteria style service here. You pretty much just stand in line…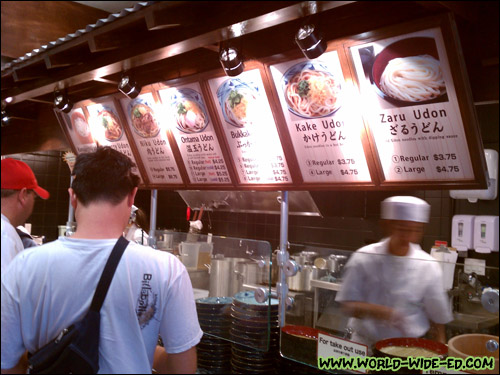 Standing in line at Marukame Udon
… grab a tray, and tell the folks behind the counter what you want.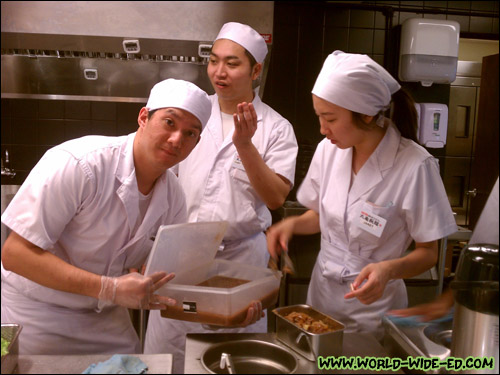 Marukame Udon employees ready to take my order
You can choose from a selection of 7 types of udon dishes: the Kamaage Udon (their #1 seller), Curry Udon, Niku Udon, Ontama Udon, Bukkake Udon, Kake Udon, and Zaru Udon.
You then scoot down the line, picking up your desired treats along the way.

Miscellaneous tempura/"age" treats along the way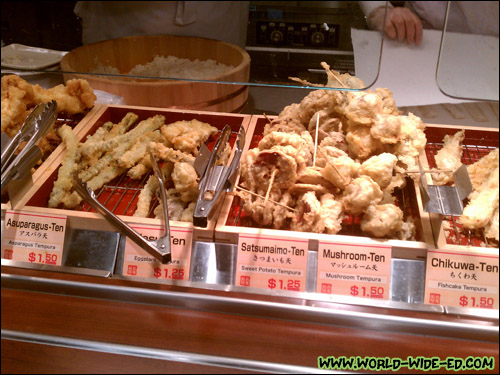 Miscellaneous tempura/"age" treats along the way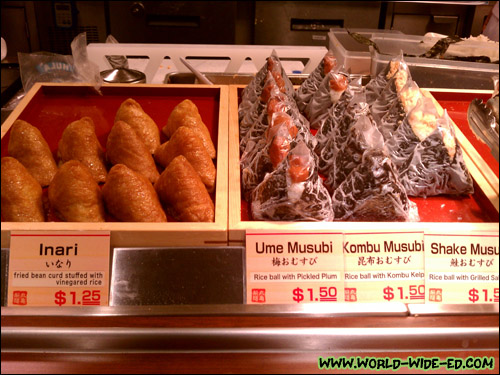 Inari zushi and a variety of musubis at Marukame Udon
When you make your way to the end, the cashier awaits and tallies up your total, which, for what you get, is VERY inexpensive (some udons start at just $3.75!)! And did I mention that the udon is made fresh, with "Nippn" brand Mentakumi flour, right before your very eyes!?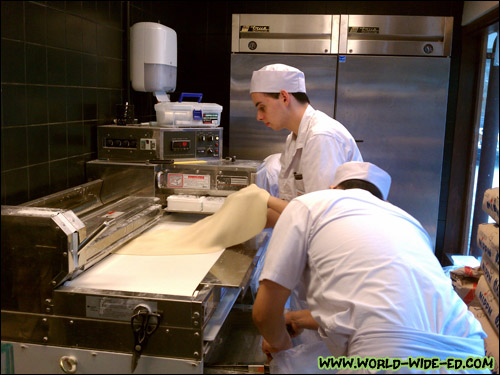 Udon noodles made fresh at Marukame Udon
Once you pay, you can get additional condiments off to the side if you wish, and then find a seat in the relatively spacious dining area.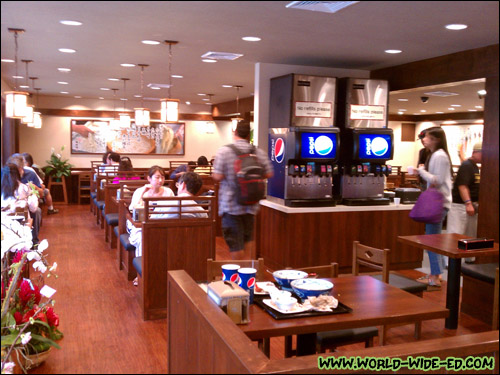 Marukame Udon dining area
With pops still trying to find parking, I pass the time with some Internet surfing via with my Oceanic Mobile 4G hotspot.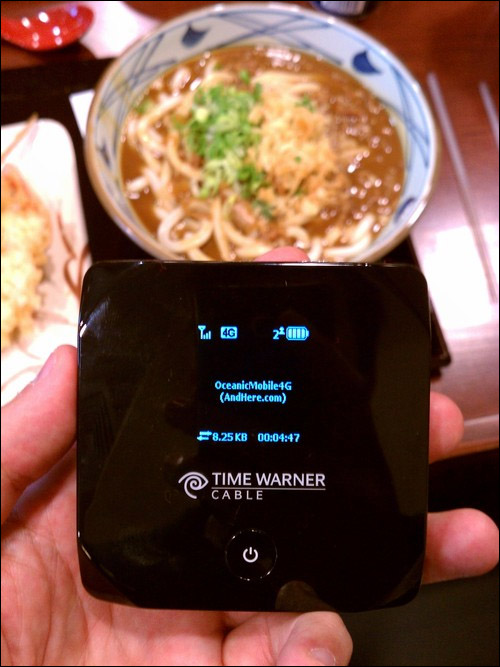 Oceanic Mobile Works Here: Marukame Udon (Waikiki)
Alas, pops arrives. There's still no line so he's able to order his Kamaage Udon and join us fairly quickly.

Kamaage Udon – "Piping hot udon noodles with dipping sauce" ($3.75 regular / $4.75 large)
Moms and wifey both got the Kake Udon. Here's a shot of wifey's order with a side musubi and ebi tempura.

Kake Udon – "Udon noodles in a hot broth" ($3.75 regular / $4.75 large)
And then we have my order: The large Curry Udon.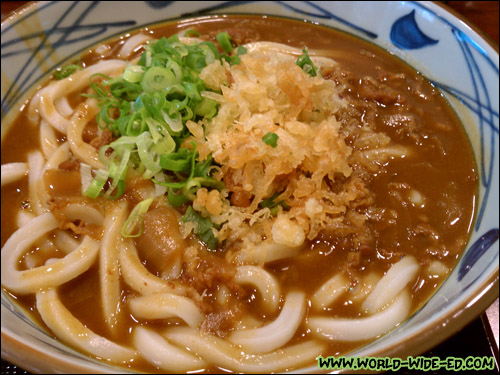 Curry Udon – "Udon noodles in curry sauce" ($5.25 regular / $6.25 large)
Although the parking sitch and potential long lines may be a bit of a deterrent, this is definitely one place you should try to check out. Fresh noodles, ono soup bases, and super duper affordable to boot! This one is Papa Sugi (and World Wide Ed) approved. 😉
Marukame Udon (Japanese site)
2310 Kuhio Avenue
Honolulu, HI. 96815 (map)
(808) 931-6000
Open Daily: 11am-10pm