Something fishy is definitely going on here… The airports have been bustling with college folk and local eateries and nightclubs are a' bumpin'. You're no longer alone at the beaches and malls, and there's an unusually large amount of parties and family functions to get to. And let's not ignore the fact that you're sweating profusely like Kalua pig at a luau. Yep gang… like Bell Biv Devoe's Poison, Summer is in full effect!
So what should we do this summer as the sun torches down on us and parches our tender little, post-winter throats? Nothing. The weather hasn't changed here in Hawaii since, like, forever silly.
But seriously… Let's just say, you know, hypothetically, that we were coming out of one of our coldest "winters" ever. Brrrr… And this "Spring" thing also did a number on us. Wouldn't we be looking forward to Mr. Sun showing his adorable face to us and defrosting our buns? Wouldn't you be craving a refreshing, beverage-ish snack, that's both an island favorite and a tourist attraction all the same?
Say no more. The Ed is here to help you.
Shave Ice, as it's known here in the islands (not snow cones or shaved ice), is the perfect summertime treat to quench one's thirst buds after a long, hot day in the sun. Yes, it is a bit cliché, but you have to admit, gathering a bunch of friends to laugh and gossip and share small kid time stories, while lapping up this magical frozen water/syrup-py concoction is still good times.
One such place that specializes in this delicacy is the original Waiola Store, located on the corner of Pa`ani and, of course, Waiola.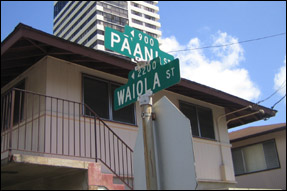 Corner of Pa`ani and Waiola
Hidden on an inconspicuous road, and nestled in between homes in a quiet neighborhood, this island favorite sits peacefully on the corner, as sweets-seeking patrons stop by.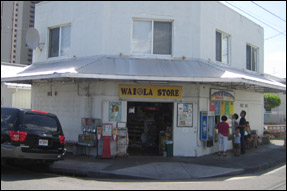 Waiola Store
(! – Not to be confused with Waiola Bakery & Shave Ice, located on Kapahulu Avenue. For purposes of this review, I'll be sticking to the O.G. – Original Gem – Waiola Store that got it all started)
Waiola Store actually started as a small convenience store, selling miscellaneous knickknacks like sodas, chips, crack seed and frozen goods many moons ago.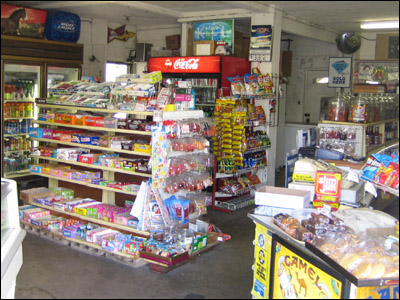 Inside Waiola Store
It wasn't until they started gaining popularity as a shave ice selling hotspot that they really took off. Now, you can't find a day when the crowd inside the store compares to the line outside near their specially created shave ice side window.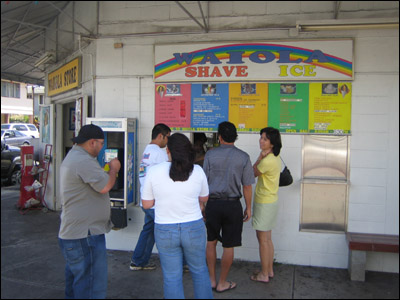 Shave Ice window at Waiola Store
Waiola's, as they are endearingly referred to as, is known for their finely shaved ice. You won't find the rock-hard chunks of ice here. They also offer a vast menu selection with unique flavors and add-ons that you may not see at other shave ice specialty stores. Unique add-ons like mochi balls, li hing mui seeds, lilikoi cream and chocolate syrup.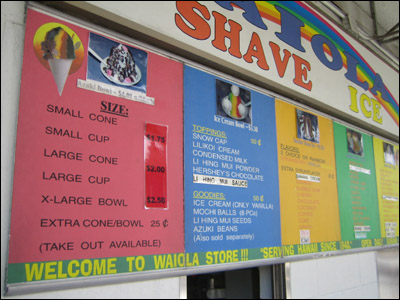 Waiola Store's ecclectic menu
On this occasion, I didn't get too complicated. I just ordered a small cup with mochi balls and condensed milk… strawberry flavor.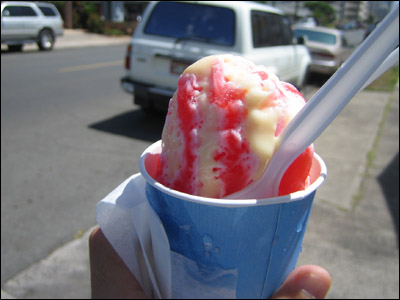 The famous Waiola shave ice
(! – That's something I forgot to mention. If you're new at this shave ice ordering thing, the flavor should be the least of your worries. To fit in like you've been doing this for years, be sure to order your size and add-ons first. This way, they can start preparing it for you. The flavored syrup is added last and, as such, you would order that last.)
Waiola Store
2135 Waiola Street
Honolulu, HI 96826 (map)
(808) 949-2269
Waiola Bakery & Shave Ice
525 Kapahulu Avenue
Honolulu, HI 96815 (map)
(808) 735-8886
(moved to the below)
Waiola Bakery & Shave Ice
3113 Mokihana St
Honolulu, HI 96816 (map)
(808) 735-8886

======================================================================
The Island Snow store in Kailua serves up shave ice alongside of their collection of surf/snow/street apparel. It's a popular stop for those going to one of the many beautiful beaches on the Windward side, Lanikai being my favorite.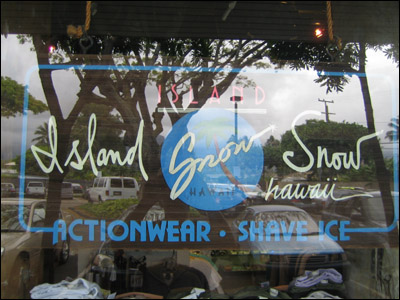 Island Snow sign
In addition to being able to buy their name brand apparel at the same time as your treat, Island Snow has a few other unique features when it comes to their shave ice flavors. They have catchy names that turn ordinary-sounding flavors into exciting ones. Godzilla Grape, Kuulei Coconut, Da-Kine Lemon Lime and Kailua Coffee to name a few. They also set up their colorful collection of syrups above a lighted counter-top, much like you'd find your assortment of drinks at a fancy nightclub or contemporary bar.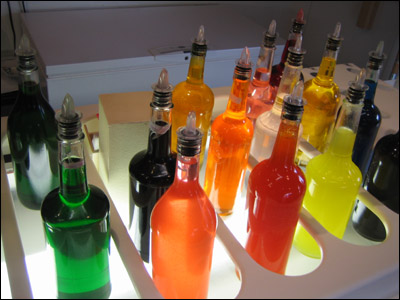 Island Snow flavors
This time, I ordered a regular with no ice cream… Pali Lilikoi & Wacky Watermelon combo. Pretty big eh?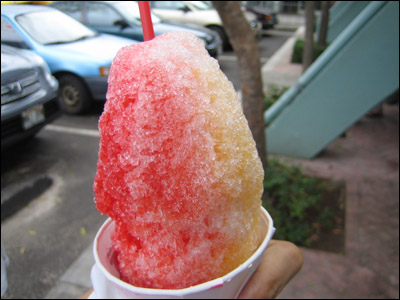 Island Snow shave ice
(! – All shave ice treats from Island Snow include up to 3 flavors & a scoop of ice cream, unless you don't want it.)
Island Snow – Kailua
Kailua Beach Center
130 Kailua Road
Kailua, HI 96734 (map)
(808) 263-6339
======================================================================
What's a conversation about shave ice in Hawaii without mention of the world famous M. Matsumoto Grocery Store in Haleiwa town, otherwise known as Matsumoto's Shave Ice?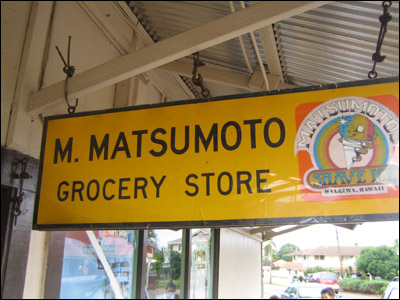 M. Matsumoto Grocery Store sign
Matsumoto's has the richest history and gets the largest media coverage of any shave ice store in the state and perhaps the world. And though there are many naysayers who claim that Waiola's or even Haleiwa neighbor Aoki's is better, you can't question Matsumoto's popularity.
Like Waiola Store, Matsumoto's started as (and continues to be) a convenience-type store. Though, these days, most of their products caters to the tourist and shave ice crowd (sun tan lotion, hats, logo apparel, beachwear, snacks, etc.).
The menu looks like the same one they've had since they opened, and the prices seemed to have stayed the same as well. Just $1.30 for a small! Over the years, they've attached little one-piecers as they've added new flavors like mango, lychee and melona. Funny, but cute. A reminder of the mom and pops feel still present here.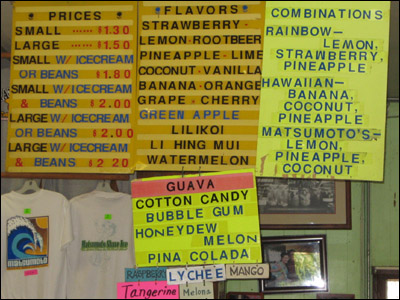 Matsumoto's menu
The equipment they use looks quite heavy duty. Is that an industrial strength motor? Wowsers!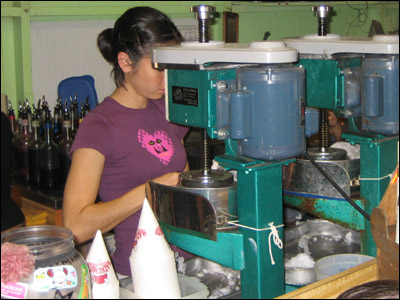 Matsumoto's shave ice machines
The photo from my friend's shave ice came out nicer, so we'll show it instead of mine. She ordered a vanilla/cotton candy combo FYI.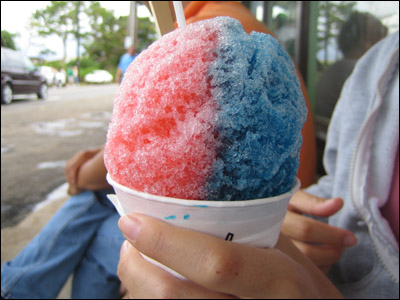 Matsumoto's shave ice
(! – Be careful of the killah bees when eating outside. They usually swarm around the trash can slurping on the sweet juices. I've never been stung, but you never know… Just be sure you're not in the area when they are hungry!)
M. Matsumoto Grocery Store
66-087 Kamehameha Highway
Haleiwa, Hawaii 96712 (map)
(808) 637-4827
======================================================================
Other notable shave ice joints around the state:
Jo Jo's Clubhouse – Waimea (Kauai)
On the way to or coming back from the long drive to/from Waimea Canyon, you'll see the bright sign of Jo Jo's from Kaumualii Highway.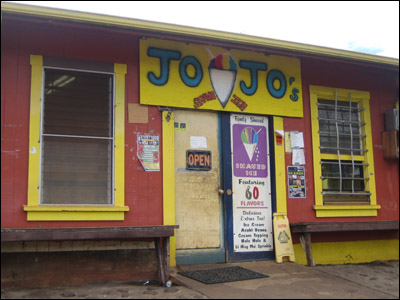 Jo Jo's Clubhouse
Jo Jo's Clubhouse
Mile Marker 23, Kaumualii Highway (Hwy. 50)
Waimea, Hawaii 96796 (map)
(808) 635-7615
======================================================================
Itsu's Fishing Supplies Inc. – Hilo (Big Island)
Known to the locals as "ice shave", Itsu's serves up this winner alongside of local style plate lunches, in addition to doubling as as a fishing supplies store.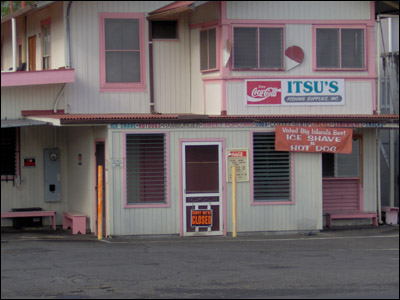 Itsu's Fishing Supplies, Inc. (Photo by Nancy Vereze)
Itsu's Fishing Supplies Inc.
810 Piilani Street
Hilo, HI. 96720 (map)
(808) 935-8082
======================================================================
Scandinavian Shaved Ice, Inc. – Kailua-Kona (Big Island)
Across from the Palace in town, this shaved ice has ice cream in the middle. (Mahalo for the info Wendy & Jay!)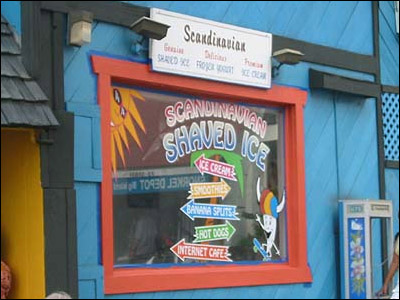 Scandinavian Shaved Ice, Inc. (Photo courtesy jatbar.com)
Scandinavian Shaved Ice, Inc.
75-5699 Alii Drive
Kailua-Kona, HI. 96740 (map)
(808) 331-1626
======================================================================
Tasaka Guri Guri Shop – Maui Mall, Kahului (Maui)
Yeah, I know, this is not really shave ice, but we can't pass up the chance to mention this famous sweet, sweet, juice, soda and condensed milk concoction can we???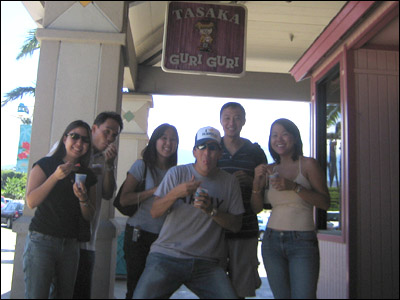 Noelle, Kelvin, Hillary, myself, Grant and Shari outside of Tasaka Guri Guri
Tasaka Guri Guri Shop
70 E Kaahumanu Avenue
Kahului, HI 96732 (map)
(808) 871-4513
======================================================================
I know I've missed tons of your favorites from around the state. I guess that's what you get for keeping me cooped up all day here in Mililani. Sorry dudes and dudettes, but be sure to let me have it by posting your favorite shave ice (or any sweets) hotspot in the comments section below. Now stop reading this and get back out there and enjoy your summer won'tcha?