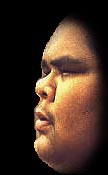 May 20, 1959 – June 26, 1997
His Life | Albums | DVDs | Books | Guestbook
FANS
I recently received an email from Thomas Gary, a graphic artist who showcased his skills through a Macromedia Flash intro screen for Iz (see email below).
---
On Sun, 11 Mar 2001, Thomas Gary wrote:
Hello,
I am a graphic artist and I have just discover the music of Israel Kamakawiwo'ole. I'm glad his music is now being used for soundtracks and such because middle America would've probably have never have heard his music, and that would have been a shame. Soon after after discovering who sang that song at the end of Finding Forrester I find out that he has already died. It would have been nice to see what other music he was going to put out after his new found popularity.
A fan
T. Gary
I did a Flash intro, if you like you can use it for your site, if not I hope you enjoy it anyway.
---