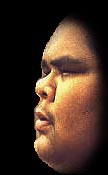 May 20, 1959 – June 26, 1997
His Life | Albums | DVDs | Books | Guestbook
NEWS
 
2004-03-05
News from Mountain Apple Company:

"Over The Rainbow" by Israel "IZ" Kamakawiwo'ole has jumped on to the Adult Contemporary Chart of R&R (Radio & Records) in the #27 spot. This chart serves as the primary guide for Program Directors of AC radio stations across the country and is referred to as they add new music.

IZ shares the chart with such artists as Josh Groban, Sara McLachlan, Shania Twain, Sheryl Crow, Matchbox 20, Phil Collins, Christina Aguilera, Rod Stewart and others.

"Over The Rainbow" is prominently featured in the hit film "50 First Dates," playing over the emotional final scene. Less than three weeks since the release of the film, the demand for the song has been so great that it has driven the song on to the AC Chart.

The song is only available on the CD "Alone In IZ World" and as a medley with "What A Wonderful World" on IZ's Gold Record "Facing Future."

Thank you for you continual support of this artist. Please let us know any way that we can help you with his music.
---
2004-01-20
Friday, February 13th marks the wide release of the highly-anticipated film "50 First Dates" starring Adam Sandler and Drew Barrymore. "IZ's" amazing rendition of "Over The Rainbow" is prominently placed in the emotional final scene of the film.
---
Artist Jan-Michelle Sawyer is currently working on an Israel Kamakawiwo`ole sculpture. Sawyer previously completed a sculpture of Gabby "Pops" Pahinui. For more information, go to her web site here.
---
Weekly Iz Newsletter Archive!
Archive from Weekly Iz Newsletter back when it was active.