I still remember it like it was yesterday. The year was 1995. The place was Tower Records Kahala (R.I.P). I was with my boy Grant, vibin' on the new "Hawaiian" releases on Tower's listening stations, and came across a new fella by the name of "Justin."
The album was "No Better Time Than Now" and featured a young dude in a white tank, crouching on a sandy beach, holding a uke. I was like, "Oh, I gotsta see what this bad boy is all about!"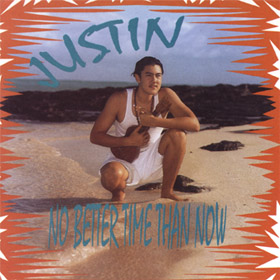 Justin Young's debut album – No Better Time Than Now
One by one, bruddah impressed me with his soulful, unique tone, mature beyond his appearance (he looked 12 on the cover). I loved the way he infused his R&B/Soul inflection into every one of these otherwise local kine jams… And then, I got to track 7: Ikona. 'Scuse the French, but hooooly crap! Bruddah can SANG!
I was sold. This boy's gonna get some airtime in my Civic hatchback on the way home and Grant was gonna like it.
Weeks later, I was still boomin' it in the big red machine and I told myself that I needs ta get a hold of him to get him on the Internet. He's got way too much talent to keep cooped up locally. The world, beyond Hawaii, has got to find out about this gifted brutha, and I wanted to be the guy to help him out.
Eventually, I was able to contact him and find out that he was down for a lil' WWW action as well. We met up, talked about stuffs, and a new www.justinsmusic.com web site (and friendship) was born.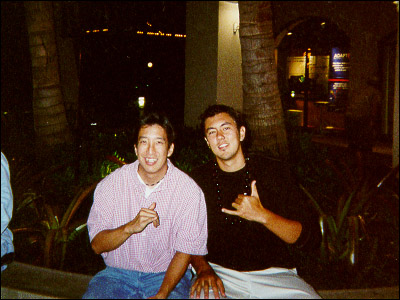 Justin and the author, back in the day
As expected, thanks to local airplay, his notoriety in the islands exploded with hit songs like "No Better Time Than Now," "Crazy Love," "Soothe You," "Streets of Waiks," "Never Forget Where I'm From," "My Eyes Adore You," "Leaving On a Jet Plane," "Gonna Meet the Clouds," "More Than Words, " and "Shake Me."
After a successful career in the 808, it was time for Justin to try and parlay that into success in Hollywood. He made the move to L.A. in the early 2000s and has been slowly but surely making headway in his goal of "making it." He changed his hair cut ( 😛 ), has been gigging regularly, released several self-produced albums, had songs featured on feature films, and is now recording and touring with national recording phenomenon (and local girl) Colbie Caillat.
Here's his story…
Personal:
Edward Sugimoto) Give us a little Justin history (Were you a rascal? Good student? Girl Crazy?) and were you always interested in music from small kid time?
Justin Young) I'd say I was a good kid and I THINK my mom would agree. My mom did a good job of shaping me into one of those kids that wants to be good because that's the right thing to do, and not because I was afraid of getting caught. I can't say that I ever liked school, but I was always a good student. I was always pretty shy and on the quiet side in school though. Ha! Never girl "crazy". I was always quietly pining away for a girl who I was too scared to talk to or who wasn't reciprocating the crush. I'd just stay home and try and write a song to win her over…Maybe if they had been crazy for me I could have been girl crazy. Don't think that was ever an option.   I have always loved music. I used to sing songs from The Sound of Music and Annie to the neighbor's cats and dog when I was like 3. I played in bands in high school, so it's always been there.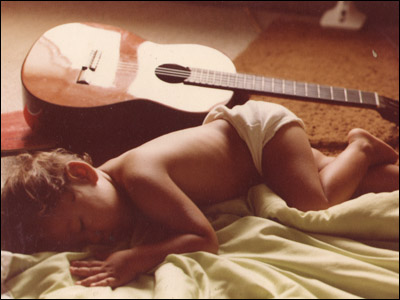 Little Justin
Edward Sugimoto) Your mom has been an inspiration for you in your life. Describe your relationship with her.
Justin Young) My mom is great. It has always just been me and her growing up- so we have a special relationship. Although she was a single parent, she never looked at our situation as anything less than a blessing, even through financial struggles. Besides being a good parent, she was a volunteer in the Peace Corp and has dedicated most of her life as a teacher to helping children. She's teaching overseas right now and I miss having her in Hawai'i when I'm back home.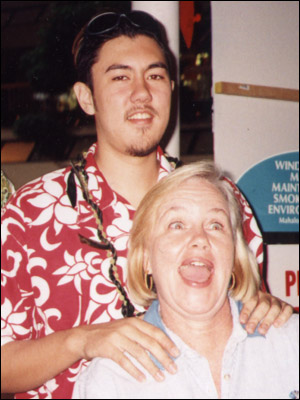 Justin and his mama
Edward Sugimoto) Hobbies, other than music?
Justin Young) Being a Chicago Bears fan, playing basketball, watching football, watching documentary films, checking out live music, listening to public radio.
Edward Sugimoto) Do you have a day job or is music what pays the bills?
Justin Young) I used to joke that my day job was doing those four hour bar gigs playing cover songs all night. But no, no day job. I haven't had a "real" job since high school when I worked for my friend's janitorial service. Yes, I worked part-time in high school as a janitor. I mean, those urinals weren't going to clean themselves! Glad the music thing has worked out…So far.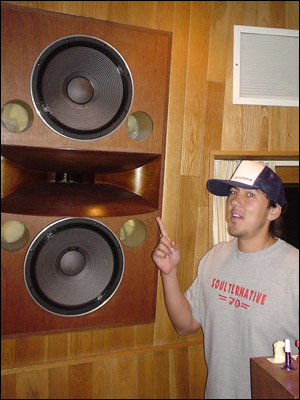 Having fun in the studio in August, 2003
Edward Sugimoto) What is a typical day in the life of Justin Young?
Justin Young) That's a tough one because there is no typical day really. I guess when I'm off the road and there's nothing going on- it starts with cereal and almond milk, and at some point there is coffee, some emailing, some guitar time and some exercise. Recently I've been wasting an hour of my life everyday playing Madden on my PSP.
Edward Sugimoto) I know you're a hardcore Bears fan? It was close in '05 and '06 and even '01, but how tough has the last couple of decades been? *grin*
Justin Young) Oh boy, it has been rough. When I was a kid I used to try to stay home from school on Mondays after losses. It has gotten easier in some ways though. I try and just enjoy watching the games and to not be so attached to the outcome. The whole thing is a zen lesson for me. And it is true- losses DO help you appreciate the wins. Now when I do get tied up in knots over a game, I listen to the Chicago radio stations' post-game shows online. I call it my "therapy". People rant and rave about the Bears and somehow- I feel better knowing that I'm not alone in my pain.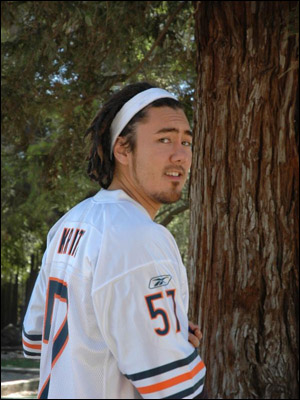 Da Bears! [Photo Courtesy
Justin's MySpace
]
Music:
Edward Sugimoto) How would you describe your music to a first time listener?
Justin Young) Oh crap, I should be able to answer this…Um, acoustic based, island influenced, soulful, pop music? Or something. I love the sound of soulful songwriters like Amos Lee and David Ryan Harris.
Edward Sugimoto) Though your voice is still as unreal as I remember, your sound is very different from your days in Hawaii. Describe the evolution of Justin starting with your days here (in Hawaii) to now.
Justin Young) Well, I recorded my first record 12 years ago. (Whoa!) Didn't have much experience performing or recording and the first songs I wrote ended up on that album. I think just experience – musically and living life – has had as much to do with it as anything. I'm glad I haven't stayed exactly the same after 12 years.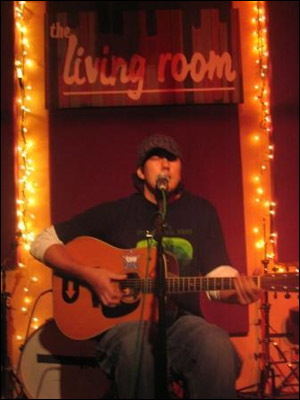 Justin gigging at The Living Room in New York City [Photo Courtesy
Justin's MySpace
]
Edward Sugimoto) When did you first realize that music was your calling?
Justin Young) I guess 8th grade is when I realized I wanted to do music. I just LOVED it. I'd spend hours after school arranging harmony parts and learning songs by ear. When you're young you don't realize that becoming a famous singer is pretty farfetched. I just believed that I could make it happen.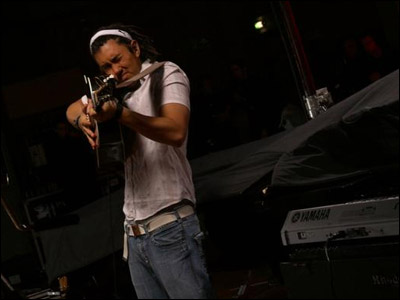 Justin takes aim at a career in music [Photo Courtesy
Justin's MySpace
]
Edward Sugimoto) Who are your musical influences/heroes?
Justin Young) Stevie Wonder, Bob Marley, Donny Hathaway, Boyz II Men, A Tribe Called Quest…That's a good place to start. Those are the people who first made me want to do what they do SO badly.
Edward Sugimoto) If you could work with anyone in the music industry who would it be and why?
Justin Young) I STILL want to work with Boyz II Men. That's one of those childhood dreams that will always be there. I would also love to work with Amel Larrieux. She has one of my favorite voices of all time and seems like such a cool chick.
Edward Sugimoto) If you could emulate anyone's career in the music industry, who would it be and why?
Justin Young) I have to say that Jack Johnson seems to do it right. He has been extremely successful without compromising who he is and what's important to him. He balances his career and family and has furthered philanthropic causes that  he's passionate about through his music, really making a difference- but never being preachy. Can't draw it up any better than that, I'd say. Kudos!
Justin and Jack Johnson at the 27th Annual Na Hoku Hanohano Awards in 2004
Edward Sugimoto) What is your fantasy concert scenario?
Justin Young) Man, I've gotten to be on stage with some amazing musicians. Half of the time I feel like Forest Gump, somehow ending up in the middle of  all this great stuff happening. So I'm content. I have to say that one of the coolest things that happened to me on tour was when we performed on a TV show in Paris. We had flown over night from Mexico (DON'T DRINK THE WATER!!!) and sick with no sleep we went straight to tape this show. When we got there we found out it was hosted by Manu Katche, world renowned drummer. I found a dark hallway to warm up in (as to not bother anyone) and I started singing a new song I wrote. About a minute into it walks out Pino Palladino. He is one of the funkiest bass players ever and someone I had recently become slightly obsessed with because of his work with D'angelo- live and on the VooDoo album. He strolls out with his wife and tells me they had to come out and see who was playing and they were so encouraging and complementary. That was a moment!
Edward Sugimoto) What is your ultimate goal musically?
Justin Young) Honestly, I just want to do something great. I appreciate a "good" song or performance, but greatness…That's special. I want to someday- as Bruce Spingsteen has put it- "make 1 +1= 3."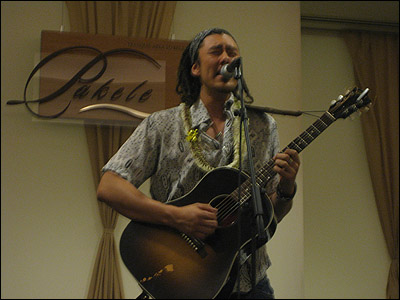 Justin at Pakele Lounge in 2007
Edward Sugimoto) Whether it be in your music, or your clothes (slippers), or stickers (of the Hawaiian Islands, etc.) you put on your guitar, or never forgetting your friends from back in the day, you seem to always remember your roots and where you came from. I've always admired that about you. Put this into words if you can. Is reppin' Hawaii important to you?
Justin Young) It's really not so much a conscious choice, it's just part of me and a part of the way I express myself. But, yes I am very proud of where I'm from. Especially living away from home, I cherish where I came from.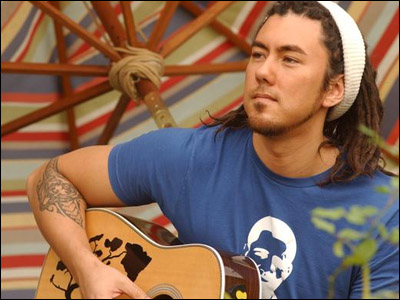 Justin – never forgetting where he's from [Photo Courtesy
Justin's MySpace
]
Edward Sugimoto) You've been touring with Colbie Caillat for some time now, and you've even got a duet with her ("Turn Your Lights Down Low") on the radio now. How has that experience been so far?
Justin Young) Amazing. The experience of touring the world with a hit record is rare. I'm just happy I got to go along for the ride. We could do a whole interview just about this, but to sum it up- touring was wonderful and exhausting. Colbie is great! Just as sweet and talented as you'd hope. I love everyone on that tour and made lifelong friends. I feel grateful for the past year and a half.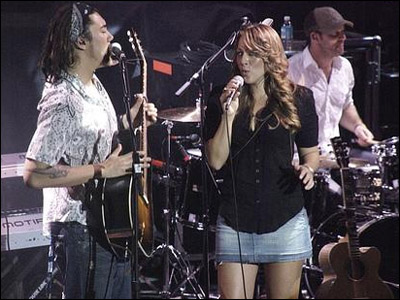 Justin on stage with Colbie Caillat [Photo Courtesy
Justin's MySpace
]
Edward Sugimoto) Be honest, it must be nice standing across the stage and hearing Colbie sing "I wanna give you some good good lovin'" to you. 😛
Justin Young) No complaint here! It's nice hearing Colbs sing anything to you. She has such a special gift. Her voice and her instincts as a singer are incredible. She also has one of my favorite voices of all time. Girl can sang!   She still trips me out. We do show after show and if I am ever not feeling into it that night, I just  focus in and listen to her singing and it takes me to where I need to be. What a job I have!
Edward Sugimoto) Is it nice to finally get the recognition that you've fought so hard for and no doubt deserve/earned?
Justin Young) Well, it's interesting. I mean, the better part of me hopes I don't need recognition. But yeah, it has given me a sense of validation as a musician that I had lost as the background music/bar guy I became for a while in LA. But on the other hand, all the things we're doing, I can't really take credit for. It's Colbie's accomplishments and I'm just a lucky spoke in the wheel.
Edward Sugimoto) Where would your life be if it wasn't for music?
Justin Young) I'd probably be in jail or on the streets. Haha… Nah, isn't that what people usually say? I'd love to be a documentary filmmaker.
Edward Sugimoto) What is the most exciting/rewarding part of doing music?
Justin Young) There isn't one particular part for me that stands out. I guess the best part is just the fulfillment that anyone gets when they are doing what they are passionate about and they're called to do. That's how it should be and what I wish for everyone to find and have the courage and faith to follow.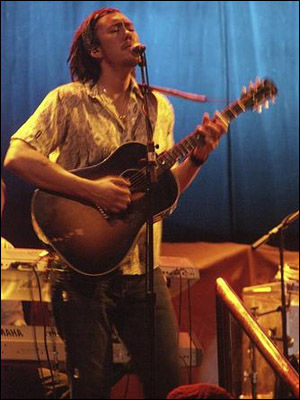 Passionate about his music [Photo Courtesy
Justin's MySpace
]
Edward Sugimoto) What's next for you?
Justin Young) Right now I'm doing some work on Colbie's new record with some serious musicians. Again, feeling like Forest Gump. I'm also really excited to record a new album of my own with a producer/engineer friend out here in LA. Gonna get into a real studio this time and have a pro turning the knobs. Then I'll be out touring again with Colbs and sneaking in my own shows when I can. Oh, and of course impatiently waiting for my Bears to start the next football season.
Edward Sugimoto) Anything else to add to your friend/fans out there?
Justin Young) I gotta give a shout out to a guy that was very instrumental in helping my career. Back when I was on 56k dial-up, he approached me about putting together this crazy new thing called a "website" on the world wide interweb…Hehe. He's been a huge help and a great supporter and friend. Ed Sugimoto, wherever you are, take a bow!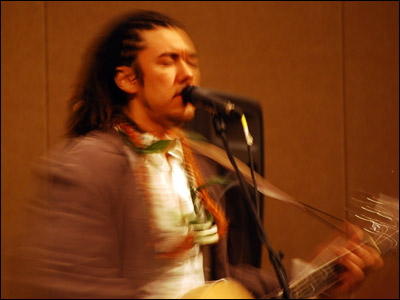 Coming full circle: Justin being as generous and giving as always. He flew down, performed at, and totally legitimized
my wedding
[Photo Courtesy Kiman Wong]
I look forward to the day when Justin does make it. He's as genuine as they come and it can't happen to a better person. I cross my fingers on the regular and hope that some label or record producer would one day give him a chance. It would be a true, inspirational story that shows that hard work and persistence pays off. An end (or beginning?) of a long journey that started back in '95. When will it happen?
No better time than now.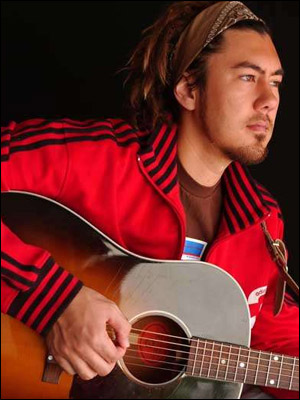 Justin Young [Photo Courtesy
Justin's MySpace
]