When I think of senior citizens, I think of my dear obaachan in Japan. And although she lives on her own, she is never alone. Between her caretakers and her family and friends, she always has somebody to talk to and share a meal with.
For some seniors right here in Hawaii, they are not as fortunate. Many don't have family or friends to visit and sometimes, they can't even afford to eat. When I think about a senior citizen missing a meal, it breaks my heart because all I can I think about is what it might be like if my obaachan was in this horrible situation.
Enter Lanakila Pacific and their Meals on Wheels program. What started as a lunch wagon serving hot meals to seniors in need at A`ala Park in the 70's, the Meals on Wheels program has expanded, serving 250,000 meals each year on over 90 different routes. They also have 18 Kupuna Wellness Centers around Oahu where able bodied seniors can gather, socialize, exercise, etc., in addition to getting their hot meal.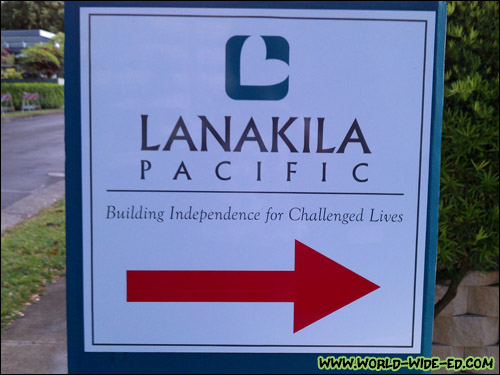 Lanakila Pacific sign
Now in its 40th year, Lanakakila Meals on Wheels is looking more than ever to fill the void of unmet seniors in need of home delivered meals, which the City & County of Honolulu's Elderly Affairs Division 4-year plan (2007-2011) estimates at 8,587!
I recently sat down with Lanakila Pacific's Volunteer and Resource Development Coordinator Randi Jeung to talk more about their Meals on Wheels program.
Interview with Randi Jeung
Edward Sugimoto) For those who don't know, describe what Lanakila Pacific does as an organization, and what your role is here.
Randi Jeung) Lanakila Pacific is a local non-profit organization. This is our 72nd year. We offer programs and services for adults with cognitive, physical, social or age related challenges, and we help them build their independence and help them improve the quality of their lives.
Edward Sugimoto) And what do you do here?
Randi Jeung) I'm on the marketing team, so all the different marketing initiatives, I help with that, but my main role is I'm the volunteer coordinator so I go out to talk to people about volunteer opportunities here and how to get involved.
Edward Sugimoto) One of those programs is Meals on Wheels (and that's how we know Rick Nakama and other volunteers as well), what is that program exactly?
Randi Jeung) Yeah, we've had a lot of social media people come and help us at different events and at different times so we're very thankful for that. Lanakila Meals on Wheels is probably our best known program. Lanakila Pacific is probably best known for its Meals on Wheels program. It's Hawaii's largest and only island-wide meal service for seniors, but it's so much more than just a meal program. Our volunteers are awesome volunteers. (They) provide them with connections to other local services if they see that the senior has a need or something, they'll come and let us know and we'll refer them to other services and they're just there as a friend because for a lot of our seniors, that volunteer that comes to see them that one time a week sometimes is the only person that they'll see. Sad situation but it's the reality and our volunteers are helping us with that.
Edward Sugimoto) Statistically, do you know about how many seniors you help (through Meals on Wheels)?
Randi Jeung) Yes. So as of last week (week of July 10), the count was, each week, we help approximately 2,000 seniors throughout the island of Oahu and that number is only going to get bigger because we're seeing it happening. Our route sizes have grown, they've doubled in size so now what we're doing is we're splitting our routes so that it's a little bit easier on our volunteers when they go out to deliver, but yeah, that number is gonna grow real quick.
Edward Sugimoto) Do you have an interesting or heart-warming story you can share about one of your Meals on Wheels recipients?
Randi Jeung) There are so many stories that come out and you know, I want to save that for volunteers when they come, they'll have their own stories, but for us, we have a senior that, you know, she lives on her own. She actually lives in a garage and when you go in to see her, and deliver the meals to her, you can see like the garage, you know how the garage door like there's a space on the top and the bottom, cause it's not meant to be lived in, it's just for storage for cars. And so she lives in the garage and she has like all kinds of stuff in the garage… She's really funny. You would feel bad for her when you see her, she's just the liveliest little lady and she's always joking around. Sometimes we have these two younger gentlemen that go to deliver meals to her and she knows that they're single, so she'll have like either her niece or her granddaughters that are there, waiting. And you know, she wants to introduce them, so she wants to be a matchmaker. So very good humored and every time we go she's just so grateful and she just wants to hang onto you and talk story with you, probably for hours if she could.
Edward Sugimoto) So if someone was interested in volunteering for Meals on Wheels, how do they go about doing that?
Randi Jeung) Contact us, just give us a call. Our phone number is (808) 531-0555 or just check out our web site. The URL is www.lanakilapacific.org.
Edward Sugimoto) And for a person in need, is that the same contact information?
Randi Jeung) Same contact information. That phone number is our main line and through that number you can be connected to Meals on Wheels, our TLC program, Workforce Resource program, and even our Kitchen program. So yeah, just call us, visit our web site, with any questions. For seniors coming onto the Meals on Wheels program, the only real requirement that we have is that you're 60 years of age and above and after that, everybody gets an individual assessment.
Edward Sugimoto) You mentioned the Kitchen. You guys do catering and what other kind of stuff?
Randi Jeung) Yes we do! Lanakila Kitchen is one of our social enterprises, which basically means a small business that's run out of the non-profit organization, and Lanakila Kitchen is our catering social enterprise so we do catering events anywhere from small business meetings with like 3-5 people, all the way to huge events like keiki's first birthday or tailgating if you need food for that, or weddings or whatever. We can find a way to get you some really good food.
Edward Sugimoto) Yeah we actually called you guys for a couple of occasions for work at Oceanic and the food was really good!
Randi Jeung) You know I think I saw that. It was on a blog where you guys took pictures of the catering line. Just by doing like the Google search, yeah, I've seen it. Thank you very much!
Edward Sugimoto) *laughs* No problem. No problem.
Edward Sugimoto) So in a couple of months Rice Fest is happening and you guys are partners with Rice Fest…
Randi Jeung) Yes!
Edward Sugimoto) … Talk a little bit about that and maybe what you're going to have at the booth.
Randi Jeung) It's really exciting! Rice Fest, it launched last year and it was a lot of fun. We had it at Aloha Tower at the Waterfront and it drew a lot of people and there was a musubi eating contest and all sorts of fun stuff. This year is the second year and it's going to be at Ala Moana (Magic Island) this year and we're very very thankful that Rice Fest has selected Lanakila Meals on Wheels as its beneficiary, and so they are putting a call out to all the people who are coming, that are going to attend the event to bring donations of brown rice and that helps us tremendously. That helps cut down some of our costs so that we can provide more meals for more seniors. We only use brown rice in our meals because it's healthier and that's something that we strive in, in Meals on Wheels as well as Lanakila Kitchen. So everybody's gonna bring donations of brown rice. Last year, we got a huge amount, and so hopefully we're hoping for the same thing or maybe even better for this year. We're going to have a booth there, we're going to have a table there, and we'll have more information about how to get involved and if you know anybody that might need our services, whether it be Meals on Wheels, or TLC or Workforce Resources, then we'll have all that information for you there and we're actually trying to plan a fun little game that people can participate in this year so we'll have something ready for everybody who stops by our table.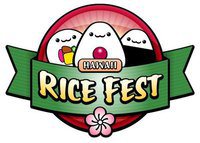 2nd Annual Hawaii Rice Festival
Magic Island at Ala Moana Beach Park
Sunday, September 11, 2011 @ 10am-6pm
For more info: RiceFest.com / Facebook / Twitter
To RSVP: Facebook Event / Twtvite
Edward Sugimoto) OK Randi, thanks very much!
Randi Jeung) Thank you very much. Bye! Come to Rice Fest! September 11th, Ala Moana Park. *waves*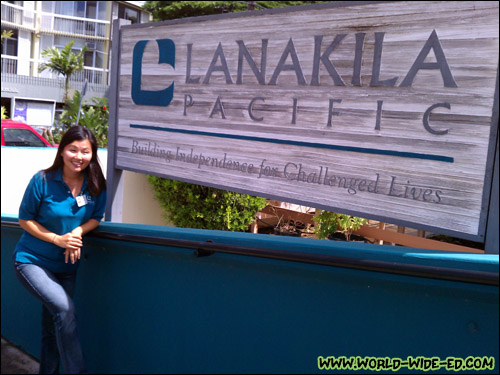 Randi Jeung of Lanakila Pacific
The Lanakila Meals on Wheels program relies heavily on a large group of selfless volunteers to help deliver their meals to the hungry seniors. Since my friend Rick Nakama just so happens to be one of them, I decided to tag along with him several times to get a first hand view of what a volunteer would go through on any given day.
The first thing we did was check in to Lanakila Pacific's home base at 1809 Bachelot Street (there are also several satellite pick up locations).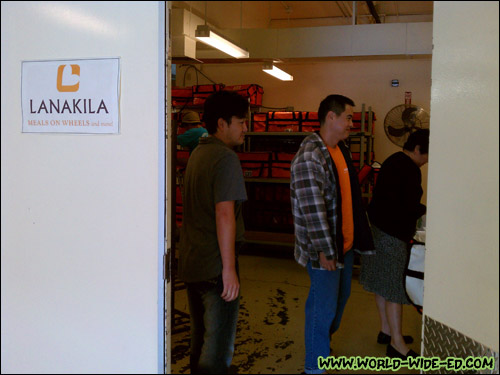 Rick Nakama (@RickNakama) and Mark Tam (@marktrc) checking in for their route
They give you a couple of bright orange cooler bags to fill your meals with…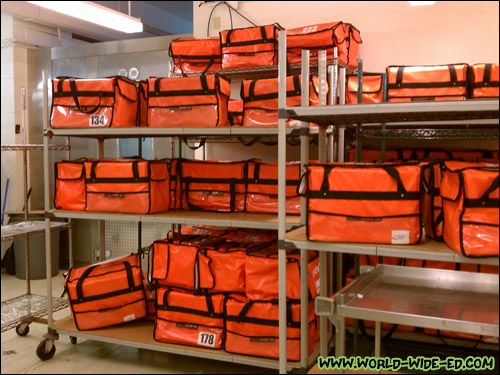 Lanakila Meals on Wheels cooler bags
… and then you proceed to fill it with your meals of the day.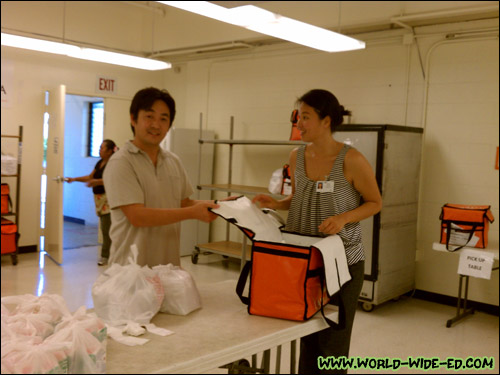 Rick getting help from Randi Jeung to fill his bag.
Then you load up your car…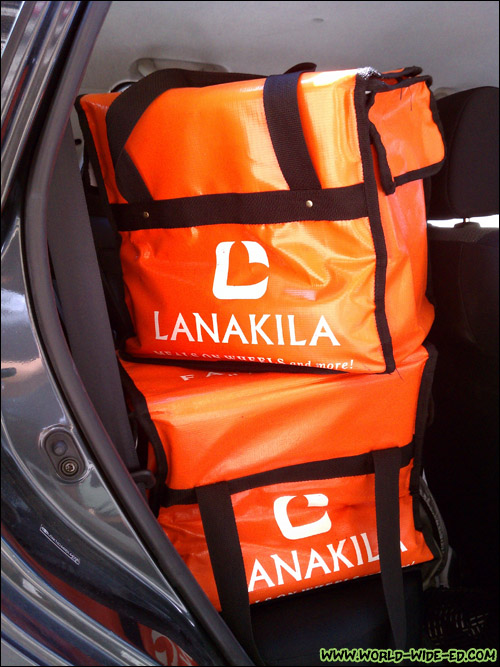 Bags from Lanakila Meals on Wheels loaded up
… check out your list of stops…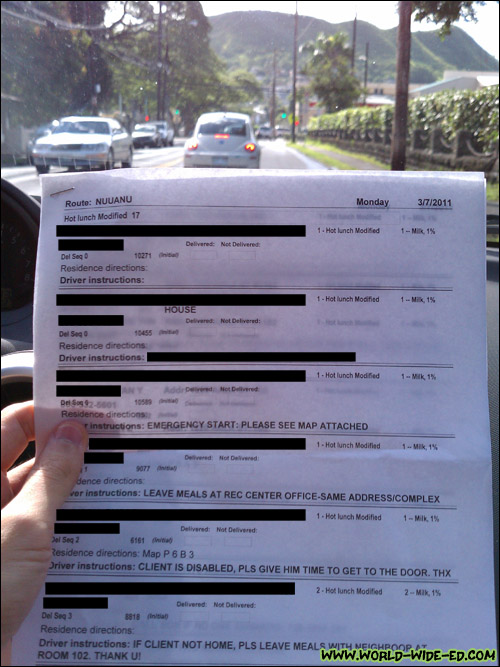 Rick's Nuuanu route (names blacked out for privacy)
… and you're off!
Each location is different, which makes it somewhat of an adventure. Parking, call boxes, locations… Rick has it down to a science. Sometimes although two addresses on his list are on the very same street, he will hit them at separate times simply because "it's not the most productive path."
So when we get to an address, we unload the specified number of meals (according to our list)…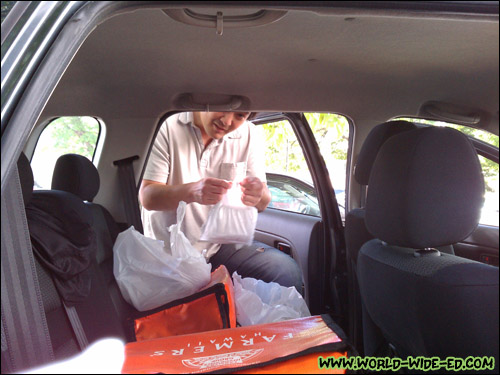 Rick unloading two meals for this particular stop
… and deliver it to the appropriate home/apartment.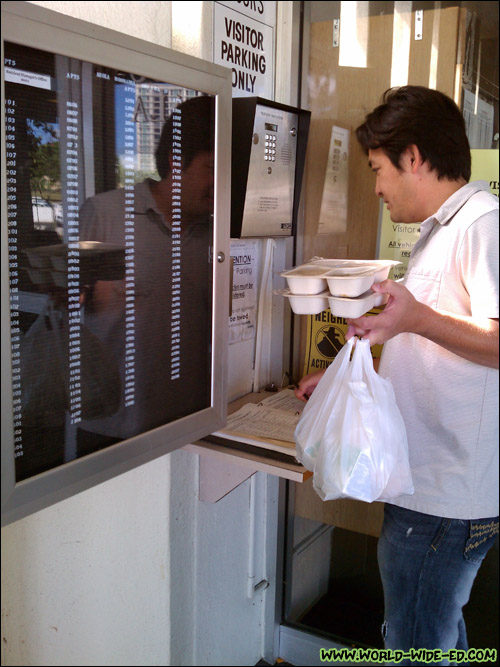 Rick looking up the apartment to get buzzed into the building
The entire route doesn't take more than an hour or two. In addition to the reward of seeing the many smiles on the faces of the seniors in need, you get the satisfaction of knowing that you've prevented a senior from going hungry, at least for another day.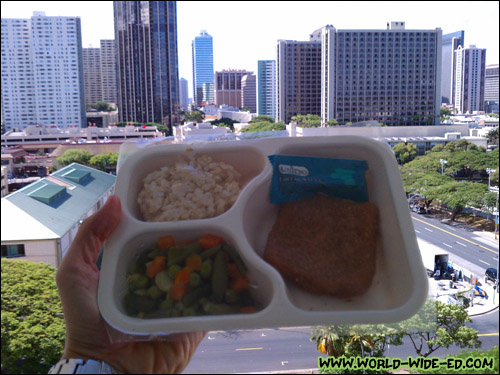 The views aren't so bad either
After our route, I was able to ask Rick a few questions about why he chooses to volunteer for Lanakila Meals on Wheels.
Interview with Rick Nakama
Edward Sugimoto) Please introduce yourself.
Rick Nakama) I am Rick Nakama, @RickNakama on Twitter.
Edward Sugimoto) How did you hear about the Lanakila Meals on Wheels program?
Rick Nakama) I actually heard about it by attending one of @Melissa808's (Melissa Chang) and @ParkRat's (Russ Sumida) tweetups for @HawaiiIRL. We had a little tweetup here where a few of us attended, learned what the volunteers do, and got a tour of the facilities at Lanakila Pacific.
Edward Sugimoto) So after that, you were inspired to volunteer yourself?
Rick Nakama) Yeah, I was actually interested in doing this for a while, but it just seemed a little bit complicated to get involved, and then after attending that tweetup, I followed up later and then I realized it's not really that complicated and I was able to just do this once a week. So I do it on Monday, I do the route on Monday and it takes me about an hour to an hour and a half at the most with someone else helping me.
Edward Sugimoto) How long have you been doing it?
Rick Nakama) I've been doing it since about October of last year (2010).
Edward Sugimoto) And you're liking it so far?
Rick Nakama) Yeah.
Edward Sugimoto) OK, thank you.
Rick Nakama) Alright.
This experience had such an impact on me that I am now on the waiting list for a Meals on Wheels route in my own neighborhood. I don't want somebody else's obaachan going hungry after all…
For more information on volunteering yourself, visit the Lanakila Pacific volunteer page.
Lanakila Pacific
1809 Bachelot Street
Honolulu, HI. 96817 (map)
(808) 531-0555
Facebook Page / Twitter (@LanakilaPacific) / YouTube Channel / Vimeo Channel