Geez, it's only taken me close to 4 years, but I was FINALLY able to check an item off the ol' (Hawaii eateries) bucket list: "Eat breakfast at Café Kaila."
Now you're probably asking yourself 1 of 2 things. 1) "Is Café Kaila really THAT good?" or 2) "4 years!? What is wrong with that guy? Doesn't he own a car?"
Yep, ever since owner Chrissie Kaila Castillo opened the doors in the Market City Shopping Center in Oct of '07, I've been following their progress in the local eating scene. From positive recommendations from family & friends to glowing reviews across the Interwebs, "the CK" (as I like to call it) has been nothing but dope!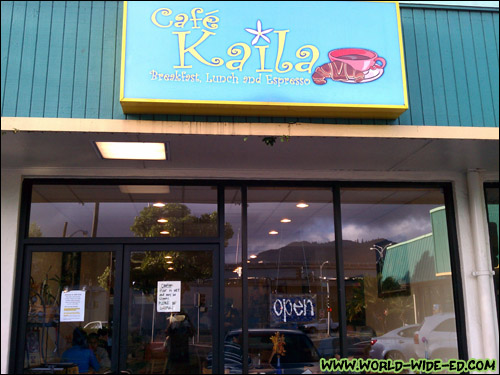 Outside Café Kaila
So when my buddy Rick Nakama invited me to join his wife Kelli and her friend Sher (@sweetsher17) to eat there during a recent holiday, I was down to pound to get round! (You like that one right? I just made that up! 😛 )
After dropping wifey off at work (poor her!), I headed down to the CK to stand in line. From everything I heard and everything I read, I mentally and physically (hungry tummy) prepared myself to wait in that inevitable line.
Wasn't too sure if it was because it was a holiday or because I was there fairly early (around 7:30am), but to my surprise (and pleasure), the line was pretty much non-existent. In fact, there were 4 tables still open inside. As I waited outside, one by one, the tables went bye-bye. Finally, with only 2 tables left, I panic-texted Rick and asked him wea he stay. One of the employees must've noticed me outside with ants in my pants and asked if I wanted to come in and wait on a table. With the rate of vanishing tables, I thought that would be as good an idea as any.
That good idea quickly turned into another ants in my pants situation. There I sat, all by my lonesome, as the line grew and grew outside. Arrrrgggghhh the guilt! Wea da heck is Ricky Ricardo??? Another several panic-texts later wielded a message from him at 7:53am: "Coming down now. Sweetsher17 is going to meet us too." Phew!
Although in total, I probably only waited for about half an hour, I swear it seemed like an eternity. 😛 At least I got to be productive and snap an AndHere shot while I waited…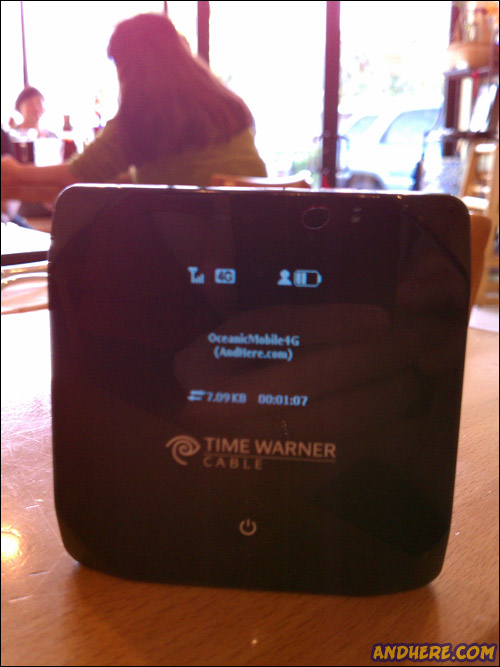 Oceanic Mobile Works Here: Café Kaila (Photo Courtesy: AndHere)
"Sweetsher17", as mentioned in Rick's text message, is the Twitter name for Rick's wife Kelli's friend, who also happens to work at Café Kaila. Luckily, we got a cool discount on our food as a result, and even had a special dish sent out to us aptly named the "Sheryl Surprise Waffle."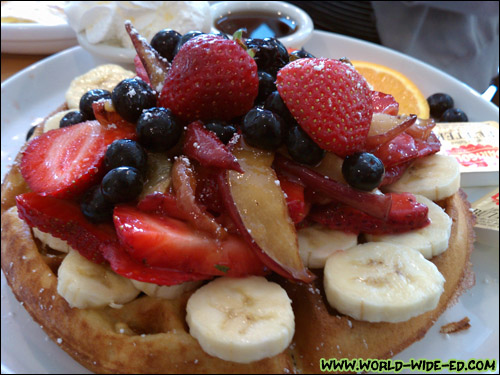 The "Sheryl Surprise" Waffle from Café Kaila
How 'bout dem caramelized apples!? 😉
Personally, I'm a "salty breakfast" kinda person, so I went with the Lox and Eggs Scramble, sans the onions. Mmm, mmm, mmm!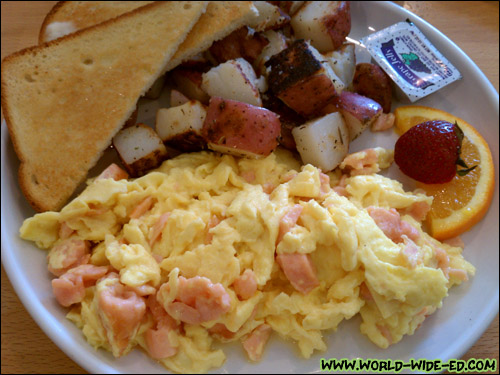 Lox and Eggs Scramble – Scrambled eggs and onions with smoked salmon. ($10.50)
Kelli ordered the Breakfast Quesadilla with Turkey Bacon…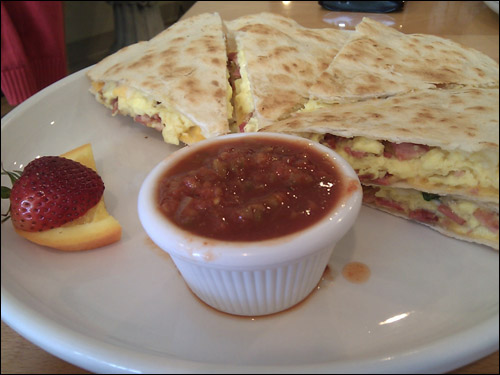 Breakfast Quesadilla – Two flour tortillas grilled with cheese, 2 scrambled eggs and meat of choice. Served with salsa. ($9.50) (Photo Courtesy: Rick Nakama)
While Rick went with the popular Belgian Malted Waffle…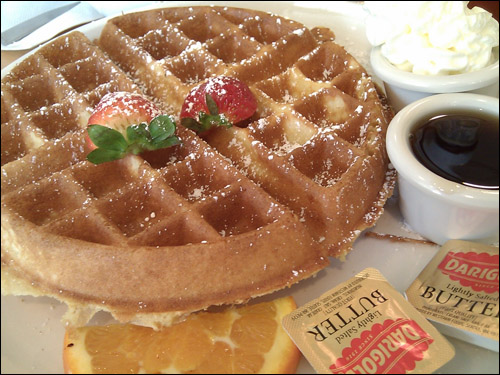 Belgian Malted Waffle – a light and crispy waffle dusted with powdered sugar, served with butter and syrup. ($6.95) (Photo Courtesy: Rick Nakama)
With a side of Italian Sausage.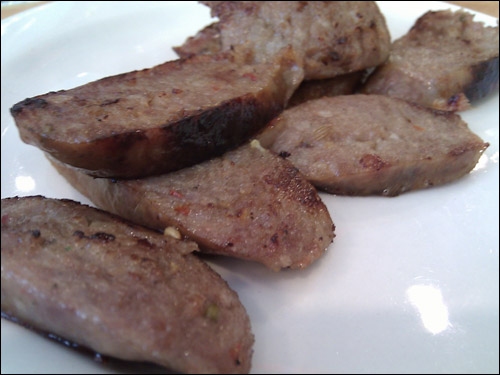 Side order of Italian Sausage. ($3) (Photo Courtesy: Rick Nakama)
Sher got a Jack Johnson-esque order of Banana Pancakes.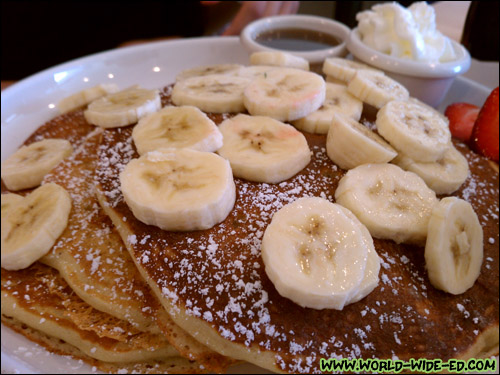 Buttermilk Pancakes with Bananas – 3 light and fluffy pancakes dusted with powdered sugar, served with butter and syrup. Served with bananas, blueberries, caramelized apples or strawberries $1.50 each. ($6.95 + $1.50)
Prices were fairly reasonable for a boutique-type café. Dishes were packed with fruits and flavor, and it was refreshing to hear that all entrees were made to order from scratch using fresh ingredients and organic when available. As an obsessed fan of corned beef hash for breakfast, I did, however, wish they had some sort of homemade version of this on the menu.
I guess they could always add that item in the future, and, oh, I don't know, name it after me! "Ed's Corned Beef Hash Surprise" has a nice ring to it after all, right?
Cafe Kaila (@CafeKaila)
Market City Shopping Center
2919 Kapiolani Blvd
Honolulu, HI 96826 (Street View)
(808) 732-3330
Open Daily: 7am-3pm