[Editor's Note: Yogurtland has closed its doors in Manoa permanently]
Back in June, my friend Shannon Facebooked me and said to check out this place on University called Yogurtland. Since I'm no longer a townie however, making it out to the University area is not as on-the-regular as before. I told Shannon (and myself) that I'd check it out when I had the time next time I'm out thurr.
Months passed, and I still hadn't made my way out to them there parts. Another friend Reynold called and told me to check out this popular place called Yogurtland. Trying to "ack" like I was in-the-know, I asked him where's he's been and that I heard about it months ago and not to worry, I was going to check it out one of these days soon.
In the last few months, there have been several local reviews of Yogurtland, both online and in print. While I had the golden opportunity to "break" the news to the peeps of Hawaii, I sat on it, and today, in November, after at long last making it out there, I'm finally ready to jump on the fro-yo (frozen yogurt) bandwagon yo!
If you're an old school University of Hawaii at Manoa alum, you'll probably remember grabbing a burger before class at the old Burger King located on the corner of University and Metcalf (next to the Atherton Y building). If you're a little more Nu Skool than me, you might recognize this area as the old Mos Burger or Volcano Joe's.
Today's students (and the community alike) identify this corner as the home of Yogurtland, the latest craze in self-serve frozen yogurt.

You know how at those buffet restaurants, you can't wait to finish your meal so you can run to the yogurt machine and load it up with a jubilee of toppings? Well, take that concept, minus the all-you-can-eat-buffet part, and you've got Yogurtland.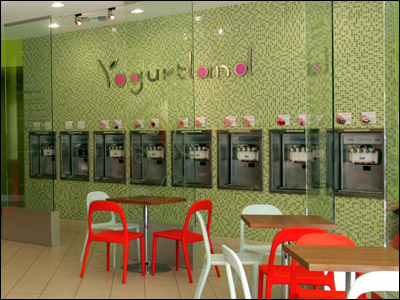 Yogurtland's numerous dispensing machines
At 39 cents an ounce, you can fill your cup with some 16 rotating, and some seasonal, flavors of nonfat yogurt, including such classics as vanilla, chocolate and strawberry, as well as some unique options in taro, green tea, pistachio, peanut butter, pumpkin, espresso and New York cheesecake. For those who crave some tangy fruit action, they also offer blueberry, banana, mango, peach tart and plain options. Health conscious peeps can choose from half a dozen "no-sugar added" flavors as well.
Then, it's on to the toppings! Woah! They've got 33 different fresh fruit and topping options including strawberries, blackberries, peach, pineapple, kiwi, mango, watermelon, cantaloupe, pomegranate, etc., and dry options like nuts, granola, sprinkles, chocolate chips, various crushed candy bars (Oreos, M&Ms, Butterfingers, Reese's Peanut Butter Cups), cereal bits (Coco Puffs, Fruit Loops, Fruity Pebbles), Gummi Bears, cheesecake bites and even mochi!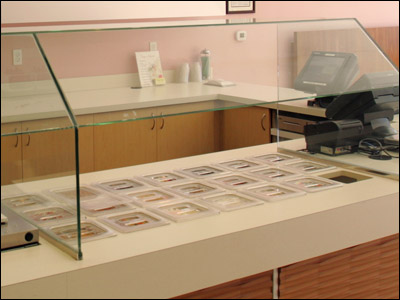 Countless topping choices
And we haven't even come to the best part: the price!
No matter how much yogurt you squeeze into your cup, or how much you pack on the toppings, it's just 39 cents per ounce. That's up to 40% less expensive that some of the other fro-yo joints yo. With the way the economy is these days, it's refreshing (like the pun? 😛 ) to be able to treat yourself to a luscious snack without having to break the bank.
The little lady's cute, petite portion of Strawberry, Taro and Mango yogurt with fresh strawberries, blueberries, kiwi, and Oreo crumbles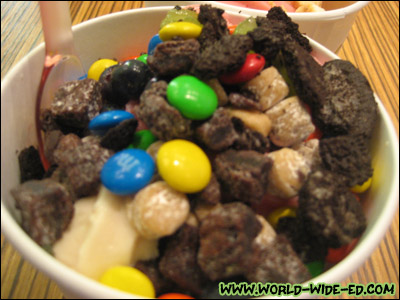 My more manly portion packed with Chocolate and Peanut Butter yogurt, with fresh kiwi, blueberries, M&Ms, cookie dough, and Oreo cookie and brownie crumbles. That's how I roll.
Pretty ono looking eh? Go check them out, go check um, go! Tell 'em Ed (and Shannon and Reynold) sent ya… Yo! 😉
Yogurtland
1810 University Ave.
Honolulu, HI 96822 (map)
(808) 951-4444
Sun-Sat 10am-10pmPearl City (Coming Soon!)
98-1254 Kaahumanu Street
Pearl City, HI 96782 (map)
(permanently closed)