With the festivities to my own wedding here and gone, I'd like to think that I've got a pretty decent grasp on what it takes to get married here in our beautiful islands of Hawaii (Oahu in particular). From quality vendors to use to helpful tips to help make your (or someone you know) special day one to remember, here's a brain dump of what I've learned in the long and arduous process.
Location, Location, Location
As in real estate, the most important element of your special day is location. Be sure to pick your blessed spot AT LEAST a year in advance, as everything else (booking vendors, guest's travel arrangements, etc.) revolves around when and where it will all be going down (no pun intended).
Depending on the location's availability, you may have to be a little flexible as to when you will want your wedding. Last year's 07/07/07 is a prime example. I'm sure everyone and their grandmama wanted to get married on that day, so most venues were probably already spoken for years in advance. If you really want a certain location on a specific date, it is imperative that you plan WAY in advance.
Also, as in real estate, it's often difficult to get a feel for a place without physically visiting it. Like my muscles, you won't believe it unless you see it with your own eyes. 😉 If you have the luxury of time, do what we did and visit the places that interest you. Wanting to make sure we didn't leave a single stone left unturned, we did site visits to Koolau Ballrooms, the Honolulu Country Club, Lanikuhonua, Paradise Cove Luau, Moana Surfrider, Waikiki Beach Marriott Resort, Hyatt Regency Waikiki Resort, Ihilani Resort, Hilton Hawaiian Village, Sheraton Waikiki, and the Waialae Country Club (must be hosted by a member). Notable ones missing were Halekulani and Hale Koa. Nothing wrong with them, we just personally felt that there were too many weddings held there and wanted to be different.
What we did – We went with the Sheraton Waikiki based on the view of their Niihau room (see below) and in anticipation of the renovation of their ballroom.
Recommendations – Though our experiences with the Sheraton on the day-of, and every other staff member throughout was absolutely amazing, we had numerous issues with our one, single contact there. I was raised to not say anything at all if you have nothing good to say, so I won't get into it, but it's difficult to give a recommendation as long as this person is there. Otherwise, I would highly recommend them. Their food is excellent, the Niihau Room view is amazing, and the newly renovated bridal suites and ballrooms are just gorgeous, etc.).

View from the Niihau Room (our ceremony location)
Next on your hitlist should be the Photographer and Videographer.
Just Shoot Me
Like the location, these guys get snatched up pretty quickly. If you know who you want, you should call 'em and book 'em right away Danno. A year or more is also the recommendation here.
Choosing the right one, aside from their portfolio or slide show reel, is all about feel. You've gotta genuinely like and be comfortable with their personality. They really are the ones who will get the emotion out of you. If they irritate you or can't make you feel good/happy, it'll show in the pictures. If you think about it, you will be spending most of your day with them. Be sure you choose the one that you don't mind spending that time with.
When negotiating with your chosen vendor, inquire if you can get the originals as part of the package (RAW or JPGs for Photographers and unedited footage for Videographers). Something neat to also get these days is having your footage shot in HD (High Definition). Ask if there is an extra fee for this.
What we did – We went with Love Story Weddings for Photography and Advanced Visual Arts for our Videography/Slideshow.
Recommendations – If you can, request Vince Shin from Love Story Weddings. He's a fun/funny guy that can get your bridal party going. A shout out to Sharmil Elliott as well. She knows her stuff and did an amazing job at the reception! Greg Ventura from Advanced Visual Arts gave us an affordable/reasonable option for Videography/Slideshow services (sold in packages). He also offered to shoot it in HD as part of the package. His video style is pretty basic and straight-forward… Nothing fancy, as some of today's contemporary/artsy/cinematic videography companies are, but you get the "day-of" coverage you are looking for… Though he did miss our key dance entrance scene! D'oh! Initially, we were a little worried about his response time, but it was probably because he was busy with other weddings. When it came to crunch time, he came through like a champ and turned out a wonderful product. We got our fully edited DVD (of the entire day) just two weeks following our wedding. Amazing!
The next group would probably be the Florists, Hair and Makeup Artists, Emcee, DJ/Entertainment, Officiant, and Day-Of Coordinator (if you need a Wedding Planner from Day 1, this priority should go before finding the location above.)
Flower Power
Florists are also very important and book up very quickly. They handle everything from the ceremony (bouquets, altar, flower petals on the ground) and reception room decoration (centerpieces, cake, head table, trim) to the leis worn by the groom, special guests and beyond.
What we did – We went with Sue from Su-V Expressions.
Recommendations – Though really, REALLY busy, she came through in the clutch and did a superb job!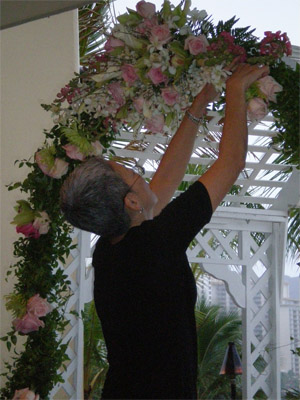 Setting up the ceremony site
Don't Hate Me Because I'm Beautiful
This one is primarily for the ladies and they also book fast. They will not only be the ones who come early on the day of, but also can be hired for trial sessions and the engagement day photos.
What she did – The wife and her bridesmaids went with Naturally You and loved them.
Recommendations – Wifey had CJ Bae from Naturally You and highly recommends her/them.
MC HAM-mer
The Master of Ceremonies can make or break your wedding reception. If you are trying to cut costs and will be asking a favor of one of your loud friends, be sure he or she has some wedding emceeing or public speaking experience. Just because they are loud and funny in small group settings, it doesn't necessarily translate to funny and entertaining through the course of several hours. The worst is when they tell inside jokes, or there are moments of silence as they try to figure out how to stretch in certain situations.
We were fortunate enough to have a friend who is also a professional. I highly recommend a pro who knows how to keep things flowing. There aren't too many good ones around town, so book these guys early as well.
What we did – We went with a longtime friend and former roommate, Bryan Min. And, oh, by the way, he's Bruddah Bryan, DJ on KCCN FM100 94.7 KUMU and has done many-a-wedding as a side gig.
Recommendations – I've had numerous compliments from my guests about Bruddah Bryan for his off-the-cuff humor. It probably helped that he knew many of us and may've been more comfortable letting loose, but he's very responsible and on-time, and even cleaned up pretty nicely for our event. Much love Bruddah B! Email Bruddah Bryan Min here.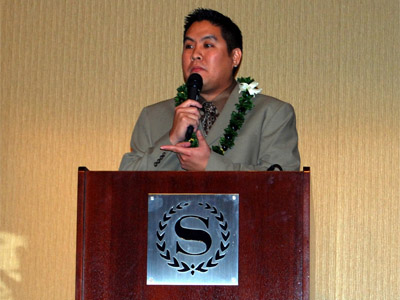 Bruddah Bryan, Wedding Emcee
Entertainment Tonight
Emphasis put on entertainment really depends on the couple. Some are ok with a friend simply controlling things through a CD or iPod. Others want the full-fledged lighting and sound action. And still others want live music on top of that. There's nothing wrong with any of them, but like any of the other "live person" hirings above, you should book in advance, as there is only one of them.
What we did – We had the luxury and honor of having friends in the professional DJ (Brian) and professional musical artist arenas (Justin and Jon), so they did it out of the kindness of their hearts.
Recommendations – For DJ services, we fo sho recommend you contact Brian Ebisui from Signature Audio Hawaii. We also highly recommend Justin Young and Jon Yamasato, though booking them may prove challenging. Justin lives in California and is regularly touring with Colbie Caillat (go Justin!), and Jon is a full-time real estate agent and just does music as a hobby for now.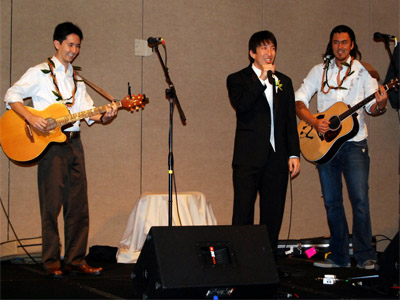 Your boy singing with his boys Jon Yamasato and Justin Young (why are they laughing?)
Will You Marry Me?
For those who don't attend church or are generally non-denominational, it could be difficult to think of an officiant that you will feel comfortable with, taking care of one of the most important moments of your life. Not only should you book the one you want far in advance, you should probably start researching or inquiring around even sooner.
What we did – We really wanted Gaius Thede, a long time mentor and friend to reside over our wedding, but he, unfortunately passed away (R.I.P.). Fortunately, we fell upon Rev. Mel Morishige and were delightfully thrilled with him.
Recommendations – Not too sure if he does this as a full-time gig, but if he does, we highly recommend him: Phone: (808) 225-5540, Email: revmel2@kirael.com.
What, me worry?
Initially, we didn't think we needed a day-of Coordinator, but looking back, it was probably one of the wisest investments we've ever made. You definitely want a professional who's been doing it for many years. They know what to look for, and more importantly, what to look out for. Hiring a friend may be ok, but it can't be their first time. It requires big time multi-tasking and being on top of your game non-stop. The key is that this person needs to take care of all the problems of the day (they will inevitably come up) so that you don't have to worry about anything other than enjoying yourself and the moment.
What we did – We left this until the last minute as we thought we would just have a friend help us with day-of coordination. Boy, are we glad we decided against it. We were lucky to hire Dianna Shitanishi of Hawaii Weddings and Events last minute (her original event on the same day got cancelled) and she was a savoir.
Recommendations – Her resume is exactly what you want to see in a coordinator. She is totally on top of her game and her email response time is astonishing. She helped to ease our mind with all of the issues we had with our contact at the Sheraton. In a sense, she saved the day. Absolutely, unequivocally recommend her 100%. Book her early!
The next group would probably be taking care of the invitations, wedding cake, centerpieces, favors, the wedding gown, bridesmaids dresses, and tuxedos.
We-vite
If you've got the time and want to cut costs, you may opt to make your own invitations. If you aren't a crafter by nature, however, be forewarned that the cost you save may quickly disappear with all the supplies you may need to purchase (e.g. paper, glue, printing, stamps, cutters, etc.). Time is the key here. You've got so many other things to worry about, that using up precious days to put your invitations together may not quite be worth it. If it is not, you should hire a professional or enlist the help of a crafty friend.
What we did – We bought the materials from Paper Source and customized (printing, embossing, etc.) to our liking.
Recommendations – Do only if you have time and are comfortable with crafty projects. It took longer than expected and took us away from other burning issues at the time.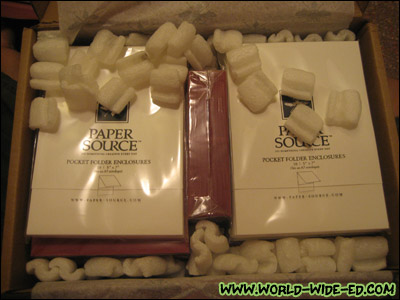 One box of goodies from Paper Source
Have Your Cake and Eat It Too
The general rule of thumb is to book this 6 months in advance, but the wife says the earlier the better. Search for cake designs that you like in places like wedding magazines, Internet web sites, etc. This will help your hired cake designer get a feel for what you are looking for, if different from what they have in their portfolio. Wifey's notes: Did you know that each layer of your cake can be a different flavor? Also, you can do a cake tasting before you make your final decision!
Warning: Check with your hotel FIRST to see if they have a cake-cutting fee (for 3rd party cakes). If they do, it is usually a per slice fee, which, depending on the amount of guests you have, may turn out to be as much or more than the cost of your cake.
What we did – Went with Cake Creations Hawaii.
Recommendations – The wife took care of all of this, but she was very happy with their product. Again, be sure to check with your hotel first on that cake cutting fee before placing any order with an outside vendor.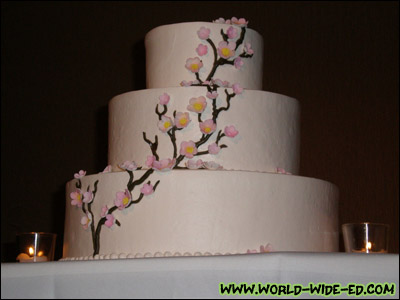 Here's our cherry blossom themed wedding cake
Centerpiece On Earth
This section only applies to those who are not going to have flowers (through their florists) as their centerpiece. Start looking or thinking of possible centerpiece ideas that will help capture your dream or theme. Keep in mind that one lucky person on that table will be taking it home and keeping it (hopefully) forever! 😉
What we did – Consistent with our Japanese theme, we decided to go with Asian Lamps as our centerpiece. We went with Claire and Roger from Aloha Mana'o Imports.
Recommendations – They are a cute couple whom we met at one of the many craft expos. Their prices are cheaper than the other guys, but the quality is better. They are very responsible and even offered to assemble all of them for us. They also offer rental lamps for the day-of. Highly recommended.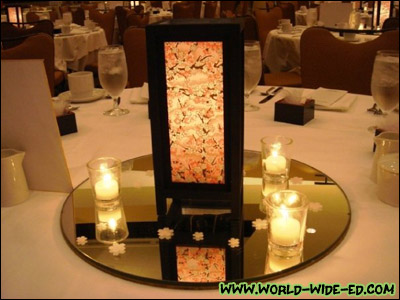 Our Asian lantern centerpiece
Favor Faaaave!
Like the centerpiece, you should try to keep the favor consistent with your wedding's theme. It has to be affordable enough so you don't break the bank (one goes to every guest), but presentable enough that you are happy with the results. I've seen anything from chopsticks to cookies to chocolates to customized CDs. Be creative!
What we did – The 'rents helped with this one. They were able to find an affordable, but good quality masu (sake box) online from a company in Japan called Kishimoto Kichiji Shouten. They even customized it with whatever we wanted. Later, you'll see how the masu fit into our sake ceremony. In the masu, we ordered half-dipped heart-shaped cookies from the Honolulu Cookie Company, wrapped it nicely and placed it right in the masu. It fit perfectly!
Recommendations – Sake boxes were off the hook, but you'll probably need to know and be able to read Japanese to read and order from this site/company. The cookies were delish and added a nice touch. Even opting to wrap the cookies in a nice presentation and having that as your favor would be good enough in my opinion.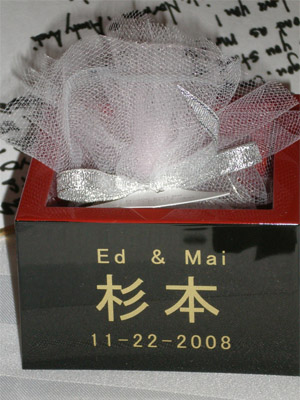 Our customized masu (sake box) and cookie favor
Dress to Impress
Other than the tuxedos, I'm not too up to speed in this area. Apparently, wedding dresses are a big deal. And the earlier you know what you want, the better. Visit the local shops around town and, again, look through bridal magazines and web sites. Often times, if a magazine has it, the bridal shop can bring it in.
Bridesmaids dresses are in the same arena. Look for something you like. It may be a good idea to consult with your bridesmaids, as they may have certain preferences based on their comfort level. I hear that lately, the bridesmaids may choose to wear different styles of dresses with the color being the one constant. It's up to you what you decide.
Tuxedos. Now there's something I can talk about. Usually, the bigger tux shops are the way to go. I heard of one shop closing soon after the groom had his wedding. It worked out though as he and the groomsmen got to keep their suits, but imagine if it happened before?
Keep in mind that you have to decide on colors (suit, vest, tie, shoes, handkerchief, etc.), AND styles. The groom should be in one style (the main attraction), while the groomsmen and fathers (and ring bearer?) should have yet other styles and colors. Be sure to check with wifey on color approval (to match her bridesmaids).
Have your boys come in for a fitting months in advance to be sure that they are sized right. Several days before the big day, they will have to come in again for a final fitting and to pick up their tuxes. Don't forget to assign a friend the task of returning your tux the following day when it's due. You will be too busy to worry about returning it.
What we did – Bridal Gown from Bridal Emporium, Bridesmaids dresses from Masako Formals, and tuxedos from Celebrity Tuxedos.
Recommendations – Ladies, correct me if I'm wrong, but where you get the bridal gown really depends on who has the one you want and at the right price. Wifey went to several bridal shops and Bridal Emporium just so happen to have the one she wanted. My dad knows the owner of Masako Formals so that is the reason why we went there for the bridesmaids dresses. I signed up for a special deal at a wedding expo for tuxedos from Celebrity Tuxedos. It turned out to be a good thing as Elsie from Pearl City's Celebrity Tuxedo was very good. All three locations' computer systems (Ala Moana Shopping Center, Pearlridge Mall, and Windward Mall) are linked together so your boys can go to any location to get fitted, do pick-ups and do their returns. VERY convenient for those who live all over the island. Highly recommended.
Da Rest!
Cranes – If you are doing a tsuru (crane) display, be sure you have enough time to fold 1,001 (1,000 by bride, 1 by groom) and book the mounter in advance.
What we did – We went with the more traditional crane mounting that uses the actual crane as the design. In our opinion, Morris Atta from SuMoCa Arts is on top of the game.
Recommendations – He had us biting our nails down to the very last minute, but came through on the morning of, with an incredible work of art. For obvious reasons, he can only take on so many projects at one time, so book early.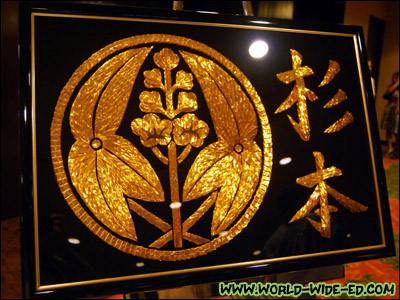 Our tsuru (crane) display: her family's mon on the left and my name in kanji on the right
Engagement Photo – Schedule this with your photographer in enough time to take it, print it and mount/frame it.
Rings – Find your favorite jeweler or jewelry and purchase it in advance as you may need some time for resizing.
What we did – We went with Russell Oshita from the Diamond Specialists. Russell is da man!
Recommendations – Russell is a jeweler first and salesperson second, so you can be sure that he's not going to rip you off. Before any big purchase, he takes you through a crash course, if you will, educating you on the ins and outs of diamonds. Highly recommended!
Rentals/Reservations – If you are renting a limo or need to make reservations for your photo shoot location, do this about this time. You should also start thinking of your rehearsal lunch/dinner location (where you'll be taking your bridal party after the rehearsal) and whether or not you need to make reservations for this.
Banzai – Popular tradition says that you should do at least one banzai at your wedding. This brings good luck and long life.
What we did – We went with two of the most amusing and entertaining banzais I've ever seen, one from a friend and the other from his good friend (my brother-in-law).
Recommendations – I don't think they are for hire, unless they too are YOUR friends. We recommend pitting two friends against each other like we did though. They will try to one up each other, which makes both more spirited than ever.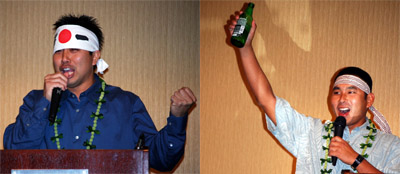 The banzai toasts: Dave vs. Lee
Bridal Party Gifts – Hawaii tradition says that the bride and groom pays for everything for the bridal party (tuxedo rentals, bridal dresses, jewelry, shoes, etc.). It also says that you should buy them a gift for being on your party. I've personally received, money clips, shades, a pen, etc. I've also heard of beer, watches, customized goods, etc. Be sure to buy these in advance so you can present it to your buds the night before.
What we did – Wifey bought her bridemaids necklaces from Maui Divers , treated them to a spa day, and more. I spoiled my boys with Reyn Spooner Aloha Shirts, customized NBA T-shirts, and brand new Spalding basketballs (which we also used in our photo shoot).
Recommendations – Think of things that you have in common. For me, it was basketball. All of us could also use the Aloha shirts for work or otherwise. I also felt that since it was once in a lifetime and they've been my best friends in life, why not spoil them right!? I guess they deserve it! 🙂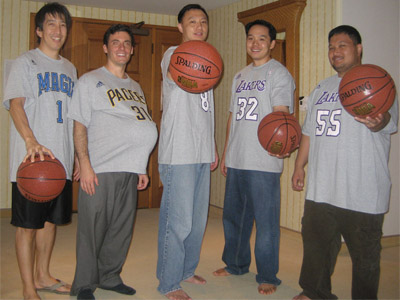 Me, Bari, Grant, Kelvin and Tommy in our customized NBA Tees.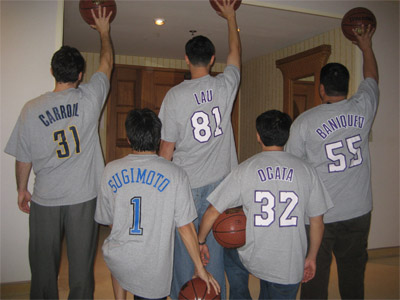 The flip side
Hotel Rental and Plans for the Bridal Party for the Night Before – Don't forget to book your hotel for the night before the wedding. This will ultimately be the last time you get to spend with your boys as a single man. Make the most of the opportunity!
What we did – I was fortunate enough to have an awesome connection at the UFC who hooked it up with a special meet and greet at the BJ Penn/Georges St-Pierre event that was going down at the Blaisdell Concert Hall! That was a !#$% killah experience and what perfect timing! Much love to (Big Wave) Dave Jackson and the rest of the staffers at the UFC! Best MMA company in the biz!
Recommendations – If meeting UFC fighters is not high on your priority list, then perhaps some other high testosterone activity might be fun for you and your boys. Shooting guns at a shooting range, taking some cuts at the batting cages, etc., may be other options.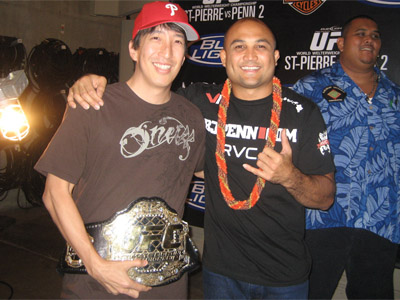 The future(?) and current UFC Lightweight champs. BJ Penn… What a cool brutha!
Something Unique/Different – I've been to weddings where they had a traditional Chinese lion dance or a Japanese taiko drum performance. I recently heard about one wedding that included mochi pounding. Do something unique and different that will leave a lasting impression on you and your guests.
What we did – We did a traditional Japanese celebration called Kagami Biraki. It's where you open the top of a sake barrel with a mallet for good luck.
Recommendations – Though you won't be the first anymore 😛 , we highly recommend it. It was a hit, as evident by the long line of guests waiting to try a sip of the sake (using the masu that we gave as our favors)! My dad knew somebody at a local place  called the Cherry Company. Couldn't find a web site for them, but I found their number via Google: 808-422-6555. Give 'em a call!

The family opening the top of the sake barrel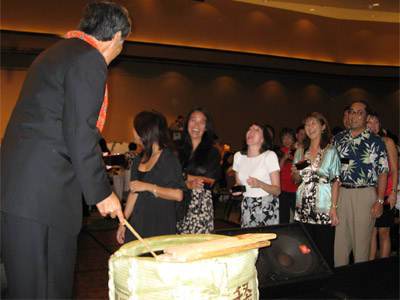 The guests enjoying the fruits of our labor
Music – We tried to go old school and nu skool with our picks for background music. I got a lot of suggestions from commenters on my blog too. I thought I'd share a small sampling of some of the songs we used to help get you started on your quest. Woah, givin' away our secrets! You're welcome! 😉
Bitty McLean – Forever Be Mine
Bread – If
Brian McKnight – Everything
Color Me Badd – Let's Start With Forever
Heatwave – Always & Forever
Hi-Five – I Can't Wait Another Minute
Imua – Swing
Jason Mraz feat. Colbie Caillat – Lucky
Jets – You Got It All
Joe Cocker – You Are So Beautiful
Johnny Gill – My, My, My
Jon Basebase – Suddenly
Journey – Open Arms
Kalapana – Nightbird
Keith Urban – Making Memories Of Us
Klymaxx – I'd Still Say Yes
Michael Bolton – Soul Provider
Na Leo Pilimehana – Saving Forever
New Edition – Earth Angel
New Kids On The Block – I'll Be Loving You (Forever)
Opihi Pickers – Love You Forever
PC Quest – Can I Call You My Girl
Peter Moon Band – Flying
Stylistics – I'm Stone In Love With You
The Lovin' Spoonful – Do You Believe In Magic
Tony Terry – Everlasting Love
Trey Lorenz – Someone to Hold
Miscellaneous – There are often things that you may overlook for the day-of. Be sure not to forget the creation and printing of your program, table cards, sign-in sheets, etc.
Tips
If you're a first-time wedding planner, the following tips helped us and will help you in your path to planning bliss.
– Visit the Wedding Café for their regular workshops. They invite vendors in the industry to come and do presentations to the public. You can then inquire about availability based on what you saw or set up a future meeting with them to discuss in greater detail.
Note from the wife: "These are the best ever! I highly recommend these workshops so that you can meet vendors in one casual meeting rather than booking 5 or 7 separate meetings with each individual vendor. Most are free workshops sponsored by the Wedding Café. We found our Videographer, Florist, Hair/Makeup w/ the help of the workshops!"
– Go to wedding expos & shows when they are available. There are at least 2-4 per year. You can find vendors or look for ideas to take away to your own wedding. Craft fairs also sometimes help.
– Read wedding magazines for inspiration and ideas for colors, dress styles, makeup/hairstyle ideas, what's hot, what's not, etc. You can bookmark the pages you like or just rip 'em out and bring them to your vendor to discuss your options.
– Visit web sites like theknot.com and bridesclub.com for community support. Read what others are doing or get reviews on vendors in your area.
– Enlist the help of your friends. We cannot stress this one enough. I had to practically force the wife to ask for help (she is the type to not want to bother anyone else). All of your projects go by so much "funner" and faster. Plus, they are all willing and wanting to help. Why not put 'em to work right? 😛 Seriously though, your friends are just as excited as you are and spending the time with them working on various projects leaves memories to last a lifetime. Cherish it.
WHEW! OK, I think that's it. There are probably a few details I missed, but I'm sure you'll do just fine. I hope this article will provide at least a bit of help for those who wish to get married in the most beautiful place in the world: Hawaii!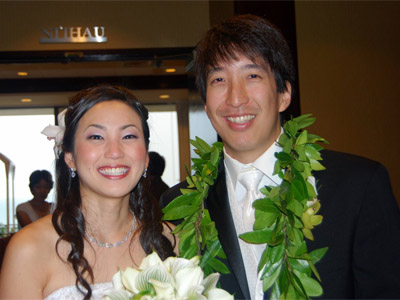 Just Married!
Good luck with your wedding y'all!
Love,
Ed (and Mai)