One of the greatest things about living in Hawaii is the multi-cultural nature of just about everything. From families to friendships to food, we were born and raised in a place that taught us how to appreciate each other's differences.
Nowhere is that more apparent in the cuisine we consume on a daily basis. Where else can you go to a potluck bbq/party and sample everything from around the world, from sushi, chow mein, kalbi, lumpia, to summer rolls?
Recently, we had the urge to grind the Vietnamese noodle delicacy called Pho (loosely pronounced "Fah"). Rather than board the first flight to Ho Chi Minh City, all we did was jump in the G-ride and drive to three popular stops on Oahu: Super Pho, Pho One, and Pho To-Chau.
Conveniently located off Waialae Avenue in Kaimuki, Super Pho is a quick and easy way to get your Pho phix (fix). They stand alone for the best Pho in a town brimming with great places to eat (apologies to Hale Vietnam fans).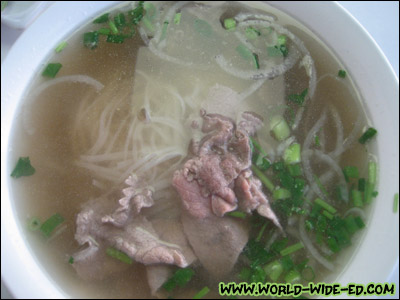 Beef Pho from Super Pho
I've actually been here enough to even venture away from their signature pho.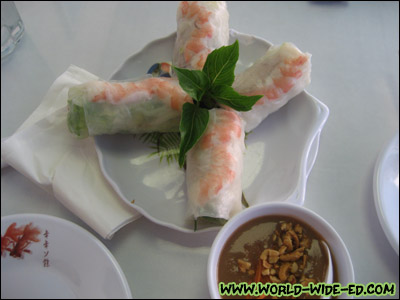 Summer Rolls from Super Pho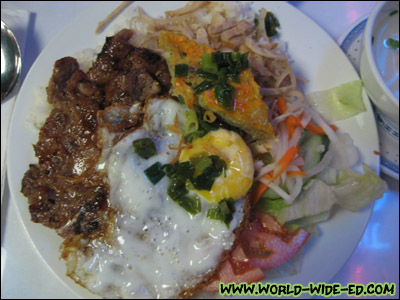 Combination Plate from Super Pho
Needless to say, the pho is a must have.
Super Pho
3538 Waialae Ave
Honolulu, HI 96805
(808) 735-9989
Another convenient place to get your pho phix is Pho One, off Kapiolani. They have an odd parking situation (shares it with an apartment building above), but once you get settled in, you feel comfortable, and ready for some pho action.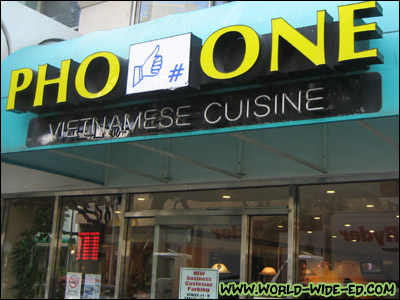 Pho One Sign
And then it comes!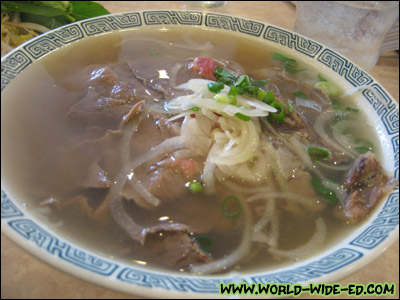 Beef Pho from Pho One
YUM!
Pho One
1617 Kapiolani Blvd
Honolulu, HI 96814
(808) 955-3438
Open 9AM-10PM Daily
Probably the most inconvenient, but popular of the three is our next stop: Pho To-Chau Vietnamese Restaurant, deriving its name from the mother and father founders of the restaurant. Inconvenient as it may be (located off River Street on the very edge of Chinatown), they have a loyal following and always attracts a monstah line.

Line Outside Pho To-Chau
With reasonable prices ($6.50 for the extra large bowl) and a simple approach to ordering (just pick your size and contents), it's easy to see why.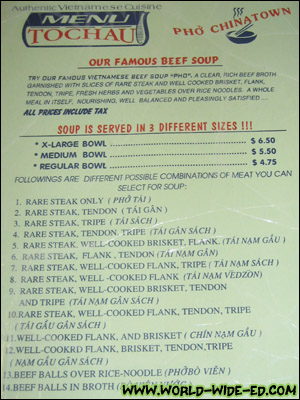 Pho To-Chau Menu
Since we had to wait in line for quite some time (even at 10:15AM!), we decided to make the most of our visit. We ordered their popular Café Sua Nong Hoac Da (French filtered Coffee with Condensed Milk) and So-Da Chanh Duong (Lemonade with Soda Water) to go along with our $3.75 Shrimp Rolls.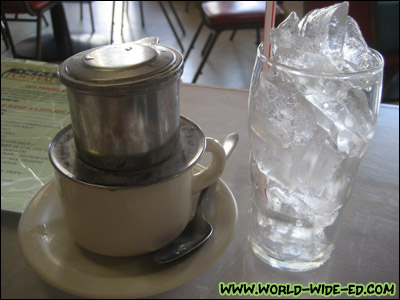 Café Sua Nong Hoac Da (French filtered Coffee with Condensed Milk) – $2.75 goes from this…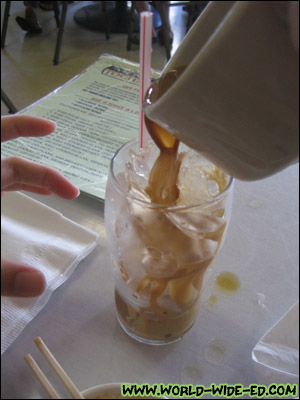 to this…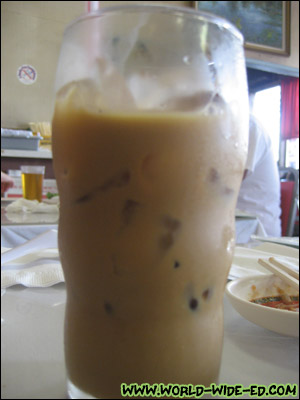 to this.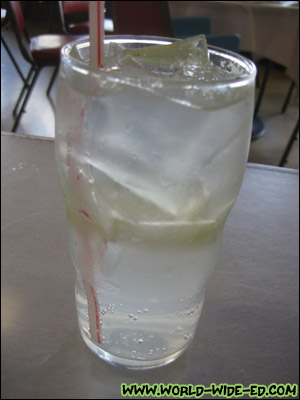 So-Da Chanh Duong (Lemonade with Soda Water) – $2.25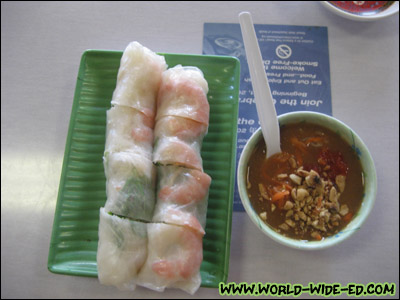 Shrimp Rolls (Shrimp, Pork, Fresh Herbs, Vermicelli Rolled in Rice Paper – Special Sauce) – $3.75
And then it was time. *duh-duh-DUH!* Time to have a taste of what this hype was all about. It didn't disappoint.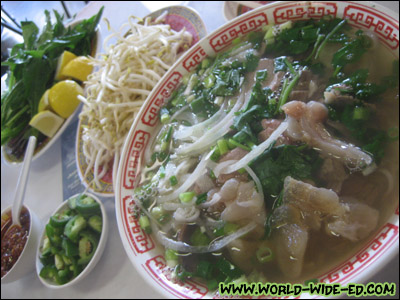 X-Large Tai Gau Gan Sach Bowl (#10 – Rare Steak, Well-cooked Flank, Tendon, Tripe – $6.50)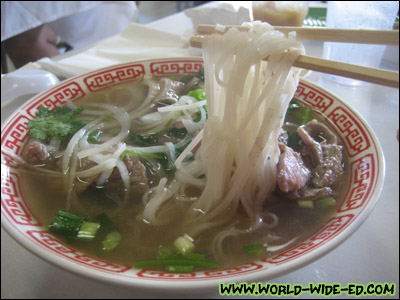 Medium Pho Tai Bowl (#1 – Rare Steak Only – $5.50)
Though everything was good, as expected, I'm not quite sure if it was finding-parking-in-Chinatown-and-waiting-in-a-long-line good, you know? I'd much rather conveniently stroll into Super Pho to get my phill. Ya pheel me?
Either way, I hope you enjoyed the Pho tour of Hawaii. Next up: Kalbi? 🙂
Pho To-Chau Vietnamese Restaurant
1007 River Street
Honolulu, HI 96817 (map)
(808) 533-4549
Open 8:30AM-2:30PM Daily