Our company recently completed a weight-loss competition, in which we – depending on how serious you were – stripped ourselves of the bare essentials. For some, these "essentials" included cake, pork chops, deep fried foods, or a combination of the three. For me, it was sushi!
Twenty one "out-of-thin-air" pounds and many, luscious, raw fish dreams later, my stomach was ready to eat itself, but I maintained and did what my momma told me: I finished what I started. So when it was time to treat myself to my "first meal" of sorts, the first (and only!) place that came to mind was Tokkuri Tei, a small, izaka-ya type Japanese restaurant off Kapahulu Avenue.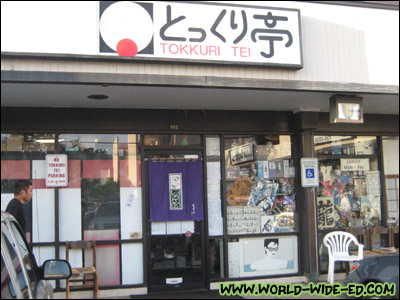 Tokkuri Tei Sign
Tokkuri Tei is, by far, my favorite "treat yourself" place to eat. With the most authentic tasting food and most realistic feeling izaka-ya vibe, it is as close to Japan that you can get without the hefty airfare.
I've mentioned the word izaka-ya a few times now, including in my title. Some of you are probably scratching your head asking yourself "what the heck is that buffoon referring to?" Loosely translated, the term izaka-ya in Japanese is a sake store/shop. In Japan, the term usually refers to a bar/pub that, in addition to sake (and other alcoholic drinks), serves up food, and good food at that. It's always a popular pau hana stop for the hard working Japanese population because it's casual and cheap, and sometimes carries unique, adventurous dishes you don't often see anywhere else.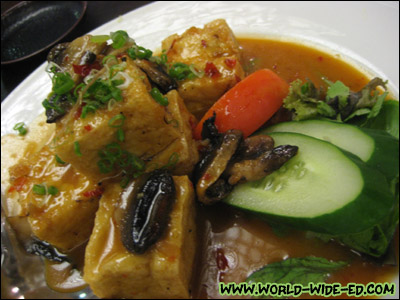 Teriyaki Cream Tofu – $7.50: "Tofu got a French Twist"
Tokkuri Tei is no different. They've been serving up some of the most innovative, imaginative and irresistible dishes since opening their doors at their initial location on Sheridan Street in 1989. Like their izaka-ya counterparts in Japan, when they were at this location, only a select number of us "in-the-know" knew of this relative hole-in-the-wall hot spot. Since moving to their more spacious Kapahulu location in 2000, the word has gotten out.
Tokkuri Tei's humble beginnings started when Hideaki "Santa" Miyoshi, former manager of a Japanese restaurant named Shiruhachi, and Kazu "Kaz" Mitake, former sushi chef for Yanagi Sushi met and started a lunch wagon in Campbell Industrial Park in 1987. (Editor's note: "Santa" explains that his nickname has nothing to do with Santa Claus. It is a Japanese name that means three times fatter than the others.)
"We were always talking about opening an izakaya type restaurant," said Miyoshi. "In 1989, we got an investor from Japan and started Tokkuri tei. Originally we tried to name this restaurant 'Izakaya Non' literally 'drinking', since our corporation name is N.O.N. enterprises, too, but Izakaya Nonbei was open just before us. Kaz's wife came up with this name "Tokkuri tei". The logo represents the top view of the sake bottle in 'masu' (traditional square sake container)."
Too bad "Scrumptilicious" was already taken because that's what the food here is. OK, so there's nowhere actually named "Scrumptilicious," but ya get the point.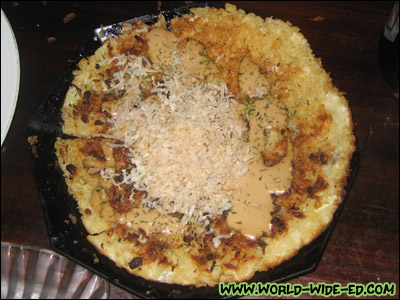 Ika Yaki – $7.50: "Squid pancake taste like pumpkin pie (not quite)"
It's easy making a "drinking" place with decent tasting food, but Tokkuri Tei has taken things to another level. Part, or I should say most of the reason for their success in the kitchen is the strength of both Kaz and Santa's culinary background.
"Kaz is a very experienced chef. He is in (the) line of cooking for 30 years and also understands (the) importance of customers' feedback," says Santa. "He started working at Zippy's, Furusato, Marushin, Torigin, Ohortsuku, then Yanagi. I was working for a Japanese restaurant in Tokyo before I came here as a (restaurant) manager. But we had trouble with our chef, so I had to start cooking to maintain the restaurant. Several friends taught me how to cook including Kaz. After I left the restaurant, I worked for Kengo's for a year as a sashimi cutter. I dealt with 400 pounds of ahi every day. Then I worked for Shogun for little while. Then we started the lunch wagon."
Santa has won awards in the Aloha Shoyu cooking contests, placed multiple times in Sam Choy's Poke Contest (1st in 2000, 2nd in 2001), and was a top ten finalist for Tabasco's cooking contests. At the Kapolei Uncorked event last year, he, alongside of Alan Wong, D.K. Kodama, and other top chefs, was a featured "Culinary Star." The restaurant was featured in the New York Times, Elle Décor, Travel & Leisure and Sunset Magazine and is one of Oahu's 100 Best Restaurants as named by the Honolulu Advertiser's readers.
But don't take my word for it. Feast your eyes on the shots below of the more popular dishes served here.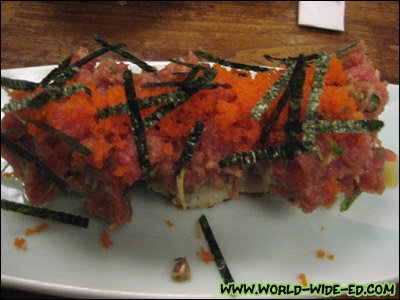 Ahi Tar-Tare Poke – $15: 1997 Sam Choy's Poke Contest Winner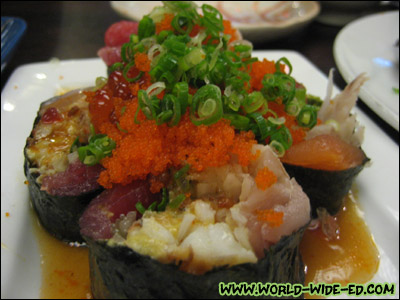 There's a Spider in Da Poke – $16: 2000 Sam Choy's Poke Contest Winner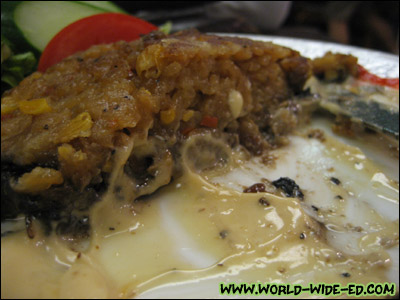 Stuffed Portobello – $9.50: Portobello stuffed with sticky rice – yes it's half eaten!
If you're a butter fan, try something from their Bata Itame section on the menu. My favorite is the Tako! Imo! (Octopus! Potato!) choice.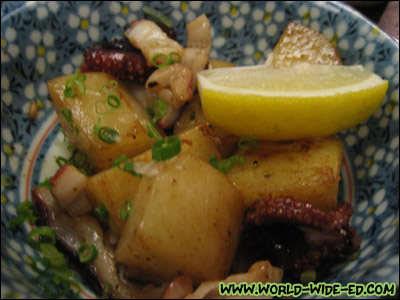 Tako! Imo! – $6.50: Potato & Octopus
One of the more amusing things you'll notice about the menu is the descriptions of the dishes. It's one thing that many of the dish titles are Japanese, but when you see things descriptions like "You Do Who! What?" (Yu Dofu), "I can't explain. Can you?" (Kanpyo Roll), "It tastes better than worm" (Caterpillar Roll) or my personal favorite "You'll never know till you try." (Anago Yanagawa), it doesn't help much.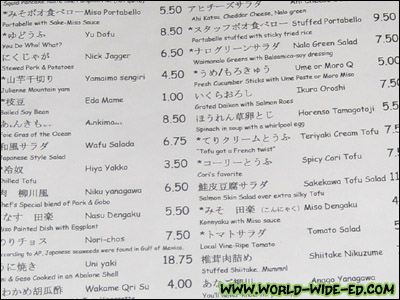 Funny, vague dish descriptions
Thankfully, you can go omakase ("leave it up to them") if they like you and they're not too busy. This is when you tell them what kinds of ingredients you like, and they'll concoct dishes based around those interests. You can rest assured though that whatever comes out of their kitchen, omakase or not, will be top notch!
So what's next for Hawaii's best Izaka-ya? Believe it or not, they are planning to publish a cook book. You can be sure that I'll be the first in line to pick up that puppy. After all, I've got 21 sushi-filled pounds to put back!
Tokkuri Tei
611 Kapahulu Ave, Suite 102
Honolulu, HI 96815
(808) 739-2800
Mon-Fri 10:30am-2pm
Mon-Fri 5:30pm-12am
(moved to the below 449 Kapahulu Ave location)