We've all seen it. That iconic pink building with the cute crab calling in Kalihi. It's a landmark. A national treasure even. So I was surprised to hear about some who have yet to pay them a visit.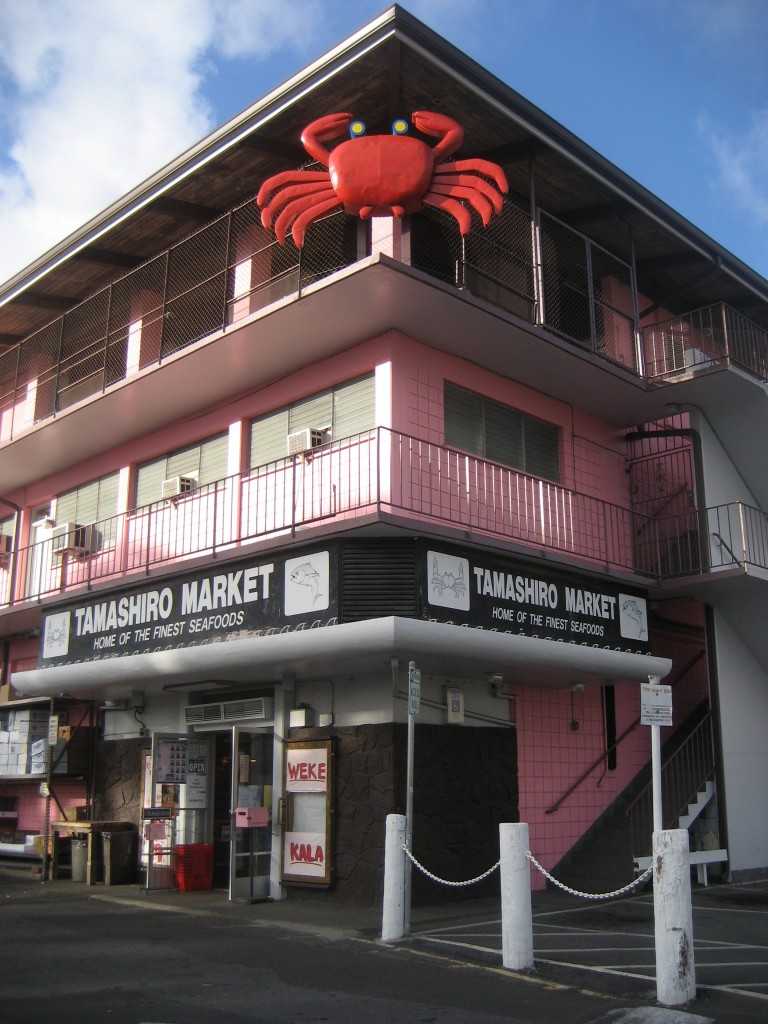 Tamashiro Market originally opened in Hilo on May 1st, 1941, but when a tsunami destroyed most of the business district in 1946, founders Chogen and Yoshiko Tamashiro decided to relocate the family business to Oahu where it remains today.
Today, 3rd generation Tamashiros Cyrus, Guy and Sean continue the family tradition, offering the largest selection of seafood in the state, with over 75 varieties, over 30 styles of fresh poke, produce and unique, ready-to-eat items like green bananas, breadfruit, green papayas, pasteles, kulolo and much more.
During a visit to the United Fishing Agency Fish Auction, I made contact with Guy Tamashiro and spontaneously held an impromptu interview. Here's the video and transcript.
[Edward Sugimoto] Describe your history with fish.
[Guy Tamashiro] OK, well, I think we first started with fish, actually my dad had a feed store and all that, the first Tamashiro Market, but then he started selling a little bit of fish. I think the story was that he bartered it at that time for some opelu. Then it sold, so he said "ok, that was fun." So he started going down to the auction across from Aala Park, then he started selling a little bit more, and it started selling well, so he just started expanding it from there. And then, in 1962, he constructed the building that it's in now, and then from there, it just started seafood as the emphasis.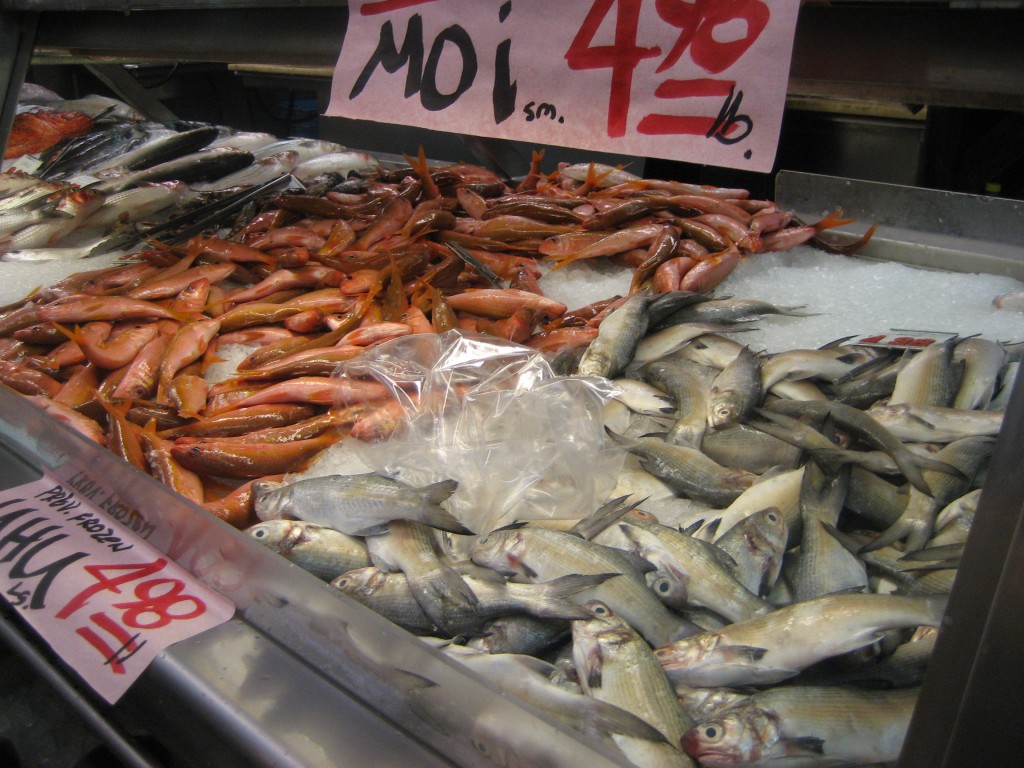 [Edward Sugimoto] And you guys started doing poke after a while?
[Guy Tamashiro] Yeah, yeah, actually, poke was just one/two pans. When I first started working it was only 1 or two pans, and then from there, we, I don't know, maybe 30 something?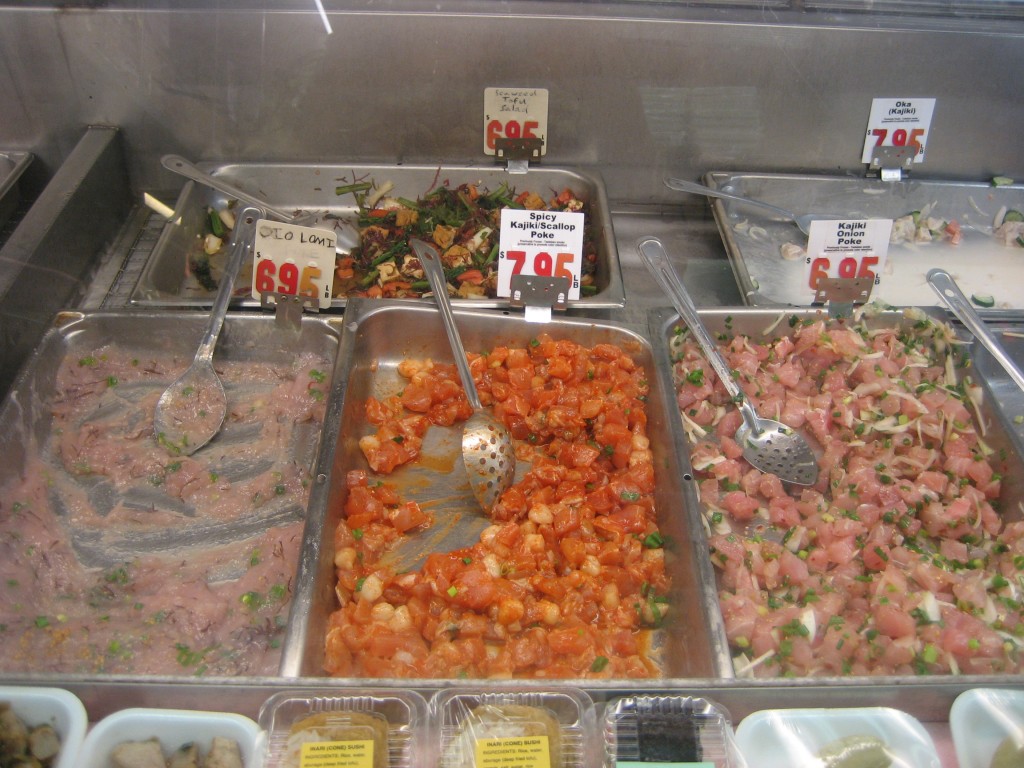 [Edward Sugimoto] Out of that, which one is the most popular one?
[Guy Tamashiro] Ahi is, by far, the MOST popular. And if aku is available, that's pretty popular too.
[Edward Sugimoto] Ahi limu or any kind of ahi?
[Guy Tamashiro] Ahi limu, ahi shoyu, ahi onion. We're getting new flavors in too now. As we go on, we want to add to the different tastes that you can get from it, not just the plain type, but also other tastes we want to try out too.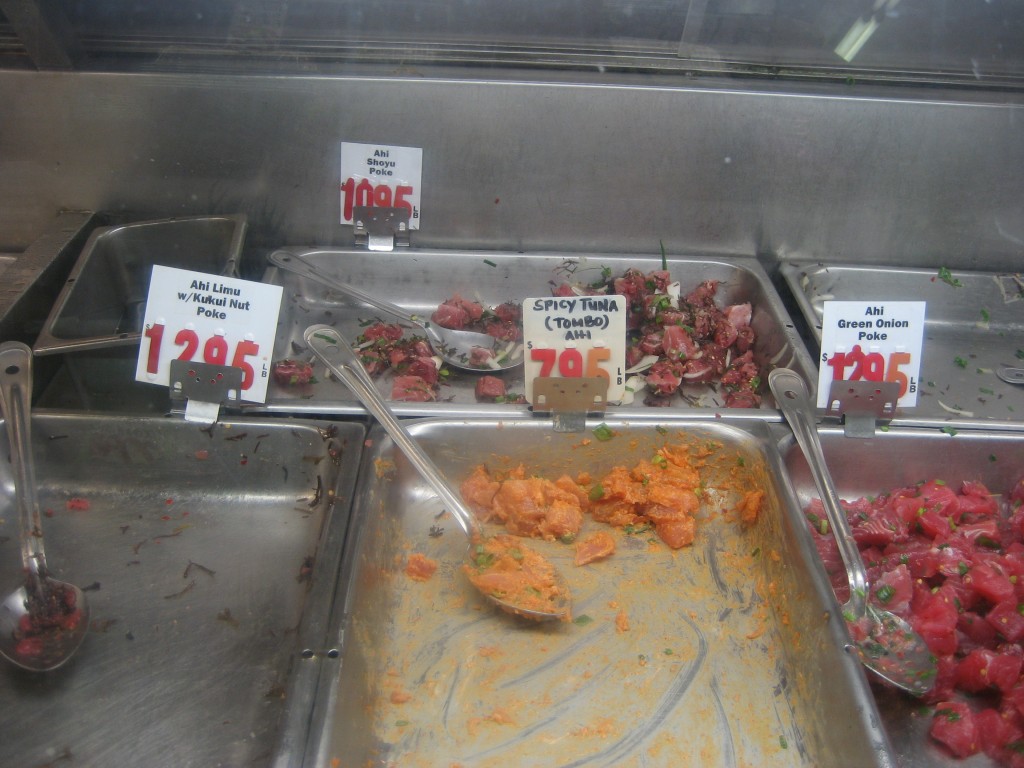 [Edward Sugimoto] What is your personal favorite?
[Guy Tamashiro] Oh, that's a hard one. Well, I love aku. Large aku. But for ahi, because they're coming out with different flavors now, I don't know. I have a poke lunch maybe 3-4 times a week, and it's not always the same lunch. Hard to have one favorite, it's just different flavors.
[Edward Sugimoto] What's in store for Tamashiro Market?
[Guy Tamashiro] Well, we just hope we do a lot more sales. *laughs*
[Edward Sugimoto] Do you have any words for your customers out there?
[Guy Tamashiro] Sure. You know where to shop. You know where we are. Come down, see us. *smiles*
It's always busy whenever I go, but on this occasion, I just so happen to be there right before closing, so the "getting-stuffs-for-dinner" rush was in full effect.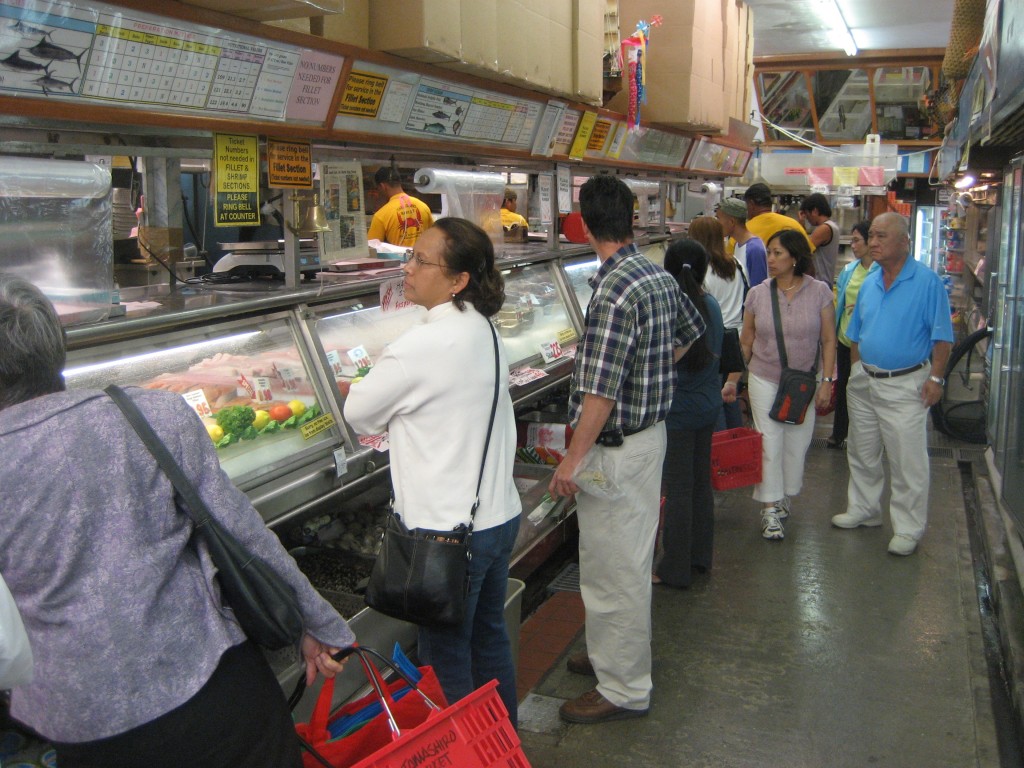 As Guy suggested, I picked up some Ahi poke. Ahi Onion and Ahi Shoyu to be exact.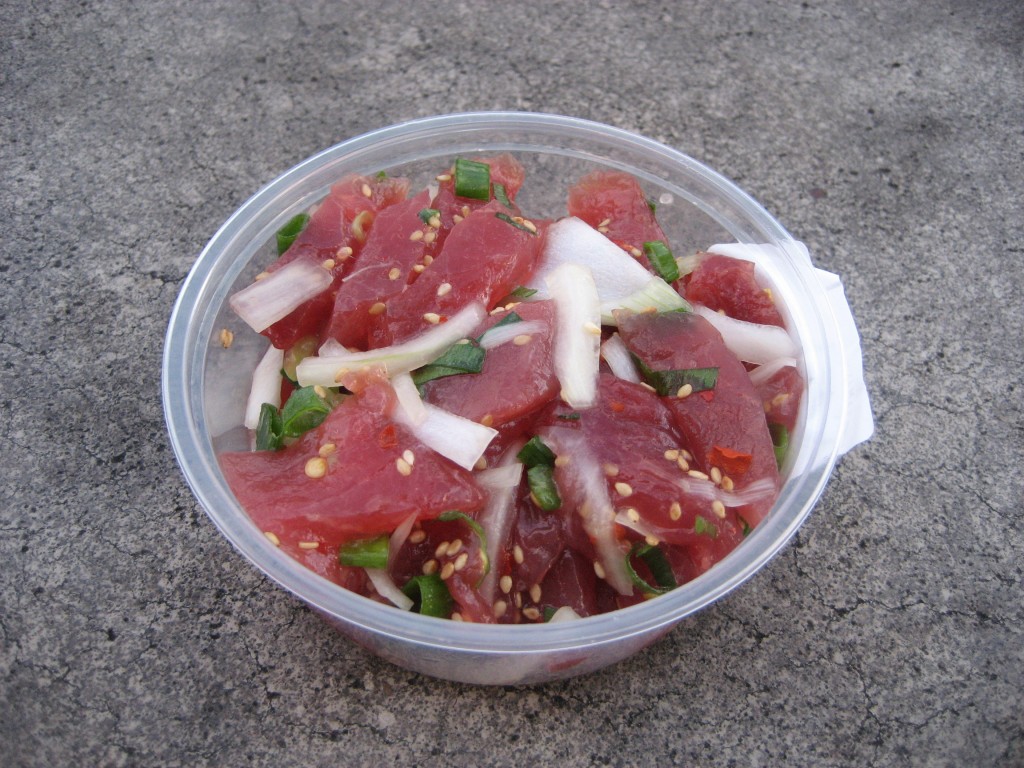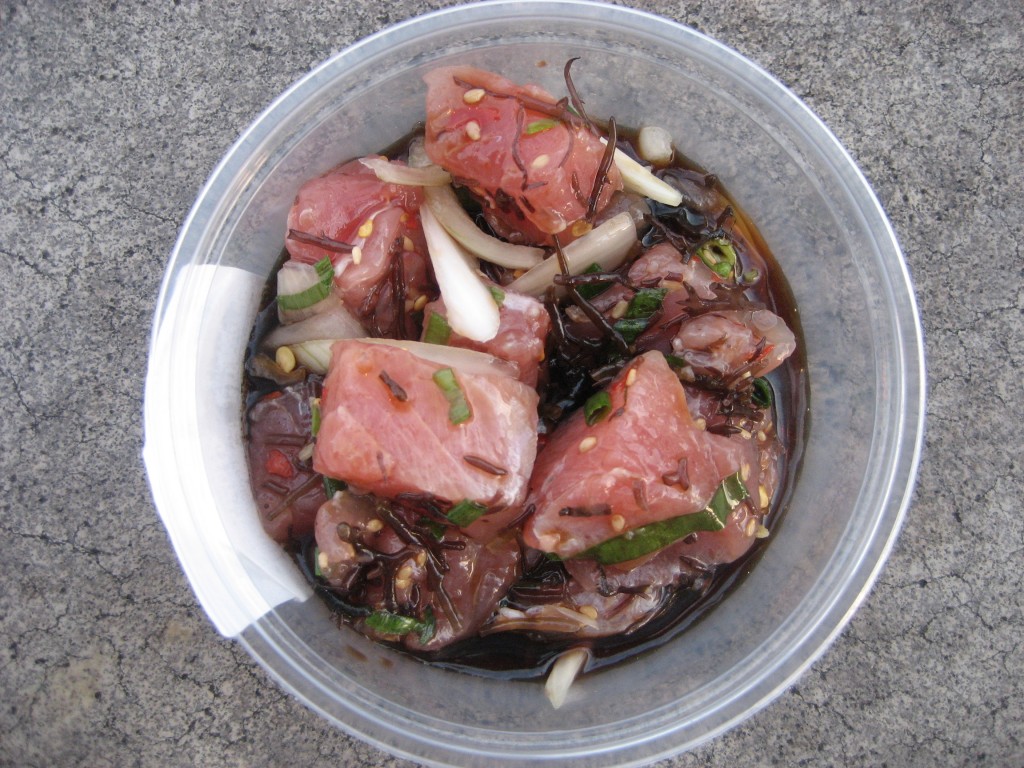 Sometimes, if I'm in the area for lunch, I like to pick up poke from Tamashiro's and drive over to nearby Dillingham Saimin. The cold poke and hot saimin make for a good marriage. Here's a shot of my Furikake Poke from Tamashiro's at Dillingham Saimin.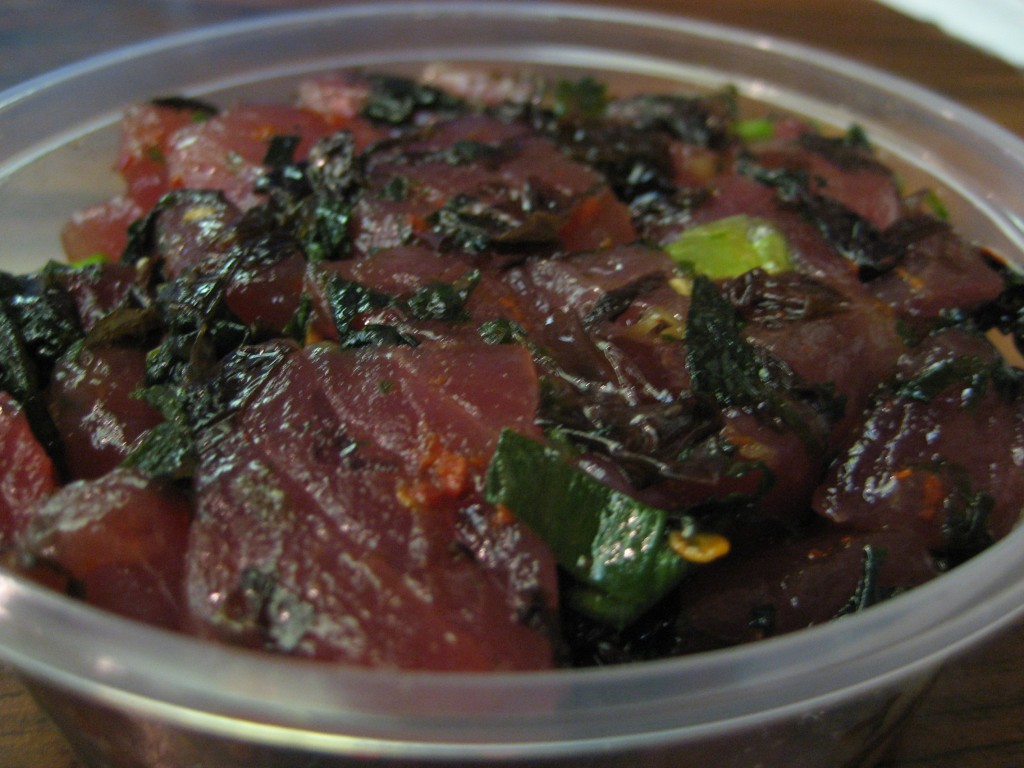 So the next time you're in the mood for fresh seafood, go check um out, go check um goooo. Tell the crab Ed sent ya. 😉
(Previously published in Lawai`a Magazine)
Tamashiro Market
802 N King St
Honolulu, HI 96817
(808) 841-8047
Mon-Fri: 9am-6pm
Sat 8am-6pm
Sun 8am-4pm