[Editor's Note: The Poke Bowl is now the uber popular Paina Cafe with multiple locations]
So before heading over to Slammers the other night, my friend Todd calls and asks if I wanna come down and sample some poke at his friend's place. If you know anything about me, you know that poke and I are one. Once he said the word poke, every word after that was a blur…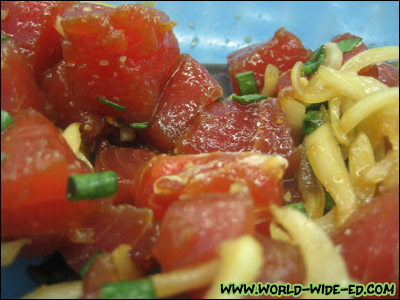 Shoyu Poke
So it was a no-brainer that I head on down to the old location of the Tropic Fish & Vegetable Center at Ward Farmer's Market ASAP to find out what Todd was babbling about.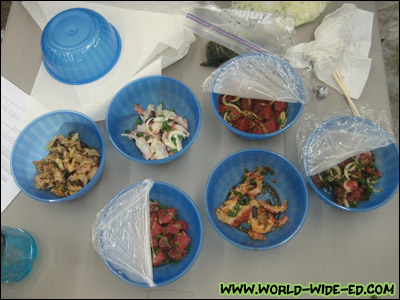 Da samples
You see, brothers Derek and Craig Uyehara (along with the help of their parents, and friends Todd and Chris that night) were prepping things for the scheduled opening of their new eatery called The Poke Bowl this Sunday.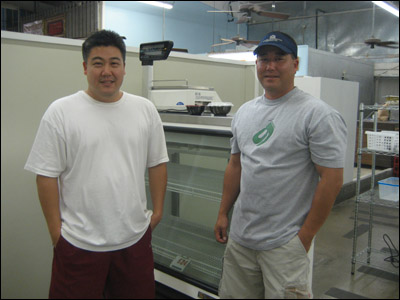 Brothers Derek and Craig Uyehara
The concept is simple, yet ingenius. It will be a build your own poke bar (prices start at $3.75), using the freshest local ingredients around including Big Island Ogo, Hawaiian Chili Peppers, Ewa Green Onions, and Kahuku Cucumbers. Pour all that over a hot bed of rice in a bowl and you got your Poke Bowl. Broke da mout'!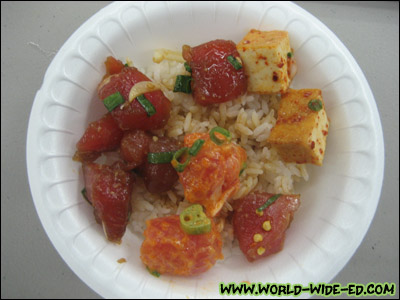 My Make-shift Poke Bowl (actual product will be a lot prettier)
They will also serve bentos that include Salmon, Fish and Hamburger Patties, and Teriyaki Chicken, musubis and Sakura Boshi (seasoned Aku) from Hilo. Bottled water and soft drinks will also eventually be joined by alcoholic beverages. Mmmm!
Go and check them out this Sunday. They're a couple of nice guys doing something different for the local community. Located at the old "Tropics" location at the Ward Farmer's Market (right side at 1020 Auahi Street, Building #1, Honolulu, HI 96814).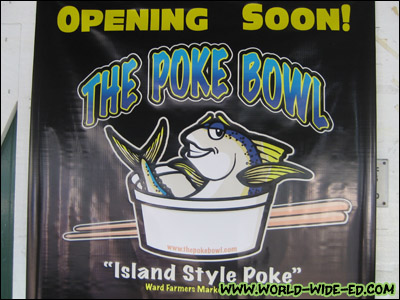 The Poke Bowl sign
Tell 'em Ed sent ya! 😉
UPDATE!
Just got an email from Bruddah Derek with the following additional details… Enjoy!
Types of Poke:
* Hot or Mild Shoyu Ahi
* Hot or Mild Shoyu Limu Ahi
* Limu Ahi
* Hawaiian Style Ahi
* Spicy Tuna
* Kim Chee Tako
* Hawaiian Style Tako
* Shoyu Tako
Poke Bowls:  2 sizes (mini & regular)
Additional toppings:  natto, kim chee, takuan, nori
Food (Premade)/Bento:
* Maki Sushi
* Inari Sushi
* Fried Chicken
* Ahi Patty
* Teri Burger
* Sakura Boshi (Hilo style)
* Variety of musubi (spam, luncheon meat, hotdog, shoyu tuna)
The Poke Bowl
Ward Farmer's Market
1020 Auahi Street, Building #1
Honolulu, HI 96814
Opening Day: Sunday, July 13, 2008
Open Mon-Fri, 7AM-5PM, Sat 7AM-3PM, Sun 7AM-12PM