Part I | Part II
With the hot summer months upon us, there's no better way to cool off than with an ice cold, refreshing treat. And since we've already covered some of the more popular shave ice joints across the state why not go with the latest health trend in Ha-wa-ii… Açai!?
Açai (pronounced ah-sigh-ee), is a small, berry-like fruit that grows on the Açai Palm native to the rainforests of Central and South America. Most popular in Brazil (cumprimentos!), it is widely known to be an uber healthy superfruit, carrying with it powerful antioxidants, amino acids and essential fibers and fatty acids. Heck, Oprah even gives it the thumbs up, and we all know that her word is gospel. *grin*
Today, you can find Açai all over Hawaii (and the United States for that matter) in juices, frozen fruit bars, vitamin supplements, chocolates, and most commonly in frozen smoothies known as an Açai cup or bowl. This month, we'll explore the places around Oahu that serve up this special treat. Excelente!
Blue Hawaii Lifestyle
Located on the second floor of the new Nordstrom wing of Ala Moana Center, this health specialty store doubles as a juice bar/café, serving packaged foods, coffees, teas, fresh-made juices and even books and music.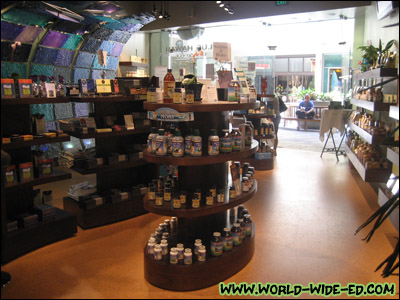 Blue Hawaii Lifestyle products
For $6.75, you can enjoy their Small Açai Bowl topped with bananas, berries, honey and granola ($8.75 for the regular size), which, incidentally is their number one seller.
Ed's Tip: Unless you're a monstah eater, a small bowl should suffice as a snack for two peeps.
Small Açai Bowl topped with bananas, berries, honey – $6.75
The presentation was just as good as the taste. Loved the use of fresh fruits and their surplus of granola!
According to PR point person Matt Olson and founder/CEO Michael Zhang, Blue Hawaii LifeStyle plans to expand to mainland China by the fourth quarter of 2009. "Beginning in Shanghai's Xintiandi Shopping Center, we will continue the expansion to Beijing, Shenzhen and Guangzhou, bringing our concept of the active, healthy lifestyle found here in Hawaii to a new demographic."
A great way to start guys…
Blue Hawaii Lifestyle
1450 Ala Moana Blvd., No. 2312
Honolulu, HI 96814
Tel: (808) 949-0808
Floor Map of Ala Moana: PDF
Monday-Saturday 8:30AM-9PM, Sunday 9AM-7PM<
Diamond Head Cove Health Bar
This surf-vibed, smoothie/salad bar is located on Monsarrat Ave and features an assortment of smoothies, juices, salads and wraps.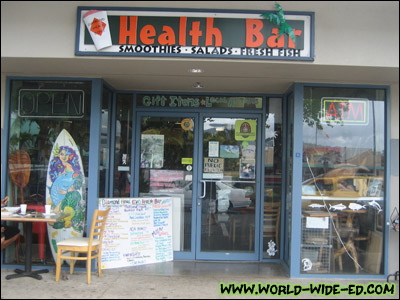 Diamond Head Cove Health Bar
Most of their ingredients are local, including the fresh fish used in their salad and wraps. They also serve traditional organic Hawaiian Awa, three types of Açai treats (which is why we're here! 😛 ) and have live music on Tuesdays, Wednesdays, Thursdays and Sundays.
But enough about that… let's get to the Açai baby! They have three of 'em (two bowls and one smoothie), which includes the Da Cove Bowl (Açai, Bananas, Strawberries, Granola & honey for $7.50), the Mana Cove Bowl (Açai, Bananas, Strawberries, Blueberries, Granola, Beepollen & Honey for $9.25), and the Açai Smoothie (Açai Bananas, Strawberries, Mixberries for $7).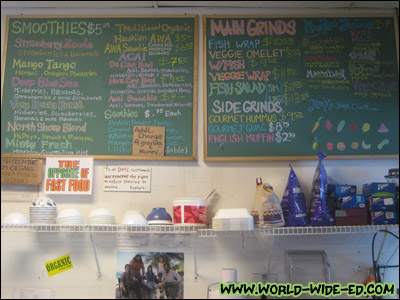 Diamond Head Cove Health Bar inside menu
A slight word of caution. There may be some discrepancies between the menu outside and the menu inside (which I hope they've fixed by now), so inquire within. Based on what I read inside, I was hoping to get "Mixberries" with my Da Cove Bowl, but was disappointed when it didn't have any. On the way out, I read the board outside which did not list any berry besides strawberries (twice!).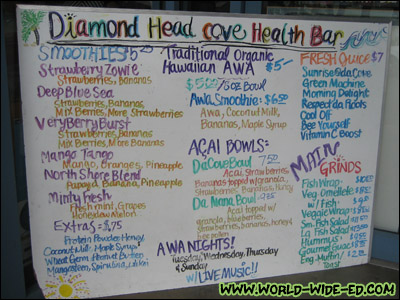 Diamond Head Cove Health Bar outside menu
The presentation wasn't the greatest, likely due to the mad rush (see below), but the taste was pretty good nonetheless. It probably could've used a little more granola and a little less honey though.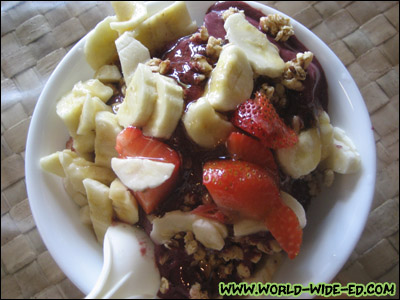 Da Cove Bowl (Açai, Bananas, Strawberries, Granola & honey) – $7.50
Ed's Tip: Try to avoid the peak times here. Besides the very limited parking situation outside, they can get really busy up in hurr. We came when there was a big crowd and a shift change taking place, so they actually forgot/misplaced our order. 🙁
Diamond Head Cove
3045 Monsarrat Ave #5
Honolulu, Hawaii 96815
Tel: (808) 732-8744
kava@diamondheadcove.com
Sun, Tue, Wed, Thu: 10AM-Midnight (kitchen closes at 10PM) – Live Music (Awa Nights)
Mon, Fri, Sat: 10am-8PM (kitchen closes at 7PM)
Jamba Juice
And finally… what's a discussion about Açai without a mention of the mother of all smoothie hotspots: Jamba Juice!?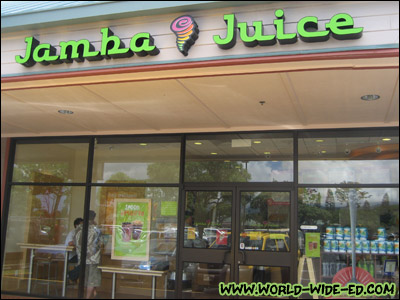 Jamba Juice Mililani
Introduced statewide right after Christmas last year, Jamba Juice's Açai Cup is blended with pure Açai concentrate and soymilk, combined with bananas, strawberries and blueberries, and topped with organic granola and fresh bananas.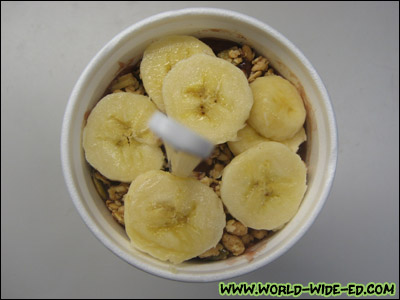 Açai Cup topped with fresh bananas (Brazilian Açai juice, soymilk, strawberries, blueberries, bananas, also topped with organic granola) – $5.25 for the sixteen ounce / $6.25 for the original size
Here's a close-up of the actual Açai portion of the smoothie: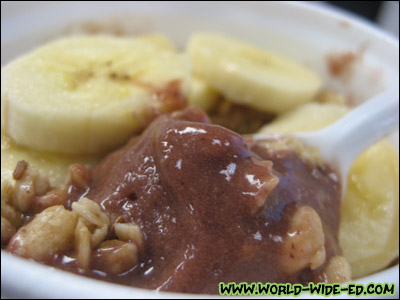 Close-up of Jamba Juice's Açai Cup
Here's the much prettier, PR version of the Açai Cup. Dayem, those photographers are gooood! 🙂
Açai Cup ad (photo courtesy Jamba Juice Hawaii)
My first exposure to the sweet Brazilian treat was actually via Jamba Juice's Açai Cup. After tasting the way the other places do it though, I'm secretly hoping that they start drizzling honey over the top of theirs one day. 🙂
Jamba recently added two new drinks to their "Meal in a Cup" lineup: the Hawaiian Açai Cup, which blends Açai concentrate, mangos and guava juice and topped with organic granola and fresh bananas (Sixteen $5.25/Original $6.25), and the Chunky PB 'n Jamba, a thick blend of soymilk, vanilla yogurt, organic peanut butter, strawberries, blueberries & organic granola and then topped with more blueberries (Twelve $4.50/Sixteen $5.25).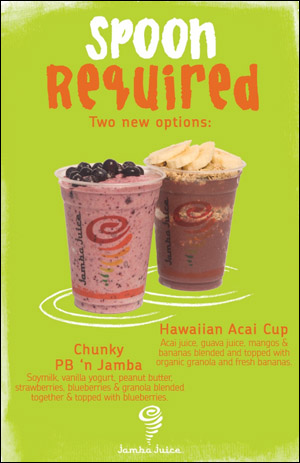 Ad for the Chunky PB 'n Jamba and the Hawaiian Açai Cup (photo courtesy Jamba Juice Hawaii)
The Hawaiian Acai is a spin-off of the original Acai Cup substituting guava juice and mangos instead of soymilk, blueberries and strawberries. The Chunky PB `n Jamba is a continuation to the delicious Chunky Strawberry which replaces the bananas with blueberries.
I know it's not Açai, but since I got it recently, here's a closeup of the Chunky PB 'n Jamba FYI.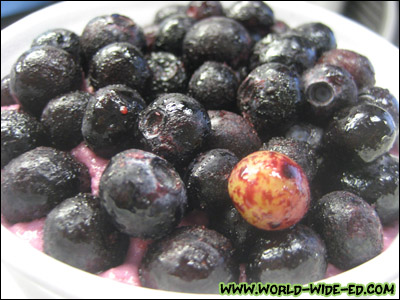 Chunky PB 'n Jamba closeup
Chunky Strawberry is the final "Meal in a Cup" drink in their arsenal. It blends strawberries, bananas, peanut butter, yogurt, soymilk, and organic granola and is topped with fresh bananas (Sixteen $5.25/Original $6.25).
Ed's Tip: Stick with the traditional Açai Cup. My cubicle mate and I have both tried the Hawaiian Açai and though it's good, we still prefer the original da bes'!
Since everyone's probably already been to Jamba at least once in their lives, I had to inquire within to find a gem for you valued readers. One little undiscovered morsel that will come in handy next time we all go.
Enter Marketing Director Sheri Rigg. "One thing customers may not know is that ANY smoothie on the menu can be customized to their taste preferences, nutritional needs, etc. They can swap out fruits in the recipe, change the consistency of the smoothie (e.g. make it thicker), or add ingredients or nutritional boosts. All the new products mentioned above include organic granola made with flax and pumpkin seed. Customers really LOVE the granola and can top any smoothie with this granola or have it blended within to create a thicker consistency. Topping their favorite smoothie with additional fruit is also delicious!"
Sounds like a little "Have It Your Way" action if you ask me. Yes, I know that's another company's slogan, but you catch my drift. I think I'm gonna try that next time. I'm gonna customize my Açai cup with more blueberries, less strawberries. And maybe I'll bring a bottle of my own honey. 🙂
Jamba Juice Hawaii
Numerous Locations (store locator)
Well, that's it for part 1. Next month, we'll hit up Lanikai Juice, Jewel or Juice and Wedding Café for more from the world of Açai in Ha-wa-ii. Adeus!
Part I | Part II