The last time I covered the Yajima-Ya Lunch Wagon (located off of Sheridan Street near Keeaumoku), the majority of their menu items consisted of the noodle (soba or udon) and don (rice bowls) variety. Since then, they've expanded their menu to include well received plate lunch style items like teriyaki or mushroom chicken, steak, and a Japanese style beef stew called Hayashi Rice. I figgah now's a good time as any to pay chef Tomoki Ito a (re)visit to see what's new… with a little food p0rn/eye candy of course!
One of my favorite (and incidentally one of their most popular) dishes here is the mushroom chicken. Made with egg and tempura flour, the breaded crispiness of the chicken is offset nicely with the rich "graviness" of the rue. With a side of spinach and Japanese style mac salad, this one is fo' real kine brok' da mout'!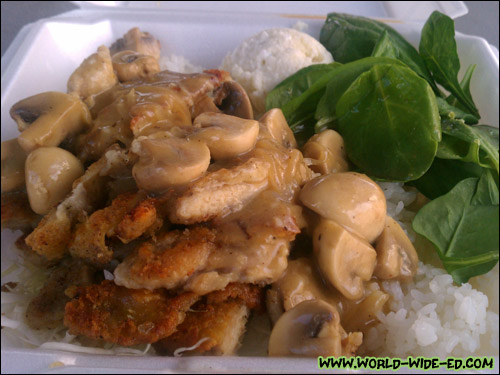 Mushroom Chicken Plate ($8.50)
Prepared in a similar way sans the gravy, is their Teriyaki Chicken plate. Love the touch with the Furikake over the rice!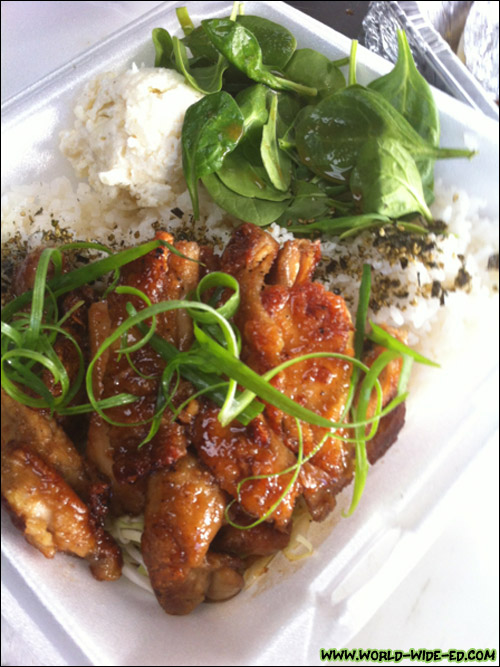 Teriyaki Chicken Plate ($8) (Photo Credit: Tomoki Ito)
Another favorite of mine is the Hayashi Rice Plate (the Japanese style beef stew). Here's a shot of that gem.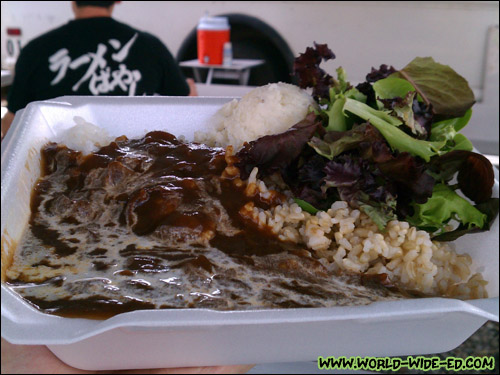 Hayashi Rice plate ($8)
Wifey likes their Buta Shougayaki (Pork Ginger) plate, which is strange because she's not a fan of ginger. In fact, neither am I, but we both can sure whack this buggah like that. Here's a shot of Yajima-Ya's combination plate with Pork Ginger and Wafu style New York Steak w/ponzu.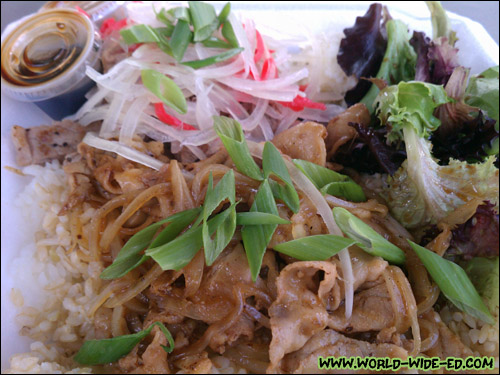 Pork Ginger and Wafu w/ponzu Steak combination plate ($9)
It's hard to tell, but there's a stack of steak underneath all that onion and ginger.
One of the great things about a combination plate at a place like Yajima-Ya, is that your options are practically endless. Some days you might be in the mood for Japanese style fair, while on other days, you might want full on local kine grindz. And then, there are those days when you just can't make up your mind. This is when you combine the flava of the East with that of the options from way out west.
Here are a couple of combination plates, blending Hawaii and Japan.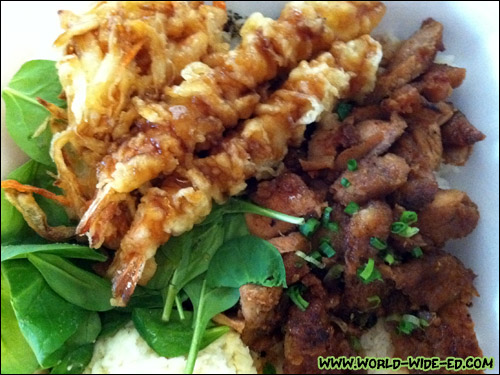 Tempura and Teri Chicken combination plate ($8.50)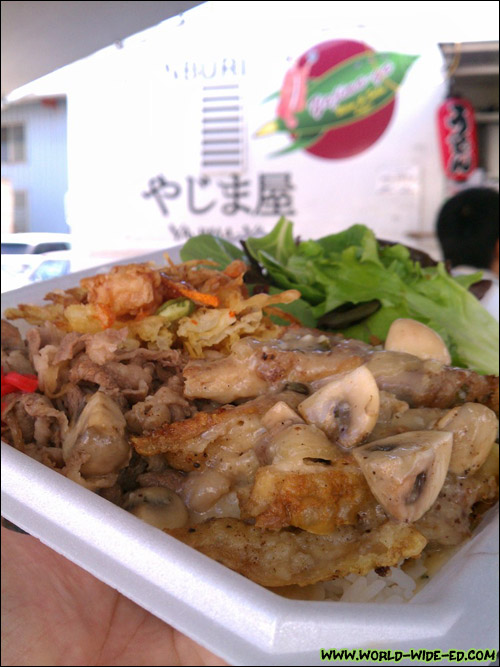 Samurai Donburi & Mushroom Chicken combo ($8.50)
And of course, they still have their tried and true donburi, udon and soba items like their Samurai Donburi…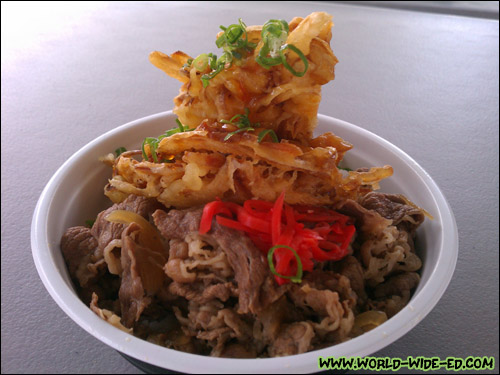 Samurai Donburi ($7.50)
… the Bukkake Sanuki Udon…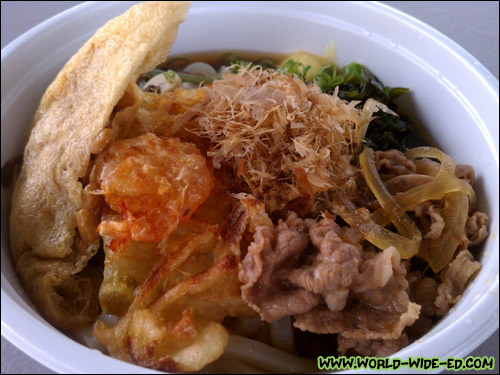 Bukkake Sanuki Udon ($8)
… and their Sansai (Vegetable Tempura) Soba.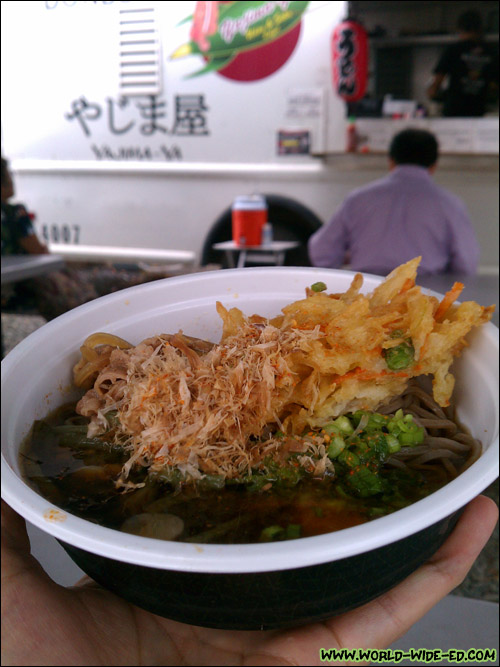 Sansai Soba ($6.50)
Other interesting menu items include the Kara Soba (Spicy Cold Soba) for $8.25, the $4 Breakfast Special (Rice with 1 scrambled egg, 2 slices of bacon & 3 slices of Portuguese Sausage), and a couple of Salad options (with a choice of Udon or Soba) for $8 each. A far cry from the humble beginnings when their main clientele was employees from the neighboring Yajima-Ya (Cosmo) service station.
A few things to note since my last article… Although they've expanded their menu options to include the local style favorites mentioned above, they've also streamlined operations, choosing to shorten their hours of operation, and do away with extraneous things that take time to prepare like their Belgian Waffles, specialty drinks, and their Daily Specials menu altogether.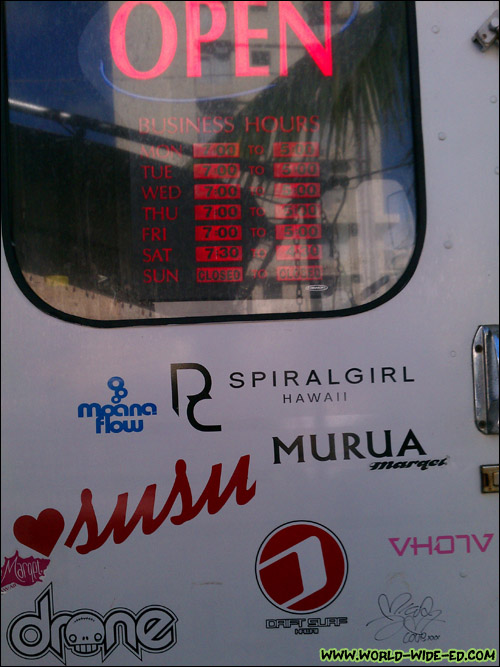 Yajima-Ya Hours of operation
Kudos to chef Ito-san and the rest of the Yajima-Ya family for constantly evolving and finding ways to please our palate. I just hope my food p0rn/eye candy did the food justice.
Check them out the next time you're in the area (or even if you're not!). Trust… You won't be disappointed.
Yajima-Ya
@yajimayahawaii
Sheridan Street (Behind Hinone Mizunone, between South King & Liona)
Honolulu, HI. 96814 (Street View)
808-497-7991
Mon-Fri: 7am-5pm
Sat: 7:30am-4:30pm
[youtube=http://www.youtube.com/watch?v=g6fspcsRH8U&w=500&h=400&rel=0] Tarp Surfing in Hawaii – VH07V Style (Click to Play!)