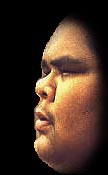 May 20, 1959 – June 26, 1997
His Life | Albums | DVDs | Books | Guestbook
ALBUMS
Below is the complete collection of Israel Kamakawiwo`ole's albums, including track by track listings and the ability to purchase them online (via Amazon.com). Enjoy!
---
Over the Rainbow / What a Wonderful World
I'll Be There / Warren's Song
Kawohikukapulani
Sea of Love
Nohili E
Kumulipo / E Pua Ana Ka Makani
Rusty Old Steampipes
Waipahe'e Falls
Kana'i Aupuni
Paper Doll
Kaho'olawe
You Don't Know Me
Lei Onaona
Na Pua Lei 'Ilima
Kainoa
I'll Remember You
12/2/2008 – Poki Records
---
What a Wonderful World
'Ama 'Ama
Henehene Kou 'Aka
Twinkle Twinkle Little Star
Morning Dew
White Sandy Beach
Kaleohano
Ka Huila Wai
'Opae E
Ke Alo O Iesu
'Ulili E
A Hawaiian Like Me
06/26/2007 – Mountain Apple
---
Mona Lisa
Kaleohano
`Ulili E
Hanohano Wale No Na Cowboy And Ka Huila Wai
Hi'ilawe
Henehene Kou 'Aka
Ahi Wela / Twinkle Twinkle Little Star
'Opae E
Starting All Over Again
Over The Rainbow
Panini Puakea
La 'Elima
In This Life
Untitled – (hidden track)
09/25/2001 – BigBoy Records
---
Hold Me Now – Wayne Wonder
Love Song – 311
Lips Like Sugar – Seal (feat. Mikey Dread)
Your Love (L.O.V.E. Reggae Mix) – Wyclef Jean (feat. Eve)
Drive – Ziggy Marley
True – Will.I.Am & Fergie
Slave To Love – Elan Atias (feat. Gwen Stefani)
Every Breath You Take – UB40
Ghost In You – Mark McGrath
Friday, I'm In Love – Dryden Mitchell
Breakfast In Bed – Nicole Kea
I Melt With You – Jason Mraz
Forgetful Lucy – Adam Sandler
02/03/2004 – Maverick
---
Finding Forrester (Soundtrack)


Recollections – Miles Davis
Little Church – Miles Davis
Black Satin – Miles Davis
Under A Golden Sky – Bill Frisell
Happy House – Ornette Coleman
Over The Rainbow (Photo Book) – Bill Frisell
Lonely Fire (Excerpt) – Miles Davis
Over the Rainbow/What a Wonderful World – Israel "Iz" Kamakwiwo'ole
Vonetta – Miles Davis
Coffaro's Theme – Bill Frisell/Ron Miles/Curtis Fowlkes/Eyvind Kang
Foreigner In A Free Land – Ornette Coleman
Beautiful – Bill Frisell/Hank Roberts/Kermit Driscoll/Joey Baron
In A Silent Way (DJ Cam Remix) – Miles Davis
12/26/2000 – Sony
---
Yes
Everywhere Freesia
Walkaway
Meet Joe Black
Peanut Butter Man
Whisper Of A Thrill
Cheek To Cheek – Chris Boardman
Cold Lamb Sandwich
Fifth Ave.
A Frequent Thing
Death And Taxes
Served Its Purpose
Sorry For Nothing
Mr. Bad News
Let's Face The Music And Dance – Chris Boardman
The Question
Someone Else
What A Wonderful World – Chris Boardman
That Next Place
Somewhere Over The Rainbow/What A Wonderful World – Israel Kamakawiwo'ole
11/03/1998 – UMVD Labels
---
Iz In Concert: The Man and His Music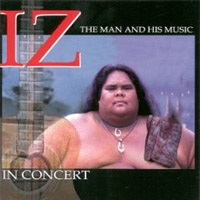 Introduction / Ahi Wela
E Ku'u Morning Dew
Kamalani
Kaleohano
Margarita
This Hawaiian Man Intro
Chant
E Ala E
Hene Hene Kou Aka
Lover Of Mine
White Sandy Beach
'Opae E
N Dis Life
Maui Hawaiian Sup'pa Man
Hawai'i '78
Hawai'i Aloha
05/20/1998 – BigBoy Records
---
Hi`ilawe
In This Life
Wai`alae
Starting All Over Again
Living In A Sovereign Land
`Opae E
Aloha Ku`u Pua
Johnny Mahoe
Lover Of Mine
Yokozuna
Na Ka Puaeo / Keyhole Hula
The Fly
11/21/1996 – BigBoy Records
---
Live A Little – Hawaiian Style Band
Hi`ilawe – Gabby Pahinui
Kawika – Brothers Cazimero
Hawai`i '78 – Israel Kamakawiwo`ole
I'll Remember You – Don Ho
A Hawaiian Lullaby – Sunday Manoa
Wanting Memories – Keali`i Reichel
Ku`uipo I Ka Hee Pue One – Nina Keali`iwahamana
Pi`i Mai Ka Nalu – Sistah Robi Kahakalau
Stand In The Light – Kapono
Island Love – Peter Moon Band
Sailors Of Forune – Cecilio & Kapono
This Is Our Island Home – Keola & Kapono Beamer
Room Service – Rap Reiplinger
Aloha `Oe – Jack de Mello Orchestra
08/27/1996 – Mountain Apple
---
E Ala E
`Ulili E
Kaleohano
Wind Beneath My Wings / He Hawai`i Au
Tengoku Kara Kaminani
Kamalani
Aloha Ka Manini
Maui Medley
Hele On To Kauai
Kauai Beauty
Theme From Gilligan's Island
I Ke Alo Iesu
A Hawaiian Like Me
05/16/1995 – BigBoy Records
---
Hawai`i '78 Introduction
Ka Huila Wai
`Ama`ama
Panini Pua Kea
Take Me Home Country Road
Kuhio Bay
Ka Pua U`i
White Sandy Beach Of Hawai`i
Henehene Kou`Aka
La `Elima
Pili Me Ka`u Manu
Maui Hawaiian Sup'pa Man
Kaulana Kawaihae
Somewhere Over The Rainbow / What A Wonderful World
Hawai`i 78
06/24/1996 – BigBoy Records
---
Margarita
Coney Island Washboard Woman
Kainoa
Kana`i Aupuni
I'll Be There / Warren's Song
Men Who Ride Mountains
Over The Rainbow / What A Wonderful World
Hanohano O Cowboy
Sea Of Love
You Don't Know Me
02/16/1999 – Tropical Records
---
This page was created for all of those who emailed asking about where to buy Iz's albums. Hope it helps!