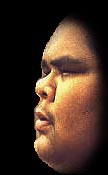 May 20, 1959 – June 26, 1997
His Life | Albums | DVDs | Books | Guestbook
HIS LIFE
(As taken from starbulletin.com)
Israel Kamakawiwo'ole is born on May 20, 1959.
Although Iz has been most closely associated with Makaha and Niihau, his roots are in Kaimuki, where his parents met and married, settling at 9th and Kalua streets. He grew up playing in Palolo River and going to Kaimuki Theater. He was in his early teens when the family moved to Makaha and entered the world of music. Israel and his brother Skippy formed the Makaha Sons of Ni'ihau with Louis "Moon" Kauakahi, Sam Gray and Jerome Koko. The best known line-up was Kauakahi, Izzy, John and Jerome Koko.
Izzy's brother Skippy Kamakawiwo'ole dies of a heart attack at age 28 in 1982.
Izzy marries his childhood sweetheart Marlene. They soon have a daughter, Ceslieanne "Wehi."
1985 — The Makaha Sons of Ni'ihau won Best Traditional Hawaiian Album and Group of the Year at the annual Hoku Awards ceremony.
1987 — The Makaha Sons of Ni'ihau album "Hoala" won Haku Mele, Traditional Hawaiian Album and Group of the Year Hoku awards.
1991 — Israel's first solo album "Ka 'Ano'i" won Hoku awards for Contemporary Album of the Year and Male Vocalist of the Year.
1992 — The Makaha Sons of Ni'ihau's "Makaha Bash 3," on which Israel is included, won Group of the Year and Engineering Hokus. Israel also joined Roland Cazimero, Henry Kapono and Cyril Pahinui in recording the song "Broken Promise," which won Single of the Year.
1993 — "Ho'oluana," by the Makaha Sons won Hoku Awards for Engineering, Haku Mele, Traditional Hawaiian Album of the Year, Group of the Year and Album of the Year. This was the last album Israel recorded with the Sons. Iz had a history of health problems and hospitalizations because of his weight, at times more than 757 pounds, which had made it difficult to tour and perform with the Sons.
1993 — "Facing Future" is recorded by a solo Iz, after 17 years performing with the Makaha Sons of Ni'ihau. The album contains less Jawaiian and more traditional Hawaiian music. However, the album is overshadowed by Hapa's strong debut.
1994 — Voted favorite entertainer of the year by HARA and the public. Krash Kealoha suggested the public vote category.
On Iz's 1995's album "E Ala E," Iz is reunited through studio magic with his late brother Skippy on the title song. Iz's EKG reading forms part of the album art.
1996 — At the Hoku Awards ceremony, Izzy was singing on stage when he was joined by his ex-bandmates, the Makaha Sons.
1997 — Izzy's album "n Dis Life" won Album of the Year, Male Vocalist, Island Contemporary Album and Graphics awards. He was also voted Favorite Hawaiian Entertainer by the public. Mountain Apple Co. president Jon de Mello and Co-producer Ho'omalia accepted the awards for the ailing, hospitalized Iz.
List of Recordings (With The Makaha Sons)
"No Kristo" 1976
"Kahea o Keale" 1977
"Keala" 1978
"Makaha Sons of Ni'ihau" 1979
"Mahalo Ke Akua" 1981
"Puana Hou Me Ke Aloha" 1984
"Ho'ola" 1986
"Makaha Bash 3 Live" 1991
"Ho'oluana" 1992
List of Recordings (Solo)