Late last month, your boy manned up and checked yet another item off the ol' "bucket list": Compete in the Hawaii Tinman. On Sunday, July 26th, the 2009 Tinman Triathlon was in full effect and, bright eyed and bushy tailed, I was there yo. Having a couple of marathons already under my belt, I was going into the Tinman thinking it would be another cakewalk. Boy was I mistaken!
The "just have fun" mentality will quickly eat you alive in the Tinman competition if you aren't properly prepared. Below are the lessons I've learned as a first timer that I'd like to pass along to all y'all. Enjoy!
* Take it serious! – unlike the marathon, there are a lot less "just for fun" participants, as made obvious by my finishing rank! LOL! Being fairly athletic and in reasonably good shape does not equal Tinman success. Not training seriously will not only be dangerous to your health, but frustrate the bejesus outta you (when your muscles don't agree with what your mind is telling them).
* Train! – I would recommend training each activity/concentration successively, in addition to individually. In other words, it's good to swim until the cows come home, but you should follow it up with a bike and then a swim. Yes, on the same day. My cheater friend Bari (who also did the Tinman with me) wisely took it a little more serious than I and participated in running and biking groups that met up on the weekends. The Heavy Breathers group in the Hawaii Bicycling League has a biking group that goes out on Saturday mornings and the Honolulu Marathon Clinic has a running group that goes out on Sunday mornings. He fully recommends joining them.
* Give yourself time to train – not only is the entrance fee more expensive the later you apply, you need sufficient time to prepare for what your body will go through. We decided to START TRAINING just two months before the race. With busy schedules and other life activities already planned (like that trip to Alaska), my once a week training schedule (at best), definitely did not cut it.
* Get ready to invest – if you're "newbs" like us and going into it from scratch, be prepared to shell out some pretty pennies in order to get the party started. The bicycle (no, a mountain bike doesn't count!), helmet, tri-shorts (specially padded swim trunks that are waaaay too tight), no-blister socks, goggles, water bottle, water bottle holder, miscellaneous bike tools/kits/bags, etc., are just some of the things to think about. And that doesn't include the $80-100 entrance fee. And BTW, don't laugh at the mountain bike comment. I actually briefly considered doing that (using the mountain bike I already owned) to save me some money. That, and using my snowboarding helmet as a bike helmet. LOL!
* Run the course – don't use the day of the race to practice running the actual course. Go to Queens and swim the 750 meter (wall to wall to wall) ocean course. Bike the 24+ miles (40K) to and from Hawaii Kai. Jog the 6+ mile (10K) Diamond Head circle. All BEFORE the race! Extra special bonus points if you do all of them back to back as if it were race day. Click here for the specifics on the course paths. Since Bari and I were a little behind schedule, we ended up driving the course by car the day before. Don't be us. 8)
* Get a good night's rest – never underestimate the value of a good night's sleep the night before the race. If you're a night owl, you might want to consider sleeping early several nights in a row to help your body get used to sleeping at an early hour.
* Fuel up – eat enough food to last you until the late morning/early afternoon hour, as that will probably be your next meal. As they say, eat bananas to help with cramping and carbo-load a couple days before race day.
* Arrive early (Check in starts at 4AM) – if you arrive too late (especially if this is your first time), you will be scrambling around, trying to figure out what you're supposed to do and where you're supposed to be. You will probably also have a hard time finding a place to rack your bike once everyone else has settled in and found their spots.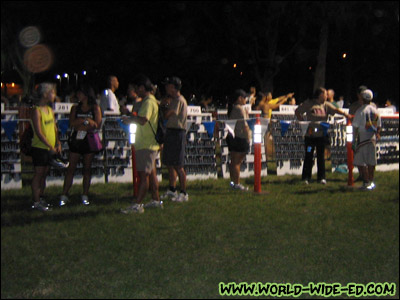 Your view of the check in area pre-race
* Be prepared – unfortunately, the folks at the Tinman only make your packet available about a week before the race (I could not find a PDF version of it on their site). There is a lot of valuable information in there that you'll want to read before race day. Your various race numbers (for your bike itself, for your back for the bike portion, for your front for the run portion, sticker for your helmet, etc.) are also in there. Familiarize yourself with what they are and where they go. It also says to mark your left arm and left leg with your number (for the swim portion) before you arrive, but there are volunteers there, the morning of, with markers to help with that. Concerned for our health, Bari and I went to Longs and picked up a non-toxic marker and did it ourselves. The choice is yours. 8)
* Make sure you can handle rough surf – Before the race, Bari's dad told us that the waves were expected to be 3-5 that morning at Queens. Not sure if it actually got that big, but there was definitely a bit of washing machine action going on. Rough water swimming in the ocean is A LOT harder and different than in your local pool, or even flat water swimming in the ocean for that matter. Since the water was probably the only possible place I could die (if I rested), I concentrated on training my swimming the most. Probably 98% to my 1% bike and 1% run. Although I HIGHLY recommend training the swimming fo sho, I would also say that you need to devote more than 1 and 1 on your bike and run. :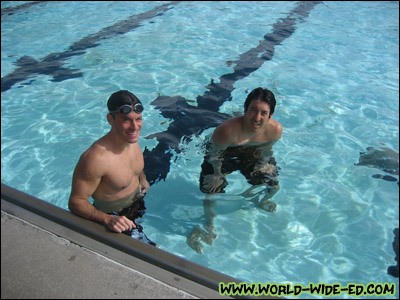 Bari and I struggling at Manoa pool early on
* Stay away from the wall (during the start) – for some reason, the officials for Bari's group made them go all the way back against the wall. The combination of the crowd and the rough waves and the reef did not bode well for Bari's foot as he opened up a gash on the bottom prior to starting.
* Enter the water later – if you're a weak swimmer or don't have much water endurance, what in the heck are you doing competing in the Tinman!? Hehe. But seriously, if you're a weak swimmer or don't have much water endurance, don't hurry to get to the starting line within your group (you start in groups based on experience, age and gender). You may end up burning up your energy trying to stay afloat for up to 5 minutes until your start time. Plus, if you stay towards the rear of your group, there's a better chance of the water being less rough and crowded. Well, at least until the group behind you catches up! LOL!
* Buy a good bike! – thanks to my great friend who shall remain nameless, Bari thought it would be a good idea to buy a bike for me from a Craigslist ad. 8) Later, we discovered that we've been duped and that the puppy was actually one from Walmart. So even when I was flying it at full blast on the highest gear, everyone continued to whiz right by me. WTH!? Don't take any chances. Get a good, Tinman quality bike from the beginning, especially if you plan on competing more than once. If you're not sure, some of the local bike shops may rent bikes out. Here's the rental information from The Bike Shop.
* Hydrate, especially during the bike portion! – there are NO aid stations during the 24+ mile bike portion of the race. Be sure you have a water bottle or two filled with your favorite fluid (other than hard liquor 😛 ). I had one bottle of Gatorade and that wasn't enough, just FYI. If you're in the same situation, be sure to partition out half for going to Hawaii Kai and the other half for coming back.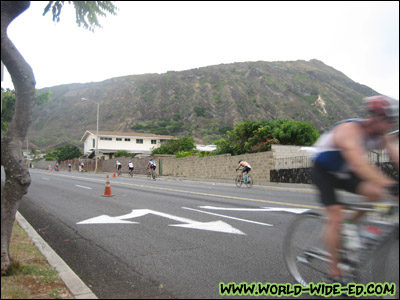 Heartbreak Hill in Hawaii Kai – generally speaking, the midway point for the bike ride [Photo Credit: wifey]
* Have a great support system – having your friends' and family's support before, during and after the race is priceless.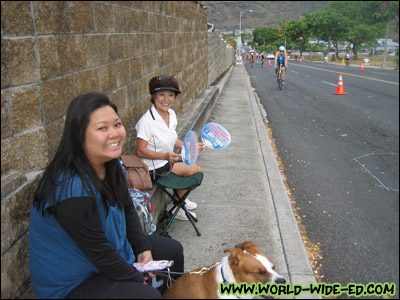 Kari, Miko and moms waiting patiently (and I stress patiently 😛 ) for my arrival. [Photo Credit: wifey]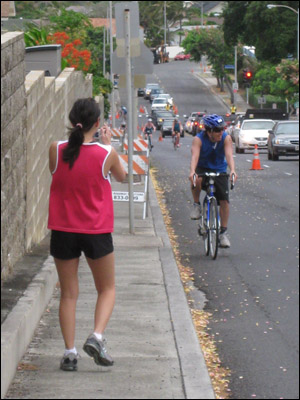 Wifey snaggin' some action shots [Photo Credit: Kari Ohara]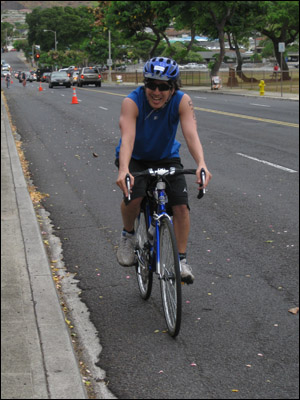 Still in good spirits (for some reason) on Heartbreak Hill [Photo Credit: Kari Ohara]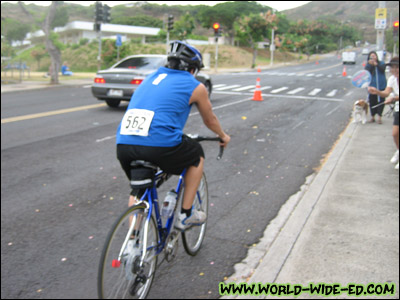 The cheering section! Ahaha! [Photo Credit: wifey]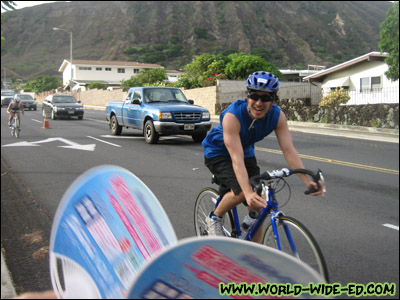 Making me crack up on the way back down Heartbreak Hill [Photo Credit: wifey]
* Kiss your bum g'bye! – after sitting on a teeny seat for that long, your butt and "special areas" (if you're a man) will undoubtedly get sore. I'm just sayin'.
* Wear gloves – I underestimated the value of a pair of gloves for that long of a bike ride. Though it was just tender and didn't quite blister for me, I can see it being a problem for others.
* Be careful on the bike dismount – if you didn't train properly (or even if you did!), when you dismount your bike, be aware that your legs will be J-e-l-l-o. This happened to me as well as my unnamed friend Bari, and I wouldn't be surprised if there were actually some who ate it coming off of the bike. Just be aware.
* Transitions, transitions, transitions! – Our transition times were just plain ridiculous. Streamline your in-between time to shave precious minutes off your overall time.
* Don't take pictures – unless you're a dedicated writer/blogger extraordinaire (like me) 😛 , don't stop to smell the roses. Taking mental notes and stopping to take photos during this race is not a good idea for your finishing time. Lesson learned. But then again, we wouldn't have any wonderful shots like these now would we? *grin*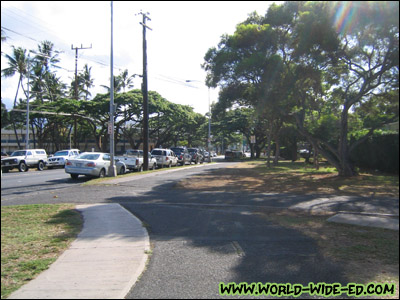 The start of the run on Kapahulu next to the Honolulu Zoo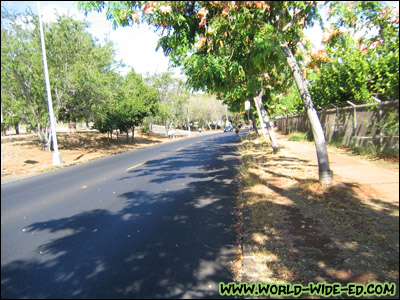 Looking back on Monsarrat Ave, on the way towards Diamond Head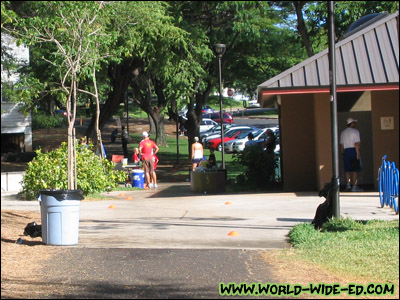 Leaving the first of 3 aid stations at Kapiolani Community College (the 2nd was at the beginning of Elepaio St and the 3rd was at Triangle Park)

Much like the Honolulu Marathon, you'll head down 18th Ave towards Kilauea.
At this point, my legs were shot. The reason why this photo is looking up towards Diamond Head is because I was walking backwards! Ya gotta do what ya gotta do right? 😉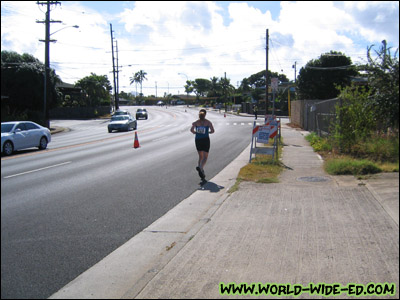 Fighting the heat on Kilauea before turning right on Elepaio St.

Again, much like the marathon, you go up Kahala Ave towards the finish.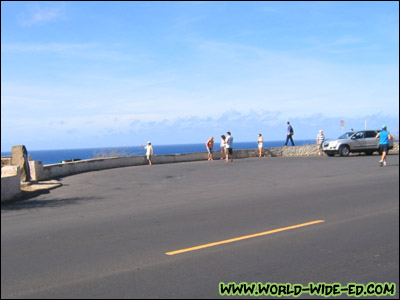 Tourists taking in the sights on Kahala Ave
Aloha story: you see the fella in the blue jogging in the photo above? During the race, he came over and decided to keep a brutha company and jog along with me towards the finish. He was just exercising and wasn't even in the race! What a nice gesture, especially being that since 5:55AM that morning, I was pretty much on my own. It was nice to have someone to finally talk to. After chatting a bit, we found out that we shared a mutual friend in fellow Honolulu Advertiser blogger Melissa Chang. I Tweeted @Melissa808 after the race to please thank her friend and found find out that his name was Russell. Mahaloz Russell for your company and encouragement!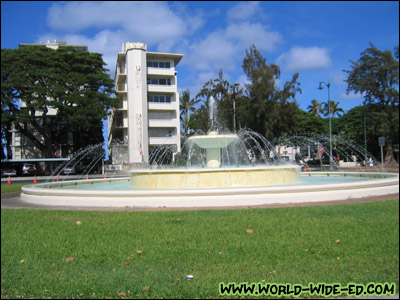 The fountain off Kalakaua Ave near Kapiolani Park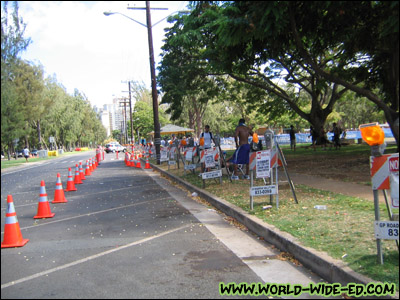 Cones leading to the finish line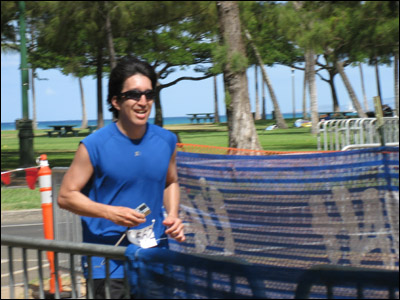 Allllmost there! [Photo Credit: Kim Asano]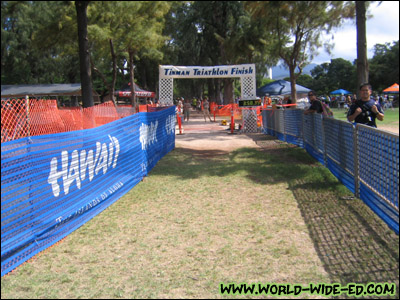 Alas! The goal is in sight!
Funny story: DJ Maleko, who was emceeing the finish line area, called out my name and said that I should've taken this picture after I finished, not before!
So thar ya have it! I hope this helped you future Tinman-ers at least a little. If you have any questions, feel free to post them in the comment area below.
A special Mahalo to my blog commenter M, and all of the staffers at The Bike Shop and McCully Bike for the pre-race help/tips! Doumo Arigatou (Mr. Roboto) to Kari Ohara, Miko Ohara, Kim Asano, moms, pops, wifey and wifey's family for the support before, during and after the race! Big ups to the Tinman peeps for putting on this glorious event and the 100s of volunteers (and race participants as well) who showed their support during the race! Props to Russell for being my last leg jogging partner! And a final grazie to the Carrolls for the hospitality before the race and a wonderful lunch after.
I (guess I) can't forget to send some love to Bari Carroll for motivating me to train for this thang against my will. 😛 You be a-ight I guess… Nah, thanks B!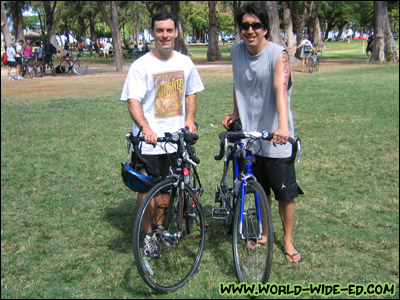 Bari and I – 2009 Tinman Finishers!
2009 Tinman Hawaii Results:
Bari
Ed
Swim
21:40.3
Rank 489
19:19.6
Rank 402
Transition 1
11:15.9
Rank 539
9:27.6
Rank 536
Bike
1:28:56.0
Rank 375
1:52:16.0
Rank 527
Transition 2
2:35.3
Rank 463
1:52.8
Rank 346
Run
1:01:32.3
Rank 328
1:25:52.3
Rank 523
Total
3:05:59.8
Rank 415
3:48:48.3
Rank 536
Source: timelinehawaii.com
See ya guys in the water next year??? 8)
P.S. Wanna see our progress from newbs to average Joes? Check out Bari's (slightly biased) editing magic in our Tinman journal/video documentary! Don't watch if you're squeamish about pale, topless men. Consider yourself warned! 😛