B.J. Penn.
Say it but once and it commands respect.
Unless you've been living under a rock for the last decade or so, the name B.J. Penn is one you're probably very familiar with. It's the same name that is revered in Mixed-Martial Arts circles and synonymous with that word "respect".
Best of all, bruddah is ours; a son of the `aina, born and raised in our backyard of Hawaii.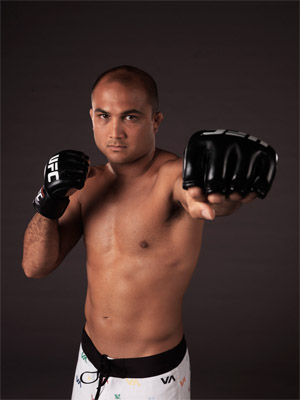 Hawaii's own… BJ Penn (Photo Courtesy: UFC)
When the opportunity presented itself to meet and interview this legend of the sport, you can bet your candypants that I was going to be there.
Penn was first introduced to the art of jiu jitsu by his neighbor Tom Callos. Callos had just moved to Hilo with his girlfriend and was looking for training partners to roll with. B.J. excelled and eventually went on to become the first American born competitor to win the (Mundial) World Jiu-Jitsu Championship in the black belt featherweight division.
Since then, he's fought some of the biggest names in (and out of) his weight class including Georges St. Pierre, Lyoto Machida, Matt Hughes, Renzo Gracie and Takanori Gomi, and has made a case for himself as one of the greatest pound for pound fighters in the world.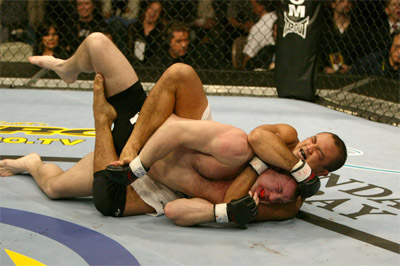 Penn puts a rear naked choke on then Welterweight Champion Matt Hughes to take the title at UFC 46: Super Natural (Photo Courtesy: UFC)
On August 8th, Penn will be putting his Lightweight Championship belt on the line against a game Kenny Florian at UFC 101 in Philadelphia Pennsylvania. Florian is one of the top lightweight contenders in the UFC who possesses a dangerous muay thai striking game, wicked elbows and a sick jiu jitsu ground game, and, is, oh-by-the-way, riding a 6 fight winning streak over the likes of Roger Huerta, Joe Stevenson, Joe Lauzon and Din Thomas.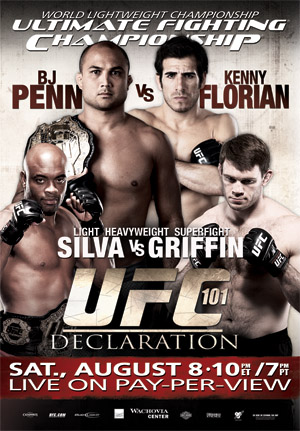 UFC 101 Poster (Photo Courtesy: UFC)
Penn, now 30, talks about fighting Florian, his family and what's to come in his not-so-distant future… Check it!

Video Interview with B.J. Penn – Part I – Personal Life (Click to Play!)
PERSONAL LIFE:
Edward Sugimoto) (It's very evident that) you're very close to your family. Describe the importance of that strong bond.
B.J. Penn) It's always good to have a good family bond. You know you always got people to back you up and always got someone to hang out with… Someone to have fun with… have a good time so, yup family's very important.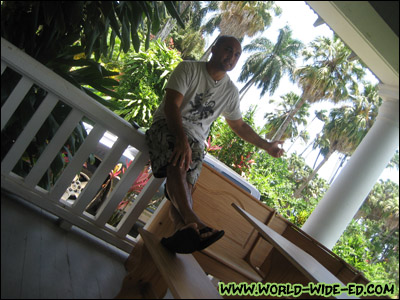 B.J. Penn
Edward Sugimoto) You just started a family of your own with your daughter (Aeva Lili'u , born on October 16 2008). How has she changed your life?
B.J. Penn) (*laughs*) Yeah I just had a daughter Aeva, 7 months old right now and, you know, she's awesome! She gives me a reason to come home. There's no reason to stay out late a lot of the nights. You know, just come home. It's just awesome, awesome having a daughter.
Edward Sugimoto) What is your favorite part of being a dad?
B.J. Penn) I guess my favorite part about being a dad I guess is just seeing your baby after not seeing them after a couple hours or waking up in the morning. It's just a real good time.

B.J. Penn
Edward Sugimoto) Growing up with brothers, you have a tendency to be very competitive. You have 3 brothers. How much of a role do you think that played in your life competing in sports?
B.J. Penn) I definitely think that having a lot of brothers made me competitive. I mean, just with me being in between Reagan and JD you know I can you know, I can get into it with him and get into it with Reagan so being a middle child I think that helped me a lot.
Edward Sugimoto) You seem to go out of your way to represent the state of Hawaii with great pride. From your King Kamehameha pose during the weigh-ins, to your Brudda Iz entrance song, to your shakas… Even staying true to your Big Island roots. Why is that so important to you?
B.J. Penn) I just uh, I like to go out there and spread Hawaii all around the world and let people know what we're about. It's really good to spread the Aloha Spirit and all these different things around and you know, sometimes you feel like "if I don't do it, who will?" (*laughs*) you know.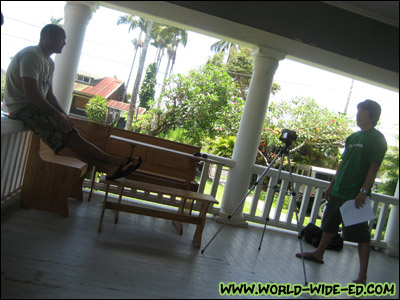 B.J. Penn and the author
Edward Sugimoto) Unlike other celebrities, you're pretty down to earth, you're welcoming with your fans. What makes you so grounded and humble?
B.J. Penn) I guess when I'm in Las Vegas and the big UFC and everything, and all the action going on you know, I really don't get to see none of that stuff over here at home in Hilo so it's just a total different world you know. You go up there and it's real busy and all these things. Down here in Hilo it's just real relaxed. I think can owe a lot of being grounded to just being where I grew up.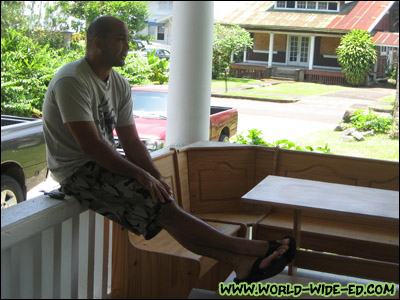 B.J. Penn
Edward Sugimoto) Do you have any heroes?
B.J. Penn) I for sure have a lot of heroes. Hulk Hogan, "Rocky Balboa", and Mike Tyson. You know, I mean everybody growing up. I'm a fan of a lot of people.
Edward Sugimoto) Do you follow other local athletes like Shane Victorino, Tadd Fujikawa, etc.?
B.J. Penn) I'm not a big baseball fan, but I know of Shane you know, I wish him the best and all his successes. And I remember Bryan Clay… just won the Olympics. That's just amazing. Greatest athlete on earth right there. So it's just amazing the kind of athletes that have been coming out of Hawaii lately.
Edward Sugimoto) What is a typical day in the life of B.J. Penn?
B.J. Penn) Typical day in the life? Training day: I guess wake up, drink a protein shake with some oatmeal, and go work out. Come home, relax, eat a bunch more times, and go back and work out again. Come home and relax. And on a rest day: don't do nothin'. Stay home all day or down at the beach or river or whatever.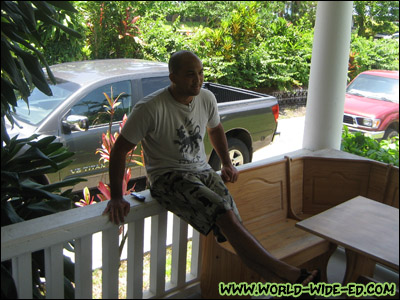 B.J. Penn
Edward Sugimoto) You make a lot of excellent use of web and social networking: Youtube, Facebook, Twitter, whatnot. How has these helped to get your message out to your fans?
B.J. Penn) Yeah, it's a great way to get what you want to say out to the fans. And that's the best thing about having your own web site or doing stuff because people always try to edit you down and people always try to not let you say what you want to say and that's the most important thing about having BJPenn.com is I can say whatever I want to say and I can get that message out.
Edward Sugimoto) Speaking of BJPENN.com. It looks like you guys put a lot of work into it. Daily video blogs, forums, and that kinda thing for the fans. What's the ultimate goal with the site?
B.J. Penn) I just want to let BJPenn.com keep growing and you know, ah, I guess it's at it's ultimate goal right now, and now we just keep letting it grow and multiply and multiply until it's something to be reckoned with I guess. (*laughs*)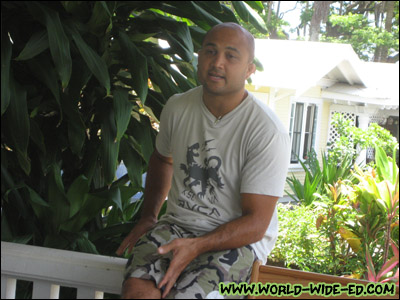 B.J. Penn
Edward Sugimoto) You work pretty tirelessly with the keiki as well, at your gym and you have a B.J. Penn Foundation. What motivates you to educate and shape the future of Hawaii?
B.J. Penn) You know, just kinda watching the kids around. I don't want to be a role model. I don't want to be you know the guy, like I'm a perfect person cause I'm not that's for sure, but you know, you put me in front of a bunch of kids and you tell me to start talking to them and it just seems like it comes out natural. And I just talk to them and I see them and I know you know, everybody's different, everybody has their hardships and goes through their different things, so it's good, you know, if I can just brighten up their day for a little bit or maybe they can take any advice that I might've learned over my years of experience I guess, it all makes it worth it.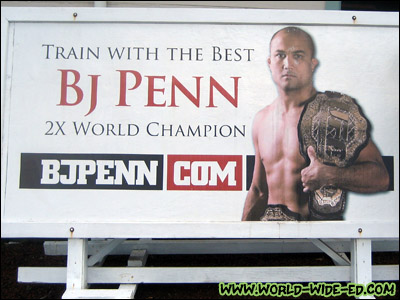 The sign outside Penn Training & Fitness Center, where first time keiki and world class fighters alike train
Edward Sugimoto) You've been seen wearing "B.J. Penn for Governor" T-shirts. Is this something you'd like to one day shoot for?
B.J. Penn) (*laughs*) Um, I don't know. I don't know if we're gonna run for office. Anybody who ever asks me about that shirt, I just have to tell um, "we're weighing our options." (*laughs*)

Video Interview with B.J. Penn – Part II – MMA Life (Click to Play!)
MMA LIFE:
Edward Sugimoto) When did you first realize you could scrap?
B.J. Penn) I still don't know if I can scrap. I gotta find out some more. I don't know I just realized one day when we were playing around boxing and somebody punched me and I realized ah, it doesn't even hurt. And that's when I realized that, well I didn't realize, but then I just knew that punches don't hurt.

Edward Sugimoto) Speaking of that, what is your head made out of? I hardly ever see you bruise or bleed or anything!
B.J. Penn) (*laughs modestly*) Oh no, no! I don't know. Just gotta knock on wood (*knocks on wood*) for that one.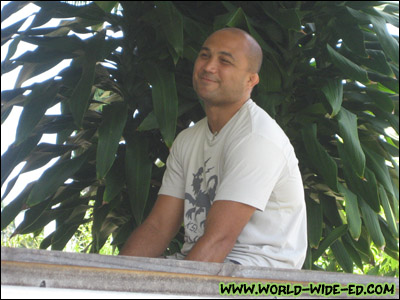 B.J. Penn
Edward Sugimoto) The story of how you got introduced to BJJ is legendary (introduced by your neighbor Tom Callos)…
B.J. Penn) Yup, my neighbor Tom Callos lived right on this road. And he did a couple of jiu-jitsu lessons and he seen us kids wrestling around, boxing and hanging out, and he wanted a bunch of kids to just work out with. Cause he wasn't teaching, just to have fun and roll around with. And then we, we uh, we started… So I didn't wanna really do it, and my dad was like c'mon go do it, go do it, so I went down and then Tom choked me out tapped me out and I was like man, there's something to this, and my brain just started going.
Edward Sugimoto) So we can thank Tom for B.J. Penn!? 🙂
B.J. Penn) Yeah, I really gotta thank Tom Callos. I tell him that all the time. (*looks into camera*) And thank you Tom.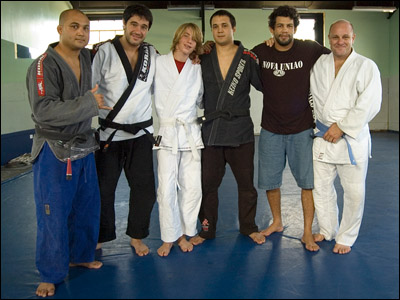 BJ Penn, unknown, Kennan Cornelius, Reagan Penn, Tony DeSouza and Tom Callos. (Photo Courtesy: Tom Callos)
Edward Sugimoto) You still work with him right?
B.J. Penn) Yeah yeah, he lives right here, down the road.
Edward Sugimoto) I mean on the web site, you have his web site linked.
B.J. Penn) Yup, Tom the Master. Martial Arts gym owner, business man.
Edward Sugimoto) You earned the nickname "The Prodigy" early on. In a recent interview I saw that you were thinking about changing it. If you could change it today, what would you change it to?
B.J. Penn) (*laughs*) Um, Jay Penn, Jr. Nah. I dunno. Umm…
Edward Sugimoto) We'll just stick with that one.
B.J. Penn) Yeah, we'll stick with "The Prodigy" for now (*laughs*)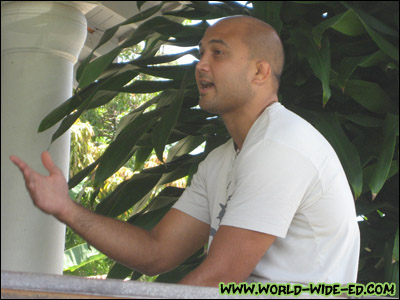 B.J. Penn
Edward Sugimoto) Talk about your flexibility and how that helps you.
B.J. Penn) Yeah, I didn't know I was flexible my whole life. You know everybody always asked me, "How'd you get so flexible?" "Do you stretch so much?" and after I started doing jiu jitsu, everybody started telling me I was flexible, and THEN I started stretching, like, to make it even more… to get more flexible. So that's the whole story on my flexibility.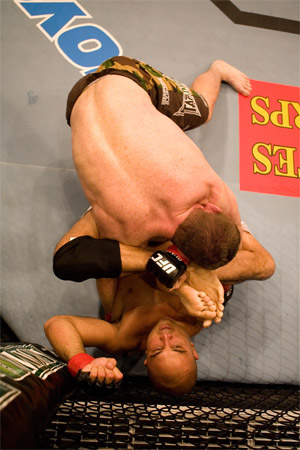 Penn displaying his flexibility against Matt Hughes at UFC 63 (Photo Courtesy: UFC)
Edward Sugimoto) A lot of people try to use the statement "oh he's spoiled because he comes from a rich family" and that pisses ME off hearing that. Be honest, how fired up do you get (when you hear people say that)?
B.J. Penn) You know, a lot of people say I'm spoiled and stuff and I really would like to respond, but I gotta go jump inside the limousine, it's waiting for me right here and we're gonna go ahead and jump in my private jet and head outta here so… (*laughs*) You know, but um. Ah, people can say whatever they want. They don't know how you live, you know. But I guess at least they're that interested that they want to know. So if people are talking good or bad, you know, just as long as they're talking, it's worse if they're not saying anything.
Edward Sugimoto) A lot was made also about your partying days and your cardio back in the day, Until one day, you just flipped the switch. Was their one specific thing, that made you do that?
B.J. Penn) I didn't like partying after a while. I mean, I still don't mind it, but, I mean, now with a daughter, and just the whole training and everything, I wanted to take it more serious. I wanted to see you know how far can I get, how good can I get? You know it's constantly evolving, it still isn't finished yet, and I don't think it ever will be. Every time you get into a new training camp, you try new methods and you try to improve and that's just how it goes. I don't think there's ever an end-all say-all this is it, this is how you train for a fight.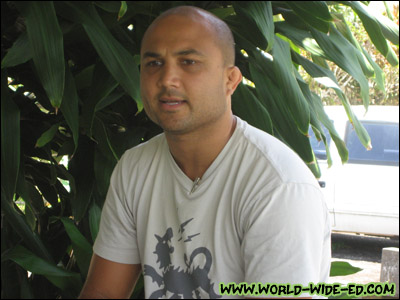 B.J. Penn
Edward Sugimoto) What's the deal with licking blood?
B.J. Penn) I dunno, you gotta ask that guy in the ring because the guy right here would never lick blood I tell you that right now. (*laughs*) So it's just a different man
Edward Sugimoto) Your cauliflower ears are often referred to as one of the nastiest in the business. Do you take that as a diss or a compliment?
B.J. Penn) (*laughs*) What do you mean? (*shows his right ear*) Look at that aerodynamic! (*laughs*)
Edward Sugimoto) The other side!
B.J. Penn) OK, ok, this one's pretty bad, but… um, yup, it got bad. I really, you know, tell all the kids out there, you know, if you start grappling and your ear starts getting messed up, take care of it. I really wish I didn't let it get too bad.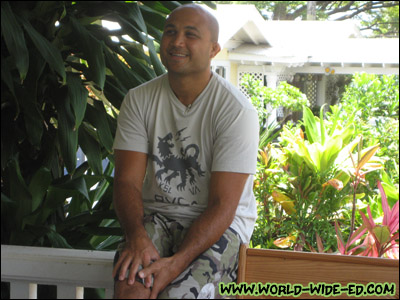 B.J. Penn
Edward Sugimoto) You have an intensity on your face before you walk out or in your interviews that is unmatched. Are you like pissed off or focused? What is that?
B.J. Penn) I think I get focused when I'm doing interviews or in a match, but, I think it's just that I'm emotionally involved, and I'm there, and I really wanna do my best, and I… I really wanna do my best whether it's fighting, entertaining the fans, or whatever it is, you know, and I really feel I have a genuine like or love for the sport of mixed martial arts, and I take this stuff very serious, you know. This isn't just a game for me.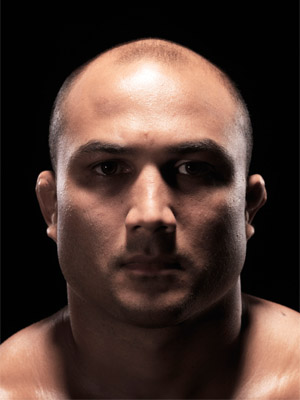 Penn's game face (Photo Courtesy: UFC)
Edward Sugimoto) Did you catch Machida's performance (at UFC 98)?
B.J. Penn) Oh I got to see Lyoto Machida knock out Rashad Evans and that was just amazing how he did that. He did an awesome job. And Rashad went down.
Edward Sugimoto) Don't think Dana White would allow it (different weight classes), but is that a rematch you'd like to have one day?
B.J. Penn) Um, you know, we'll see what happens in the future with Lyoto and stuff. I mean first thing's first. I gotta beat Kenny Florian coming up on August 8. And then I'm gonna move forward slowly and see who we fight next, and I wanna make sure I got a couple rematches in mind you know that I wanna have.
Edward Sugimoto) Speaking of UFC 101 against Florian. How's the training going so far?
B.J. Penn) The training's going great for UFC 101. I'm making sure not to overtrain. And, you know we started a couple months ago, and I'm training with Marv Marinovich, and we'll be spending our last 8 weeks in California with a bunch of good training partners, with Marv Marinovich there, Jason Parillo will be there, Rudy Valentino's gonna fly up, so I feel VERY good about this training camp.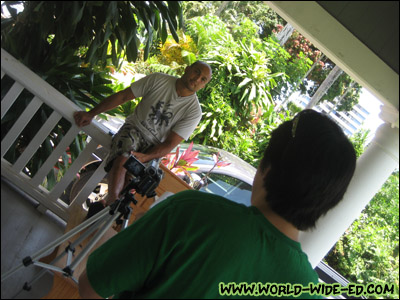 B.J. Penn and the author
Edward Sugimoto) Just a while ago, you also just came back from training with Marv (famed ex-NFL trainer Marv Marinovich). How did that go?
B.J. Penn) Marv is just amazing. You know, I don't want to get into everything that he does but it's just his fundamentals for making somebody get to a much better athletic performance, it's just amazing how he tackles athletic problems. He really is, that guy's a genius.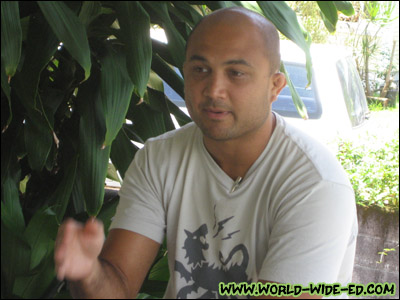 B.J. Penn
Edward Sugimoto) Kenny Florian is no joke. Without giving away too much, what's your kind of plan of attack (for taking him out)?
B.J. Penn) Well I never really make a game plan when I go into a fight. I'm just gonna try to run at him, try to hit him. And he's gonna try to I dunno, get away from me, or come in, but I'm gonna try to submit him or knock him out the whole time. And that's it. I'm not really a good game plan guy, I just go and try and do my best.
Edward Sugimoto) Are you concerned at all about his notorious elbows (opening up a cut)?
B.J. Penn) You know, I'm sure he's gonna be coming out with his elbows and stuff but actually, it's better that I know that his elbows exist, and he's good at um, so I think already that's an advantage. Knowing is half the battle.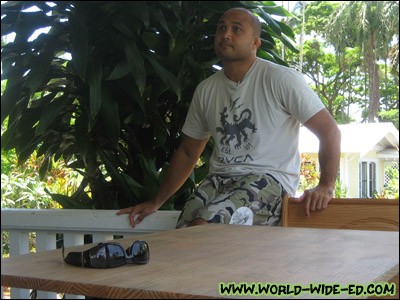 B.J. Penn
Edward Sugimoto) There's also our Hawaii boys Kendall Grove and Shane Nelson on the same card (UFC 101). How does that make you feel?
B.J. Penn) I'm really excited to have Kendall and Shane on the card with me. I'm gonna be a lot more comfortable. So I'm not gonna be the only one with pressure on my back that night. They gotta share the load.
Edward Sugimoto) Years ago, probably something like this would have never happened: 3 out of the 11 fights (of a major UFC card) involve fighters from Hawaii.
B.J. Penn) That's right! Three out of the 11 fights are people from Hawaii. That's amazing.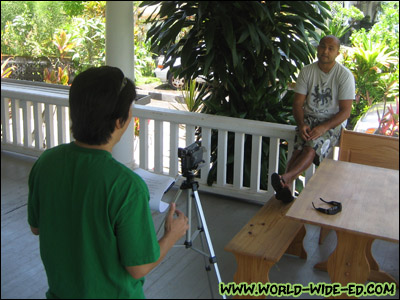 The author and B.J. Penn
Edward Sugimoto) You're also in a movie ("Never Surrender") and you're also in a video game (UFC 2009: Undisputed). Must be good to be B.J. Penn right now huh?
B.J. Penn) (*modest laugh*) Uh, I dunno, uh, ah, things… I dunno I haven't gotten to play Undisputed yet, but I heard it's a great game. And, I don't know about my acting in the movie. Wasn't too good, so… It's alright, it's alright. Just same ol' getting back in the gym and getting ready to fight.
Edward Sugimoto) What does the future hold for B.J. Penn?
B.J. Penn) After we beat Kenny Florian on August 8th, come back, relax, and then, I don't know, we'll see how it all goes you know, I wanna get another title defense quick, right away, right after it so, we'll see how it goes.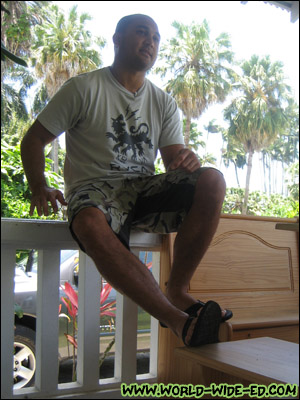 B.J. Penn
Edward Sugimoto) Anything else to add for your fans out there?
B.J. Penn) I just want to thank all the fans. Fans of MMA in general and all my fans. And thank you guys very much for the support and thanks for sticking with me. It's been a long ride and it's been fun thank you guys.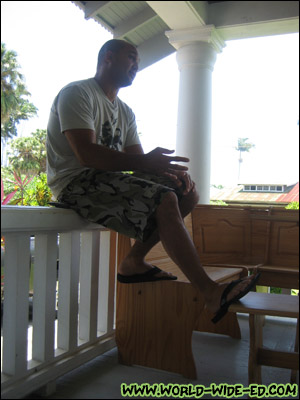 B.J. Penn
Even though this was probably one of the most challenging interviews to line up, it was definitely the most gratifying. Not only am I a huge jiu-jitsu/MMA/martial arts enthusiast, I'm a big fan of B.J. Penn. He's come from his humble beginnings in Hawaii and made a name for himself in his sport like no other. He's as real as they get and for that I applaud him.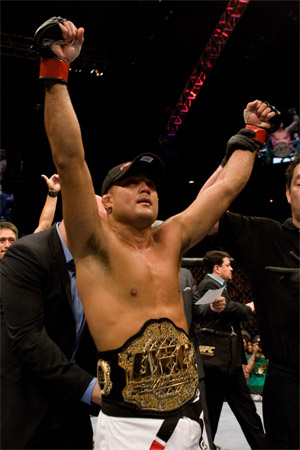 UFC Lightweight Champion B.J. Penn (Photo Courtesy: UFC)
Following this experience, in which he showed true class and humility and never once made me feel like just another appointment on his calendar, I can truly say that I am an even bigger fan of Hawaii's own, B.J. Penn. All the best to B.J., his family, his fight, and his future.
Respect Bruddah B.J…. Respect!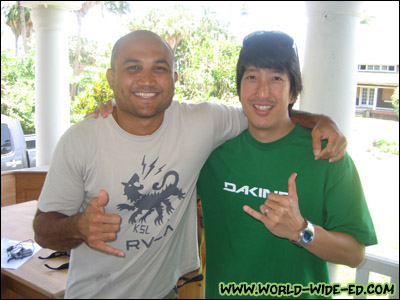 B.J. Penn and your boy. Yeah, I need a haircut… I know! 😛
www.bjpenn.com
www.penntrainingandfitness.com
***
A special mahaloz to Maribel Quemado and JD Penn for making this interview a reality, Dave Oi for being my videographer and photographer for the day, and to Elizabeth Loucheur and Edward Muncey from the UFC for all of their assistance with media requests.
***
BONUS!
Prior to this interview with the champ, I asked my World Wide Ed blog community if they had any questions they'd like me to take up. The following link goes to the blog that I wrote today, that includes the questions they posed, and B.J.'s video response to them. Enjoy!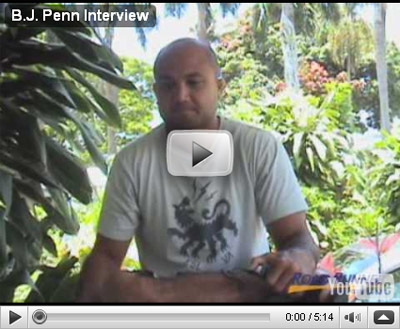 BJ Penn Answers Your Questions [Video]
UFC 101 Live Streaming Content: Thanks to the good people at the UFC, you can now view post UFC 100 video highlights and LIVE streaming events taking place leading up to UFC 101 on Oceanic.com! Check it out!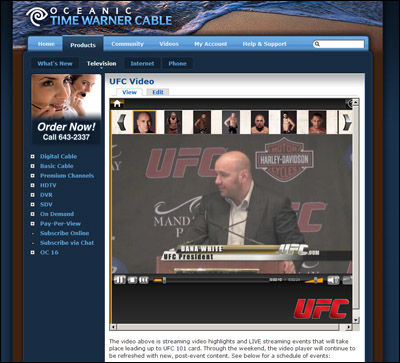 UFC 101 Live Streaming Content
Linkage
Kewl! MMAMania.com picked up my story. Pulled kind of a negative, out of context quote, but check it out nonetheless: "BJ Penn: 'I'm making sure not to overtrain' for UFC 101".