[Editor's Note: Kanpai Bar & Grill closed its doors in January, 2013]
When I hear someone say "Eh, we go bar!" I picture some dark musky room with sweaty old men drinking cheap booze as they throw popcorn at the TV or complain about their nagging wives.
And although there ARE actually places like this, there are several watering holes around town that are working hard to completely wipe that image from your head. The relatively new Kanpai Bar & Grill (opened in September of 2008) off Ward Avenue is one such place.
"Kanpai" is the Japanese word for "cheers," or to toast, and there's definitely reason to raise a glass and give a little banzai to this "higher class" bar.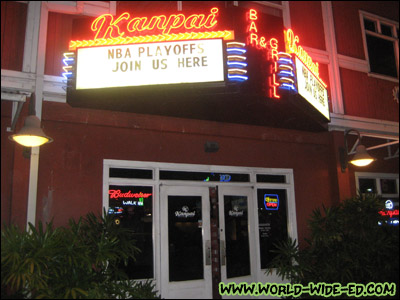 Kanpai Bar & Grill sign
Why "higher class"? For one, they've done a number to the interior of what used to be Dixie Grill and Tio's. Lots of great "dining" style seating (indoor and outdoor), three dart machines, multiple-touch screen game machines, and 11 or so flat screens showing the most current sporting events all complete the ambience. And we didn't even mention the food. Not your typical popcorn and peanut collection here yo! It's real, restaurant quality food and it's off the hook!
Having owners/partners with many years of experience in the fine dining and food and beverage worlds probably has something to do with it.
The husband and wife dynamic duo of Nadya & Bryan Yamasaki has 17 years of Food & Beverage experience under their belts. Combine that with the culinary mastery of Neil Nakasone, Brandon Hamada, John Estrella, and Jensen Hirota (aptly named Quatro Foods) in the kitchen – with experiences at such places as The Pineapple Room by Alan Wong, Halekulani, Ritz Carlton, Ruth's Chris, and Tokuname – and you've got yourself a winning formula for some of the best bar eats in town.
Two of their best sellers are the signature steaks (wafu or kim chee), and the shortrib loco moco.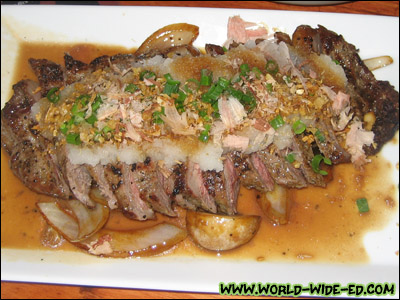 Wafu Style Ribeye Steak with Kabayaki Braised Mushrooms and Onions, Daikon Oroshi, Garlic Chips, and Ponzu Sauce (12oz – $16, 16oz – $22)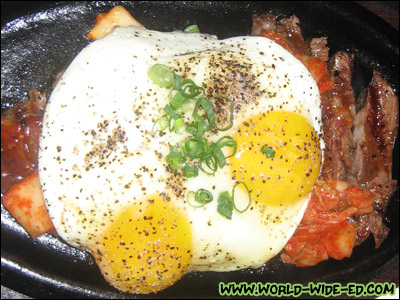 Kim Chee Ribeye Steak with Kim Chee and Two Fried Eggs (12oz – $16, 16oz – $22)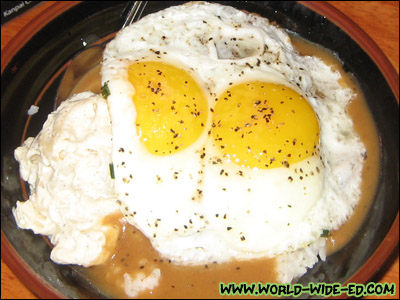 Braised Shortrib Loco Moco With Natural Pan Gravy and Two Eggs – $12
Other customer favorites according to Nadya include the garlic soybeans ($7), ahi belly ($10), and something off of their daily specials menu.
Favorites of this writer include the Spicy Garlic Chicken, Pork Chops, and Fried Rice. What's a good meal without rice right? Right.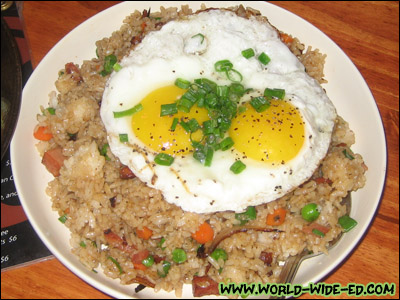 Fried Rice with Two Eggs – $8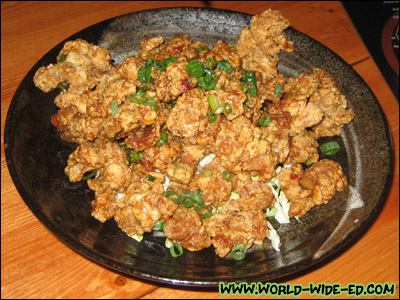 Spicy Garlic Chicken – $8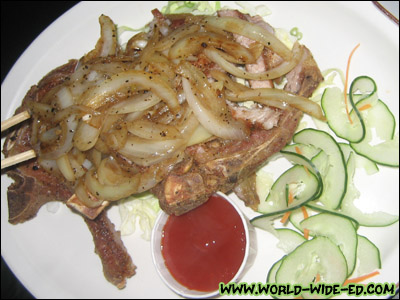 Pork Chops with Sauteed Onions – $14
Oh, and let's not forget to mention their Saimin and Kalbi Fried Noodles.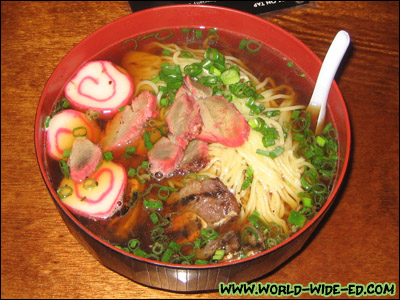 Saimin with all the Fixins – $8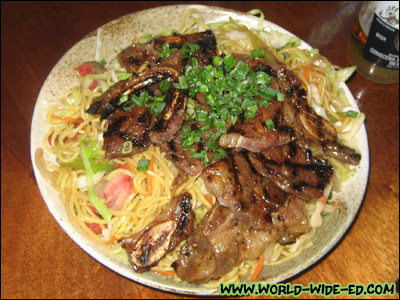 Kalbi Fried Noodles – $10
How does Kanpai pull all of this off in such turbulent economic times?
Nadya explains, "In today's economy, quality and value are important factors in any business. Providing good food with good value is a challenge that motivates us to meet and satisfy our customer's expectations."
This kind of attitude is what sets Kanpai apart from the rest. It also helps to explain the loyal customer base that packs this place on the regular.
So if you're tired of eating peanuts with sweaty old men, give Kanpai a try the next time someone says "Eh, we go bar!" Your tummy will thank you.
Kanpai Bar & Grill
404 Ward Ave # 100
Honolulu, HI. 96814 (map)
(808) 593-9202
Open 11am to 2am daily