It's no coincidence that the word Victory is in Shane Victorino's name. Losing is not even in his vocabulary. As a gifted athlete growing up, he's always been on the winning end in sports. As a 28 year old young adult, it's no different. He was an integral member of the world champion Philadelphia Phillies last season, has won the Gold Glove award, and was recently named to the Major League All Star Game, the first positional player from Hawaii to be bestowed the honor. And to think… this is just the beginning!
Victorino actually started his athletic career almost out of necessity. As an extremely active child with ADHD, his parents enrolled him in sports to feed his energy and keep him engaged. The decision proved to be a good one as Shane went on to star at Maui's St. Anthony High in 4 sports: football, soccer, track and baseball. And, although he was offered a full ride scholarship to the University of Hawaii for football and baseball, Shane got the blessing of his family and chose to pursue a career in baseball when the Los Angeles Dodgers came a callin' in 1999.
After years of minor league ball, the San Diego Padres claimed him from the Dodgers in 2002 via the Rule 5 draft ("Major league teams must protect players on their 40-man rosters within three or four years of their original signing. Those left unprotected are available to other teams as Rule 5 picks." – http://www.baseballamerica.com/today/columnists/askbarule5.html), where he actually saw some time in the bigs (36 games). Eventually, he was returned to the Padres (as part of Rule 5 stipulations), before being drafted again, via Rule 5, by the Philadelphia Phillies in 2004.
The losses of starters Bobby Abreu (trade) and Aaron Rowand (free agency) made room for Shane to display his skills in the outfield and ultimately earn a starting spot in 2007.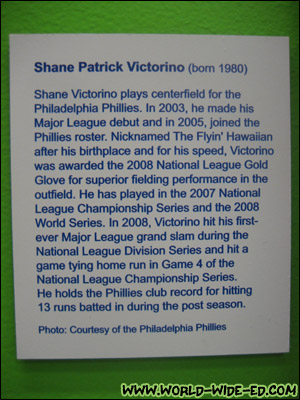 Info about Victorino from a Phillies display at Philadelphia Airport
During a recent home series against the Florida Marlins, I was able to catch up with our All Star from the islands about his personal life, his career and everything else in between. Enjoy!
Personal Life:
Edward Sugimoto) We'll start off with an easy one: What's a typical day in the life of Shane Victorino in Maui?
Shane Victorino) In Maui? Typical day in the life of Shane Victorino in Maui? Woo. You know what? That probably would've been just getting up in the morning, getting up to the beautiful weather, of course there in Hawaii, our beautiful island of Maui, and just spending time with the family. That would be now, but back when I was a kid, it was probably, get up, go to school. After school's done, go to sports – whatever practice it may be – soccer, football, whatever was going on at the time, baseball, track, and after that's done, go home and spend time with the family.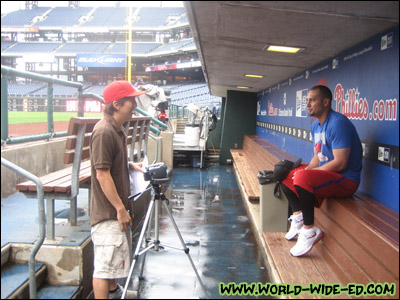 The author and Shane Victorino
Edward Sugimoto) A couple years ago (March 30, 2007), you became a father (daughter Kali`a Makenna Victorino). How does that feel?
Shane Victorino) Oh I love it! I love being a dad. My little girl Kalia, she's a little rascal. My mom guys always told me, sometimes it comes full circle. My mom and dad did a wonderful job with me as a kid, and now I get to see what I was probably like, and see my genes go to work on my daughter. She's a handful so I can only imagine what I was like for my mom and dad.
Edward Sugimoto) Speaking of your dad, he's a Council Member back in Maui. Did he give you any kind of words of wisdom or leadership advice?
Shane Victorino) Um, you know what, dad's one of those guys where I think, in the position that he's in, and some of the things that he's done in the community, you know he always told me work hard, and when you go out there, you work hard, you show people that you can be a leader, not by talking about it, but by going out there and doing things the right way. Giving back to the community and so on and so forth. So to have dad in that position I think it's nice and you know he loves what he does, he loves always giving back and working for the community, when he got into the Councilman position he was very excited.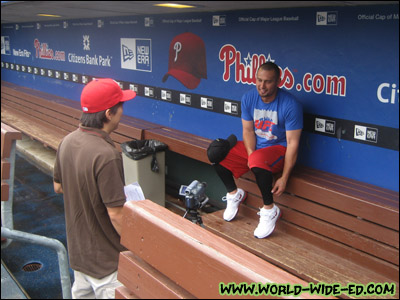 The author and Shane Victorino
Edward Sugimoto) You mentioned being in baseball, you were an Eagle Scout, Football (star in Soccer, Basketball and Track too). Is there anything you CAN'T do? 🙂
Shane Victorino) Anything I can't do. (*laughs*). You know what's funny, I never did surf. I never did surf growing up. That's the one thing I think everybody always kinda questions like coming from Hawaii, how it is to surf and yada yada yada, but I always told myself, when my friends went to the beach, I went to the baseball park, I went to the football field, I went to the soccer field, you know I wanted to go get better playing spots, so I think that helped me differentiate myself from some of the things that, you know, if I went and spent a lot of time at the beach and surfed, it would've took away from me trying to be a good athlete that I am today.
Edward Sugimoto) Speaking about baseball, we (Hawaii) have Tony Rego, Sid Fernandez, and Benny Agbayani from back in the day. Today we have like the Little Leaguers from Waipio, you, Tyler Yates (Kurt Suzuki). Is this just the beginning of Hawaii talent coming into the league?
Shane Victorino) Yeah. I think Hawaii is definitely going to be a place where scouts are gonna come. Myself, Kurt Suzuki, you said Tyler Yates, Brandon League. I mean I can keep going down the list. More and more kids are in the minor leagues, so it's definitely one of those things where Hawaii's gonna become a state where I think a lot of people are gonna look, go there and look for talent, and look for baseball talent. The thing is Hawaii has so many talented kids, it's just that a lot of them don't want to go away. A lot of them miss Hawaii, and yada yada, and I always say to myself, if my family's healthy, eveybody's doing great, Hawaii's Hawaii. It's not gonna change. If you get the opportunity to go away, go to the (eastern) states and do some things, hey take the chance. You know what, your home will always be home. It ain't gonna go nowhere.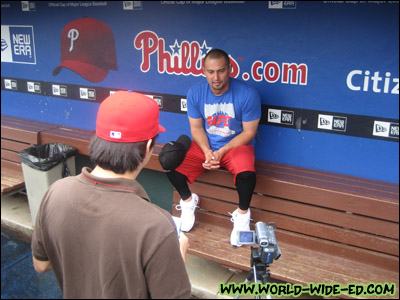 The author and Shane Victorino
Edward Sugimoto) You're highly involved in the community, both in Philadelphia and in Hawaii. And you have a Celebrity Golf Classic (to raise funds and awareness for Hawaii Children's Cancer Foundation) coming up in November I believe (November 21st at the Maui Prince Makena Resort)? What makes you care so much about your community?
Shane Victorino) Well, I just think that being in the position that I'm in today, you know, growing up there in Hawaii, I never really saw too much of these kinds of things. Being in the sport that I'm in, I have a lot of teammates who host charity events, and for me, I was always taught that any way you can give back, it's just one of those things, if you can give back, why not? If you can make an impact on somebody's life, why not? And I think that when I got into the level that I got last year, I told myself, you know what, it's time for me to try and make something happen in Hawaii. We'll raise money for certain causes. Last year it was Alzheimer's, this year it's Hawaii's Children's Cancer research. So any way I can give back, I think is one of those things where I've always uh. You know when you're in a position, like they say, "well you're a professional athlete, you should give back." Well, sometimes I think that we're in a position that we don't have to give back, but we're in a position where we can help to make the community build and I think that's what we do and that's why I love doing these charity events.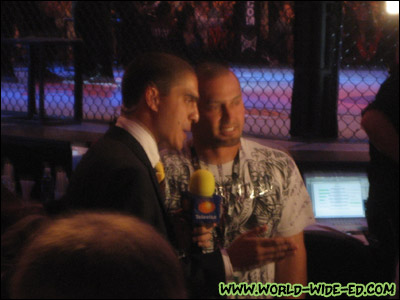 Shane doing an interview with a reporter at UFC 101
Edward Sugimoto) How'd you like the fight last night (UFC 101 was at the Wachovia Center in Philadelphia)? We saw you!
Shane Victorino) I loved it! (*turns to camera*) Right on! Good job BJ! I was definitely excited. He definitely represented Hawaii. I think he worked hard. He was really, really focused on this fight and wanted to make an impression. I think that was what I saw out of him. He had that drive, he had that desire, he had the BJ Penn attitude. I think he really worked hard for this fight. He wanted to prove to people again that hey, you know what he's still known as one of the best guys.
Edward Sugimoto) You probably have a lot of fans from Hawaii in for the fight and probably here for the game today. Are you pretty amped up about that?
Shane Victorino) Yeah, no I'm excited. I saw a few Hawaiian flags flying in the stands the last couple nights, so, it's definitely nice to have the support and love from the Hawaii people.
Baseball Life:
Edward Sugimoto) You had a full ride scholarship to UH for Football. How difficult of a decision was it to turn that down and pursue a career in baseball?
Shane Victorino) It was very tough. It was one of those things, uh, you know my mom definitely wanted me to get a good education, and she definitely pushed that. She sent me to a private high school (St. Anthony in Maui) for a reason and that was to get a good education and to hopefully do well in sports and so on and so forth. But when that day came, it was definitely tough. But I told my mom, I said, "Mom, college will always be there. I may never have another chance to go pro." So it was definitely a tough decision, but when I made a decision, I told myself I'm gonna go 'til I can't stop. I wanted to go there and I wanted to work hard. As they always say, until they take the jersey off your back, I don't want to quit. There were times yeah definitely through the minor leagues, there were struggles, and there were times I wanted to come home, but my dad said, "Hey just remember, you coming back home, you're never going back." That was words of advice that I'll always remember. If I gave up when I wanted to, I may never get another chance to play pro ball, so I stuck with it, worked hard. But going back to the question, it was definitely a tough decision, but like I said, I told my mom, "Mom, education was gonna be there, college ain't going nowhere." You know, I can go to college when I'm 35, 40 years old. Hopefully I had a good career. I can go back to college when I'm done. So it was definitely tough, but I talked mom out of it, and I was able to go and turn pro, and hey, I'm having a wonderful time so far.

Victorino info on the billboard
Edward Sugimoto) The Phillies. You guys are all pretty aggressive, work hard. Is that something Coach (Charlie) Manuel stresses?
Shane Victorino) Yeah, um, you know what, Charlie is one of those guys where he lets you play. He's the kind of manager that you want to play for. A guy that's gonna let you go out there and gonna let you play the game that you play. Not gonna put too much stress on you, he's not gonna bash you in the media. He's gonna come and call you in his office if he wants to talk to you about things. So, when you come to the field every day, you know what you have out of your manager, and that's the kind of guy you want. A guy who's gonna be in your corner, not a guy that's gonna yell at you, stress you out even more than what this game already does. He's the kind of manager that we call a player's manager. He takes care of his players. He goes out there, he wants his players to do their best. He's got two rules: it's to be on time and play hard (and hustle). You can't ask much more out of a manager than that.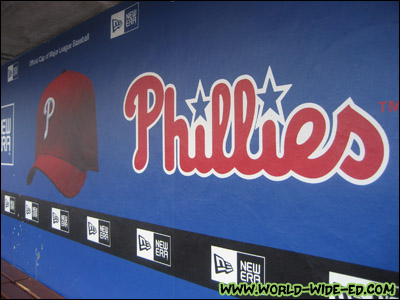 Phillies logo in the Phillies dugout
Edward Sugimoto) You wear a rarely fashioned double eared helmet. Is this because that's how we used to play back in the day or just 'cause you're a switch hitter? 🙂
Shane Victorino) Well, yeah, no, I did that in the minor leagues, and when I got to the big leagues, I put the one flap on for a while and it was kinda like I felt uncomfortable. So I told myself, why change? I did it in the minor leagues, I did it in Little League, why not keep it up? Plus, being a switch hitter, I don't want to carry two different helmets, so some of those things factor in.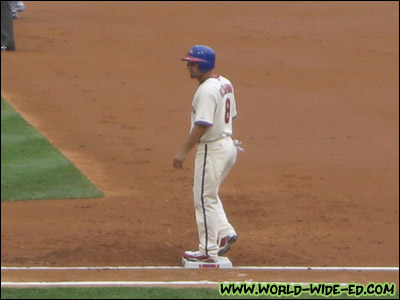 Shane Victorino sporting the double-eared helmet
Edward Sugimoto) Do you have a preference (right handed or left handed batting)?
Shane Victorino) No. There's times you feel good from the right, there's time you feel great from the left side. So you just gotta keep playing in this game. You play 162 games for a reason. You're gonna go through your ups and downs, you're gonna have your slumps, you're gonna have your struggles, but you just go out there and keep working.
Edward Sugimoto) #8. Is there a reason why you chose that number?
Shane Victorino) Um, you know what, my brother was #8 in high school, my mom's born on January 8, so 8 has some significance. I was 8 in high school. When I first got here, they gave me #8 so I was lucky enough, and I really didn't have to ask for #8, but I was given #8 my first year here. It's definitely a number that has ties to me.
Edward Sugimoto) Congratulations on winning the Gold Glove last season. Do you take pride in your defensive skills as much or more than your batting skills?
Shane Victorino) I definitely take pride in my offense a little more I think. But I mean I take pride in my defense too. I think defense is such a great factor in a ball game. You can never struggle. You should never slump on defense. You're gonna go through struggles at the plate. You're gonna go through 0 for 30s, you're gonna go for 2 for 50s, but on defense you should never struggle because that's not something where you gotta worry about hitting, you gotta worry about seeing the ball. You just gotta worry about staying focused, making good plays, and going out there and playing hard.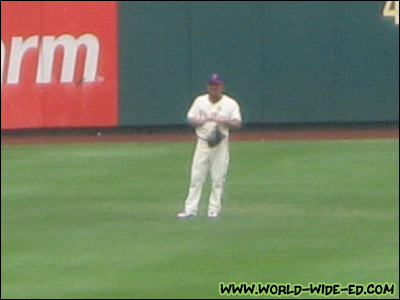 Shane manning the outfield (I know… kinda blurry!)
Edward Sugimoto) What's the biggest rush. Homerun? Stolen base? Diving catch?
Shane Victorino) You know what, they all have their different life. Of course if you hit a walk-off homerun, that's more exciting. When you make a diving catch in the game, that's exciting. You steal a base in a big big situation, so you know, every one has its own weight I think. But for me, I would say, hitting a home run in a crucial situation, I think to me would be the most exciting thing.
Edward Sugimoto) You became the first Hawaii-born positional player in the All Star game. You had the support of Philadelphia, Hawaii, and everybody else (Both Pennsylvania Governor Edward G. Rendell and Hawaii Governor Linda Lingle showed their support, and South Philadelphia Mayor Michael A. Nutter even went door to door to solicit votes). You had 15.6 million Internet votes which set a record (previously held by Evan Longoria in 2008 at 9 million). How does that make you feel to have so much support?
Shane Victorino) It made me feel great. That really showed what Philly fans, what Hawaii fans, and what the passion of baseball has. The blessing that I had to be able to be voted in, to get that amount of votes, almost double what the guy the previous year had I think, was such an amazing thing. It really showed how much Philly fans and people around the world really care I guess about how I play the game and how I approach the game, so it was definitely a nice thing.
Edward Sugimoto) You had a hit in the All Star game. Explain your experience, the whole experience.
Shane Victorino) Everything was great. Every bit of it was what I expected. There were a few things, of course getting to meet President Obama again, just listening to the 5 living presidents talk before the game on the big screen about All Stars among us, people who are helping the community. Every moment had its catch, and being introduced as a starter, and then going out there and getting my first hit in my first at bat in my All Star game, or my first All Star game, so, it was some fun times.
Edward Sugimoto) On Friday, the Phillies inducted Harry Kalas into the Phillies Wall of Fame. After a recent homerun, you pointed to the booth where he used to sit. Kalas has a history in Hawaii (with the US Army and as a Hawaii Islanders announcer). What kind of an impact did he have on you?
Shane Victorino) He had that voice that I remember growing up as a little kid watching Inside the NFL at my grandma's house, thinking to myself, who's voice is this I'm hearing? And then when I came here in '05, I remember hearing his voice when I got called up and I'm like, hold on, this is the guy's voice that I used to hear when I was a little kid when I used to watch Inside the NFL, NFL Films. You know, it was just like, woah, this is the man. This is the guy, Harry Kalas, the guy that I remember growing up watching Inside the, you know NFL Films, and hearing that voice. To actually meet the guy in person, we definitely had a bondage. I remember one of my walk off homeruns, he said Victorino No Ka Oi. That was one thing he would always call me. "Hey! Victorino No Ka Oi!" You know he would always say that. He definitely had his roots to Hawaii. His first wife was from Hawaii, he definitely started with the Islanders, did some broadcasting there, so he definitely had some roots to the islands.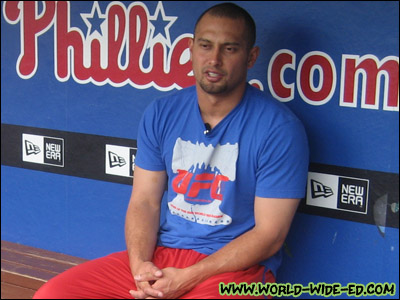 Shane Victorino
Edward Sugimoto) What does the future hold for Shane Victorino?
Shane Victorino) What does the future hold huh? Just try to be the best player I can be. To go out there and try to keep succeeding, try to keep getting better. In this game, there's always room for improvement, and I think you go out there and work hard every day, that's all I can say. I try to go out there and work as hard as I can, and try to play as hard as I can because you never know what could happen. Tomorrow may be my last day, today might be my last day. I might get hurt and never play again. But as long as I'm giving 100%, that's all I can ask about myself.
Edward Sugimoto) You have any words of advice for your young fans out there?
Shane Victorino) Yeah. I think the kids in Hawaii, like I said earlier, I think a lot of Hawaii kids don't understand, and they struggle with the fact of leaving home. To me, my advice to them is hey, if you get the opportunity, leave. Take the chance, see what's out there. Work hard as a little kid and work hard now because when you work hard now, it'll help you in the end. I was one of those kids where I was blessed by God. I had a lot of natural abilities. I didn't work as hard as some of my friends, and I always say to myself if I did, how much better a player would I have been when I first got to the big leagues? But you know, I think with hard work and dedication, a lot of things can happen.
Edward Sugimoto) And how about your general fans? Message to them?
Shane Victorino) General fans? Thank you guys for everything. Thank you for voting me to the All Star game. Just enjoy. I think when you come to watch our team, that's what we do. We go out there, we have fun, we try the best we can, and we play the game hard, and we just try to go out and win every night.
…
Right back atcha Bruddah Shane. Mahaloz for making all of us in Hawaii so very proud. Keep on playing the game with that intensity and heart and only good things will come. But I'm sure you already know this, as failure has never been in your vocabulary. V is for Victorino. Victorino No Ka Oi!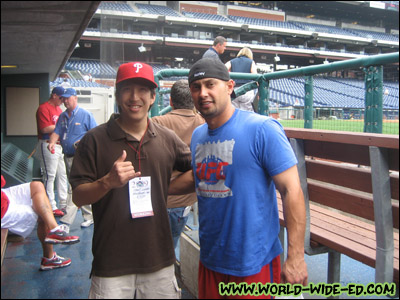 Me and Bruddah Shane
…
Ed's Notes:
Shortly after this interview, Victorino strangely got ejected from the game (in centerfield!) by home plate umpire Ed Rapuano for throwing his arms up in the air (following a bad call). The Phillies lost the game and was ultimately swept by the Marlins, further diminishing their lead in the NL East.
Yikes.
A couple games later, in a matchup against the Chicago Cubs, he was doused with beer by a rabid Cubs fan – while trying to make a routine catch.
Eek.
Could it be? Could my interview with Bruddah Shane, in some strange way, possibly have put some kind of curse on the Phils? No. Can't be! Riiight?
Thankfully, the Phils broke out in a big way, going 14-5 since then and is now sitting atop the NL East with a handsome 7 and a half game lead (as of 08/31). So you can actually say that this interview gave them good luck going into the post-season! You're welcome fellow Philly fans! 😉
A big Mahaloz to: Ted Nakamura, Leonard Nakahashi, Shane's mom, Josh Goldberg of the Beverly Hills Sports Council, Greg Casterioto and Deanna Sabec of the Phillies organization, Bari Carroll, and of course Bruddah Shane Victorino.