Part I |  Part II  | Part III | Part IV
The 4th day started with the eager anticipation of finally seeing land. Our first of two land tours wasn't to start until 12:30PM, so we had some time to catch a bite on board and roam the quaint little town of Juneau.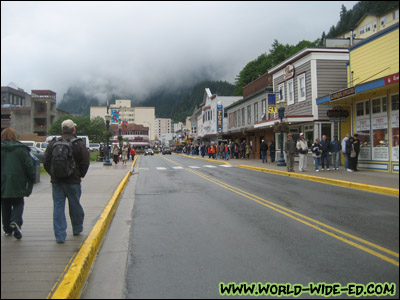 South Franklin Street in Downtown Juneau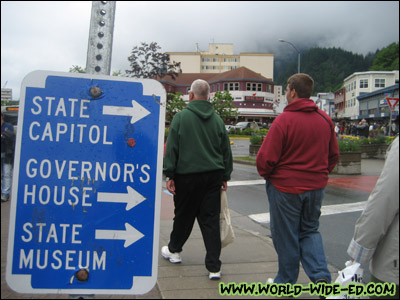 Downtown Juneau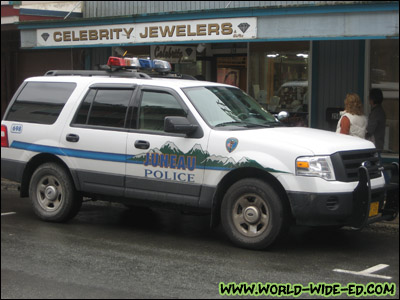 Police Car in downtown Juneau
Ed's Tip: The Alaskan Fudge Company is right in the heart of downtown Juneau and seemed to be a popular place for picking up omiyage. They even have a cold marble slab where they put their own chocolate concoctions together in front of interested patrons.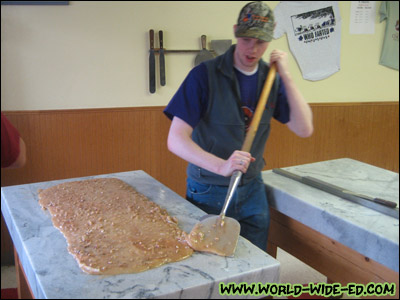 Alaskan Fudge Co. employee making some sweets on a marble slab
Additional attractions of this city – that some of our other family members enjoyed – included: riding the Mt. Roberts Tramway,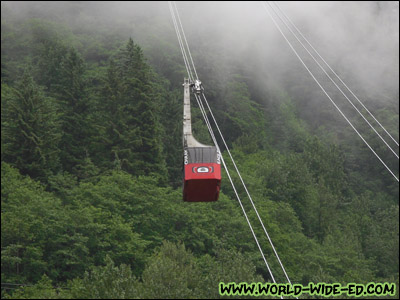 Mt. Roberts Tramway in Juneau [Photo Credit: Lee Kojima]
eating at Taku's Smokeries & Store,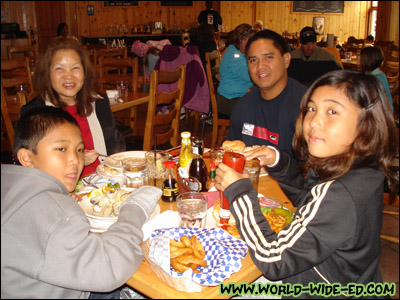 Aunty Amy, Uncle Mike, Kerri-Ann and Chris enjoying the eats at Taku's [Photo Credit: Mom Kojima]
eating at Tracy's King Crab Shack,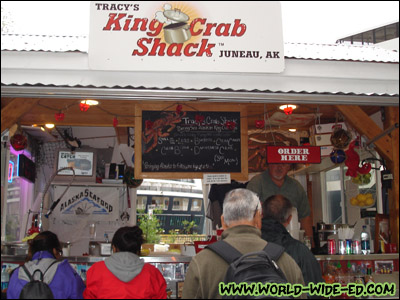 Tracy's King Crab Shack [Photo Credit: Mom Kojima]
doing the Juneau Highlights – City, Glacier & Hatchery land tour,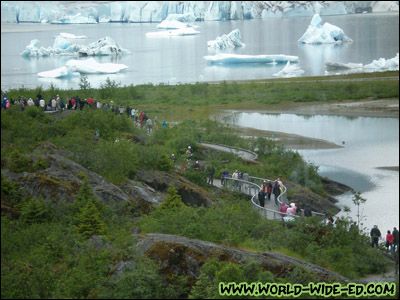 Mendenhall Glacier Visitor Center [Photo Credit: Andi Kubota]
and doing the Historic Gold Panning Adventure land tour.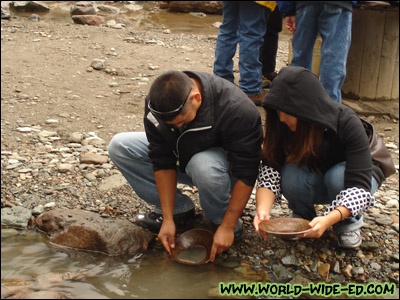 Lee and Leanne Gold Panning in Juneau, Alaska [Photo Credit: Mom Kojima]
As for wifey and I, it was off to our first "land" tour: Helicopter Flightseeing & Glacier Walkabout! Woo hoo!
Description: No experience is necessary for this non-strenuous, one-hour interpretive walk! Your guide provides detailed explanation of the glacier environment, the surrounding area, and teaches proper use of the mountaineering equipment provided. There is plenty of time for photo opportunities. The amount of walking is moderate, over relatively flat to rolling terrain. Your pilot will choose the glacier landing site. Please note: Rain and windproof outerwear, boots, and gloves are provided. Minimum age is 8 years. Trips are conducted in small groups to facilitate an informative in-depth glacier experience. Guests weighing 250 lbs our more will pay an additional surcharge over the published fare. Every guest and his/her carry-on items on helicopter tours may be weighed during the check-in process. The tour operator will endeavor to be discreet during this process but please be aware that individual circumstances may not allow for complete privacy.
From the dock, we were bussed to a helipad near the airport, briefed, dressed up in odd looking attire, and led to the tarmac where our chopper awaited us!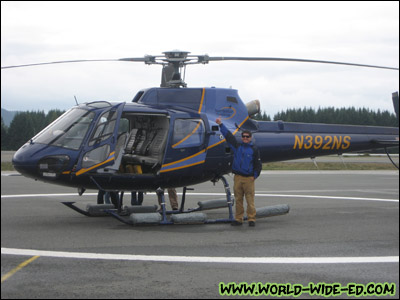 Our helicopter pilot giving us the thumbs up!
After boarding, the pilot lifted off and flew us towards the glacier (I believe it was the Mendenhall glacier).

On the way to the glacier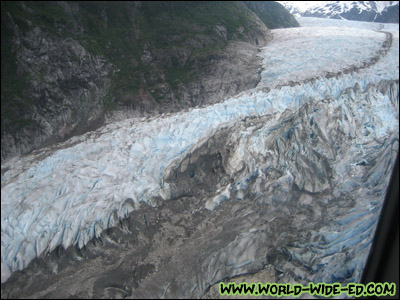 Flying over Mendenhall glacier
Before long (about 20 minutes or so), our chopper was touching down on the huMANgous Mendenhall glacier…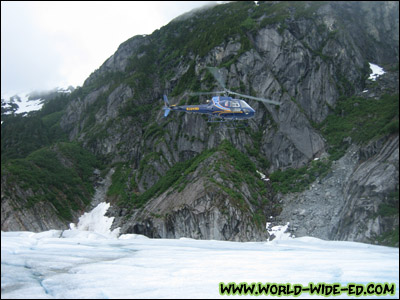 Helicopter landing on Mendenhall glacier
… where we were greeted by guides who made their temporary home there.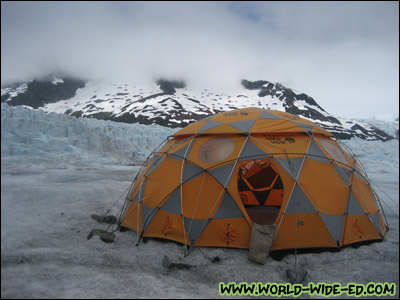 Tents where our guides stayed
Soon, we were strapped up…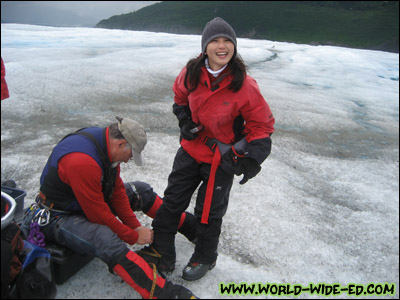 Wifey getting strapped up with her boots with the fur, er spikes.
… given some rudimentary tools…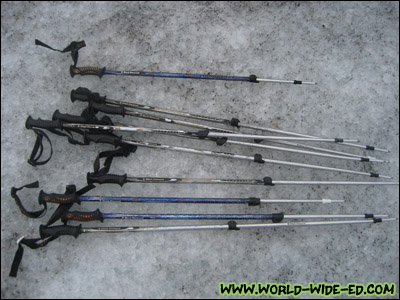 Our walking sticks
… and sent on our way!

What it's like to walk on a glacier in spiked boots
As the guide led our group around, we were able to take some artsy fartsy shots.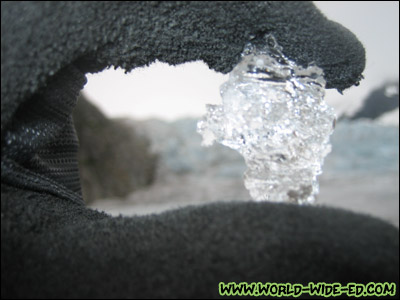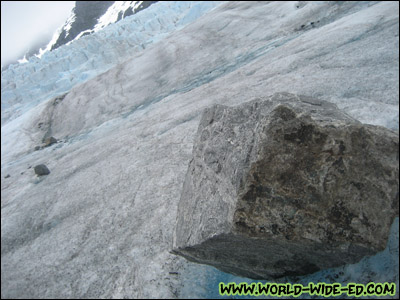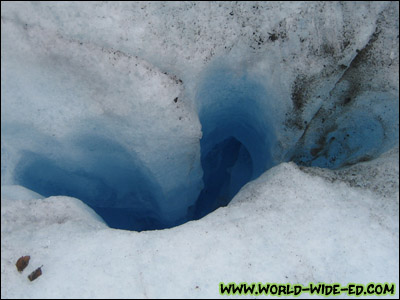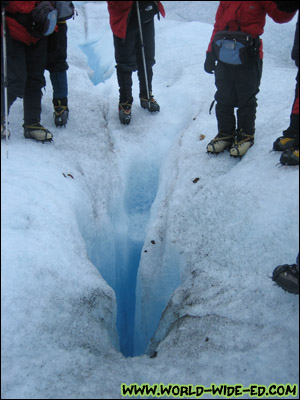 If you didn't pay attention to where you were walking, you really could've been in some deep, deep trouble (pun intended).

Our group checking out some of the glacier's moulins

Our guide talking about moulins and melt water.
After 1/2 and hour to an hour of "walkabouting" we had some time to rest and drink fresh glacier water…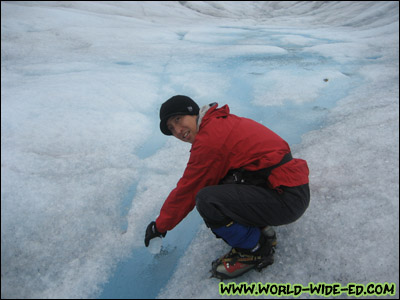 Filling up our bottle with 100% natural glacier water.
and pose for a photo or two…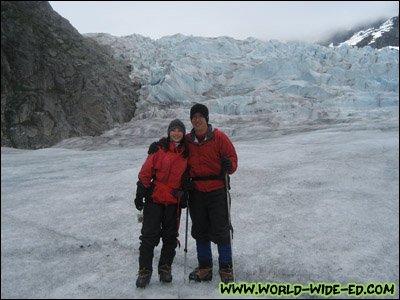 Wifey and I after conquering Mendenhall Glacier
… before heading back to base camp.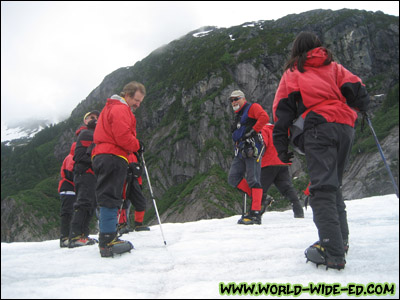 On the way back to base camp.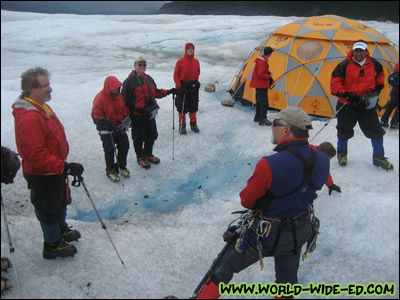 Wrapping things up at base camp.
There, we took off our boots and waited for our choppers to come and pick us up.

Helicopters picking us up on the glacier
We boarded them up…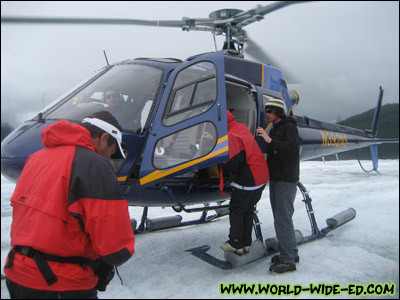 Boarding the helicopters to head back
And headed back to the airport…

Leaving Mendenhall Glacier
… for a quiet landing.

Landing softly at Juneau airport
Not long after being dropped back off at the seaport, it was time for our second land tour in Juneau, the Alaska Salmon Bake. So we quickly re-boarded the boat, dropped our stuff off in our room and headed back out towards the van pick up area where we were shuttled to the Salmon Bake near Gold Creek.
Description: An Alaskan feast, this salmon bake features Alaskan-caught wild salmon grilled over an open alder wood fire. Also enjoy Cheechako baked chicken, Pasta Primavera, Chilkoot baked beans, wild-rice pilaf, a variety of fresh salads, corn bread and lemonade, coffee or tea. (Beer and wine are available for an additional charge.) Dine beside Salmon Creek in Southeast Alaska's rain forest and listen to a local musician – a translucent roof protects you rain or shine. After dining, toast marshmallows over a crackling campfire and walk to view the beautiful Salmon Creek waterfall. Remnants of the historic Wagner Mine are evident here. Return to ship by shuttle bus. Please note: Tour not suitable for wheelchairs due to uneven terrain at the salmon bake. Bring warm jacket. Restrooms are available.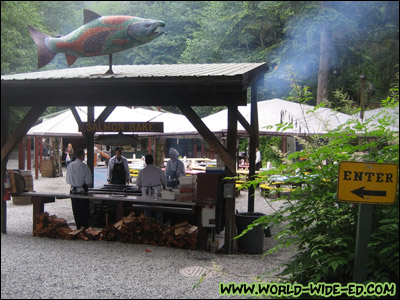 Alaska Salmon Bake at Gold Creek, Juneau, Alaska
The area was wonderfully spaced out, with soothing folk music (performed by Betsy Sims of the Glacier Erratics) and plenty o' options for food as well as seating.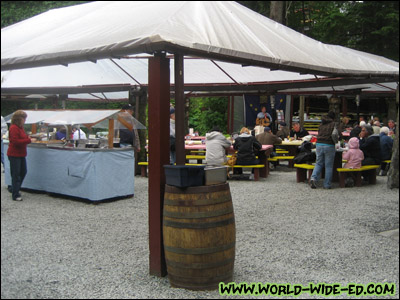 The picnic area
We started off with fresh, clam chowder, then, made our way to the buffet station where a bevy of choices awaited us…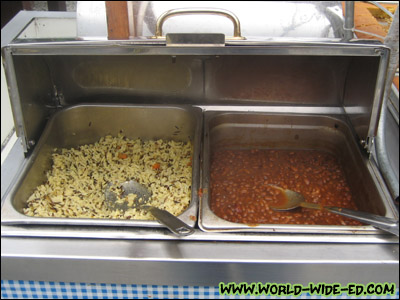 Wild-rice pilaf and Chilkoot baked beans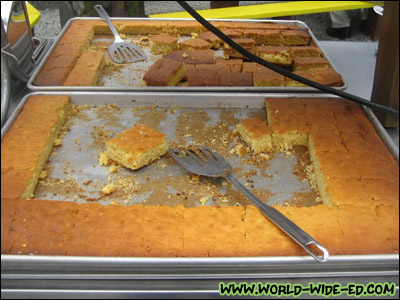 Corn bread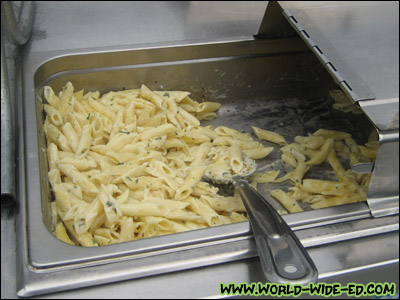 Penne Pasta Primavera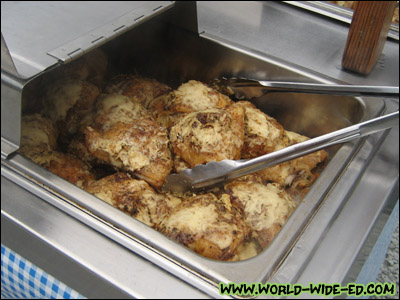 Cheechako baked chicken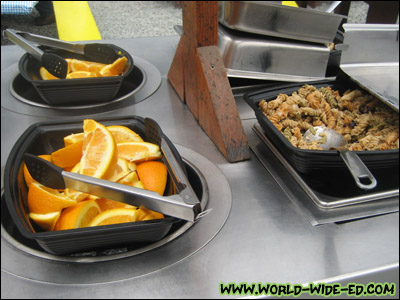 Orange wedges and pasta salad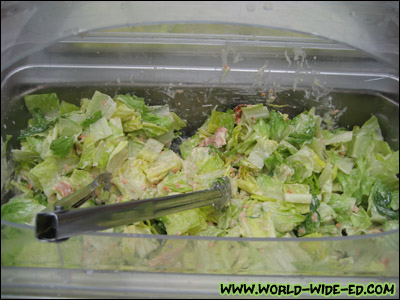 Caesar's salad
… before making our way to the main attraction, the salmon, baked over the open alder wood fire.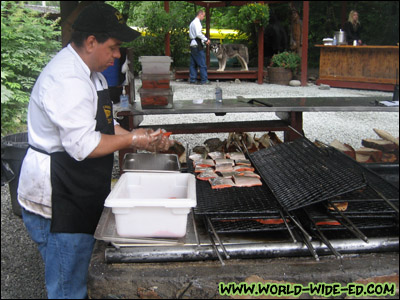 One of the chefs prepping the salmon to be grilled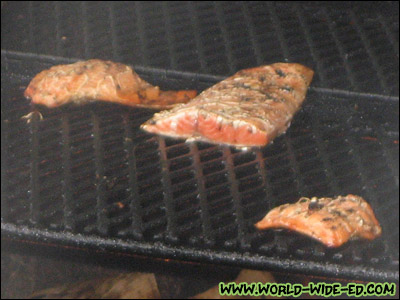 Salmon pieces ready to be gobbled up!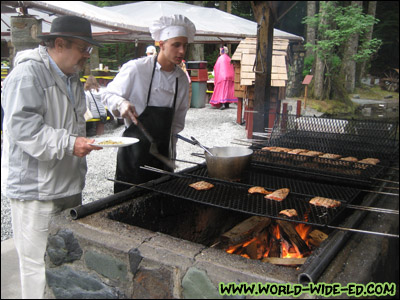 Salmon patron comin' to get his
After loading our plates up, we found a seat to enjoy our meal. I'll let ya guess which plate was mine. *grin*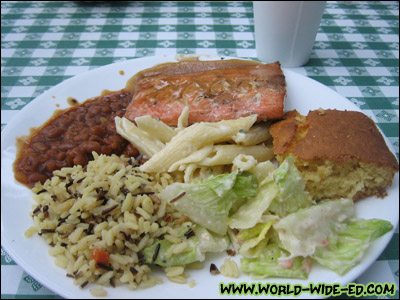 Normal plate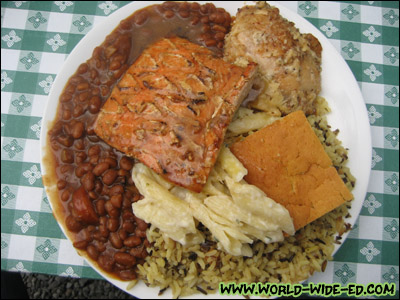 My monstah plate
There was a dreamy glaze that they used over the salmon, and believe you me, it was to die for! We concluded that it was some kind of concoction made up of what tasted like butter and brown sugar.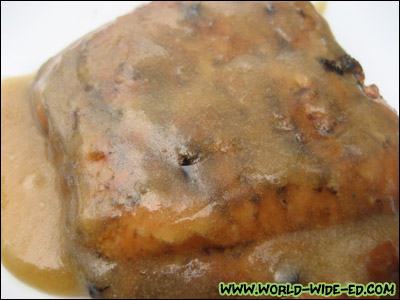 Salmon glaze
Unbelievably, we still had room for dessert: a light, sweet blueberry treat.

Blueberry dessert
On the backside of the salmon bake area, in an inconspicuous corner, a trail presented itself.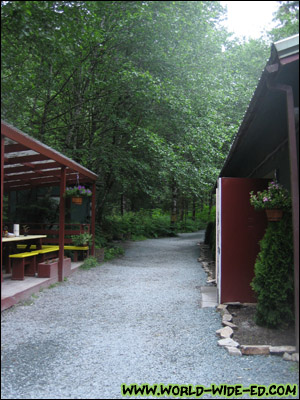 Where does this trail go?
Walking alongside a river to our left, we approached a sign that gave us a hint.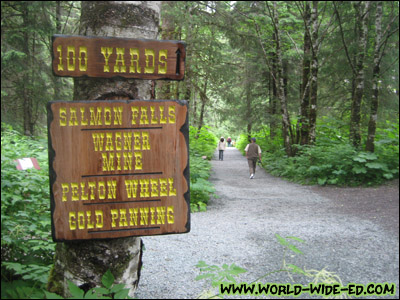 Salmon Falls sign
At the end of the short, several minute walk, we arrived at the crown jewel: Salmon Falls. What a gorgeous, post-dinner spot!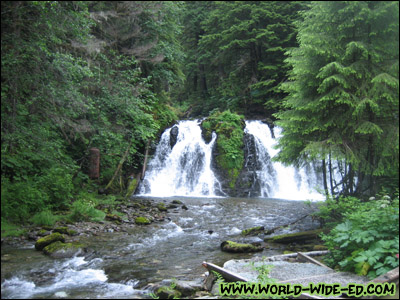 Salmon Falls, Gold Creek, Juneau, Alaska
Miscellaneous old school relics surrounded the area near the falls to take you back to the historic gold panning days.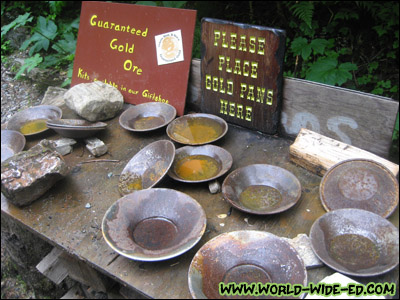 Gold panning equipment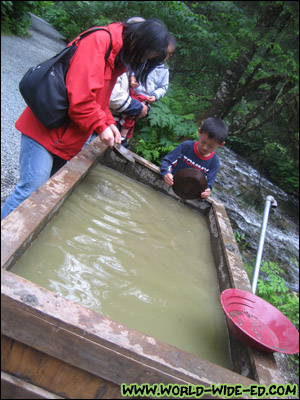 Panning for gold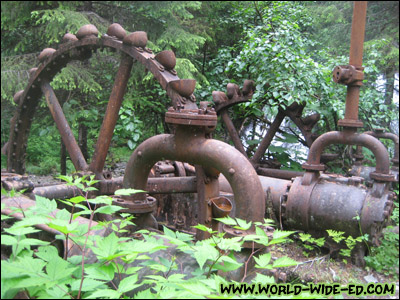 Pelton Wheel – Some old school mining contraption 😉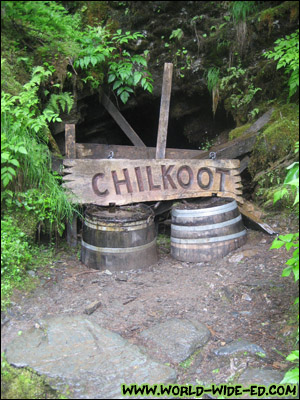 Chilkoot mine
With some time to spare, we decided to cook up some marshmallows – over their open campfire – before our shuttle arrived to take us back to the boat…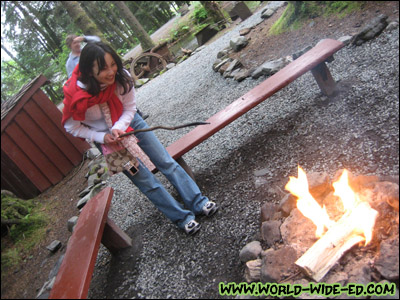 Where's the marshmallow you ask? It fell off! LOL!
… the perfect way to close out day 4 of our Alaskan adventure!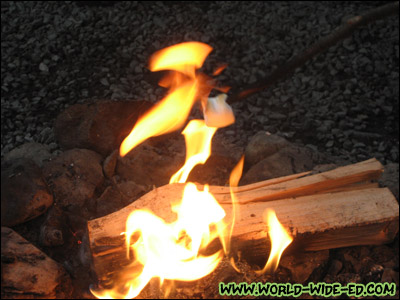 Roasting marshmallows over the open campfire