Traveling to Australia has always been a dream of mine. I mean, let's face it, they've got so many interesting and unique things going for them…
Their seasons are completely opposite from ours.
They've got koalas and kangaroos to ogle over.
They have cute sayings like "G'day Mate!", "Barbie" (BBQ), and "Oi (Oi Oi)!" (LOL!)
Their toilet seats (supposedly) flush in the opposite direction.
Regional Beers like Hahn, Tooheys and XXXX.
And, uh, Vegemite… I guess.
So when the opportunity arose for me to join Hawaiian Airlines' inaugural flight to Brisbane, I could not say "Yer, mate" fast enough!
On Tuesday, November 27th, of 2012, Hawaiian Airlines launched its newest direct route to Australia's third most populous city: Brisbane. Like some of Hawaiian's previous inaugural flights (Tokyo, Osaka, Fukuoka, Seoul, New York City and Sapporo), they invited members of the (new) media to help document the journey, every step of the way. The recruits this time around were Melissa Chang (@Melissa808) of NonstopHonolulu.com, Catherine Toth (@thedailydish) of TheCatDish.com, Kaleo Lancaster (@islandtrails) of Island Trails, and myself (@worldwideed) of World-Wide-Ed.com.
It was a whirlwind 3 day, 2-night tour, but we definitely got to experience Brisbane the only way Hawaiian Airlines knows how: with Aloha. Here are some of the sights and sounds that we were fortunate enough to experience.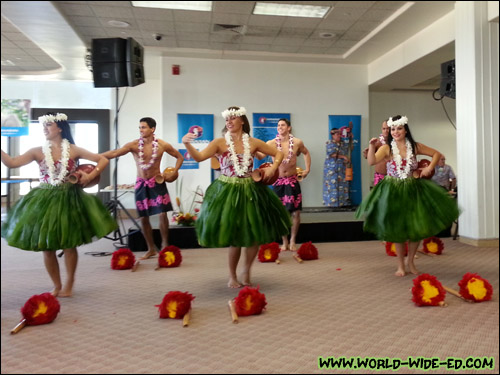 Hula dancers giving us a nice sendoff
HA443 departs Honolulu at 10:20am every Tuesday, Thursday and Saturday and arrives in Brisbane (BNE) at 4pm the following day.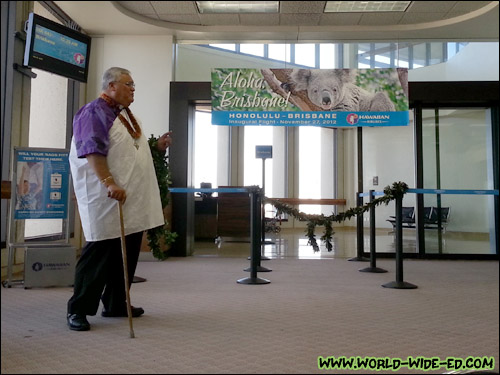 Blessing by Kahu Richard Kamanu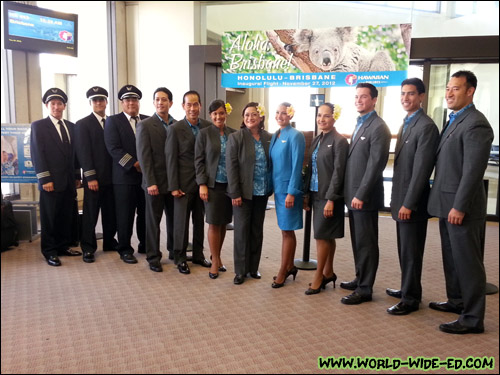 The awesome Hawaiian Airlines crew for our HA443 flight to Brisbane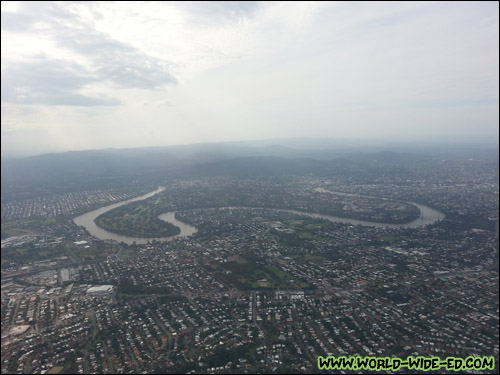 After about 10 hours in the air, we finally get to the beautiful city of Brisbane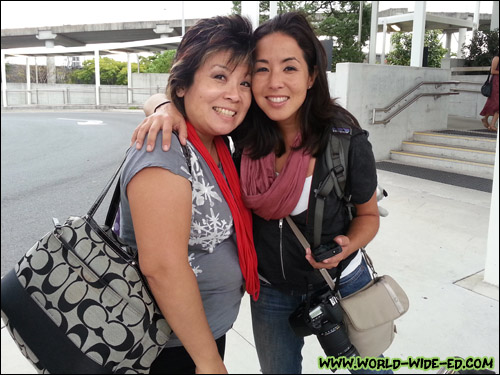 These two (Melissa Chang and Catherine Toth) are happy to be on the ground
Our hale for the next few days was the French based luxury hotel chain called Sofitel Brisbane Central Hotel. Conveniently located in the middle of the city, it was in walking distance to quite a few key points during our trip, including ANZAC Square, which was literally across the street. Here's the view from my hotel room window!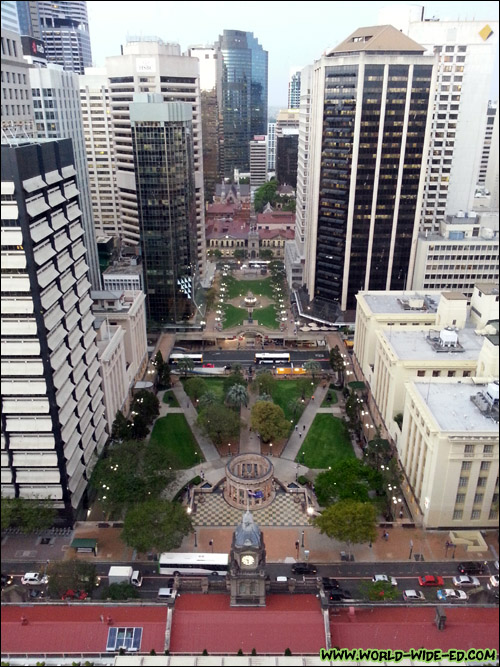 Looking down at ANZAC Square from the Sofitel Brisbane Central Hotel
It wasn't long before we had to get dolled up (I wore a tie!) and head down to the Ballroom Le Grand for the official Welcome Gala.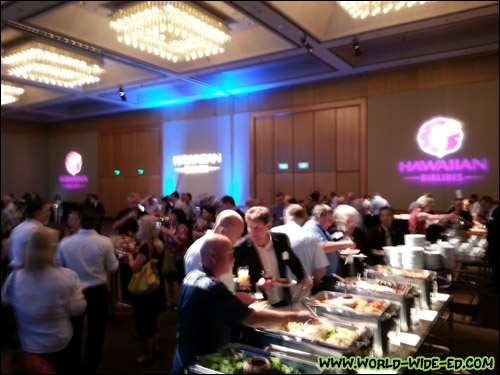 Hawaiian Airlines Welcome Gala
It was a packed house filled with members of the local (Brisbane) media, tour industry professionals, airline executives, and local entertainers Sean Na`auao and Lehua Kalima (formerly of Na Leo), among others.

Lehua Kalima Sings "Waikiki" at the Hawaiian Airlines Welcome Gala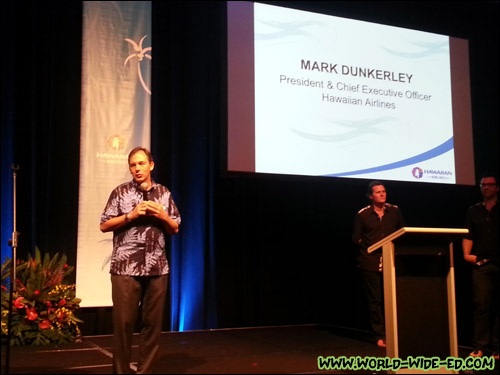 Hawaiian Airlines President and CEO Mark Dunkerley addresses the crowd
And of course, we can't forget about the food p0rn shots! 😉

Bomboocha wok of fried rice!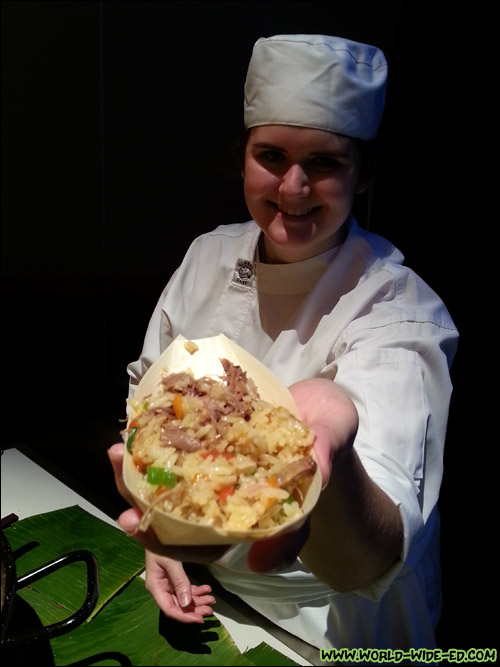 My serving of fried rice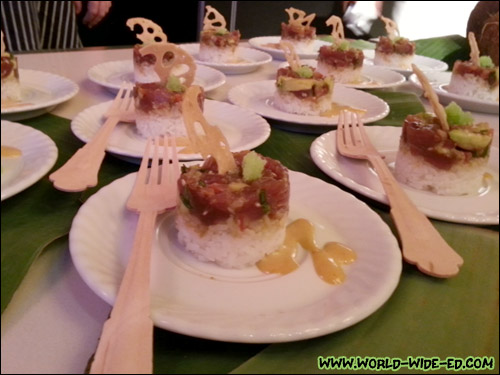 Poke samplers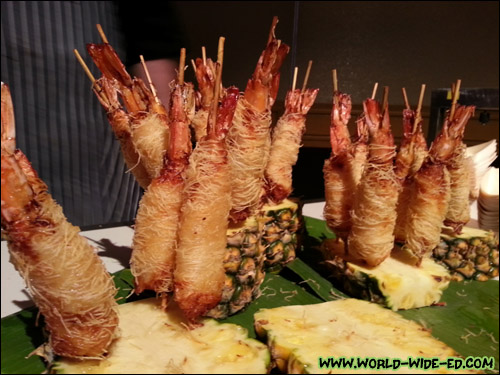 Chef Chai's popular Fried Kataifi Prawns
Following the gala, we decided to take a stroll around our neighborhood.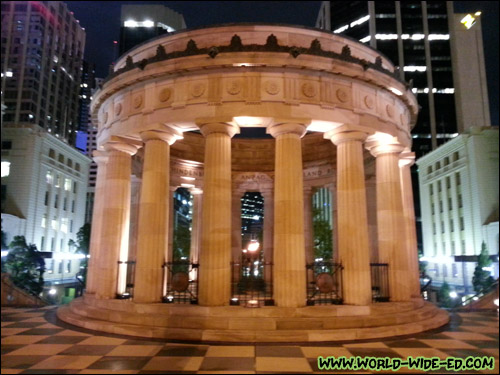 The Shrine of Remembrance at ANZAC Square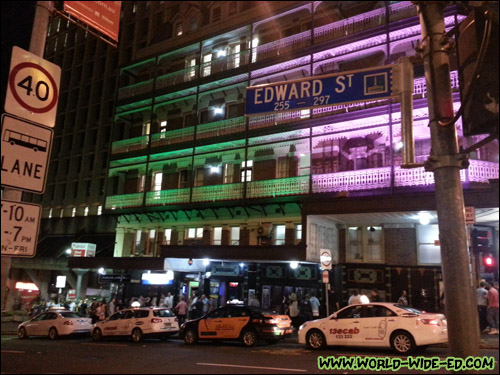 Possibly the best named street in all the land: Edward Street. 8)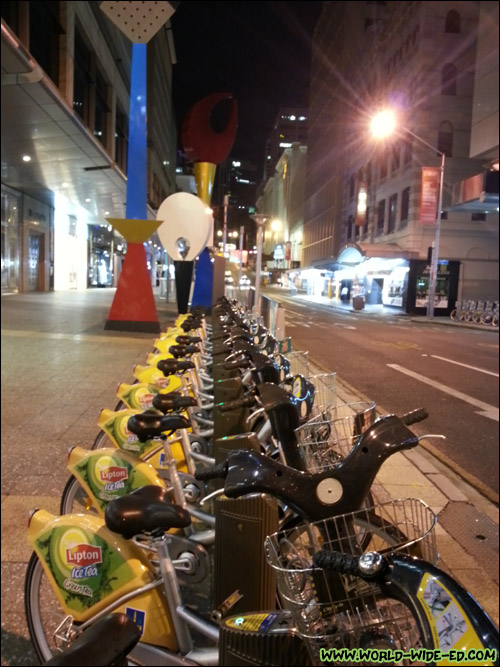 Brisbane's cool CityCycle bike hire program
We decided to check out a popular local pub called the Pig 'N' Whistle on Queen Street.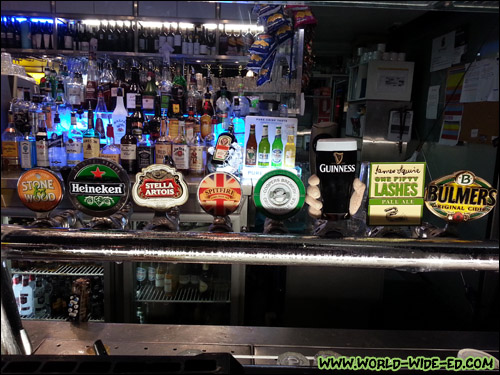 Partial beer selection on tap
Since we weren't that hungry, we just got a side of "chips" (fries in the U.S.) to share.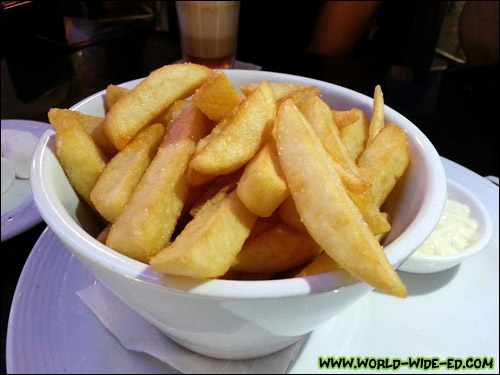 Chunky Chips with Garlic Aioli ($8.90)
After all that eating and drinking, combined with our jetlag, it was time to call it a night. From the expressions on the ladies' faces, I think they agreed.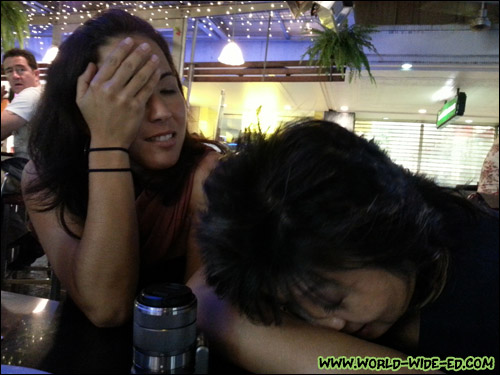 Cat and Melissa are either extremely drunk or jetlagged. You decide.
And that's it for our first night in Brisbane. I'll be back again soon to post more about our adventures including South Bank, King of Kings Seafood Yum Cha Restaurant in Chinatown, Alfred & Constance, koala and kangaroo sightings at the Lone Pine Koala Sanctuary, The Shelter Bar, and our departure.
To view more photos from the trip and get a sneak preview of what's to come:
https://picasaweb.google.com/114302480978989244855/AlohaBrisbaneAlohaBNE
Melissa Chang's #AlohaBNE blogs:
http://www.nonstophonolulu.com/?s=brisbane&searchsubmit=Go
Catherine Toth's #AlohaBNE blogs:
http://www.thecatdish.com/?s=brisbane
Kaleo Lancaster's #AlohaBNE blog:
http://kaleolancaster.blogspot.com/2012/12/brisbane-australia-hawaiian-airlines.html
My #AlohaBNE blogs/posts:
https://e-hawaii.com/?s=brisbane
Instagram search results for #AlohaBNE:
http://web.stagram.com/tag/alohabne/
Twitter search results for #AlohaBNE:
https://twitter.com/search?q=%23AlohaBNE&src=typd
[youtube=http://www.youtube.com/watch?v=g6fspcsRH8U&w=500&h=400&rel=0] Tarp Surfing in Hawaii – VH07V Style (Click to Play!)