Every so often, there comes a time in a man's life when the stars just align. The perfect storm of pleasure if you will. The weekend of January 30th was one such time.
You see, The Ultimate Fighting Championship (UFC) – the most popular Mixed Martial Arts promotion – was having their biggest, most highly anticipated fight card in history: UFC 94. The main event featured Hilo's own BJ Penn against Canada's Georges St. Pierre, arguably the two best pound for pound fighters in the sport. Superbowl XLIII (43) festivities, which featured the Pittsburgh Steelers against the Arizona Cardinals, was also going on that weekend. Did I mention that this was all going down in Vegas? 'Nuff said!
It all started with a confirmation of UFC 94 fight tickets, just a couple weeks before the event (Mahalos to Bruddah DJ and the rest of the UFC posse). From there, it was pure pandemonium as I worked some flight, room and car reservation magic for less than $580 per. Not bad, given the current flight prices.
Wifey unfortunately couldn't take off of work so my friend Dave "took one for the team" and forced himself to come with me on this once in a lifetime, sport-filled weekend.
We caught the red-eye on Thursday the 29th, and enjoyed breakfast at Ruby's Dinette on our LAX layover.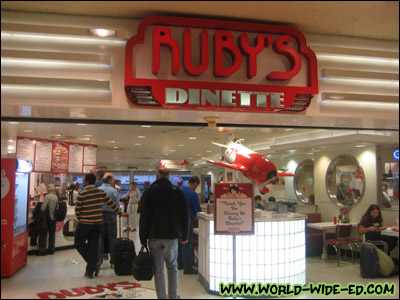 Outside Ruby's Dinette
I've been by this place numerous times before, but never had the chance or the time to eat there. With our hunger, and a couple of hours to spare, Dave and I checked it out. It's a good thing we did because it was surprisingly good.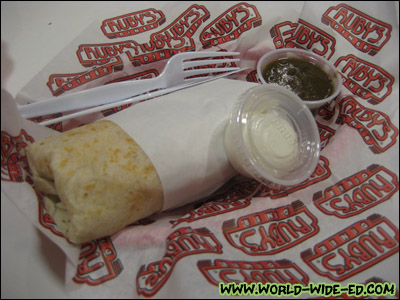 Ruby's Breakfast Burrito: "A flour tortilla filled with fluffy scrambled eggs, salsa and shredded cheese. Topped with sour cream, black olives and chopped green onions. Served with black beans. It's our "South of the Border" specialty!"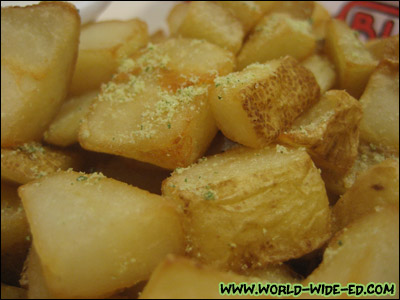 Skillet Potatoes
Ruby's Dinette – LAX
201 World Way – Terminal 6
Los Angeles, CA 90045
(310) 646-2480
We arrived in Sin City at about 10AM on Friday, the 30th, but by the time we got our luggage, stood in line to pick up our rental car, and took my mobile phone in for service (it stopped working for some reason), it was almost time for the first two events of the trip: the exclusive Q&A session with (fighter) Rashad Evans and the official UFC 94 weigh-ins.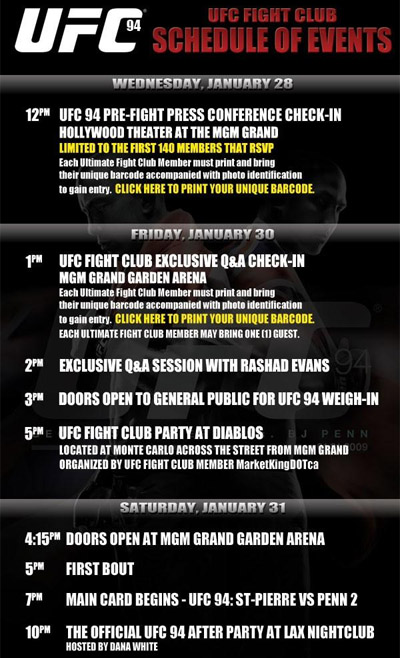 UFC 94 Schedule of Events poster
Thanks to Bruddah DJ, we were able to get early access into the event and sit decently close.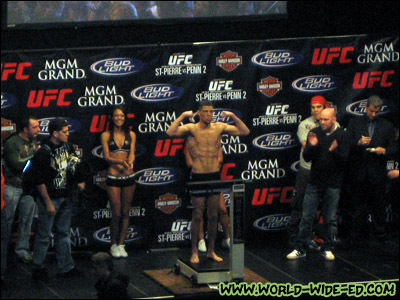 Nate Diaz flexes at 156 as announcer Joe Rogan, brother Nick Diaz, ring girls Logan Stanton and Arianny Celeste, his opponent's brother Jason Guida, UFC President Dana White, and ring announcer Bruce Buffer look on.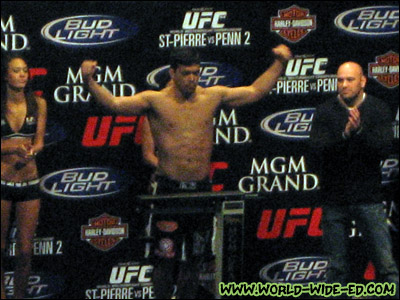 Lyoto Machida comes in at 206 as ring girls Logan Stanton and Arianny Celeste, and UFC President Dana White look on.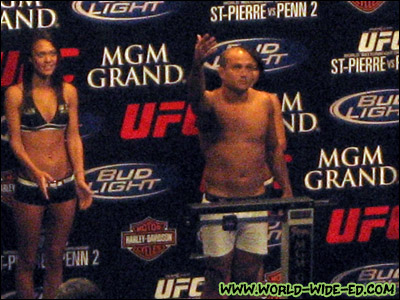 BJ Penn does his King Kamehameha pose while coming in at 168, as ring girls Logan Stanton and Arianny Celeste look on.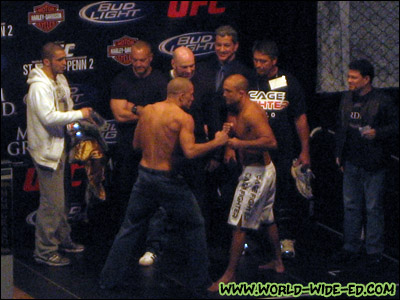 The much anticipated BJ Penn–Georges St Pierre stare down, as St.-Pierre's head trainer Firas Zahabi, an unknown male, UFC President Dana White, ring announcer Bruce Buffer, Penn's head trainer Rudy Valentino and fight matchmaker Joe Silva look on.
Following the weigh-ins, I decided to check my voicemail from my friend's phone and was surprised to hear that my Las Vegas (Hawaii transplant) friend Jen left a couple of messages. She wanted us to meet up for dinner with her and her boyfriend Brandon at an all you can eat sushi spot called Sushi-Mon. Since Dave and I were practically starving, the timing couldn't have been more perfect!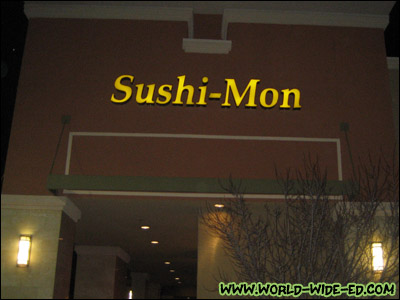 Sushi-Mon sign
For $26.95 ($21.95 for lunch), you can pick from a large array of sushi/nigiri, rolls, and side dishes, and go to town on them for one hour. And go to town I did!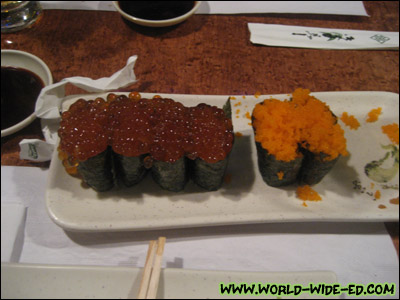 2 orders of ikura (salmon roe) and 2 orders of masago (smelt egg) (one order already eaten… couldn't wait! *grin*)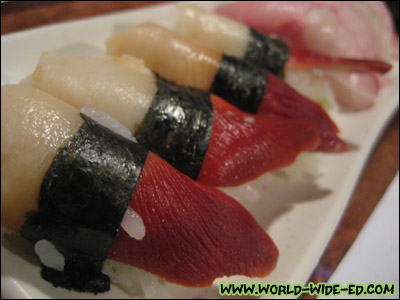 2 orders of hokkigai (surf clam) and 2 orders of hamachi (yellowtail tuna)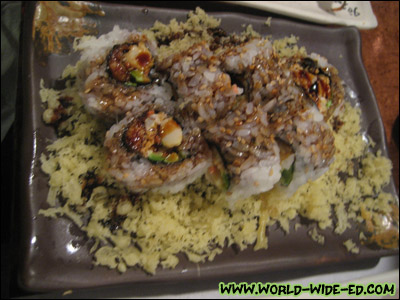 Dave's Moon Roll order (Freshwater eel, yum yum scallop & avocado served on a bed of tempura crumbs topped with eel sauce).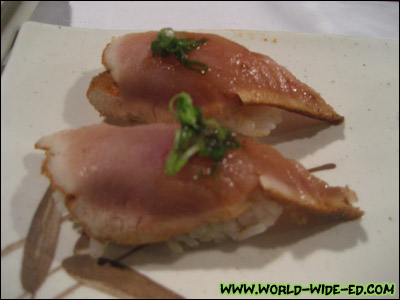 Jen's recommended Cajun Albacore sushi

Snow crab meat sushi (you're only allowed one order)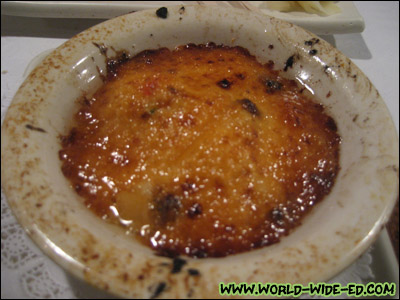 Baked Scallop Shell side dish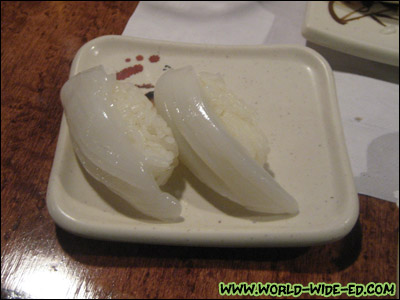 Ika (squid) sushi
Sushi-Mon (on Sahara)
8320 W Sahara Ave #180,
Las Vegas, NV 89117
(702) 304-0044
Open 7 Days a week, 11:30AM-2:00AM
And den, it was fight day! After fueling up on the $7.99 Garden Court Buffet Lunch at the Main Street Station Hotel in downtown…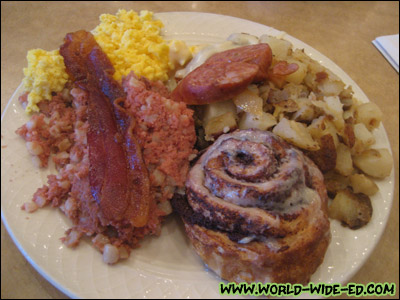 My $7.99 buffet lunch (breakfast actually) at the Main Street Station Hotel in downtown (heart don't fail me now!)
… we headed towards the Mirage to place some fight bets, as, according to my friend Kippy who messaged me on Facebook, they had Penn at +180, some of the best lines in town! By the time we got there though, the line had moved to +135, but that was still good enough for me to back our local hero. While there, I also dropped a bit on the Super Bowl for good measure ('Zona with the 7 point spread). What the heck right?
Following that, we went back to our hotel to get a quick R&R before the big day ahead. Then it was time! We started by roaming the MGM casino area an hour before the gates were to open. We saw a cool photo opp set up for fight fans, and, after asking a girl to take our photo there, her friends thought it was a good idea to tell her to jump in the photo with us! Um, yeah, thanks!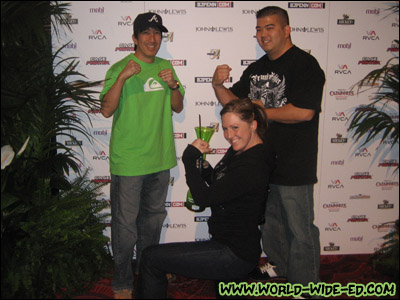 Dave and I posing with some random girl.
At 4:15PM we started to slowly make our way to the gates. The heart started a racin' and the adrenaline started a pumpin'! I couldn't believe we were actually there son!

Shuffling in before showtime
Here are the results with some personal observations sprinkled in between.
Dan Cramer defeats Matt Arroyo by Split Decision
– I thought Matt Arroyo, The Ultimate Fighter 7 alum, would take this one, but was surprised with Cramer's perseverance.
Jake O'Brien defeats Christian Wellisch by Split Decision
– Another surprise as I picked Wellisch to come out on top for this one. As you can tell by now, my fantasy UFC picking is pretty horrible. Good to see O'Brien back from his injury and looking strong though.
John Howard defeats Chris Wilson by Split Decision
– This was too close to call, but both men gave it their all.
Thiago Tavares defeats Manny Gamburyan by Unanimous Decision
– Tavares was too big and too strong (and too quick) for Gamburyan, as expected.
Jon Fitch defeats Akihiro Gono by Unanimous Decision
– Gono impressed me by taking Fitch the distance. His entrance performance (where he dressed up in drag with two of his cornermen) had me in stitches!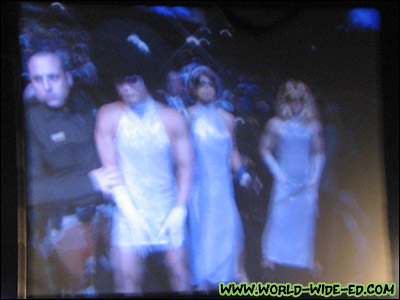 Akihiro Gono's hilarious drag queen entrance
Clay Guida defeats Nate Diaz by Split Decision
– Not a huge fan of Diaz, but knew Guida couldn't finish him. Picked Guida, just based on his energy and spirit. Gotta love someone who is passionate about what they do. Got hooked to his entrance song (Foo Fighter's "My Hero").
Karo Parisyan defeats Dong Hyun Kim by Split Decision
– From my vantage point, I thought Kim got robbed on this one. He impressed me. Looking forward to more from him.
Jon Jones defeats Stephan Bonnar by Unanimous Decision
– Woah! Where'd this guy come from? Jones was very unorthodox, but impressive at the same time. Bonnar must've been confused with the strikes coming from all ova tha place!
Lyoto Machida defeats Thiago Silva by Knock Out at 4:49 in the 1st round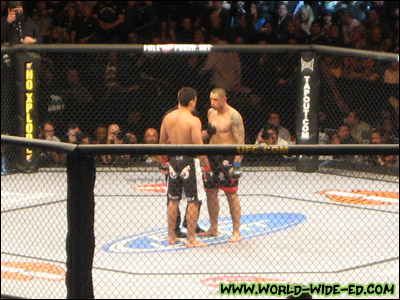 Lyoto Machida and Thiago Silva stare down each other as they get instructions from referee Yves Lavigne
– ALAS!!! A finish!!! Machida must've heard all of our groans from a card filled with decisions. And he made sure to bring it. Silva was completely out for a good minute or so. It was the first time I jumped out of my seat (other that to use the potty! *grin*). Mahalos Lyoto!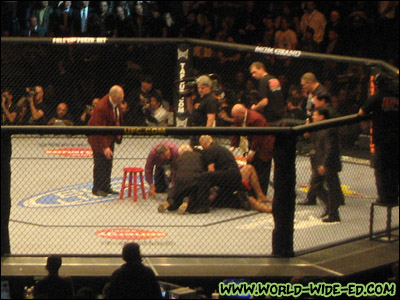 Silva still on the ground after a vicious Machida punch
Georges St-Pierre defeats BJ Penn by TKO Stoppage at 5:00 in the 4th round

BJ's Entrance Video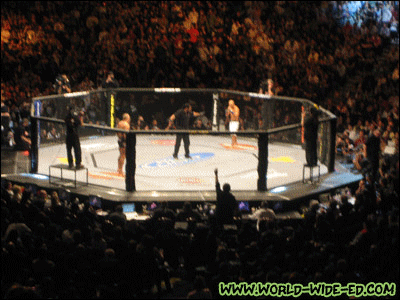 Animation of opening sequence
– D'oh! What a disappointment. But soooo worth being there in person. I was there when they first met at UFC 58 in March of '06 so it was inevitable that I be there at this one. Unfortunately, the results didn't reflect my (and probably most of Hawaii's) wishes. That's ok, BJ is still the man in my eyes! He showed great courage by not giving up.
On a side note, was it just me or did BJ not look all there from the very beginning? Even from where I was sitting, I could tell that something was just not right. He didn't come out with the tenacity and that fire in his eye like he usually does. Something was just off. When I watched it back on my DVR at home, I noticed that his eyes were glassy and puffy and he had a look of stress/worry. Was it mental? Was it physical? Only BJ knows I guess, but the results from the fight seemed to confirm my spidey senses.
Following the fight, the rumors started to fly. My Google Reader started blowin' up! I heard everything from BJ having a fever, to a stomach flu, to a nervous breakdown. I can't imagine the pressure of having an entire state (and country) on your shoulders. And I know that BJ has that mental toughness a fighter needs to succeed, but something just wasn't right.
And then there was the Vaseline(-gate) incident, but we won't go there.
For you Canadian/GSP fans/readers out there, I'm not making any excuses. GSP followed a perfect game plan and fought a flawless fight, and truly was the better man that night. However, if, indeed, the Vaseline and stomach flu rumors were true, and BJ was able to fight at full strength (mentally and physically) against a fair, Vaseline-less body, I'm absolutely positive that the fight would've been A LOT closer than it was. If it turns out that those rumors were false, GSP is undeniably the better man at Welterweight.
Leaving the arena took a ridiculously long time as there was just one exit for all 14,885 of us fans in the Grand Garden Arena (I really hope the folks at MGM do something about this potentially dangerous situation). It did give us some time however, to observe some interesting things like the proud/happy Canadians singing their national anthem aloud and the local mokes trying to call them out fo' beef. I really wish that that fight broke out to give us some entertainment. Not that I was upset at the Canadians. Heck, they deserved to be proud. I think it was more that my thirst for excitement was not quite quenched, with just two stoppages the whole night.
I got some consolation when I saw Pride fighting legend Takanori Gomi waiting in line for his car outside, and took a picture with him. He seemed intense, but gave me a proper, Japanese bow as I bowed and thanked him with "Arigatou gozaimasu."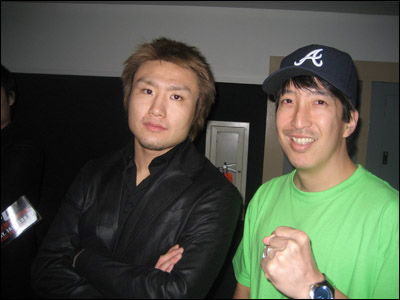 Takanori Gomi and I
Wifey also called me later to tell me that my goal of getting on the historic DVD with my cheesy fluorescent green shirt had been fulfilled, albeit the back of our heads. LOL! So it was not all a disappointing night yo. 😛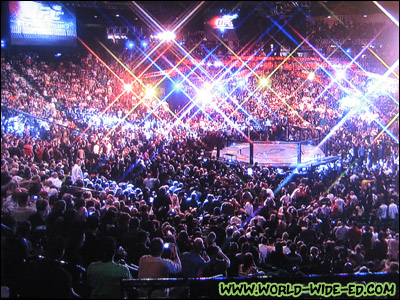 Dave and I forever a part of UFC 94 history. LOL!
We thought about going to the Official UFC afterparty at LAX (http://www.laxthenightclub.com/ ) at the Luxor, but decided to grab a bite instead. We called my high school buddy Jeff (another Hawaii transplant) to see if he and his wife Yvonne wanted to join us, but he instead, invited us over to his house to eat leftovers from their UFC 94 party. 'Twas nice to see them and just chill after a long night.
The next day was Superbowl Sunday, but with our bets already placed, we said "Superbowl Shmuperbowl" and hit the slopes at the Las Vegas Ski & Snowboard Resort for a lil' boardin'.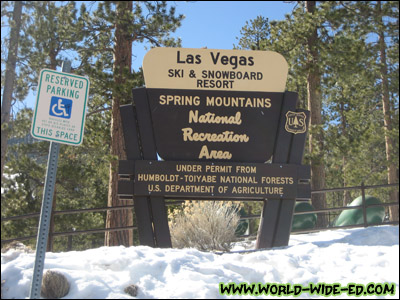 Las Vegas Ski & Snowboard Resort Sign
It was a gorgeous day with decent conditions (mostly smooth with some powder and icey patches), but the best part was that the Blackjack, High Roller, and Keno paths (blue square) and Jacks, Slot Alley and Grandma's (black diamond) were relatively empty (see trail PDF here). I pretty much had half the mountain to myself! Awwwww yeah!

Empty path… Loves it!
Las Vegas Ski & Snowboard Resort
End of Highway 1506 in Lee Canyon
(702) 385-2754
Lift Hours: 9am to 4pm
Lodge Hours: 8:30am to 4:30pm
After a mandatory Trader Joe's omiyage run following our boarding sesh, and a quick bite to eat at Panda Express (yes, we had the urge!), we got back to our hotel just in time to catch the most exciting 4th quarter in Super Bowl history.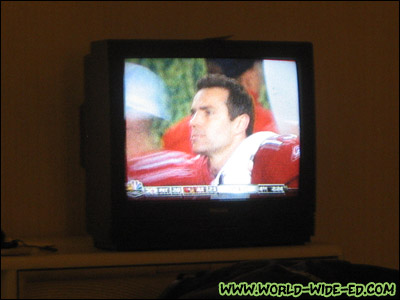 Kurt Warner's look of disgust as his Cardinals allow Pittsburgh to move the ball closer and close to the end zone
All in all, it was a quickie, but exciting 3 days of 3 breathtaking sporting events: MMA, football and snowboarding. The perfect storm of pleasure.