Part I | Part II
OK class, when we last left off, we ate up Seattle favorites like Piroshky, Piroshky, Le Panier, Beecher's Handmade Cheese Cafe, and Salumi's. This month, we'll be exploring Paseo's Caribbean Restaurant, Umi Sake House and Salty's on Alki, but before then, your homework assignment please.
Huh? You didn't do what? Don't make me schedule a parent-teacher conference!
If you have no idea what I'm talking about here's a lil' briefer: See and Eat Seattle – Part I. Historically we learned that a feller by the name Doc Maynard named the city of Seattle in 1853 after chief Noah Sealth. However, you and I both agreed that the word Seattle looked more like Sea and Eat with "tle" tacked to the end. Your assignment was to help me figgah out what the "tle" stood for. Remember?
K, now that we're all caught up, let's dive in.
Paseo's Caribbean Restaurant was another one of those we discovered as a "favorite" of them online Yelpians. A rustic hole-in-the-wall type, complete with aluminum siding, this quaint eatery based in the Fremont area (in Seattle, not Vegas! 😛 ) is quite popular with the locals.

Paseo's Caribbean Restaurant
I tried the Grilled Chicken Breast plate while the other two got the Caribbean Scallops.

Grilled Chicken Breast – 6 oz. of boneless, skinless, all white goodness. Grilled over an open fire with a caramelized coating of Paseo marinade embracing in all its natural juices ($11.25).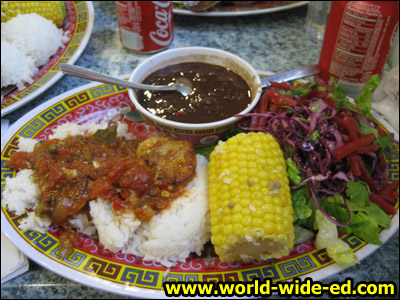 Caribbean Scallops – Savory sea scallops seared in extra virgin olive oil & our garlic tapenade. Submerged in their rojo sauce with diced tomatoes, onion, fire roasted red peppers & mixed veggies. Available with fresh cilantro or spice 1-5 stars ($11.25).
They are quite known for their sandwiches, but because of our arrival time (dinner), they were all sold out. Perhaps we should've went earlier to try the sandwiches out for size because the chicken was not all that great. At least with the rating that the Yelpians gave this joint.
Paseo Caribbean Restaurant
4225 Fremont Ave N
Seattle, WA 98103 (map)
(206) 545-7440
Our next stop is Umi Sake House, a contemporary sushi spot that looks like it could double as a night club. Probably because the area that it sits on used to be the hip nightclub called Bada Lounge.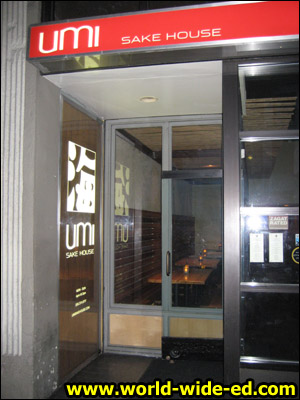 Umi Sake House
With its cutting edge menu that pushes the envelope, Umi has officially taken over as my favorite sushi restaurant in downtown Seattle, formerly held by Shiro's Sushi just one street over. (Funny sidebar story: Shiro's was "discovered" by my pops who randomly asked a stranger on the bus where the best sushi was. After gaving him a strange look, he replied "Shiro's". Seriously? Who asks strangers on a bus where to eat!? 😛 ).
I started with a soup that was recommended by the owner: the Spicy King Crab soup. It was very tasty, but buyer beware, da buggah is spicy!!!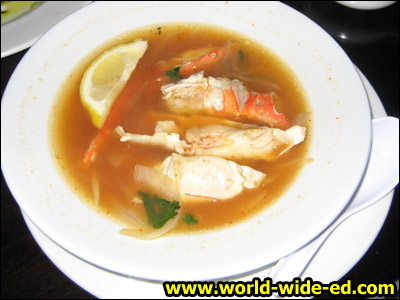 Spicy King Crab Soup – King crab, onions, cilantro & black tobiko ($8).
We then ventured into the Octopus Carpaccio, which proved to be THE most delicious way I've ever eaten an octopus. And that's saying a lot because my own tako poke recipe is the bomb! 😛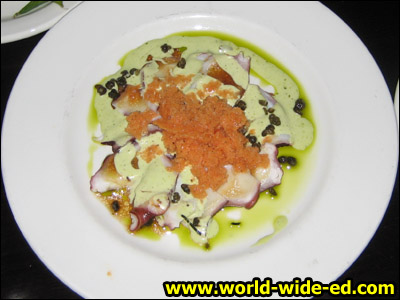 Octopus Carpaccio – thin sliced octopus served on mustard, soy, cilantro oil aioli with roasted and peppered tomato mignonette ($12).
While checking out the Fresh/Special List, something called the Geoduck caught my eye. I was like WTH? A cross between a car and a feathered friend? Then, I found out that it's actually pronounced "gooey duck" (http://en.wikipedia.org/wiki/Geoduck) and after reading a description that said "Giant clam caught live from the Pacific NW" I just had to have it!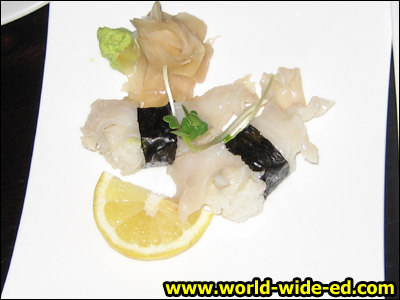 Geoduck – Giant clam caught live from the Pacific NW (Sushi $4, Sashimi $15).
Whether, it was "duck" or clam, it was featherly delish! 😛
Then we ordered a flurry of rolls, like the Spicy Crunch Roll, Legend of the Rolls, First Ave Roll, and the 007 Roll.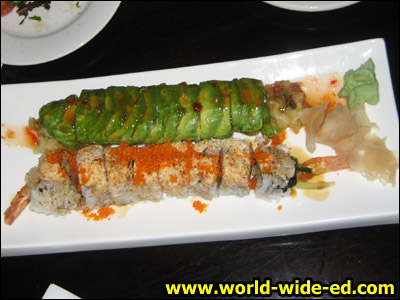 Spicy Crunch Roll (above) – Fried spicy tuna, with avocado topping with sweet chili aioli ($12) and Legend of the Rolls (below) – Shrimp tempura roll with crab & creamy scallops on top then torched, served with teriyaki & tobiko ($15)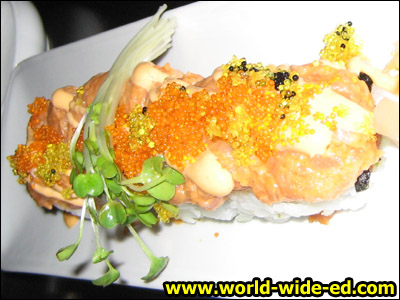 First Ave Roll – Shrimp tempura, avocado, cucumber, tobiko topped with spicy tuna & spicy mayonnaise ($12)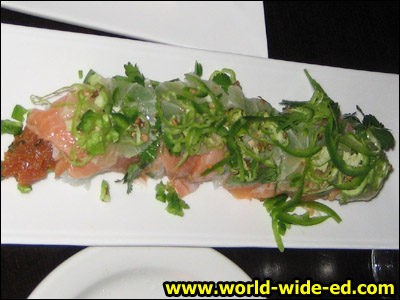 007 Roll – Spicy tuna, avocado, cucumber wrapped with salmon, lime, cilantro, shishito pepper & jalapeno ($12).
Umi Sake House
2230 First Ave
Seattle, WA 98121 (map)
(206) 374-8717
Monday through Sunday 4pm-2am
You can't be from Hawaii and NOT stop by Seattle's favorite "Hawaii-ish" hotspot: Ohanas, where you're bound to see a familiar face or two! So for that reason alone, we'll walk right across the street to enjoy some after hour drinks and live, pau hana style music (Wednesdays only). Maika`i!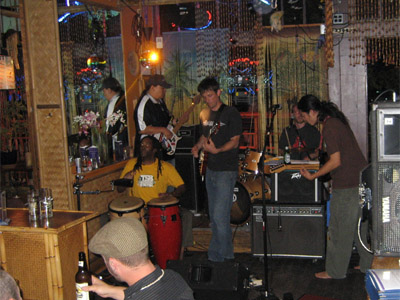 Live Island Music on Wednesday Nights
`Ohana Restaurant & Sushi Bar
2207 First Ave
Seattle, WA 98121 (map)
(206) 956-9329
I mention this next stop mostly because of the food shots I had that I didn't want to go unseen. 😉 Joey's is a Canadian based chain of restaurants that has made its way to the great Northwest. Locally, it has a reputation of being the place to be to find lookers, both employees and patrons alike. The food wasn't so bad either.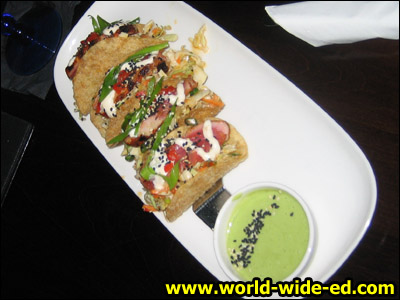 Ahi Tuna Tacos – Seared rare Ahi tuna, Asian coleslaw, wonton tacos, & wasabi-lime aioli. ($8.99)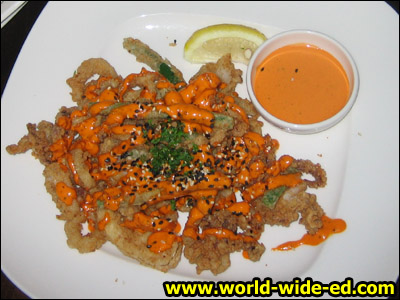 Earth & Surf Calamari – Crispy calamari, tempura vegetables & roasted red bell pepper aioli. ($9.99)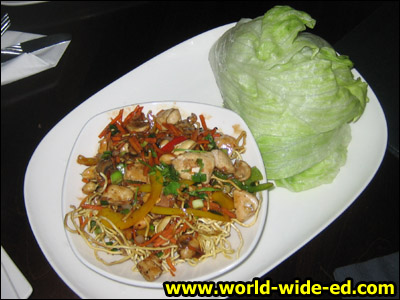 Chinatown Lettuce Wraps – Hoisin vegetables, crispy noodles, peanuts & fresh cilantro. Veggie ($8.99) Add chicken or shrimp ($2.99)
Joey's Lake Union
901 Fairview Avenue North
Seattle, WA. 98108-4457 (map)
(206) 749-JOEY (5639)
Open daily 11am – 2am
(permanently closed)
We didn't have big expectations for our next stop other than eating with a beautiful view of the Seattle skyline across Elliott Bay. We've heard a lot about Salty's on Alki, but didn't think it was more than just a Fish 'N Chips type of place. Boy were we wrong.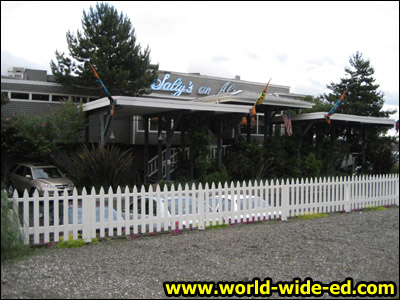 Salty's on Alki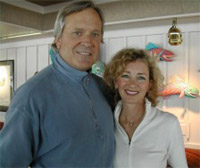 Salty's on Alki is the brainchild of restaurant super-entrepreneur Gerry Kingen, of Red Robin fame, who opened his first two Salty's Restaurants (formerly known as Salty Pickerel & Angus McHereford on the Willamette in Portland, Oregon, and Redondo Beach in Des Moines, Washington) in 1980 and 1981. In 1985, Kingen purchased the then Beach Broiler and turned it into his 3rd highly successful Salty's Restaurant.
A large part of Salty's success is Kingen's commitment to keeping his guests happy. He's so serious about that fact that he's named his company Happy Guests International, Inc. Salty's' staff training program emphasizes this concept further by supplying cards that contain information like their motto, philosophy and credo that team members carry with them. They also get a handbook that touches on every aspect of their employment as well as how they should treat guests.
OK, so they've got the customer service part covered. How's their food you ask? Well, their awards speak for themselves. They've won numerous honors ranging from Best seafood, Best brunch, Best waterfront view, Best outdoor dining, Most Romantic, Best Place to Propose, etc. (see their long list of awards here: http://www.saltys.com/awards/index.asp).
And with that, let's dig in!
After catching your breath from the spectacular sweeping view of the Seattle skyline (viewable from almost every seat in the house), you are first greeted with their breadstick/Lavash/muffin-ish type basket.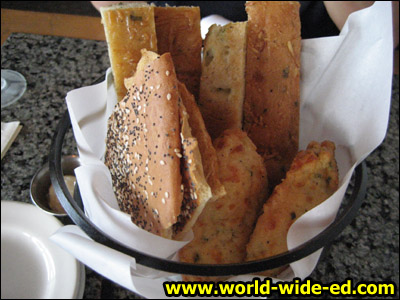 Breadstick/Lavash/muffin-ish type basket
Next (from their newly refurbished kitchen) came our starter order of the Coconut-Flaked Tiger Prawns, which, along with Salty's Chowder and Wild Salmon dishes, is amongst Salty's best sellers.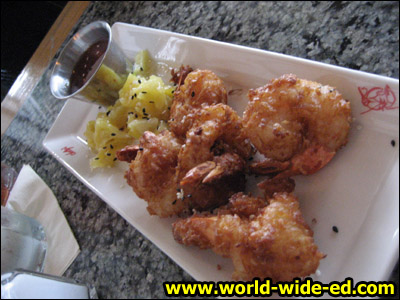 Coconut-Flaked Tiger Prawns – Sweet and sour pickled root vegetables, thick Thai chili sauce ($14.95)
Did somebody say Wild Salmon was a best-seller too? OK then! Here's the Crab-Stuffed Wild Salmon dish.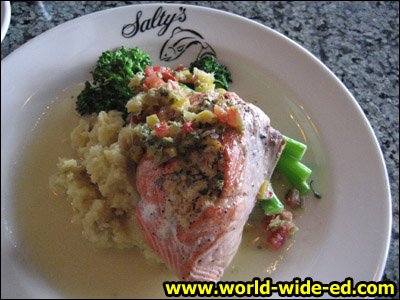 Crab-Stuffed Wild Salmon – Lemon caper relish, champagne herb beurre blanc, roasted garlic mashed potatoes, house vegetables ($36.95)
For the last dish, we chose something off the Market Sheet of the day: the Panko and Nori-Crusted Alaskan Halibut.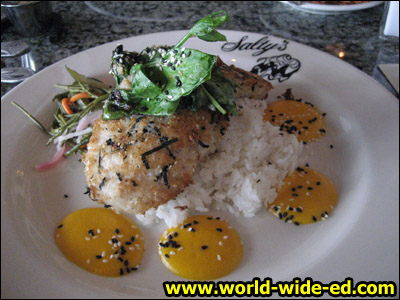 Panko and Nori-Crusted Alaskan Halibut – with Lemongrass scented sticky rice, black bean wilted pea vines, sunomono salad, and a spring carrot vinaigrette ($29.95)
Salty's wine selection is also quite extensive, led by their Sommelier Tim O'Brien, who, oh-by-the-way is the Washington Wine Commission's 2006 Sommelier of the Year.
"We know that our guests are sometimes intimidated by wine so our lists are formatted to make it easy to understand and to find a wine you will be pleased with. We are proud that we have won awards from The Wine Spectator, The Wine Enthusiast Magazine and Washington Wine Commission, for 'Excellence' and 'Distinction,' but our number-one goal is to make the list easy for you to use so that wine and food happens naturally with as little stress as possible. If you don't see a recommended food-wine pairing on our menu, please ask your server. They are trained to guide you to a choice that is right for you," states O'Brien.
Salty's Bar area is also a fun place to be. They have music on Monday and Friday and a pianist during the weekend brunch. For a list of what's available at their bar, aptly named the Apothecary Bar, see:
http://www.saltys.com/seattle/menus/Seattle_Cocktails.pdf .
When asked to talk about something people may not know about Salty's, PR Spokesperson Eileen Mintz had a bevy of items to note.
"Something else that people don't realize is that we sell Gift Cards, merchandise, a Cookbook, and a new one coming out in January, called "Good Ciao", Italian recipes from Cortona Italy and northwest recipes from Salty's. A collaboration with the owners, Kathryn Kingen and Gerry, with Kathryn doing much of the writing too! Also, we are most philanthropic. Every September, we produce for charity Cooking With Class, bring in all the other top chefs in the city and they cook together in 21 tables of 8 teaching everyone a great dish! We do Sexy Syrah in the spring for FareStart, to help the homeless and the list goes on. We also make a great steak!" exclaims Mintz.
So what's in store for Salty's on Alki? Mintz says "The owner plans to refurbish and remodel the bar area and bring the outdoors in with enclosed seating for year round eating on the decks. The city will go crazy with this one… they have been doing this for years in Vancouver waterfront restaurants but not in Seattle. It's going to happen!"
She sounds pretty passionate about the restaurant, as should you. Salty's on Alki is a great place to enjoy a delicious meal with a gorgeous view of Seattle. Don't miss it!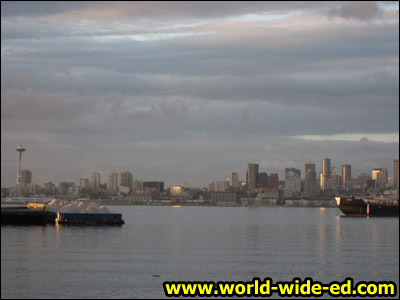 View of Seattle skyline from Salty's on Alki
Salty's on Alki
1936 Harbor Avenue. S.W.
Seattle, WA 98126 (map)
(206) 937-1600
So there ya have it. My See and Eat tour of Seattle has come to a close (for now). Wipe away those tears. I'll be back again reviewing a city near you. I hope you enjoyed this one and that it comes in handy the next time you visit the Emerald City. And speaking of the Emerald City, after hours upon hours of research, I have come to discover that the "tle" in Seattle officially* stands for "Tasty, Luscious Emerald city". In other words, Seattle = See + Eat + Tasty Luscious Emerald city! Take that chief Sealth! 😛
* No, not really
P.S. GO WARRIORS!
Part I | Part II