Part I | Part II
Ever notice that if you combine the words See and Eat, you (almost) get Seattle? Not quite sure what "tle" stands for just yet, but gimme some time and I'll figure it out. For now, let's just go with what nature, er, make that Doc Maynard has given us when he named Seattle in 1853 after chief Noah Sealth. Let's See and Eat Seattle shall we?
In addition to being recognized for their coffee, the Space Needle and grunge music, Seattle is also well known for Pike Place Market, the public market in Belltown (downtown) overlooking Elliott Bay. Fittingly, that's where we shall start our feast-a-thon.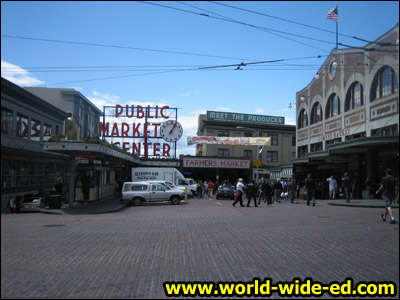 Pike Place Market
Now of course you can go to Pike Place Market for some of the freshest seafood in town, but it's the little hole-in-the-wall type discoveries that will keep you coming back. Russian bakery Piroshky Piroshky is one of those places.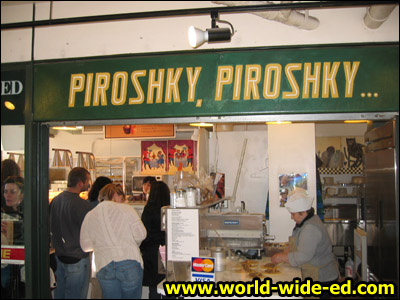 Piroshky Piroshky
Since opening their doors in October of 1992, Piroshky Piroshky has been serving up these little Russian treats to many locals and tourists alike.

Piroshky Piroshky Goodies
At any time on any given day, it is common to see a line forming out the door for patient patrons. According to a dated sign hanging on the wall, their best sellers are:
Apple Cinnamon Roll
Cheddar Cheese Roll
Potato Mushroom & Onion
Potato & Cheese
Smoked Salmon Pate
Cranberry Apple Roll
Marzipan Roll
Smoked Mozzarella Broccoli & Mushroom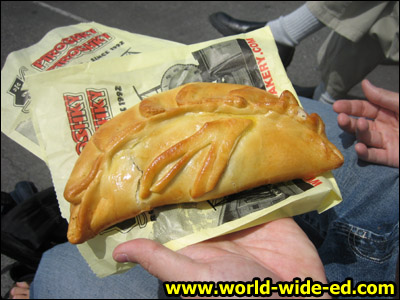 Smoked Mozzarella Broccoli & Mushroom – Whole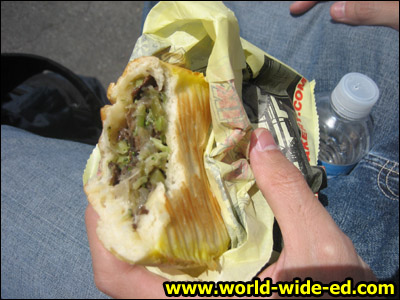 Smoked Mozzarella Broccoli & Mushroom – Eaten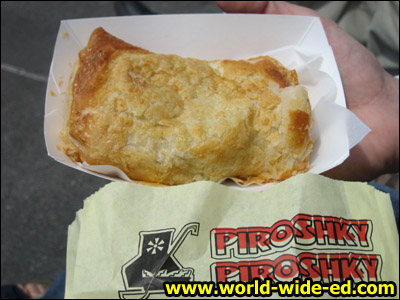 Chicken Mushroom and Rice – Whole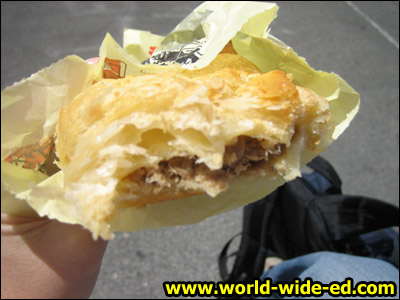 Chicken Mushroom and Rice – Eaten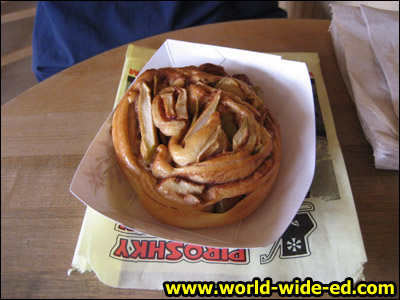 Apple Cinnamon Roll
Owner Oliver Kotelnikov says that the piroshkies are baked in different shapes to help the bakers remember what is stuffed inside of them.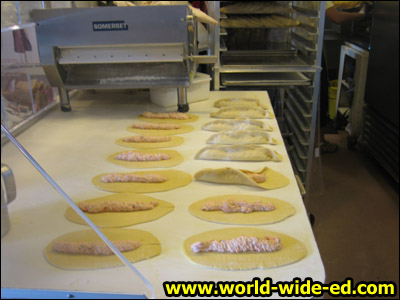 Piroshky preparation
A cute concept for a cute and delicious eatery.
Piroshky Piroshky
Pike Place Market
1908 Pike Place
Seattle, WA 98101 (map)
(206) 441-6068
Open seven days a week from 8am to 6pm
Also well known and seemingly popular amongst the locals is a French bakery, fittingly named Le Panier Very French Bakery.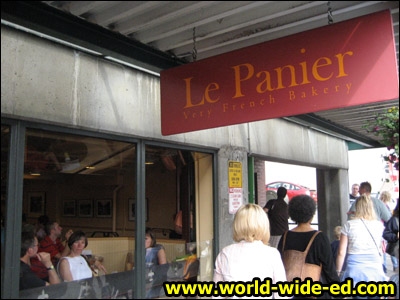 Le Panier Very French Bakery
Due to the time of day (late afternoon/early evening), we were not able to get a good assessment of their full menu options, but their Tarte aux Pommes (Apple Tart) was tarte aux tasty.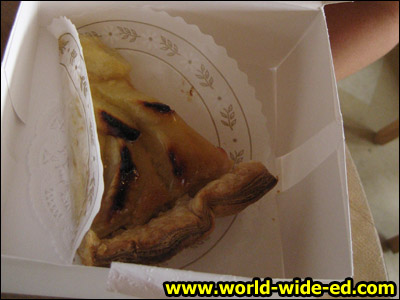 Tarte aux Pommes (Apple Tart)
Le Panier Very French Bakery
Pike Place Market
1902 Pike Place
Seattle, WA 98101 (map)
(206) 441-3669
info@lepanier.com
Mon-Sat 7am-6 pm; Sunday 8am-5pm
Next on the Pike's hitlist is Beecher's Handmade Cheese Café.

Beecher's Handmade Cheese Café
Primarily serving as a cheese factory (yes, they actually make their cheese here!) and a deli/market where they sell their assortment of artisan cheeses and cheese related products, the small café up front serves up deli style sandwiches, soups and their award-winning Mac & Cheese dish.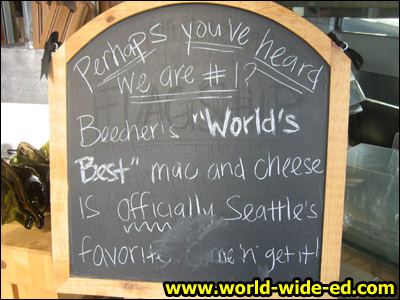 Beecher's Handmade Cheese Café sign
Though a bit on the pricey side ($4.60 for an 8 oz container or $7.95 for a 16 oz container), the rich, cheesy flavor soon makes you forget.

Mac & Cheese from Beecher's Handmade Cheese Café
Great for a late afternoon snack!
Beecher's Handmade Cheese Café
Pike Place Market
1600 Pike Place
Seattle, WA 98101 (map)
(206) 956-1964
Open 9am-6pm daily
"Enough with the snacks awwwready!" you say? "I want a real meal outside of Pike's!" say you? Say no more fussypants. Say no more.
We'll take you to a uniquely Italian sandwich restaurant called Salumi's located in the heart of Pioneer Square on 3rd Avenue.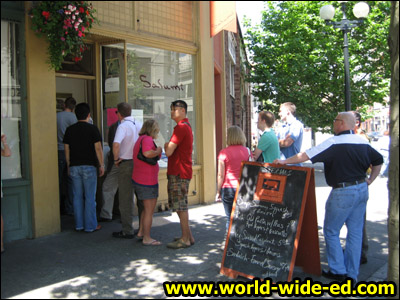 The long line outside of Salumi's
Known primarily for their cured meats, this little delicatessen serves up tasty, but costly sandwiches using their famous cured meats as the core. Once a favorite of Seattlites on Yelp!, it's cooled down a bit, but still boasts a 4.5 rating (out of 5) based on 65 reviews.
We scored prime street parking right in front of Salumi, but, as expected, our wait was significant, causing me to have to re-feed the meter, numerous times. LOL!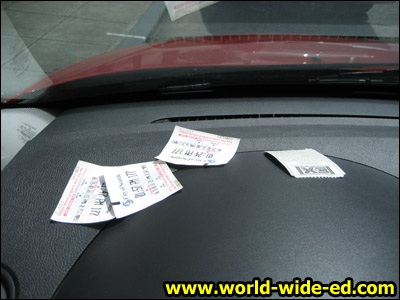 Parking meter tickets
Once you get in the door, the excitement starts to fill you (a sensation that always occurs when you have to wait a long time for something you anticipate). You'll notice the cured meats hanging in the window to your right.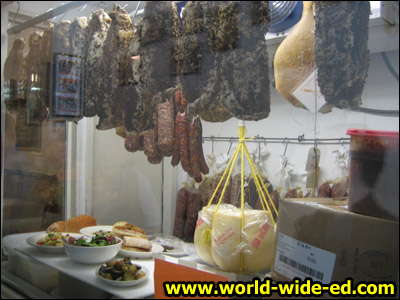 Cured Meats at Salumi
As you approach the Subway-esque sandwich making area, do not dilly dally. These sandwich makers seem to just want to keep the line moving and expect you to know what you're doing. We quickly and frantically ordered the Prosciutto, Fig, Goat Cheese ($9.50) and the day's special of Fennel Sausage with Cheese ($9.50).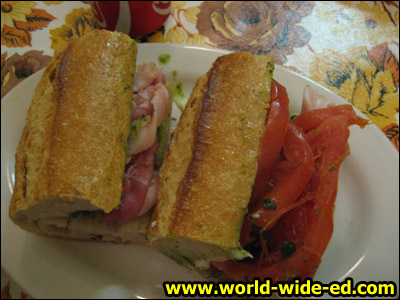 Prosciutto, Fig, Goat Cheese ($9.50). One half was requested with no tomatoes FYI.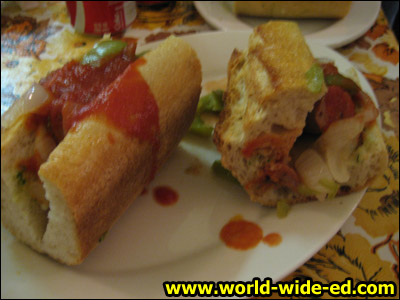 Fennel Sausage with Cheese ($9.50)
My only complaints (aside from the price tag) are the overly tough/hard/crunchy bread (I couldn't even fit it in my mouth to crunch down on), and the tight and crammy seating situation. The wait and ambience weren't too bad, especially knowing that we were enjoying one of Seattle's favorite lunch spots (2003 Best of Citysearch winner, 2004 Where Magazine Chef's Choice Dining Award).
Salumi Artisan Cured Meats
309 Third Ave South
Seattle, WA 98104 (map)
(206) 621 8772
Tuesday-Friday 11am-4pm
Before this becomes a Harry Potter-like novel, I think I'll end it here and pick it up again next month for part 2. Still on the hitlist for part 2 are Paseo's Caribbean Restaurant, Salty's on Alki and Umi Sake House. On the possibly-to-be-mentioned list are: Shiro's Sushi, Joey's, Fox Sports Bar & Grill, Kiku Tempura House, Ram Restaurant & Bighorn Brewery, and of course, everyone's favorite… Ohana's!
Until then, your homework assignment is to help me think of what the "tle" in Seattle stands for. Sea and Eat Seattle Part 2 coming right up! *ding*
Part I | Part II