Part I  | Part II | Part III | Part IV
For someone who's spent his entire life on an island completely surrounded by water, it's amazing that your boy has never traveled much on one of them floaty things… What are they called now? A yes, a boat.
I mean there were those times on fiberglass-infested kayaks, small fishing boats, and touristy catamarans all over Hawaii, or that local ferry in Seattle, or even that Honshu to Kyuushu hovercraft in Japan… but nothing really to write home about.
So when the fam wanted to get together for a little family bonding on the water – Alaskan Cruise ship style, I was in like flint!
Now because the ship's first port of call was out of the Port of Seattle (Smith Cove Cruise Terminal on Pier 91 to be exact), we "Hawaiians" had to fly over to our Northwest neighbor in order to start our Alaskan adventure.
Ain't no thang. All it meant was that we'd have a bonus night (going) and whole day (coming back) in the Emerald City. Sa-weet! Two vacays in one!
After a quick stay at the Comfort Inn & Suites SeaTac – which was preceded by a high class meal at the Silver Dollar Casino Restaurant & Lounge, and followed by a visit to the "International Festival" at nearby Angle Lake Park the next morning, we were shuttled off to the Smith Cove Cruise Terminal.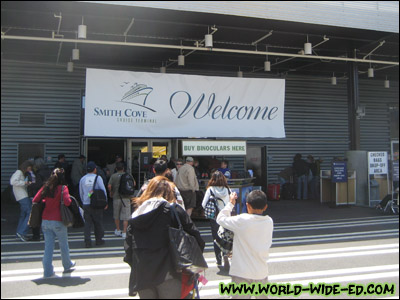 Smith Cove Cruise Terminal, Pier 91 – Seattle, Washington
Much like the airport terminals across the country, this seaport terminal could get confusing and hectic real quick if you aren't paying attention.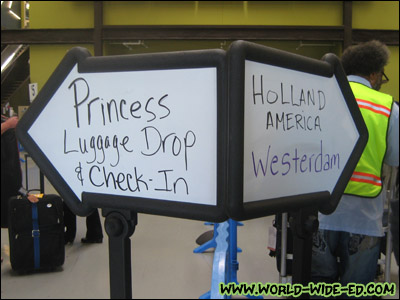 Choose the right boat!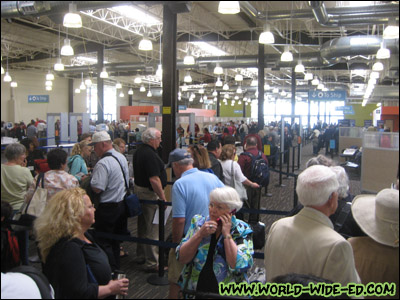 Expect to stand in line for like 20-30 minutes.
Following the long wait and mandatory paperwork, we were ready to board yo!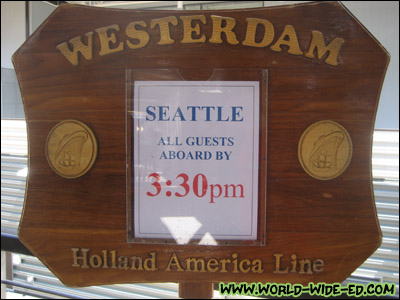 Sign for Holland America Line's ms Westerdam (7 Day Alaskan Explorer)
Not sure if this is typical of cruiselines, or we were just waaay too early, but our rooms were not ready when we got on the ship. We decided to kill some time familiarizing ourselves with our home for the next 7 days, and its many amenities.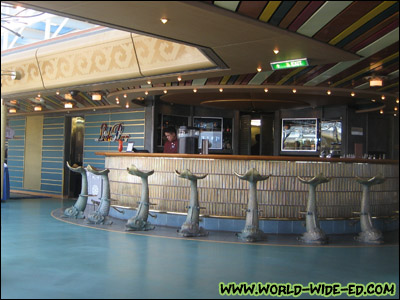 The Lido Bar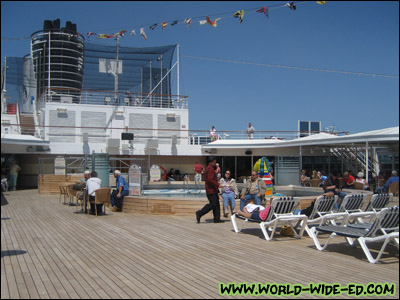 The Sea View Pool
Alas, our rooms were ready… If you're claustrophobic, your stateroom may be a bit tight for you. Check it.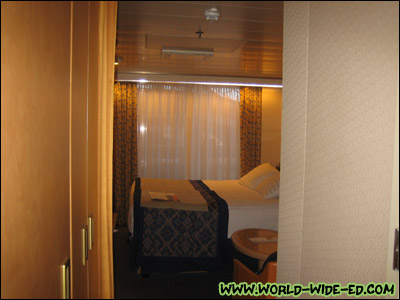 View from the "hallway" to the bed (front door is behind)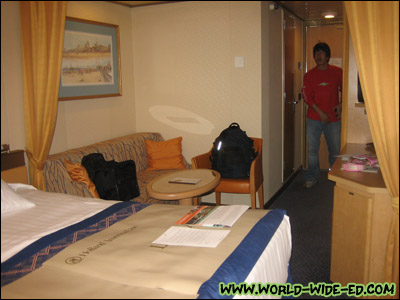 View from the "bedroom" to the hallway and bathroom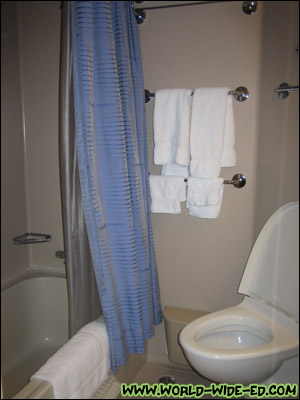 Pretty tight quarters for the potty and shower/tub, but it worked.
Our luggage was not delivered to our room yet and we wondered where in the heck it was. Turning the corner to get to the elevator answered all of our questions.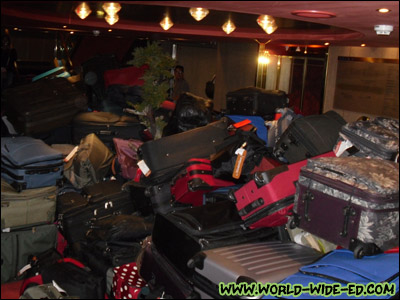 Mystery solved: the pile of luggage (ours is in there somewhere) [Photo Credit: Lee Kojima]
Ed's Tip: If you love your luggage, buy a hard case. They stack everyone's luggage near the elevator, on the floor you're on, before room delivery.
Before we could even catch our breath, it was time for the all-ship, mandatory (yes mandatory!) safety training, where we geared up in our lifejackets (provided in each room) and proceeded to the 3rd floor deck for some instruction.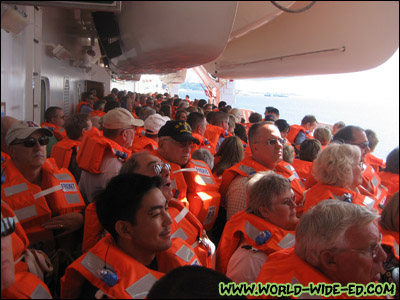 Cousin Evan in a sea of orange
After roll call (yes, roll call! 😛 ), we were trained on what to do in case of an emergency. Although it was supposed to be serious, we were able to find humor in our fashion.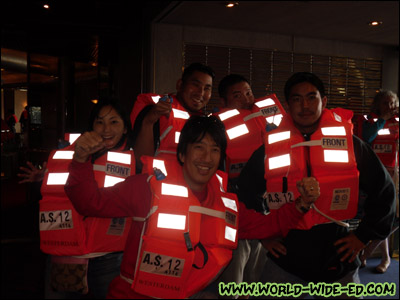 This is how we roll [Photo Credit: Lee Kojima]
Ed's Tip: Be sure to study the chart on the back of your room's door. It shows the quickest, shortest route to your designated meeting area outside, in addition to how to properly wear your life jacket.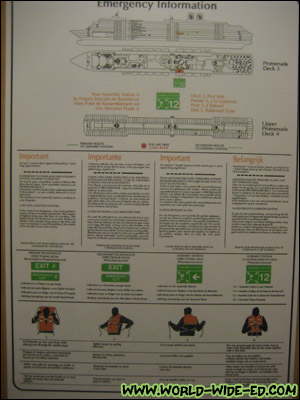 Emergency Information on Holland America room door
Following the training sesh, we further explored the ship, discovering the Hydro Pool, Thermal Suites, Fitness Center, Lido Pool, and all-important basketball court!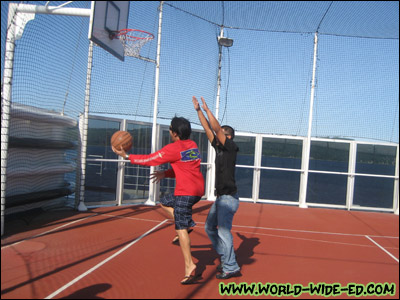 Going left on the Brother-In-Law
Brother-In-Law made the mistake of challenging the Sugimotos to a 2-on-2 game of hoops, which led to the following victory and defeat photos. *grin*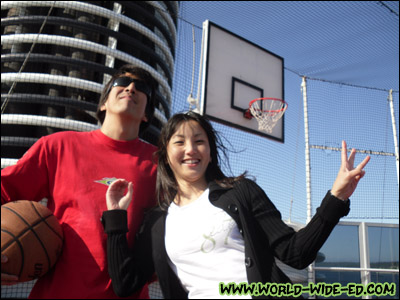 2-on-2 champs! [Photo Credit: Lee Kojima]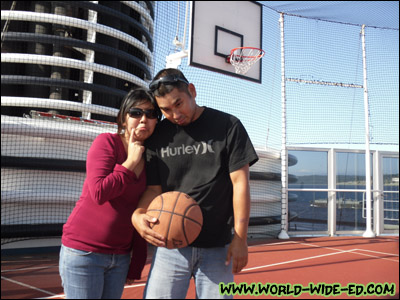 Maybe next time? 🙂 [Photo Credit: Lee Kojima]
Ed's Tip: If you try to hoop it up and it's insanely windy, don't give up. The wind up there on the 11th floor varies, depending on the weather and what day of the cruise you're on.
Before long, it was time to get ready for dinner. Since it was casual night, we decided to just eat BBQ food (served next to the Lido Pool) and follow that up with some dancing at the Northern Lights Nightclub on the 3rd floor.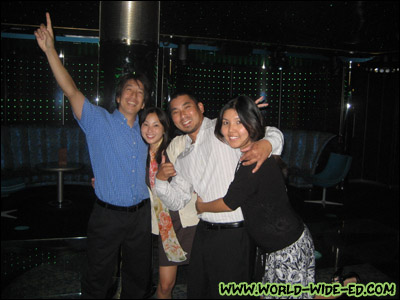 Party animals aboard the ms. Westerdam
Holland America's reputation is that it is more for the older crowd, and nowhere was that more apparent than the empty nightclub that night. We owned the dance floor baby! Later, we were told that formal nights are when the club (and everywhere else) gets crowded.
Ed's Tip: Party on formal nights. You'll have more company.
Every morning, you're greeted with a "Today at a Glance" daily itinerary in your room's mailbox. Itemizing various activities hour by hour, you're never short of possibilities to fill your day (e.g. Basketball Shootout, Ping Pong Challenge, No Limit Texas Hold'Em Poker Tournament, Bingo, Digital Workshops, Wine Tasting, Culinary Arts Presentations, Broadway-esque shows, etc.).
On day two, we decided to make it a true vacation and fill our time with long overdue pampering, courtesy of room service for breakfast and the Hydro Pool and Thermal Suites for hard core relaxation.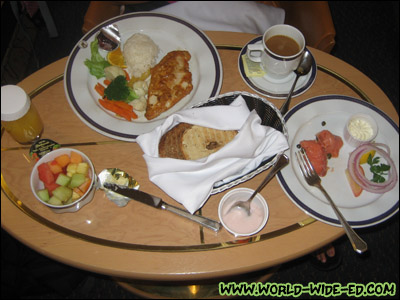 Room Service for breakfast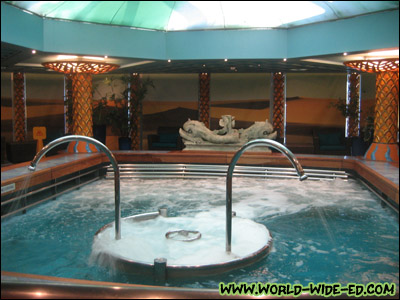 The Hydro Pool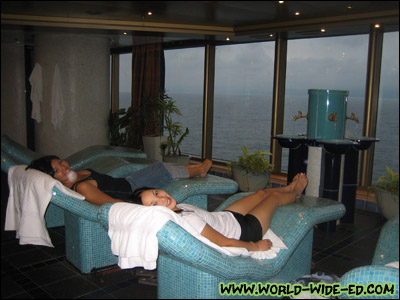 Our view from the Thermal Suites (beds are heated)
Ed's Tip: Part of your fees includes a daily charge of $11 for tip. Since you're paying for it anyway, you might as well order up room service for those times when you just don't feel like going out. For the Hydro Pool/Thermal Suites package ($40 per person), order this to start the morning of a full day on the cruise (no docking) to make the most of your money. This way, you'll have all day and night for in and out privileges. For the Thermal Suites, try to pick an off-peak time to go. With just 6 beds, you will hardly ever find a bed open during peak hours.
And then it was formal night!
I was probably in the minority on this one being that I was fairly excited. How often do we get to play dress up and grind good kine eats like this?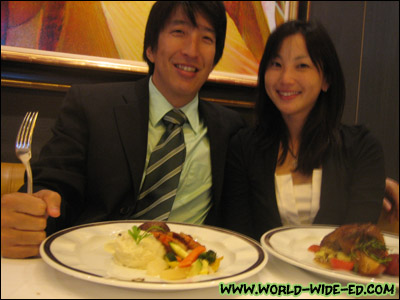 The wifey and I on formal night at the Vista Dining Room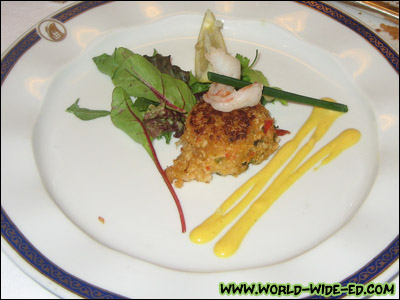 The Crab Cake was a winner for all of us. I ordered two for good measure.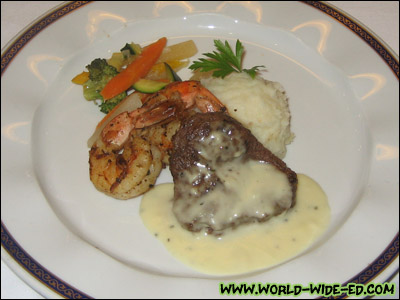 Surf and Turf combo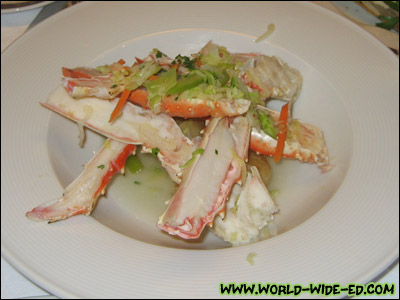 Crab Legs!
Ed's Tip: If you're a big eater, portions will be small. You may want to order up several rounds to satisfy the ol' appetite.
But don't forget to leave room for dessert!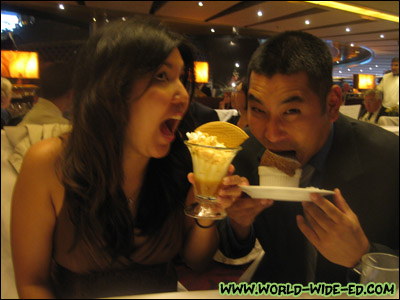 Leanne and Lee enjoying their dessert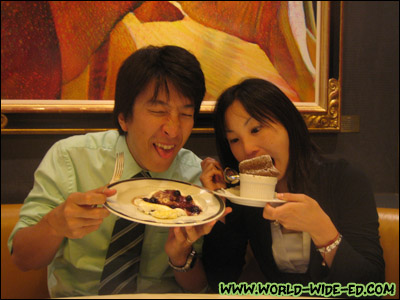 … But not as much as us!
After squeezing in another session at the Thermal Suites, we decided to put day 2 to a close in preparation for the next day's festivities.
Day 3 called for us to turn our clocks back one hour (from Seattle time to Alaska time) and involved many on-boat activities, including the highlight: majestic Glacier Bay.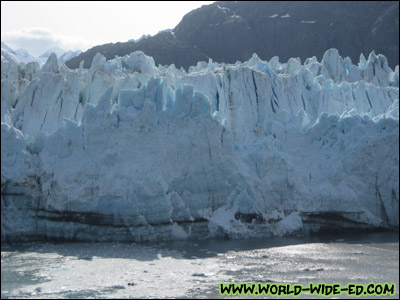 Huge glacier wall near Glacier Bay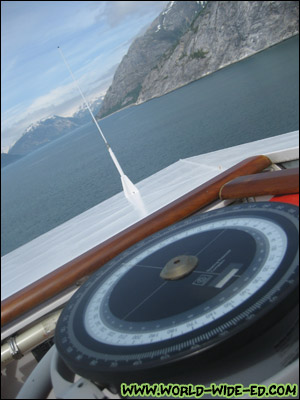 My attempt at an artsy fartsy shot near Glacier Bay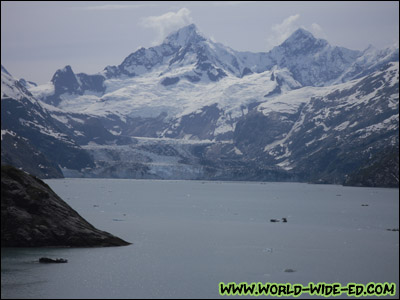 Glacier Bay, Alaska [Photo Credit: Lee Kojima]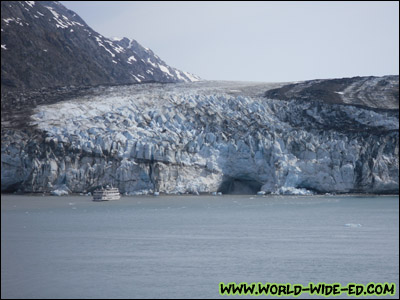 Glacier near Glacier Bay (notice the relative size of the ship in the water and the gushing waterfall in the cave?) [Photo Credit: Lee Kojima]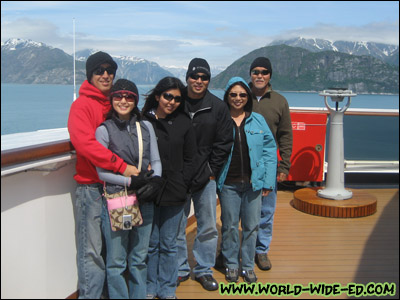 Family shot in Glacier Bay
Ed's Tip: Give yourself enough time to eat so you're not rushing to finish eating in order to get a good view of the scenery. The Glacier Bay Park Ranger Commentary, for us, began at 1PM (check your daily schedule). Also, dress warm. During certain hours, staying outdoors to experience Glacier Bay for long periods of time may prove to be too cold for some.
And then, it was time for socializing with our tour group at the Captain's Corner of the Crow's Nest (10th floor Observation deck)…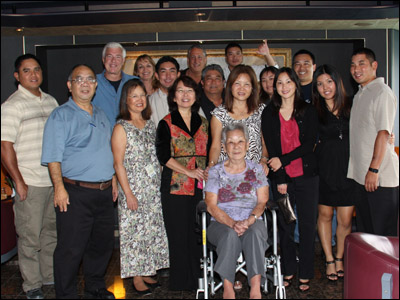 Our tour group with one Michael W Perry! [Photo Credit: Mark & Carolyn Yasuda]
… with dinner to follow at the Vista Dining Room again (9th floor).
Sitka Sound Dungeness Crab and Artichoke en Bouchee appetizer – Tender pieces of crab and artichoke, braised in shellfish sauce and served in a pastry shell, topped with lemon-Hollandaise sauce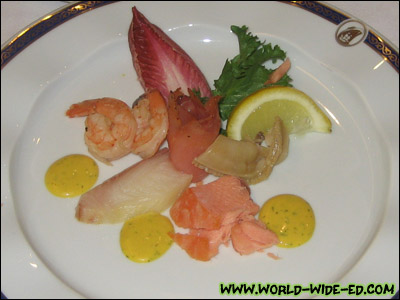 Fairbanks Seafood Platter appetizer – A fine selection of Alaskan spotted shrimp, salmon jerky, clams, hot-smoked salmon and smoked halibut.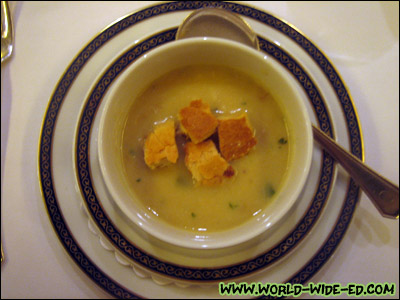 Ketchikan Fisherman's Chowder – Halibut, salmon, cod, shrimp, thyme, celebry, red-skin potato and corn braised in a creamy clam soup, served with sourdough croutons.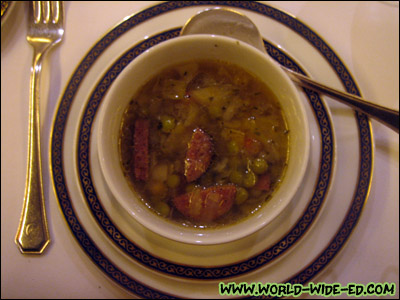 Reindeer Sausage and Vegetable Soup – Rich beef broth with sausage, diced carrot, onion, potato, green beans, peas, cabbage, fresh herbs and finished with sherry pepper to add a little extra spice.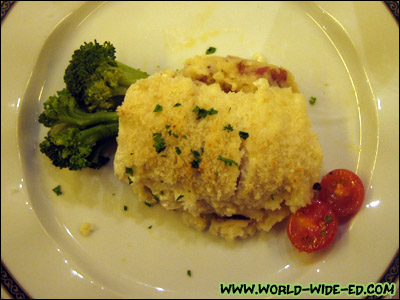 Halibut Caddy Ganty entrée – Topped with sour cream, onion and fresh breadcrumbs, served over olive oil red-skin mashed potatoes, broccoli florets and roasted cherry tomatoes.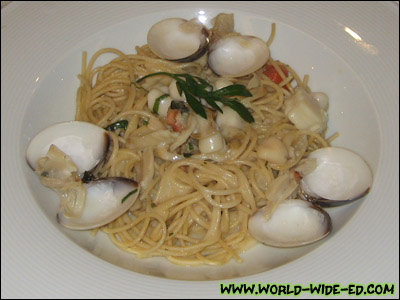 Razor Clam, Bay Scallops and Manila Clam over Noodles entrée – Tender egg noodles, diced tomato, garlic and parsley, tossed in a white wine cream sauce, topped with sautéed razor clam, bay scallops and streamed Manila clams.
Ahhh… the end of day 3. By now, you'll be getting used to the VERY long days.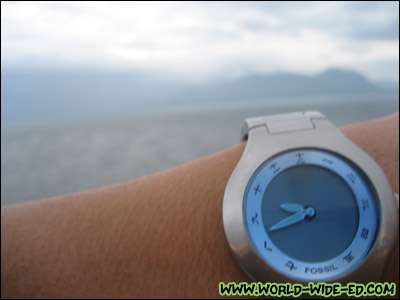 Bright blue skies at almost a quarter to 10PM!
Tomorrow, we are expected to see land for the first time in 3 days, as we hit Juneau Alaska at 6AM in the morning. See ya bright and early!
To be continued…