by Darin Sato
Planning to check out the Hawaii Grand Sumo Tournament on June 9 or 10, 2007? If you're new to the sport, here's a little primer.
First, the rules. To win in sumo you must force your opponent out of the ring, or cause some part of his body (besides the soles of his feet) to touch the ground. Simple. Aside from hitting with closed fists, kicking, biting or pulling hair, just about anything goes. There are an impossible number of winning techniques (called Kimarite) in sumo, if you really want to know them, see this pretty good list of kimarite at Wikipedia.
Second, you should understand a little about how sumo wrestlers are ranked. In professional sumo's top division (called Makuuchi) wrestlers are ranked in the following system:
Yokozuna – Grand Champion. This rank is a big deal, in fact since the 1600's, only 68 men have ever achieved this status. So revered is the rank of Yokozuna, that there is no demotion from this position. If a Yokozuna performs poorly over a few tournaments, retirement is his only option. As of April 2007, there is only one active Yokuzuna, Asashoryu of Mongolia. There is no restriction as to the number of men who can simultaneously hold the rank of Yokozuna.
Ozeki – Champion. Sumo's second highest rank is also an achievement, but demotion is possible. The benchmark for a good Ozeki is that he should win no less than 10 matches of a 15 match tournament. As of this writing, there are currently 5 active Ozeki (named in part 1 of of this post), and two former Ozeki (Dejima and Miyabiyama) in the top division. Two consecutive tournaments with less than 8 wins each will result in demotion of an Ozeki. Like Yokuzuna, the number of men holding the Ozeki rank is unlimited.
Sekiwake – The third highest rank in sumo is level that is hard to keep, as a single tournament with a losing record will result in demotion. Because of this, the Sekiwake rank tends to be a revolving door with different wrestlers moving in an out. Still, a wrestler on his way up will need to stay at Sekiwake for a few tournaments to make a bid for the Ozeki rank. In any tournament, only two men can be at the Sekiwake rank.
Komusubi – The fourth highest rank of professional sumo is a similar revolving door as Sekiwake, with similar promotion and demotion criteria. Collectively, the ranks of Komusubi, Sekiwake, Ozeki and Yokozuna are known as "Sanyaku" and represent wrestlers who are at the top of professional sumo. There can only be two Komusubi in each tournament.
Maegashira – The Maegashira represent the "rank and file" of sumo's Makuuchi division. A "Maegashira 1" (or M1) is the highest Maegashira rank just one step below Komusubi. Below the M1 is the M2, M3, M4 and so forth… all the way down to M15 or M16. In each tournament, there are two wrestlers at each Maegashira rank.
Sumo promotion criteria
Professional sumo consists of six tournaments per year. Each tournament is 15 days long with each wrestler fighting a single match each day. Thus the perfect score one could achieve for a tournament would be a 15 win 0 loss record. In the most simplistic of explanations, if a wrestler posts a winning record (8-7), it is most likely that he will be promoted for the next tournament. For example, if a Maegashira 6 (M6) posts a 8 win 7 loss record, he might enter the next tournament with the rank of M5. Or if an M12 posts a very strong 10-5 record, he could jump several ranks in the next tournament to an M5. Of course, the actual promotions are weighted by other factors as well. For instance, the quality of opponent who one defeats could boost your ranking, but if all higher ranked wrestlers also posted winning records, a wrestler with a winning record could be held down in the next tournament.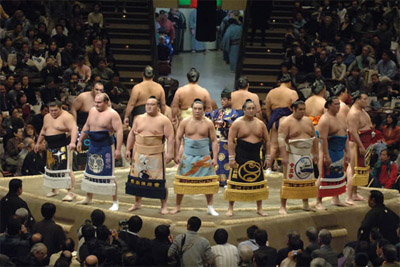 (Photo courtesy sumohawaii.com)
Ozeki and Yokozuna promotions are even more complex and there are no hard rules on the matter. But it is generally regarded that a Sekiwake can be considered for Ozeki promotion by posting 33 wins over 3 consecutive tournaments. To be considered for Yokozuna promotion, an Ozeki should win at least 2 consecutive tournaments. Besides just the winning records, "style" also comes into play, both in and out of the sumo ring. Ozeki and Yokozuna are not only expected to be winners, but they must win in a good sumo style with humility and dignity. What does that mean? Well, there are good ways to win and bad ways to win. Example, if a wrestler is being pushed all over the ring but manages to win in this type of defensive posture, it is not the type of victory that will help him earn a promotion to Ozeki. An Ozeki wins on the offense.
The Hawaii Grand Sumo Tournament will not be a full 15 day tournament and it will be held for exhibition only. So like preseason football, these matches won't be on the record. Still, the return of professional sumo to Hawaii marks an opportunity to expose the next generation to the rigors and rituals of sumo.
Below is a brief write up on each of the notable wrestlers who should be appearing in the Hawaii tournament. For ticketing and other information about the upcoming Hawaii Grand Sumo Tournament, please see www.sumohawaii.com.
=============
Who to Watch in the Hawaii Grand Sumo Tournament
To really enjoy sumo you should really know a little about the wrestlers. Who are the up and comers, who's moving down and who's fighting with a lot on the line. In this post, I'll cover some of the major players and my observations about them. If you're new to the sport, I hope my little write up can help you understand the drama behind the match ups. Here is my watch list with the wrestler's name, rank (as of the March 2007 tournament), birthplace, and size. Remember, because sumo rankings are dynamic many wrestlers will have a different position at the time of the Grand Sumo Tournament in Hawaii in June 2007. See above for a complete definition of the sumo rankings, and be sure to check out my brief on the history of sumo in Hawaii below.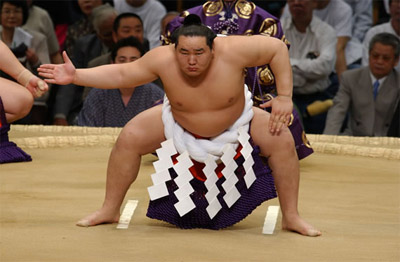 Asashoryu (Photo courtesy sumohawaii.com)
Asashoryu (Yokozuna, from Mongolia, 6′, 326lb) – What can you say about the Yokozuna. He is simply the best guy out there today. He is small (by sumo standards) proving that size does not matter; instead he wins with speed, amazing power and an intensity level above all others. He is also on pace to become the winningest Yokozuna of all time. Below is a great video of Asashoryu dominating a variety of opponents – this is why he's the top dog. Posted a 13-2 March record but lost the tournament title to Hakuho in a play off.

Asashoryu dominating a variety of opponents (Video courtesy Youtube.com)
Hakuho (Ozeki, from Mongolia, 6'3″, 339lb) – Beat Asashoryu to claim the March 2007 tournament title with a 13-2 record and is looking for the chance to get promoted to Yokozuna after the May 2007 tournament. He could come to Hawaii as the 2nd Yokozuna. Even if he doesn't get promoted, keep your eyes on him to see how he handles the matches in Hawaii. He is hungry. See the sumo primer above for info on promotion criteria.

Asashoryu vs Hakuho (Video courtesy Youtube.com)
Kotooshu (Ozeki, from Bulgaria, 6'7″, 335lb) – Tall and muscular (and popular with the ladies), he doesn't have the bulky frame of most sumo wrestlers. Even more noticeable is the fact that unlike Asashoryu or Hakuho, who are not Japanese but are Asian, Kotooshyu is a white man in this most Japanese of sports. Kotooshu brings deceptive power and great speed to the game. As a relatively new Ozeki, he seems to be starting to settle in at this rank, but he is not yet in a position to shoot for Yokozuna. Posted a lackluster 8-7 in March.

Kotooshu in action (Video courtesy Youtube.com)
Kaio (Ozeki, from Japan, 6'1″, 385lb) – Big barrel chested Kaio is the prototype sumo wrestler. When he's winning, he looks unstoppable and can pull some of the most wicked, arm breaking throws you ever saw. But, Kaio is an older wrestler and has had a long career filled with a lot of nagging injures. After posting a series of marginal tournament records (including an 8-7 March tournament), many are looking for Kaio to retire soon.
Chiyotaikai (Ozeki, from Japan, 5'10", 352lb) – Watch Chiyotaikai to see one of the two major fighting styles of sumo. While many wrestlers favor the belt grabbing style where one can pull many combinations of throws (like Kaio), Chiyotaikai is classic "pusher thruster" wrestler who will rely on fast, well placed thrusts to shove his opponent from the ring. At the start of the match, Chiyotaikai will unload a barrage of fast, piston-like hits to his opponent, and if he wins, he usually will do so very quickly. Chiyotaikai is a veteran Ozeki, but has never had the consistency to be a strong Yokozuna candidate. After posting a losing record in March, he will have to bounce back in May or face demotion.

Chiyotaikai in action (Video courtesy Youtube.com)
Tochiazuma (Ozeki, from Japan, 5'10", 341lb) – Like Asashoryu, Tochiazuma is on the smaller side, but brings great skills and techniques to the game. But, where Asashoryu is ferocious, Tochiazuma is a thinking mans wrestler and will win with great finesse that is just fun to watch. But Tochiazuma's career has been one hampered by injury, and after making a couple of runs at Yokozuna, he doesn't appear to be as strong today. Pulled out of the March tournament after picking up his all important 8 wins. Could retirement also be looming?
Kotomitsuki (Sekiwake, from Japan, 5'11", 348lb) – Kotomitsuki has been a steady Sekiwake performer for a while, he has the power to go far, but has liked the consistency to make it to Ozeki. Posted a strong 10-5 record in the March tournament and could be again making a run for promotion with a strong May tournament. Look for Kotomitsuki to be hungry when he comes to Hawaii.
Kotoshogiku (Sekiwake, from Japan, 5'10", 339lb) – For a first time Sekiwake in March 2007, Kotoshogiku pulled out a not too bad 7-8 record. He will face demotion, but shouldn't fall too far.
Ama (Komusubi, from Mongolia, 6'1″, 273lb) – Ama is fun to watch. At well under 300 pounds, Ama is the lightest wrestler in the top division. He relies on speed, speed and speed to win. Hitting an 8-7 mark in March, means that he will keep his rank in May or possibly take Kotoshogiku's spot at Sekiwake. People like to cheer for Ama as he looks like such an underdog.

Ama manhandling his much larger opponent (Video courtesy Youtube.com)
Tokitenku (Komusubi, from Mongolia, 6'1″, 328lb) – Another smaller Mongolian wrestler, Tokitenku posted a 7-8 record in March and will surely slip back down to Maegashira. Tokitenku is a man fighting for the respect earned by his fellow Mongolians.
Toyonoshima (Maegashira 1, from Japan, 5'6″, 304lb) – The very short Toyonoshima should make his Komusubi debut in May after posting a winning record in March.
Homasho (Maegashira 5, from Japan, 6'1″, 330lb) – Had a great March tournament with an 11-4 record that should be enough to push him to the upper Maegashira ranks; possibly his highest rank ever. Homansho is relatively young, and if he can stay healthy, is one to watch in the future.
Takamisakari (Maegashira 6, from Japan, 6'2″, 308lb) – NHK's English speaking announcers dubbed him "robocop" for his quirky yet entertaining demeanor. Takamisakari is solid wrestler even though he is nearly blind, but he is most popular for his unusual pre-match warm-up antics (see video below). Win or lose, most sumo wrestlers are trained to show little emotion, but Takamisakari tends to wear his emotions on his sleeve making him one to watch for strong entertainment value. Still, I'm sure he'd rather be known for his wrestling.

Takamisakari's unusual pre-match warm-up antics (Video courtesy Youtube.com)
Kokkai (Maegashira 7, from Georgia, 6'2″, 337lb) Kokkai is notable as being the first really successful Caucasian sumo wrestler. A powerful but somewhat reckless wrestler, Kokkai is at that stage in his career where he bounces up and down the rankings. When ranked low, as he was in March, he beats up on the lower ranked wrestlers and posts a strong record. Once promoted to the higher ranks, he is forced to fight the top notch wrestlers, posts a losing record, and falls back down into the mid-Maegashira ranks. After a 10-5 March, he should bounce back up again in May.
Baruto (Maegashira 13, from Estonia, 6'5″, 383lb) – Buruto is young, big and powerful and stormed the Makuuchi division with his size and power. Another Eastern European wrestler, Baruto is a definite up and coming wrestler. Did not participate in the March tournament.

An example of Baruto's power as he lifts his opponent out of the ring. (Video courtesy Youtube.com)
Wakanosato (Maegashira 16, from Japan, 6′, 341lb) – Praised by many for having the perfect sumo body, Wakanosato has been somewhat of an enigma. On a couple of occasions, Wakanosato was poised to earn Ozeki promotion. But bitten by injuries Wakanosato eventually lost his Sekiwake rank and fell, way, way, way down the rankings. In fact, for 2 of the last 3 tournaments, he fell all the way out of the top Makuuchi division. After his return to Makuuchi and 11-4 March record, look for him to climb his way back up.
=============
A History of Sumo in Hawaii
For the first time since 1993 there will be a Hawaii Grand Sumo Tournament in June 2007 featuring Japan's top wrestlers.
The ties between Hawaii and sumo have deep roots. As many Japanese immigrants settled in Hawaii to work in the sugar plantations, the tradition of sumo came along. In 1964, Hawaiian Jesse Kuhaulua became the first American to enter the world of Japanese professional sumo. Kuhaulua, who fought under the name of Takamiyama (6'3″, 450lb), had a long 20 year sumo career in Japan and was the first foreign born wrestler to win a Grand Sumo Tournament in 1972.
Takamiyama paved the way for a parade of Hawaiian sumo wrestlers who went on to make big names for themselves in Japan. Interest in sumo peaked as Hawaii boys Konishiki (6'2″, 582lb), Akebono (6'8″, 517lb) and Musashimaru (6'4″, 517lb) went on to fame and fortune starting in the 80's and 90's. Konishiki become the first non Japanese to achieve sumo's second highest rank, Ozeki. Akebono furthered that accomplishment by becoming the first foreigner to reach sumo's highest rank, Yokozuna. Later, Musashimaru also went on to gain the rank Yokozuna and became the most successful foreign born wrestler in the history of sumo (at that time) after amassing 12 top division tournaments. Sadly, with Musahimaru's retirement in 2004, the run of successful Hawaiian sumo wrestlers ended. See classic video clips of Konishiki, Akebono and Musashimaru in action.
Today, sumo has grown into a truly international sport. While there are currently no Americans fighting in sumo's top Makuuchi division, the number of non Japanese wrestlers is surprising. Out of 42 wrestlers in the top division, there are 7 from Mongolia, 1 from South Korea, 2 from Russia, 1 from the Republic of Georgia, 1 from Bulgaria and 1 from Estonia. It is interesting to note that the rise of these foreign born wrestlers in high ranking positions coincides with sumo's waning popularity in Japan. Many feel that with no Japanese heroes to cheer for, young Japanese sports fans have turned their attention to baseball and soccer. So it makes sense that the Japan Sumo Association wants to extend sumo's reach by holding exhibition tournaments in places like Hawaii.
For tickets and more information about the June 9 & 10, 2007 Hawaii Grand Sumo Tournament, please see their website at www.sumohawaii.com. For background information on sumo, I recommend the following sites: Wikipedia and Sumo.or.jp.
[Used with permission from
netsato.com
]