Duuuudes, I'm Ed Theodore Logan and I'd like to introduce you to my friend Bari S. Preston, Esquire… and we are the Wyld Stallyns!
OK, so if you haven't seen the movie Bill and Ted's Excellent Adventure (circa 1989), you're probably reading this with a blank, "I-don't-get-it" stare on your face, and I apologize (our names just fit the title ok?). For the 3 of you out there who got it, please laugh… Pleeeeaaaase!
This month, we'll be chronicling a day-in-the-life of my boy Bari. A day that will forever live in infamy… Well, at least for him. You see, a few months ago, Bari underwent LASIK surgery to correct his "blind-as-a-bat" vision. And since his folks and lady friend were all out of town, I was the lucky third stringer to get the call to be his chauffeur/nurse/caretaker for the day. Lucky me.
The day started off bright and early with a seven o'clock wake up call. Jeez Louise! I guess B-Man wanted to get an early start so he could take me to one of his favorite breakfast spots in downtown: La Taqueria De Ramiro on Fort Street Mall.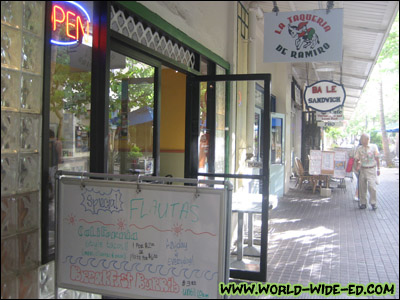 La Taqueria De Ramiro on Fort Street Mall, Downtown Honolulu
His menu item of choice? The breakfast burrito with Portuguese Sausage for just $3.85.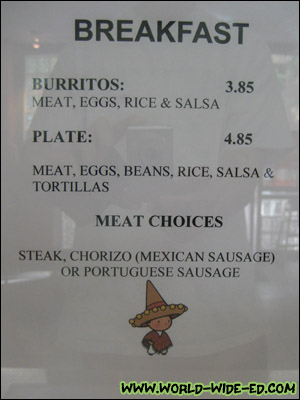 Breakfast Burrito menu with options
Because we weren't that hungry at such an ungodly hour, we decided to split one. It's a good thing they were HUGE! Here's a shot of my half and a close up for good measure.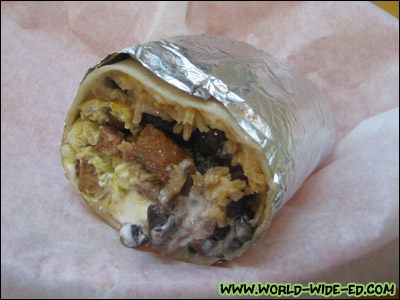 My half of the Portuguese Sausage Breakfast Burrito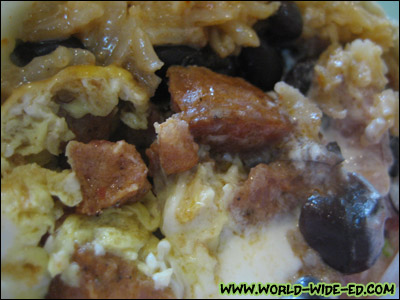 Close up of the Portuguese Sausage Breakfast Burrito innards
Their prices were very reasonable (nothing on the menu was over $6.50) and with a bevy of choices including tacos, burritos and "appeteasers", I can see why they're also very popular in the afternoon. Check um out!
La Taqueria De Ramiro
1148 Fort Street Mall
Honolulu, HI 96813 (map)
(808) 532-8226
M-F, 7:30am to 3:00pm
On the way back to my car, we passed by Hawaii Theatre and decided to stop for a couple of shots – to commemorate our lovely morning together – in case he's never able to see again. *grin* I keed!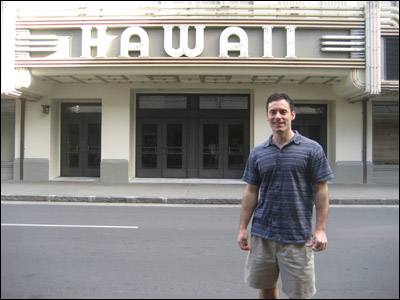 Bar-bi enjoying his vision for the last time?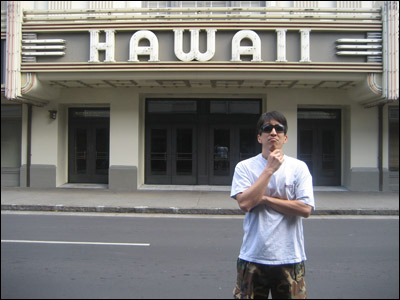 Poser!
Then, it was off to the doc's office to get Bari's eyes laser beamed.
Bari chose to go with Dr. Carlos Omphroy of the Laser Eye Center of Hawaii, whom/where I by the way, highly recommend.
Editor's note: Just so you know, I was not paid or coerced by their offices to put in a good word. In fact, they don't even know I'm writing this positive review. This is just my personal opinion based on what I witnessed and experienced that day.
Dr. Omphroy took his time and meticulously explained the details of how the surgery would go, step by step. He told us of the possible risks, and went over the post operation care procedures. He was very confident and put us both at ease.
And then it was time.
There were a number of very important drops that went into Bari's eyes at precise intervals… but more importantly, he had to get into his hairnet and booties. Oh, you know we've gotsta get a shot of that! *grin*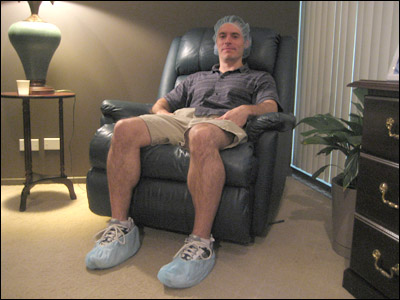 Do those booties come in pink?
Then it was off to the "operating" room where Dr. Omphroy worked to correct Bari's vision forever.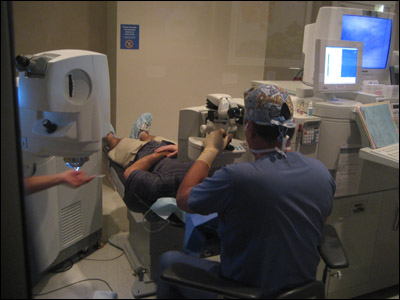 Dr. Omphroy lining Bari up
I'm no expert by far, but if I had to explain the operation in laymen's terms, based on what I heard/gathered/witnessed, it would go something like this:
You go in for initial consultations
If you (your eyes) are a good candidate, you get them inspected/analyzed/measured by a computer.
The computer makes all these calculations and figures out how it can improve the shape (using a laser)
On surgery day, two machines work on you.
The first cuts open the top layer of your eye membrane like a manhole cover with a hinge
The doctor then separates that flap from your eye (see image below) and puts you under the second machine.
This machine continuously shoots the laser onto your eye until it properly shapes it based on the calculations it had from the initial measurements/analysis.
Doc then pulls the flap back over the eye and adds drops and makes sure there are no air bubbles.
Days later, your eye flap layer heals itself and you can see like an eagle. 😛
I'm sure you know that there's way more to it than that, but I think you get the gist. Here's a link to the Wikipedia article on LASIK for more information.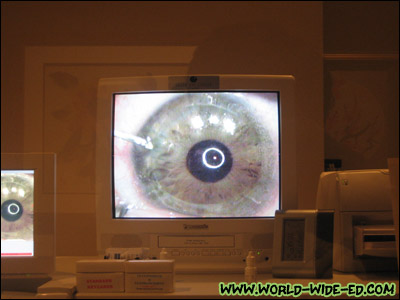 The doc separating the top layer from Bari's eye
During the procedure, I could hear the doc explaining – in great detail – what he was doing and the status of each step (e.g. "We're half way there."), while an assistant nurse rubbed Bari's arm for comfort. Meanwhile someone, whom I believe to be Director Jacqueline T. Ueda, O.D. (after looking at their web site), stopped and took the time to explain to me what was going on after seeing some discomfort in my face from seeing Bari's eye get jabbed. I was very impressed with the overall experience I had here. They were very professional and very comforting at the same time.
Thankfully, my eyes are pretty good, but if I ever do have to get such a procedure done, I will definitely look into them as one of my first options.
Laser Eye Center of Hawaii
Pan Am Building
1600 Kapiolani Blvd. Ground Floor
Honolulu, HI 96814 (map)
(808) 946-6000
information@lasereyehawaii.com
(permanently closed)
Overall, it was quite an adventurous day for the both of us. Just another day in the life I guess. I'm happy that my boy got his vision back. Perhaps it'll help his jump shot. *grin*
I'm also glad to have enjoyed two positive experiences in one day: the breakfast burrito at La Taqueria De Ramiro and the friendly and professional staff at Laser Eye Center of Hawaii.
I now leave you with this parting shot of myself and the studly Bari, sporting his mandatory post-operative Kareem Abdul-Jabbar-like goggles. Until then, "Party on Dudes… Party On!"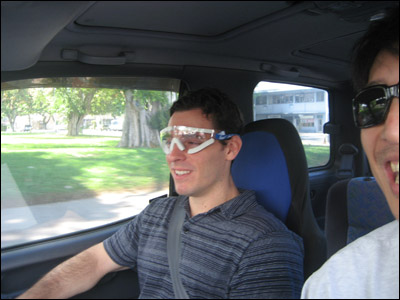 Kareem Abdul-JabBAR and myself (sorry, he wouldn't let me show any of the other "money" goggle shots! 😛 )