Part I | Part II
And… I'm spent!
Ho, for you guys, I travel the globe (State actually) and boy are my arms tired. Yeah, bad joke. But seriously, I do this to bring all y'all the best in Hawaii's eats. You're welcome! ;P
I actually don't mind it at all though. Me loves to eat, travel, take photos and write, so as you can guess, this combination is right up my alley. The last two months of stuffing my face with Açai was actually a nice little treat to my tummy. So I, instead, thank YOU. 🙂
With that longest-intro-in-history out of the way, let's get going shall we?
Lanikai Juice
Located in the Kailua Shopping Center in the heart of Kailua town, this smoothie joint has been a long time favorite of many Kailuans. Eventually, word got out and its popularity now stretches further than 96734.
My softball team conveniently has its games at nearby Kailua District Park, so before a game last month, I stopped by to see what all the fuss was about.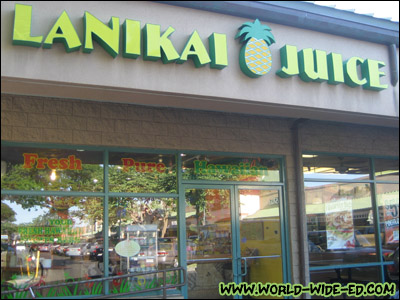 Lanikai Juice Sign
With young, vibrant girls working the counter and a clean, colorful interior, it wasn't hard to figure out the lure.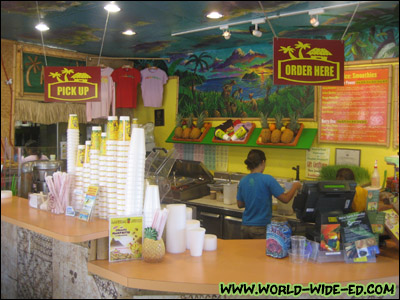 Inside Lanikai Juice
I got the standard Açai Bowl, plopped myself on a stool outside and took in the fresh Kailua air as I enjoyed my treat.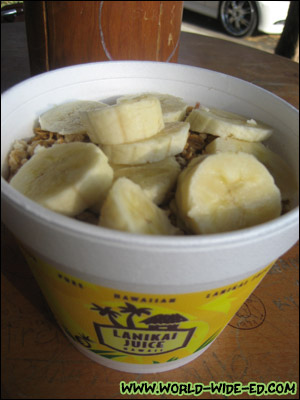 Açai Bowl – Açai, strawberries, blueberries, banana and apple juice, topped with organic granola and sliced bananas – $5.85
Optionally, you can ask for honey (yes, it doesn't come standard), but it'll cost ya an extra $0.52. Here's what it looks like with honey, honey.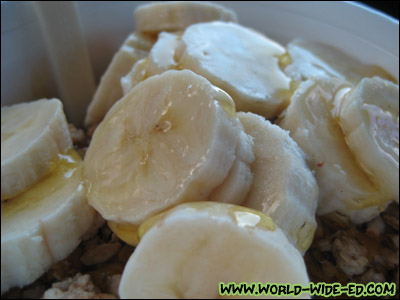 Close-up of Lanikai Juice Açai Bowl with honey
The Açai portion of their bowl has an icy flavor reminiscent of shave ice, but it was filling nonetheless. The perfect amount to energize me for my game.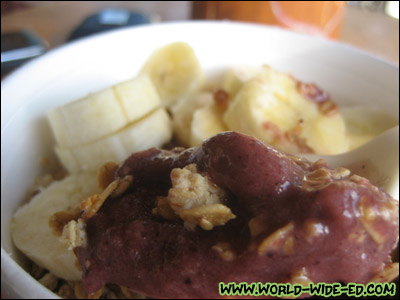 Closeup of Açai and granola
Lanikai Juice
600 Kailua Road, Room 101
Kailua, HI. 96734
(808) 262-2383
lanikaijuice@cs.com
Mon-Fri 6AM-8PM
Sat & Sun 7AM-7PM
The Wedding Café
[Editor's Note: The Wedding Cafe no longer offers Acai Bowls]
You would never have guessed that our next stop would be a place in Ha-wa-ii for Açai, but that's what we're here for: To turn over every leaf out dea for you. 🙂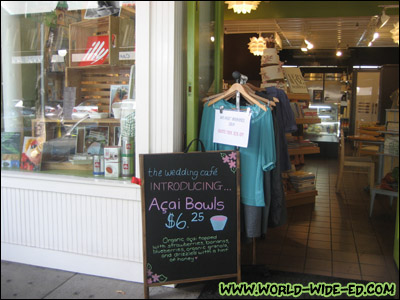 Açai Bowl outside The Wedding Café
Tipped on by the lady, after one of her many research driven trips there, the Açai Bowl is a pleasant surprise in a place that is supposed to otherwise be scary for us men.
All kidding aside, the Wedding Café at Ward, not only serves as an all-in-one, wedding research superstore, but they also serve up some good kine grinds while you're there.
In addition to their Açai Bowl, some of their other must-tries, according to co-owner Tanna Dang, include the chicken walnut sandwich, the Lychee iced tea and of course their Pumpkin Crunch.
But why Açai?
Dang explains, "We all LOVED the freshness and healthiness of Açai!! It's seriously ADDICTING… It's a great meal alternative and SO yummy after a good surf session or workout."
You be the judge…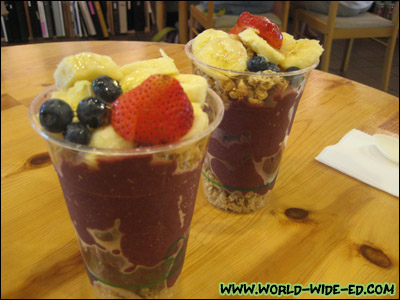 Açai Bowl – Organic Açai topped with strawberries, bananas, blueberries, organic granola, and drizzled with a hint of honey – $6.25
The Wedding Cafe
1050 Ala Moana Blvd # 8
Honolulu, HI 96814
(808) 591-1005
Kalypso Island Bar & Grill
Not to be outdone, the peeps of Kauai got a go-to bar up north that serves up some mean Açai. Hanalei's Kalypso Island Bar & Grill is the place.
On a recent trip to Hanalei, we noticed that it always seemed crowded at Kalypso's. Knowing that the best way for eating success is to follow the crowds, we asked around. It turns out that they have great food to go along with a great vibe, and they serve Açai to boot. We immediately knew where we were heading for breakfast the next morning.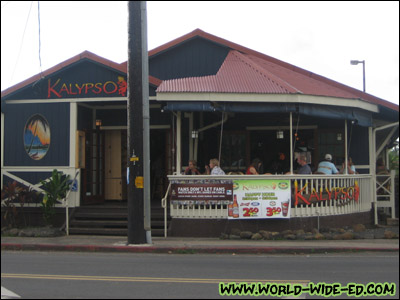 Kalypso Island Bar & Grill in Hanalei
Though we ate a mean blackened mahi mahi benedict, we'll save that for a future article. Today, it's all about the Açai, and Açai we did a try-ee.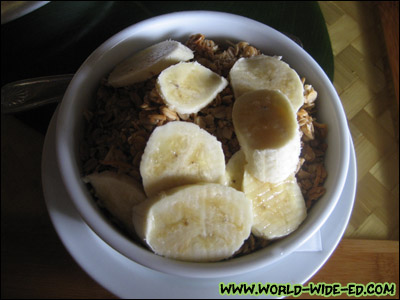 Açai Bowl – Refreshing blend of Açai & banana served with local made Anahola granola – $7.95
Since you can't really get a good glimpse of the Açai portion of the bowl, let's mix things up and give y'all a look at the inner-workings.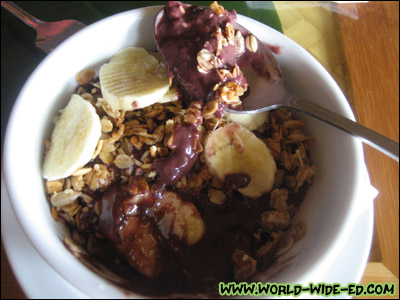 Yes, we were hungry…
$7.95 was a bit costly for what we got, but it was great to sneak in an Açai fix outside of Oahu.
Kalypso Island Bar & Grill
5-5156 Kuhio Hwy # G4
Hanalei, Kauai, HI 96714
(808) 826-9700
Jewel or Juice
IMHO, we've saved the best for last.
Right on the corner of Waialae Ave and Koko Head Ave, this half jewelry, half juice joint (hence the name) is an absolute must. And though they do feature jewelry from one artist (Flora Lu from Lucoral Museum), their forte is obvious: it's the Juice!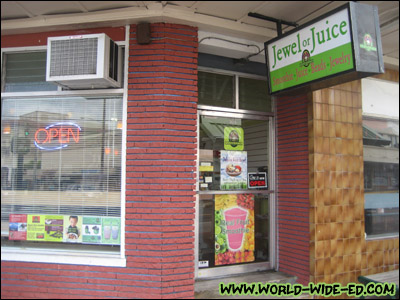 Jewel or Juice on the corner of Koko Head and Waialae
The lady and I actually had the darndest time trying to get here, as our "going to town for errands" day is usually Sunday, the day they just so happen to be closed. On the 3rd attempt, we were finally able to crash the Jewel or Juice party, and boy are we glad we did.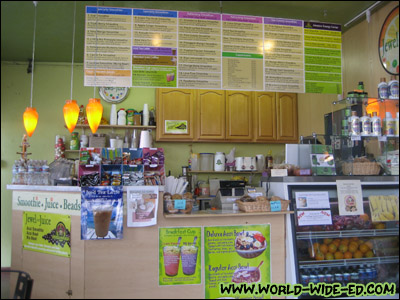 Inside Jewel or Juice
Ever since graduating with a business degree from HPU, it has always been a dream of owner Chris Chan to open a unique store like this with personality. With the help of family and friends, including brother and partner Alec, Jewel or Juice has been flourishing now for 3 successful years.
According to Chan, their Warrior Bowl is the best seller.
"Most people mistaken the Warrior Bowl as another Açai Bowl with different toppings. In fact, it is a special blend that is remarkably refreshing. Most customers find it addicting and comes everyday for it."
Yes, this idiot author did not order the best seller… YET!
The quality in the ingredients they use is evident. And the passion these brothers have for perfecting their business is obvious. It honestly makes you want to return just to support this enthusiasm.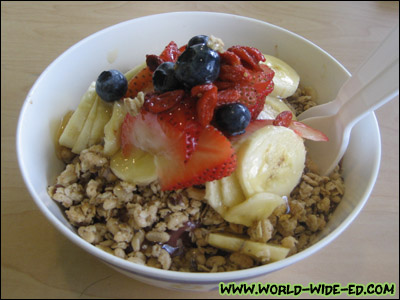 Deluxe Açai Bowl – Açai blends w/strawberry, banana, and apple juice, topped with bananas, seasonal fresh berries, Goji berries, honey & organic granola – 16 oz.: $6.99, 24 oz.: $8.25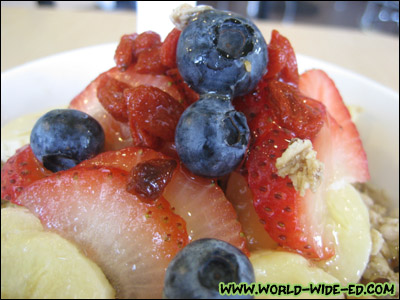 Close-up of Deluxe Açai Bowl toppings (strawberries, blueberries, Goji berries and bananas)
In my email interview with Chris, he displays this fervor by teaching me how to make a quality Açai Bowl.
"My opinion for a good Acai Bowl, just for reference…. since you are writing about it
Make sure there is no Ice Cube Added. It dilutes the flavor and gives it a blank taste
No 'previously frozen' fruit topping is acceptable. If you promise 'Fresh', it better be fresh!
The Açai blend cannot be 'running', it has to 'stand up' tall in the bowl.
Açai Juice vs. Açai Berry Puree is a big difference. Juice is weaker than Puree for sure
The granola has to be Organic and Flavorful. Not too soft and not too hard.
If honey is used, make sure it is pure honey, not honey flavored syrup
Açai Bowl cannot be pre-made, it has to be made in front of your eyes, your ears and your nose"
If it tastes anything like the one we tried at Jewel or Juice, you can bet I'll be following intently from 1 through 7…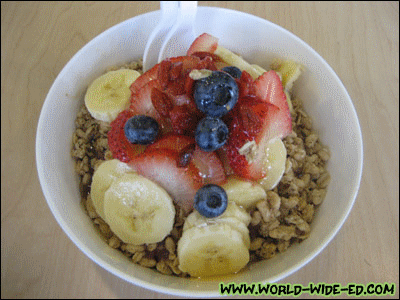 Animation of our damage
And… I'm spent!
Jewel or Juice‎
3619 Waialae Avenue
Honolulu, HI 96816
(808) 734-1700
Mon-Sat 8:30am-7pm
Part I | Part II