This past Saturday, April 25th, 2009, Hormel Foods Corporation and the SJ Foundation held their 7th annual Waikiki Spam Jam festival in the streets of Waiks. Part of Kalakaua Avenue was closed off for the event (apologies to the uninformed drivers at the time! 😛 ), which ran from 4PM-10PM.

Hawaii Foodbank Donation Center at the Waikiki Spam Jam 2009
There were an estimated 20,000-25,000 in attendance last year, and this year seemed no different. The street was jam-packed with thousands of tourists and locals alike, enjoying Spam-inspired dishes from the following vendors:
Aloha Table at Waikiki – SPAM® Cabbage and Garlic Spaghettine, Loco Moco with SPAM®
Cheeseburger Beachwalk – BBQ SPAM® Babies with Pineapple
Chibo Okonomiyaki – Okonamiyaki and Yaki Soba w/ SPAM® & Vegetables
Coconut Willy's – SPAM® w/noodles
Doraku Sushi – Spam Musubi
Duke's Canoe Club / Hula Grill – SPAM® Fried Rice
Gordon Biersch – Guava Mango BBQ SPAM® Sliders, Shichimi Spiced SPAM® Wrap, SPAM® Noodles and Crispy Spam Gau Gee
Jimmy Buffett's – SPAM® Nachos
K's Restaurant – SPAM® Katsu, SPAM® Gau Gee
Murphy's Bar & Grill – Corned Beef Hash with SPAM®
PF Chang's – SPAM® Lettuce Wraps
The Shack Waikiki – Spam Burgers and Spam Fries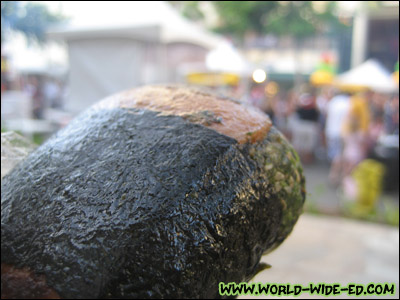 Spam Musubi from the Doraku Sushi booth
Two stages were set up (one for KCCN FM 100 and one for Hawaiian KINE), which featured local, Hawaiian acts like Ilona (Irvine), Kawaianuhealehua, Herb Ohta., Jr., Pilioha, Kuhai Halau O Kahalepuna Pa Olapa Kahiko, Typical Youth, Kaukahi, Beach 5, John Cruz, and Kapena.
Almost seven million cans of SPAM® products are eaten every year in Hawaii. That's more SPAM® per person in Hawaii than in any other state in the United States! So it only seems fitting that the festival be here. Oceanic Time Warner Cable was one of the proud sponsors of this event, that also helped benefit the Hawaii Foodbank by way of canned good donations.
See below for more scenes from the event!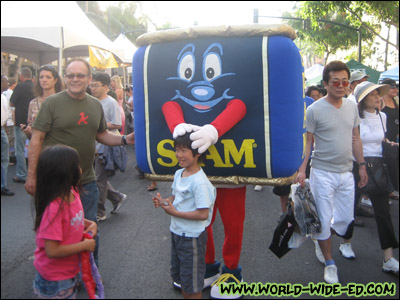 Scenes from the Waikiki Spam Jam 2009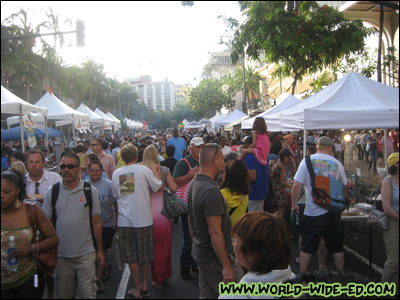 Scenes from the Waikiki Spam Jam 2009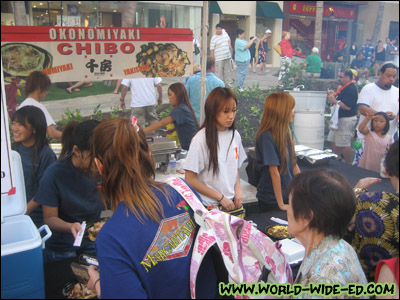 Scenes from the Waikiki Spam Jam 2009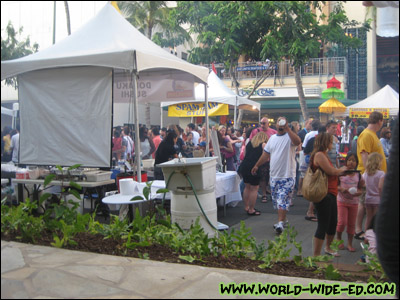 Scenes from the Waikiki Spam Jam 2009
For more information on the Spam Jam, visit spamjamhawaii.com.