Back in the day, when we used to play ball at the end of Iliahi Street (in Nuuanu), my boy Bari used to tell me that we just HAD to go and try this new Thai food place he was all hot and bothered for. Now I don't know about all y'all, but for me, after a long, hard, sweaty game of hoops, I'm not exactly in the mood for hot, steamy food. An icy cold, tall pitcher of [insert favorite brand name] sports drink maybe, but definitely not food.
Fast forward to the day after several weeks of constant badgering. Yeah, I gave in. Bari's constant whining finally got to me. 8) So, sweaty and all, we headed one street over to the hotspot B was raving about: Bangkok Chef. I've never heard of this place. It was fairly new and actually called Nuuanu Open Market at the time. They specialized in produce of all types, with their Thai food serving as just an "oh-by-the-way."
Today, that "oh-by-the-way" has transformed this once top secret hole-in-the-wall into an island must.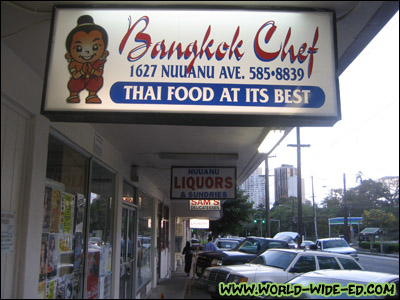 Bangkok Chef sign
Bangkok Chef is the brainchild of owner Patrick Chang and his wife Sansane Pornchairattanakun.
"We started out as a produce market in September of 2001 known as 'Nuuanu Open Market.' My wife is from Bangkok where restaurants, food kiosks and eateries offering delicious Thai food can be found at virtually every corner, and my wife's family operates one of those restaurants (there). With the fresh vegetables and Thai cooking ingredients readily available at Nuuanu Open Market, and my wife's first-hand knowledge of Thai cooking, in November of 2002 we decided to offer Thai food to customers and called our tiny operation 'Bangkok Chef'."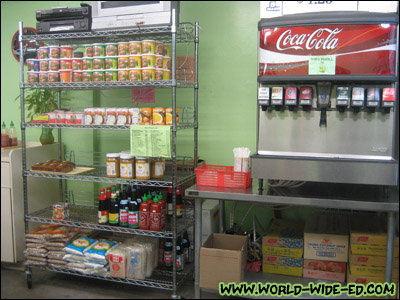 What remains of the Nuuanu Open Market
The quaint interior, complete with fluorescent green walls and a garage door doubling as the entrance, gives it that "authentic" hole-in-the-wall feel.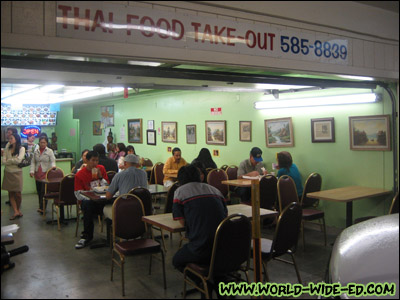 Inside Bangkok Chef
Prices here are very reasonable with dishes ranging from just $4.75-$8.25. This is just part of the reason for their immense popularity.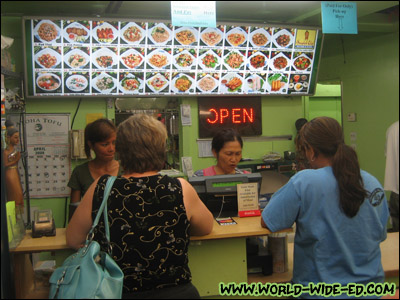 There's always a line
The other part, of course, is their food. They are well known for their Pad Thai noodles and crispy Spring Rolls.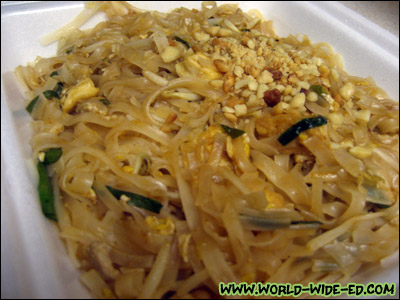 Pad Thai – Rice noodles fried with eggs, chicken & tofu with bean sprouts, chives, in a house Pad Thai sauce ($5.70)
They also offer Fish ($7.70) and Shrimp ($8.25) versions.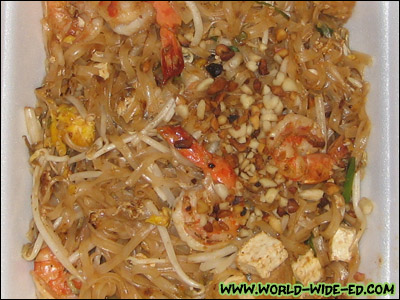 Shrimp Pad Thai ($8.25)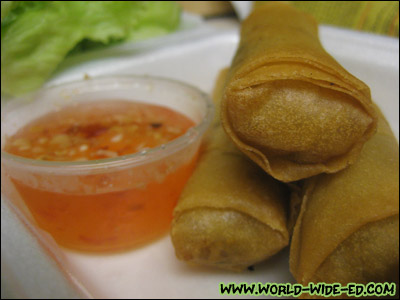 Crispy Spring Rolls (Ground chicken, bean threads, carrots, black fungus, onions & taro wrapped in wheat-flour paper. Golden fried until crispy. Served with lettuce, cucumbers, mint & a house special sauce. ($5.95)
Editor's note: Their Spring Roll order comes with 6 pieces. Three just photographed better. 😉
And what's a review of Thai food without a mention of yellow curry and sticky rice riiiight? Mmm, mmm, mmmmm!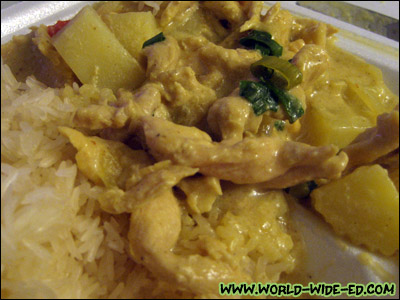 Yellow Chicken Curry – Sliced chicken breast, potatoes, carrots, and onions in yellow curry sauce and coconut milk ($5.70)
Like the Pad Thai, they also offer Fish ($7.70) and Shrimp ($8.25) versions.
One of the common misconceptions of Thai curry is that it's spicy. Trust me, this bruddah cannot handle spicy stuff, so if it was, I'd tell you. *grin* Don't get me wrong, they do indeed serve up the "full-on" spicy kine, but owner Patrick Chang wants to dispel some of the many myths people have about Thai food.
"People may have the misperception that Thai food is spicy and exotic and expensive. At Bangkok Chef that's not the case. Our next goal is to take that myth out of people's mind and to turn Thai food into a household item so that everyone can enjoy."
In fact, there is a wide variety of foods here that will appeal to those with very particular palates.
Chang continues, "Our curries are rich and creamy and our Tom Yum shrimp soup is fabulous. We offer green papaya salad, shrimp long-rice salad, and green mango salad. The chicken larb is awesome and the mango ice cream over sweet rice dessert is surely a treat."
Bangkok Chef recently opened another location in Manoa valley (complete with fluorescent green walls!), so you have no excuse NOT to go and support our local businesses. Delicious, authentic Thai food at very reasonable prices. What are you waiting for? Go check um out, go check um gooo!
Bangkok Chef – Nuuanu
1627 Nuuanu Ave.
Honolulu, HI. 96817
(808) 585-8839

Bangkok Chef – Manoa
2955 E Manoa Road
Honolulu, HI 96822
(808) 988-0212