No, the "wowie" in the title is not what you think, Cheech. I'm actually referring to all of the exciting things you can do while exploring the beautiful island of Maui. And in true World Wide Ed fashion, let's take the logical approach and break this thang down by sections, starting with the West Side of the Valley Isle… WessssSiiiide!
Pretty much as far West as you can get is the city of Lahaina. If touristy shopping is your bag, then this is your place. As somewhat the equivalent of a countrified version of Waikiki, Front Street is where you'll find all the little shops and restaurants to please your palette. (I may be alone on this one, but for some reason Front Street also reminds me of the Fisherman's Wharf area in San Francisco. Anyone else?)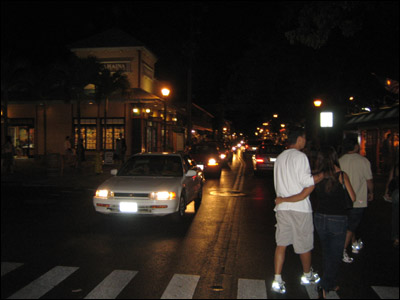 Front Street, Lahaina, Maui, Hawaii
Front Street, Lahaina, Maui, HI 96761
(map)
We ate the ribs at Front Street Grill and Bar, but I honestly don't remember much. Not that it was bad, but it just wasn't memorably good, naw-mean. It is however, a great place for fresh air and people watching, as the restaurant overlooks Front Street.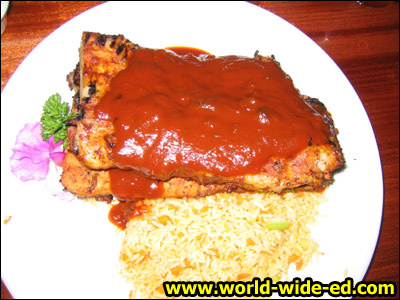 Ribs from Front Street Grill and Bar
Front Street Grill and Bar
672 Front Street
Lahaina, HI 96761 (map)
(808) 662-3003
(permanently closed – now Captain Jack's Island Grill)
Working our way east, we cannot forget to mention Iao Needle at the Iao Valley State Park. I say "mention" because I unfortunately have no photographic proof of actually going there, just my memories. *blush* But since my memories are useless to you, here are a couple of useful links to help you get edu-ma-cated. While you're off visiting those, I'll type up my favorite cheesy Iao Needle joke for when you come back.
Welcome back. How were those links? Pretty cherry ah? Anyway, here goes with the cheesy Iao Needle joke:
Q) How did Iao Needle get its name?
A) One day, dis guy wen sit on um and yelled "Iiiiiiaowww!"
Yeah, lame, I know… but don't say I didn't warn you. *grin*
One thing to note, be sure to bring your umbrella-ella-ella, as it rains often here.
Ohhhh K, moving right along…
How 'bout a little crispy manju action from Home Maid Bakery?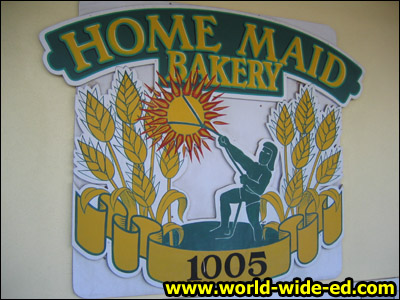 Home Maid Bakery sign
Inconspicuously located on Lower Main Street in Wailuku, this mom & pops store has been baking up fresh pastries and sweets like malasadas, doughnuts and their popular crispy manju since 1960. My personal favorite is the peanut butter filled mochi. You heard it here first! 🙂
Home Maid Bakery
1005 Lower Main Street
Wailuku, HI 96793 (map)
Bakery: 244-4150
Office: 244-7015
Open 7 days a week, 5am-10pm
Moving east, we hit the Queen Kaahumanu Center, for those of you getting a bad case of shopping withdrawals.

Queen Ka`ahumanu Center sign
With a good sized food court, 6-screen movie theater, and the usual shopping center shops and anchor tenants (see store directory here), you'll want to make sure you don't miss local favorite Koho's Grill & Bar.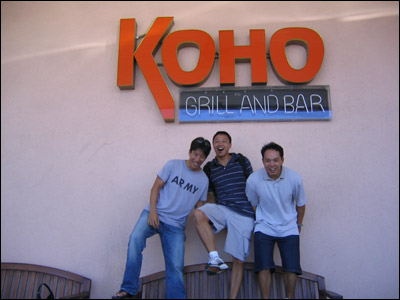 Having a little too much fun in front of the Koho Grill and Bar sign
Be forewarned though. It is often crowded here and is known to (sometimes) take long with food orders. Today, I got the veggie burger with fries.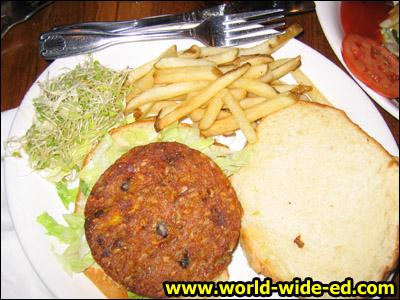 Veggie burger with fries
Queen Kaahumanu Center
275 W Kaahumanu Ave # 1200
Kahului, HI 96732 (map)
(808) 877-3369
Mall Hours: Mon-Sat: 9:30am-9:00pm, Sun: 10:00am-5:00pm
Koho Grill & Bar
275 W Kaahumanu Ave # 245
Kahului, HI 96732 (map)
(808) 877-5588
In case you didn't enough of yo shop on, we'll head to the next mall, Maui Mall on nearby East Kaahumanu Avenue. They've also got a bevy of stores of interest like Long's Drug Store, Fun Factory, and the 12 theater Maui Mall Megaplex (see store directory here), but the real reason most visitors come here is get a tasty treat from the ever-popular Tasaka Guri Guri.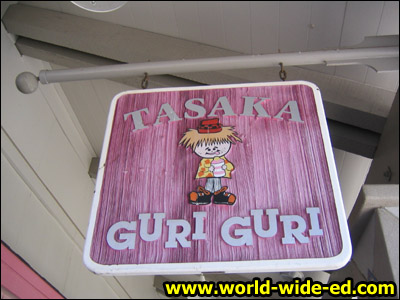 Tasaka Guri Guri sign
This famously sweet, juice, soda and condensed milk concoction is undeniably addicting, and the prices are still mom and pop-ish (starts at just $1 for 2 scoops).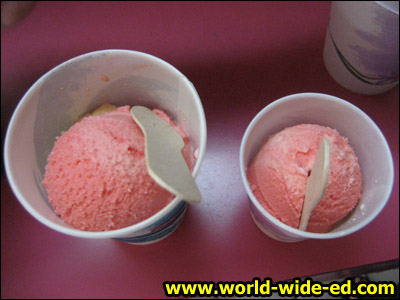 Tasaka Guri Guri
Tasaka Guri Guri
70 E Kaahumanu Ave
Kahului, HI 96732 (map)
(808) 871-4513
Another merchant in the Maui Mall with name value is IHOP (International House of Pancakes), the first in the state.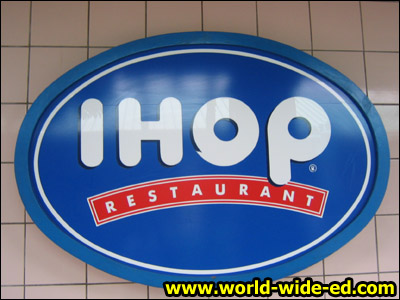 Maui's IHOP sign
This is the very IHOP that was well documented during Season 3 of American Idol, when it was revealed that Hawaii contestant Camile Velasco used to work for her parents here before trying out for the singing competition.
Today, I ordered a hard-to-ruin, eggs, hash and link sausage breakfast, also known as the Quick Two-Egg Breakfast.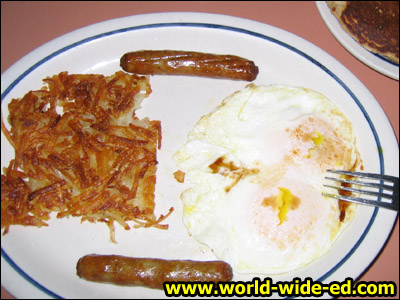 Quick Two-Egg Breakfast: Two Eggs, Two savory pork sausage links (or two bacon strips), plus hash browns and toast
Yeah, I didn't order pancakes at the International House of Pancakes… Sue me! 😛
IHOP
70 E Kaahumanu Ave
Kahului, HI 96732 (map)
(808) 871-4000
Did I hear somebody say doughnuts? Your wish is my command. Sitting on nearby Kele Street, the State's only Krispy Kreme Doughnuts location awaits us.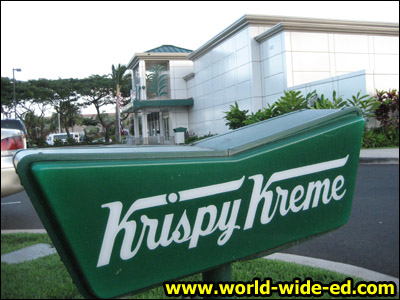 Krispy Kreme sign
With a plethora of flavors and styles, hand-carrying a few dozen of these tasty treats home is always a popular omiyage option for those of us who live on another island.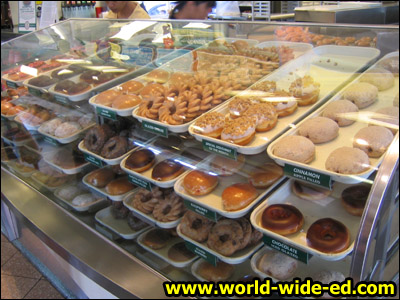 Krispy Kreme Doughnut Selection
(Tip – I've mentioned this before, but if you're cheap, you can come here and sometimes be offered free samples of their popular Original Glazed doughnut, fresh off the conveyor belt).
Enough with the eats you say? Fine. Let's head south and hit up the Maui Ocean Center to see Hawaii's most spectacular marine life in action.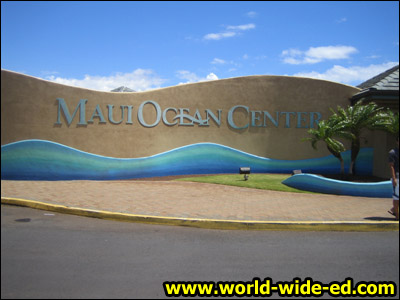 Maui Ocean Center sign
Your first attraction (follow along using the park map) to the right of the entrance is the Living Reef, defined as "Hawaii's beautiful tropical fishes and living coral reefs, in awe-inspiring marine habitats." Here are scenes from the Living Reef.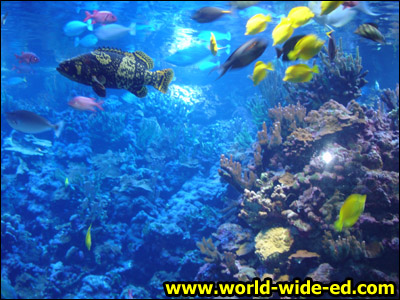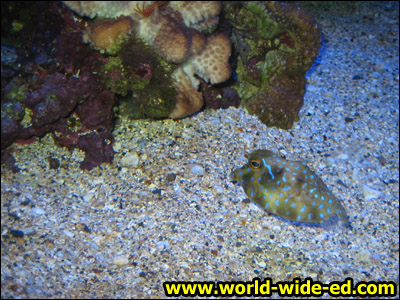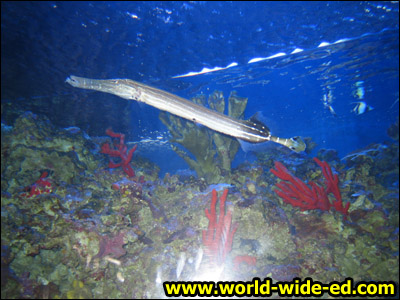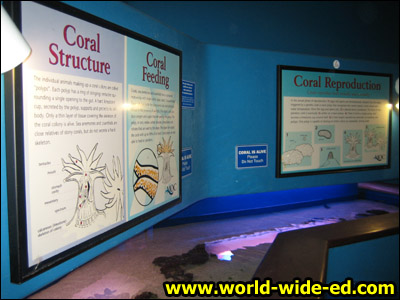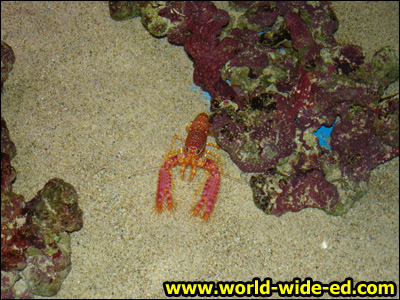 Upon exiting the Living Reef, you'll pass by Turtle Lagoon – "Hawaii's green sea turtles are a wonder to behold,"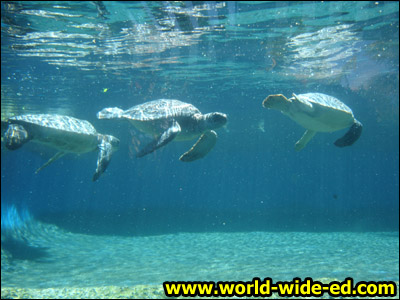 Maui Ocean Center – Turtle Lagoon
before hitting the Tide Pool – "Enjoy an up close and personal look at Hawaii's marine life."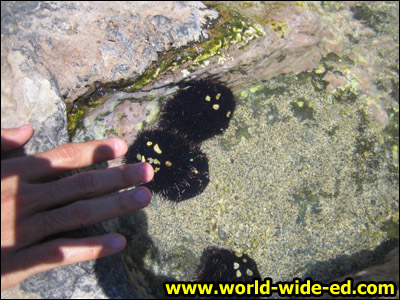 Maui Ocean Center – Tide Pool
And then you'll make your way to Hammerhead Harbor: "Come eye to eye with Hawaii's most unusual sharks, scalloped by hammerheads."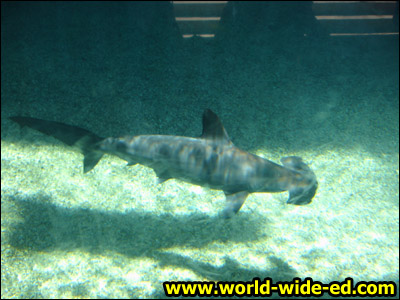 Maui Ocean Center – Hammerhead Harbor
From there, we'll go into the Marine Mammal Discovery Center,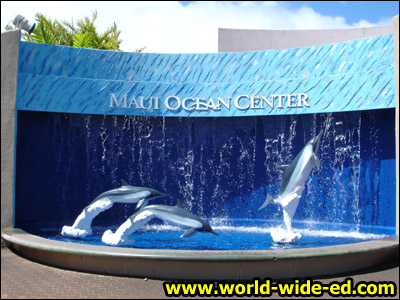 Maui Ocean Center – Marine Mammal Discovery Center
which includes the Hawaiians and the Sea display and the Open Ocean tank and tunnel. Following are some scenes from here.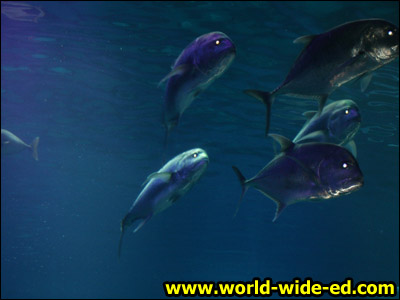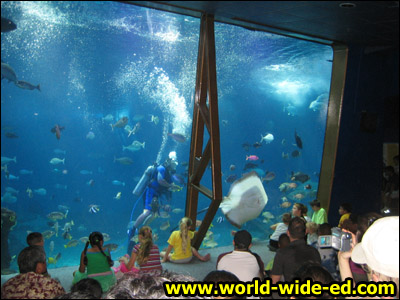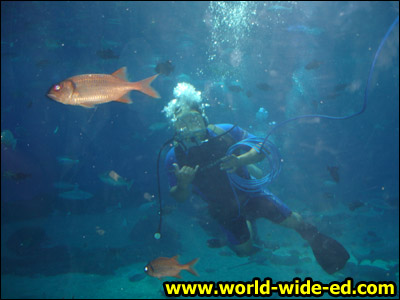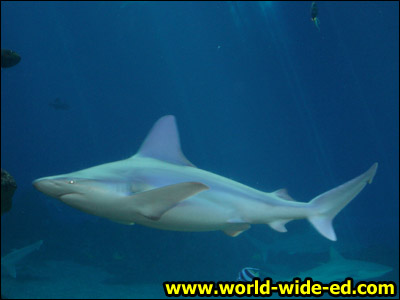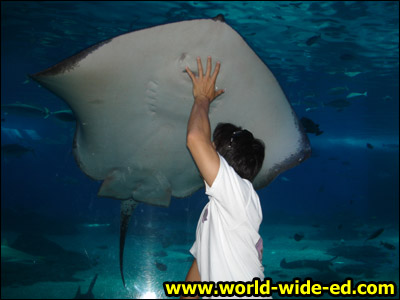 For more detailed information about the various exhibits, visit the visitor information page at mauioceancenter.com.
We round out our western tour of Maui by traveling south to a fun Italian Restaurant called Bada Bing in Kihei. It's no high class restaurant by any stretch of the imagination, but if you're looking for simple, like-home pasta, or as I like to call it: "Spaghetto," this is your place.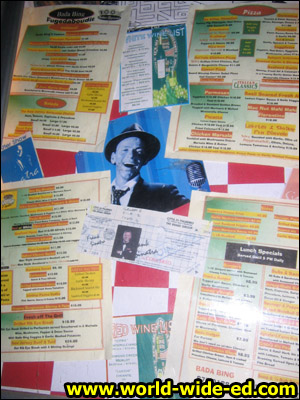 Bada Bing Menu/Display
Looking for fancy tablecloths and air conditioning? Fuhgedaboudit! It's checkerboard table covers and ceiling fans for you. But the eats hits the spot.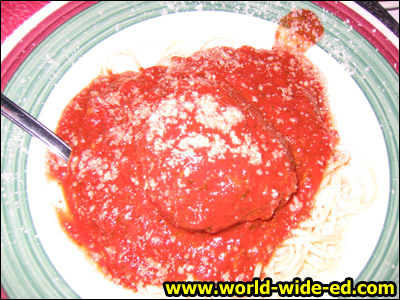 One Big Meatball – 1/2 lb Meatball Smothered in Marinara Sauce – $9.99

Meat Lasagna – $11.99
Bada Bing
1945 S Kihei Rd # G
Kihei, HI 96753 (map)
(808) 875-0188
(permanently closed)
What's that you say? Not enough Wowie in Maui for ya? Relax Tampax. I've got you covered next month in part deux. Since we mostly stuffed our faces in this one, prepare your bones for some action next month with Ziplining and Lava Tubing as well as some sights to behold like Kaumahina State Wayside, Wai`anapanapa State Park and a beautiful sunrise at Haleakala. How 'bout that for some Wowie!? 😉