We did nothing but feed our faces in the last one di'in't we? And nooo, it wasn't due to the "munchies" silly. It was simply because it was all *I* did during my westerly travels in Maui. But trust…, if you are patient enough, I'll make like Sean Kingston and Shorty, I will take you there.
Put on your walking shoes for a brisk stroll through our first stop – historic Paia Town on Maui's North Shore.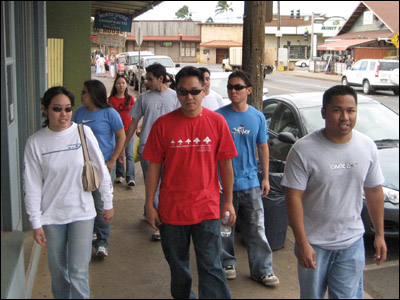 Wen, Steph, Shorts, Marvy, Mai, B, Jerm, Kawads and Tender Ronie enjoying their walk through old Paia Town
This quaint beach town offers a laid-back alternative to the hustle and bustle of some of the bigger towns/cities in Maui.
As we move south, we'll take a lil' lunch break at Kula Lodge & Restaurant.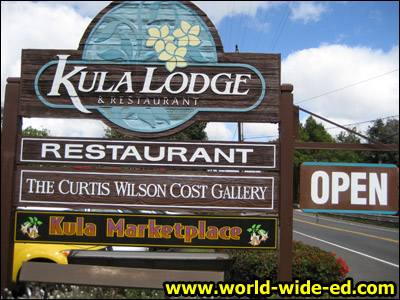 Kula Lodge & Restaurant Sign
Known for their gorgeous sweeping views of mountain and sea, this restaurant serves up salads, burgers, sandwiches, a few entrees, and their popular gourmet pizzas, baked in a kiawe fired brick oven.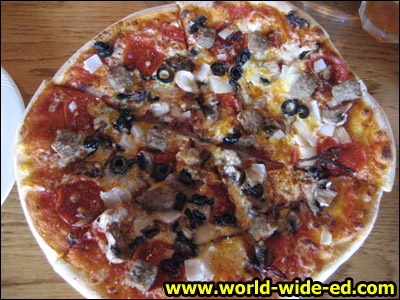 Terrace Special Combo Pizza – Marinara Sauce, Four Cheeses, Pepperoni, Italian Sausage, Mushrooms, Kula Onion, and Sliced Black Olives – $19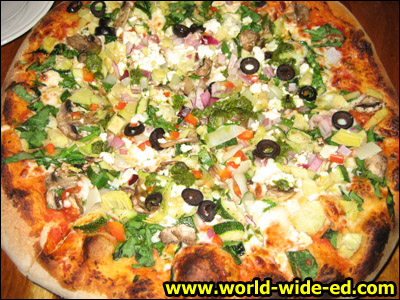 Kula Lodge Garden Fresh Vegetarian Pizza – Thick hand tossed dough with our Grilled Seasoned Vegetables & Feta Cheese – $17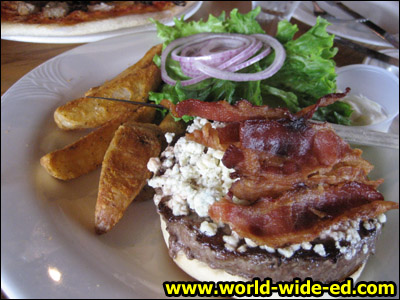 Bacon – Blue Cheeseburger – Smoked bacon and blue cheese cover this 1/2 lb. Black Angus burger charbroiled to perfection and topped with onions, tomatoes and lettuce on a toasted sesame bun. – $13
After lunch, be sure to venture outside to view the explosion of colors in their garden.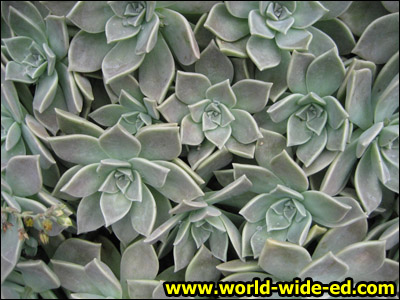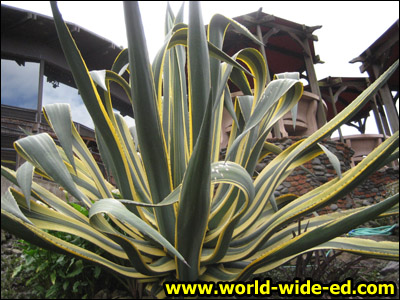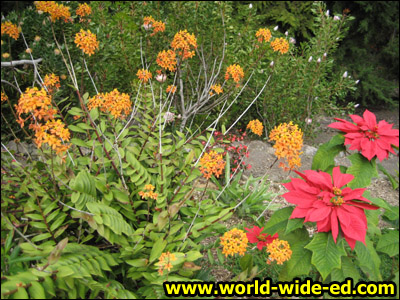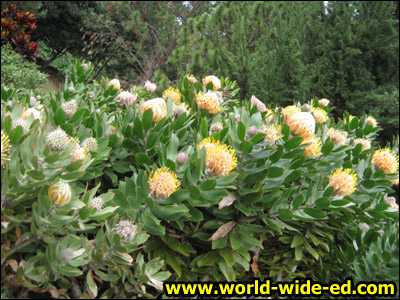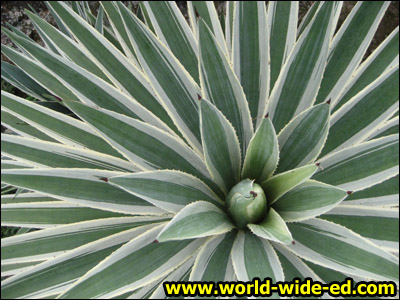 Have your camera on hand because it's a definite photo opp out here!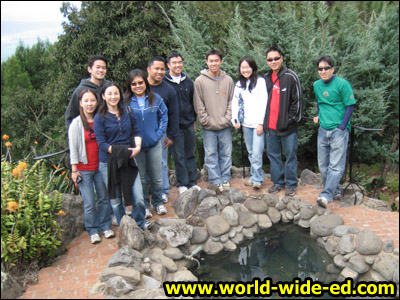 Group shot outside Kula Lodge & Restaurant
There is much more to this piece of property than the restaurant and view though. There is a Marketplace (good place for omiyage) and, according to their web site (and namesake for that matter), even a lodge/chalet where you can stay for extended visits.
OK, we've finally come to the exciting part of the tour where we can put our forks and chopsticks down and throw caution to the wind. Less biting, more flighting (is that even a word!?). Less food, more of something to put us in a good mood and go "Duuuude!" OK, one too many corny lines. Noted. Let's head south and hit up Skyline Eco-Adventures from some Ziplinin'!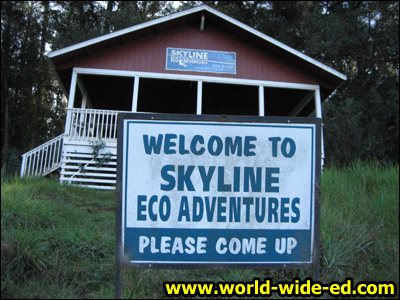 Skyline Eco-Adventures Sign
Located along the slopes of Haleakala, Skyline Eco-Adventures was founded in 2002 by father and son team Buck & Danny Boren. These outdoor enthusiasts (one, a former radiologist and the other a Small Business Management college graduate and former surf guide) had tried ziplines in Costa Rica in 2001 and thought that it would be a great, new, environmentally responsible activity to bring back to their home on Maui. The Haleakala Skyline Tour turned out to be the first zipline tour in the United States (there are currently about 15 different zipline tour operations across the United States), and they have since opened a second tour location above Ka'anapali in 2007.
Besides the fact that it is a fun, adrenaline rush of a good time with the ziplining itself, you also get a brisk hike in here and there (required to go from launch pad to launch pad), while getting educated on local issues of conservation and preservation.
"Conservation is extremely important to our company," explains co-founder Danny Boren. "We donate AT LEAST 1% of our sales (and usually quite a bit more) to protection of Maui's environment (the groups we donate to are listed on our website). We recycle at all of our company locations, and pay for curbside recycling for all of our employees at their homes."
Boren continues, "We are also the world's ONLY Carbon Neutral zipline operator… that means that we offset carbon emissions for every aspect our business (vehicles, store, office). In other words, our company does not contribute to Global Warming. The money we pay for carbon offsets goes toward creating new renewable energy projects across the country. Last year we offset 85 tons of carbon emissions (even though we use less than half of that). There are a number of other things as well, we have a native forest restoration area that we have created alongside our Haleakala Skyline Tour… we pay our employees to go out and work with local non-profit groups, we always buy local first for all products, most of the shirts we sell in our retail store is made with Organic Cotton… etc."
When we visited the tour, we were educated about the native birds (including the `Alala, `Akohekohe, Maui Parrotbill, Nene and `Io) at each of the 5 ziplining launching points.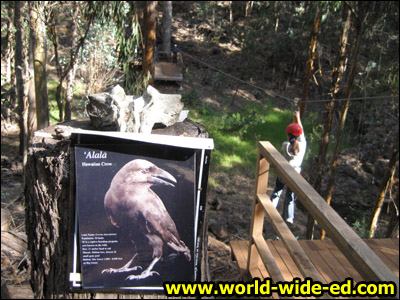 `Alala (Hawaiian Crow) info at first launching point
So with the ziplining, hiking and eduction, you really get three tours in one. But enough with the chit-chat, let's get a zippin'!
You must check in at least half an hour before the tour starts (see below for times), so that you can fill out the paperwork and get strapped in with the proper gear.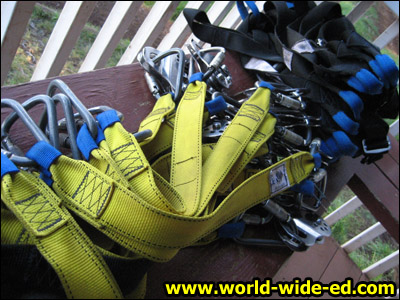 Ziplining Gear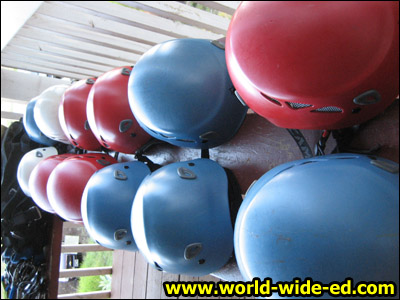 Ziplining Helmets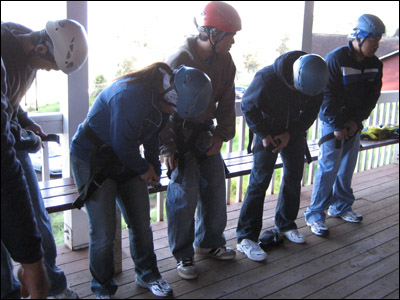 Marvin, Steph, Eric, Jeremy and Ronie buckling themselves in
(Note: If you're "Monk"-like you may wish to consider bringing a bandana to wear between your beautiful head of hair and the oft-used public set of helmets they require).
You're then given a quick pep talk and education session and then you're off on your hike to the first launching point, the Alala.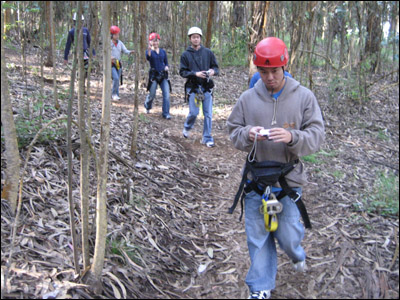 Eric, Steph (hidden), Marvin, Mai, Shorts and our guide hiking to our first line.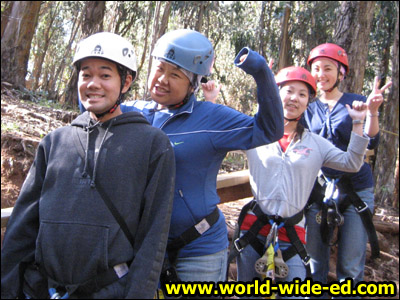 Marvin looks concerned while Steph, Shorts and Mai say, "It ain't no thang!"
The first line is meant to start slow, with each successive line growing in length and speed.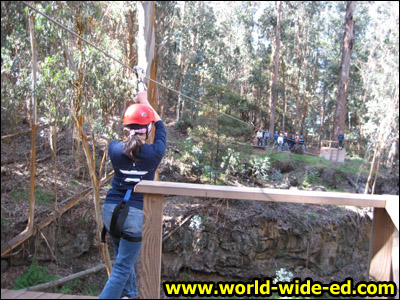 Mai setting up for the Akohekohe line

Mai on the Maui Parrotbill line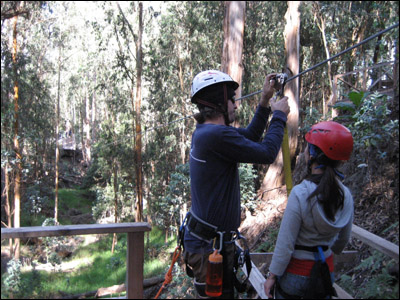 Shorts getting strapped in for the Nene line
Below is a list of the 5 lines and their descriptions:
1) Alala – The Hawaiian Crow (there are only about 52 of these birds left) – 125 ft. long & 25 ft. high. (this is the warm up zipline)
2) Akohekohe – The Crested Honeycreeper (there are about 3,500 of these birds left – they only live on East Maui) – 150 ft. long & 75 ft. high (this one has a shear drop off the take off!)
3) The Maui Parrotbill (there are about 250 – 400 of these birds left, they are only found in East Maui and are the rarest forest bird left on Maui) – 225 ft long & 75 ft. high (this zips over the top of the next zipline)
4) Nene – The Hawaiian Goose (there are somewhere around 1200 Nene left, and as you know it is our State Bird) – 330 ft. long & 45 ft. high (this is a great zipline right down the center of the valley)
4a) Swinging Bridge – during the hike that follows the Nene line, you cross a semi daunting swinging bridge that takes you across a gorge.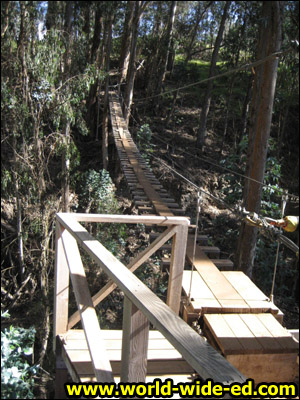 Swinging Bridge
And then we hit the mother lode. The zipline of all ziplines. The grand `Io finale.
5) 'Io – The Hawaiian Hawk (there are around 1500 of these birds left, all on the Big Island) – 750 ft. long – 125 ft. high and you go over 40 mph!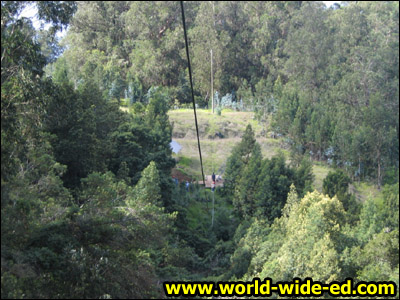 The `Io (Hawaiian Hawk) line view from above
What a rush!

First Person view of the `Io Line
So why should you try your hand (and feet) at Ziplining at Skyline Eco-Adventures? Boren offers up some reasons, "There are any number of reasons why someone might want to come on a tour with Skyline Eco-Adventures, but the primary reason is that it is just plain FUN!  Customers have the rare opportunity to leap from cliffs and fly hundreds of feet through the air… eventually landing comfortably on the other side of the valley. It is also a fun way to learn about Hawaii, each of our tours shares interesting information about Hawaii, and most customers learn new things while having a great time. Beyond that we are a true local family owned company, and we try to give back to our community in many ways. Lastly, we are by far the most experienced zipline operator in the United States (which sounds a little odd being as how we are from Maui, but it's undeniably true), and have a great safety record… with more than 500,000 customer zips over the last 6 years we've only had about 4 twisted ankles (primarily on the hike) on our tours! We are also the only zipline operator in the country that is fully qualified and insured to build our own ziplines… 100% Maui Made!"
How about the fact that online bookings get a 10% discount, but Kama`aina who call direct get an even better 25% discount!?
Skyline is already looking at other locations around Hawaii and on the Mainland, and hope to launch at least one or two new tours in the next year. For more information or to book a tour, can (808) 878-8400.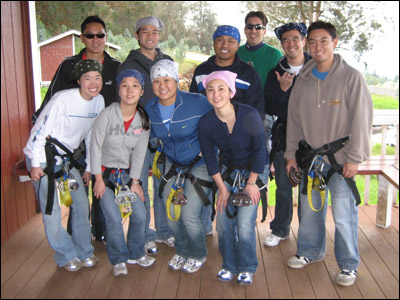 Obligatory Group Shot
Skyline Eco Adventures
Take Hwy. 37 (Haleakala Highway) to Hwy. 377. Turn left on Highway 378 (crater Road, drive 2.5 miles and look for the red and white building on the left (map)
(808) 878-8400
Tour Departs daily at 8:30am, 9:30am, 11:30am, 12:30pm, 2pm and 3pm.
The Haleakala summit is sooo close I can taste it, but since part 2 of this series is so action packed as it is, it looks like I'm going to have to break the rest of this into a Wowie in Maui – Part 3.
Hang on to your seats, next month, we'll cover Haleakala National Park and the Hana Lava Tube at Ka`eleku Caverns fo sho, with possible forays into Tedeschi Winery, Sunrise Protea Gift Shop, Tutu's, Kaumahina State Wayside and Wai'anapanapa State Park. Stay tuned, Shorty!