The wife is out of control.
Ever since she was preggers with baby #2, she has had this fanatical craving – bordering on obsession – with the popular Taiwanese-born milk tea drink cleverly referred to as "Bubble Tea". Pair that with the recent explosion of specialized bubble tea shops popping up around town lately, and ya got one crazed bubble gulp'n momma!
Bubble/Boba/Pearl Milk Tea, named such for the round, tapioca balls that float around at the bottom of the drink, has been around for a while now (it was invented in Taiwan the 80s). Hawaii-wise, I remember frequenting a tiny place in Wahiawa called Lindliz (original location) during our lunch breaks back in the day for a fruity version of the popular bubble drink. And one of the wife's and my first dates was actually at Coffee or Tea? – one of the pioneers in the industry – which is as good a place as any to start this bubble tea series.
Coffee or Tea?
Conveniently located smack-dab in the middle of McCully Shopping Center, Coffee or Tea? is probably our favorite place to get Bubble Milk Tea on the island.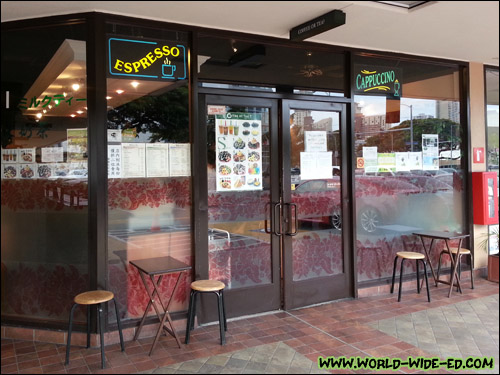 Outside Coffee or Tea?
They offer their milk tea in a bevy of choices including green, vanilla, caramel, hazelnut, Irish cream, malt flakes, pudding, taro, honeydew, coconut, almond, lavender, watermelon, peppermint, ginger, and my personal favorite chocolate.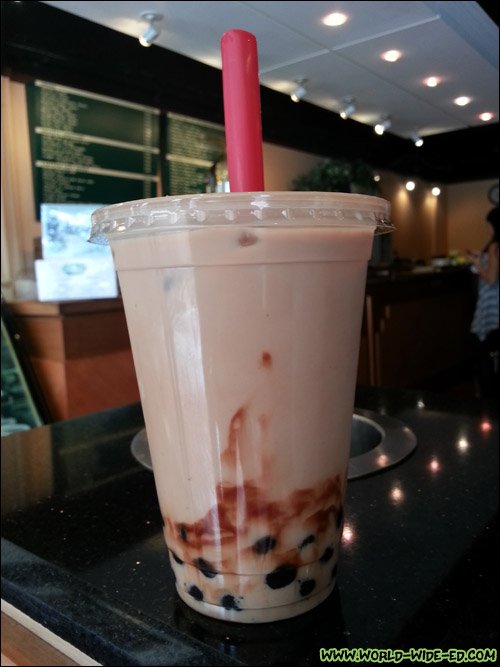 Chocolate Milk Tea with Tapioka Pearls
I mean, c'mon. Chocolate Milk, Tea, AND sweet tapioka balls? How can you go wrong?
They are a little on the pricier side for their portions, but they make up for it by offering something unique. For $15, you can call ahead and place an order for a "Party Size" (gallon) of their milk tea, which is perfect for milk tea parties or 1 obsessed wife. (I keed, she goin' keel me if she heard that.) There is a 2 day window that they say you need to drink this gallon by so finishing it by yourself is almost impossible. Individuals should upsize to the Jumbo (23 oz.) or Super Jumbo (33 oz.) instead.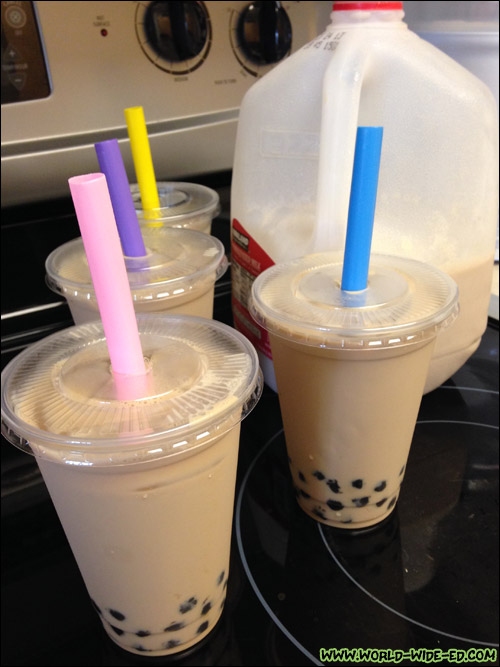 Milk tea party at home
If you want tapioca balls to go with your Party Size order, you will need to call at least 24 hours in advance, but if having the milk tea sans the bubbles is fine with you, in my experience, you often can just walk right in and ask for it.
Before they got "famous", I used to be able to set up shop and "coffice" there for the day. It was a great alternative to the overcrowded Starbucks option, especially since I don't drink coffee. Now, they are a little more strict about patrons who do this. I completely understand why, but I do still kinda miss those days. Regardless, their milk tea is #onobu and again, one of our faves.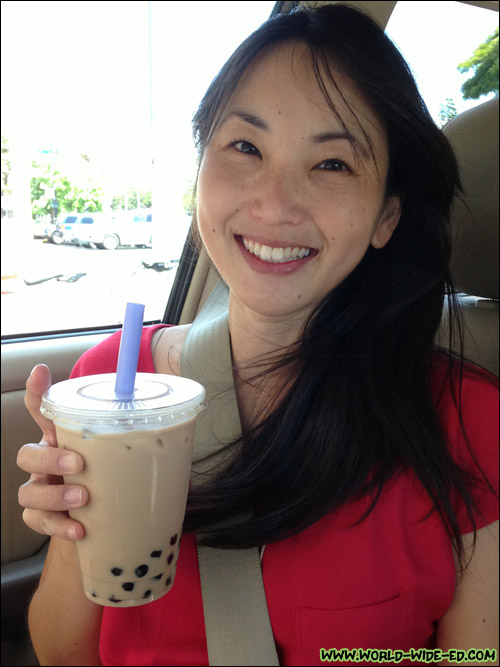 Happy, milk tea-fed wife, happy life.
Wife Says: "This is my absolute favorite place to grab a milk tea drink! The milk tea here is consistent, and I don't have to worry whether the person making it will make it with the right combination of milk, tea & sugar. However, it also means that if you don't care for the strong sugary milk tea taste, you probably won't love it as much as I do. You can't customize the sugar level or choose the size of the boba. But, I do like the simplicity of ordering and the taste of their milk tea. The texture of the boba is perfect & it's always soft and chewy! Milk tea heaven!"
Coffee or Tea?
McCully Shopping Center (TWC WiFi Here!)
1960 Kapiolani Blvd #106
Honolulu, HI 96826 (Street View)
(808) 942-4357
Sun-Thu: 10am-11pm
Fri-Sat: 10am-11:30pm
—

Kung Fu Tea
New to Hawaii, but not new to the Milk Tea game is Kung Fu Tea. They are actually a rather large franchise with 16 stores in New York (where they started), and 7 more in key locations like Boston, Atlanta, Houston, San Francisco, Florida and the one that just opened up last month in Honolulu off Piikoi Street.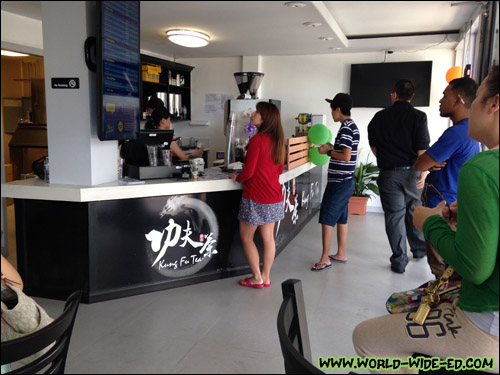 Inside Kung Fu Tea in Honolulu
If I were to close my eyes and visualize what the Milk Teas in Taiwan taste like, I would imagine them tasting like those from Kung Fu Tea. The tea part of the drink is very strong and is somewhat reminiscent of the tea you drink at many of the local Chinese restaurants around town. If it even makes any sense, the Bubble Milk Tea from Kung Fu tastes and feels "legit". 🙂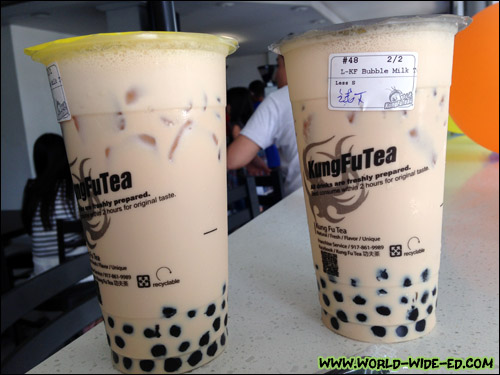 Bubble Tea from Kung Fu Tea
One of my pet peeves is when my bubble to tea ratio is off. Kung Fu Tea packs their tea with CHOKE bubbles so I never once had to lift my straw from the bottom of the drink to regulate that ratio.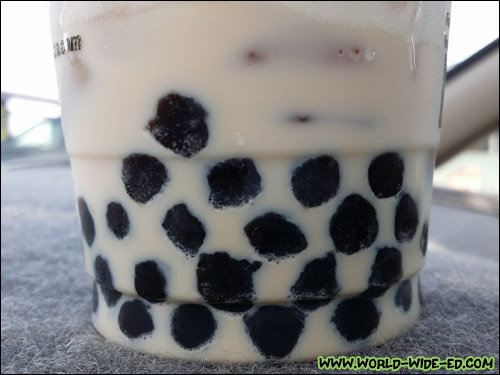 Choke Bubbles at the bottom of Kung Fu Tea's drinks!
Their bubbles also seemed to be more plump and firm here, just the way I like it. 😉 #twss
Kung Fu Tea
510 Piikoi St,
Honolulu, HI 96814 (Street View)
808-589-0088
Sun-Thu: 10:30am-10pm
Fri-Sat: 10:30am-11pm
(permanently closed)
Wife Says: "I was only able to visit this shop once, but from my one visit I was pleasantly surprised! The milk tea is creamy and delicious! The boba has a unique, stronger flavor than I'm used to… but I like it. It does take a little "getting used to", but I was pretty hooked on it near the end! The boba's texture was also a little more chewy but had a good consistency. You can also customize the milk tea according to your taste. I really wish I could have tried this place more than once to give an honest review. I need to go back again!"
—

Shaka Shaka Tea Express
One of actually three bubble drink stores at City Square Shopping Center off Dillingham, the wife prefers this one best because it "tastes kinda like Coffee or Tea?". LOL!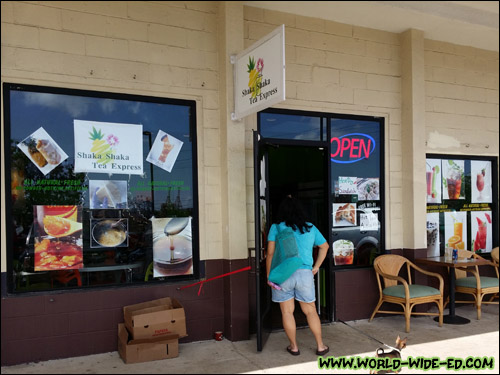 Outside Shaka Shaka Tea Express at City Square Shopping Center
Like Coffee or Tea?, Shaka Shaka also offers many flavors and options, including their fresh fruit options which I particularly enjoy. Along with Thang II (which I'll cover later in this series) in this same aforementioned shopping center, they are probably two of my favorite fresh fruit bubble drink locations around. Here's a look at their Strawberry/Banana and Watermelon fresh fruit bubble drinks.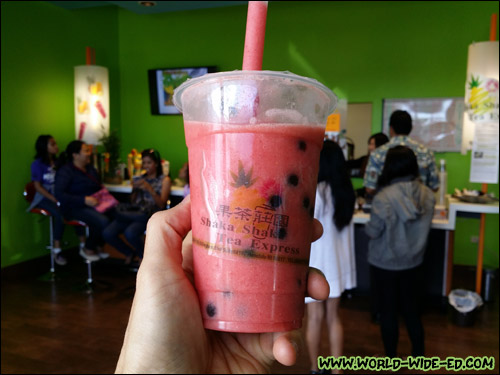 Strawberry/Banana Fresh Fruit Bubble Drink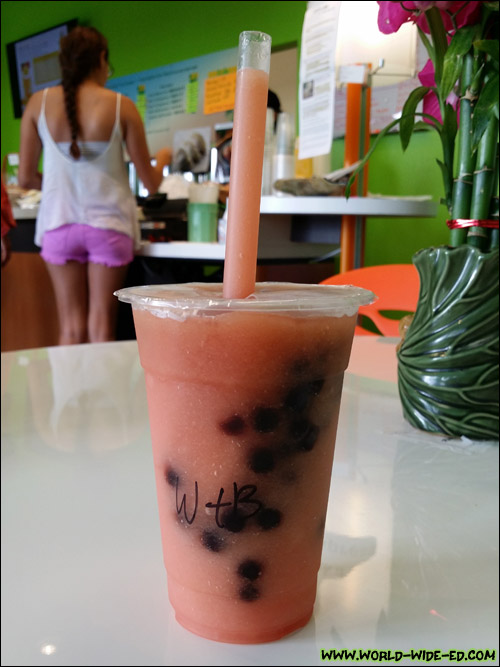 Watermelon Fresh Fruit Bubble Drink
And here's a shot of their milk tea.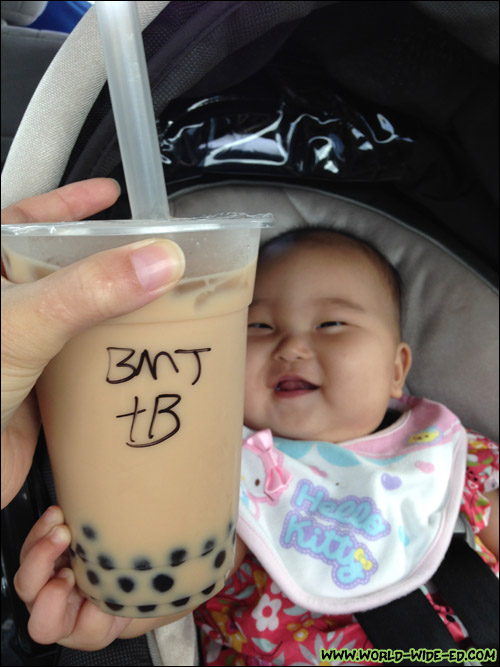 Can I get some tea & bubbles with my milk?
Oh great… She's passing the mania on…
Wife Says: "This place is near the top of my list. The milk tea is tasty and the service is always friendly & knowledgeable. They like to emphasize that they use natural ingredients. You can also customize the milk tea according to your taste and the lady (owner?) is very willing to help you make the right choice. The boba was made perfectly and was soft & chewy! I love that they offer a stamp card and encourage people to come back."
Shaka Shaka Tea Express
City Square Shopping Center (TWC WiFi Here!)
1199 Dillingham Blvd A, Ste 107
Honolulu, HI 96817
(808) 377-1583
Mon-Fri: 8am-8pm
Sat-Sun: 9am-9pm
Like the various features I did for poke (Poke Paradise – Experiencing the Best Poke Around Hawaii), ramen (Hawaii Ramen Quest), shave ice (Shave Ice Ice Baby), pho (Pho Fantasy – A Tour of Hawaii's Favorite Pho Restaurants) and açai (Açai in Hawaii), this bubble tea series is going to be fun, especially for the wife. She's already starting to use it as an excuse to drink even more! "Don't you have to 'research'?"
Oh boy.
Like I said, she be one crazed bubble gulp'n momma! To be continued…