We continue our epic bubble tea journey with 5 more milk tea establishments located in town.
Dragon Tea
We found out about this hidden gem after the wife saw her friend post a drink photo on Instagram. Since we hardly ever go to Waiks, we thought it would be some time until we got to visit and taste what Dragon Tea had to offer. Luckily, my clothing company (VH07V) got the wonderful opportunity to vend at the popular Waikiki SPAM Jam festival again, so we decided to grab a hotel at the Outrigger Waikiki for the weekend to have a mini staycation since we would be there anyway.
First stop? Dragon Tea!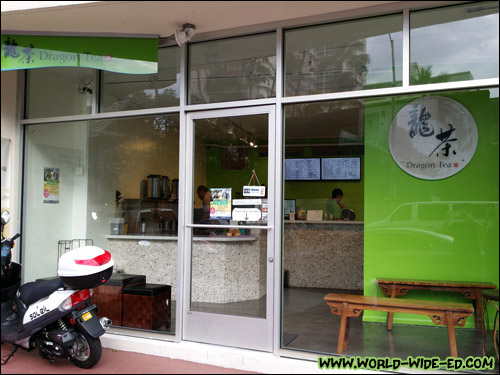 Outside Dragon Tea in Waikiki
This cute little shop is tucked away on a side street (Nahua off Kuhio, behind the old International Market Place) on the ground floor of the Aqua Waikiki Pearl. Pearl? Coincidence? I think not! 😛 The staff is friendly and the prices are reasonable (16oz for $3.35 or 22oz for $4.35).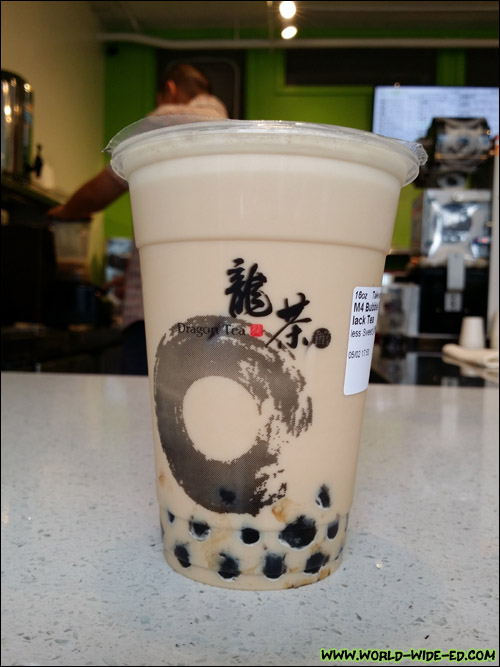 16oz Black Milk Tea with Tapioka ($3.35)
They even have a loyalty stamp card (buy 8 cups, get 1 free), offer discounts and specials online and are active on social media. What's not to love?
Wife says: "I love the milk tea here! The creamy milk tea taste is very similar to kung fu tea. The boba is delicious – firm, but not too soft. This spot is perfect for all the Waikiki tourists – and refreshing after a hot day at the beach."
Dragon Tea
423 Nahua St
Honolulu, HI 96815 (Street View)
(808) 921-9988
10:30am-10:30pm Daily
Taste Tea
Our next stop is one many of you are probably very familiar with: Taste Tea near Ala Moana. With its recognizable sign off Kapiolani Boulevard (buggah even lights up at night!), Taste Tea is tough to miss.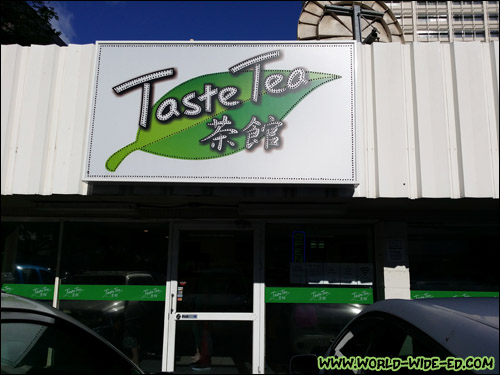 Taste Tea Sign
Because of its convenient location, Taste Tea is often very crowded as well, so expect to hunt for parking and stand in line to get your fix.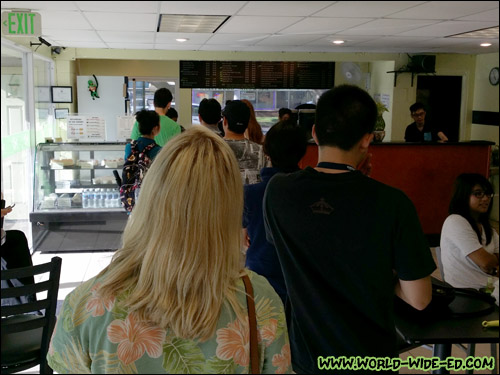 Line at Taste Tea
On my last visit there, I noticed that they had several new Milk Tea options like Strawberry, Honeydew, and Chocolate. Since Chocolate Milk Tea is one of my faves at Coffee or Tea? (see Part I),  I figured I'd give it a whirl here. Of course, as luck would have it, they were out when I tried to order it.
Taste Tea was one of the first places that offered its patrons varying serving options like Sweetness Level (Unsweetened–>Light Sweet–>Half Sweet–>Less Sweet–>Regular Sweet–>Extra Sweet), Ice Level (Less Ice–>Regular Ice–>Extra Ice) and Tapioka size (Small or Big), and even lets you taste your tea (hence their name) and approve of it before serving you the full portion. Pretty good service for those who are unsure of what sweetness level is right for them.
The down side to all of these options – at least in my experience – is that they seem to run out of the more popular Big size Tapioca quite often. I've been there two or three times when all they had to offer was the Small size, and IMHO, the small tapioca balls just don't do it for me.
To show the difference between the two though, I took one for the team and ordered one in each option (small and big tapioca). You're welcome. 😉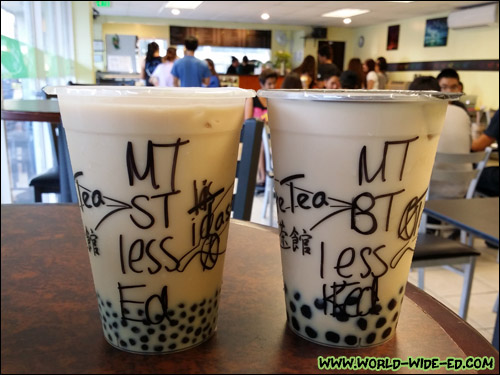 MT = Milk Tea, ST = Small Tapioca, BT = Big Tapioca, Less=Less Sweet, Ed = Ed. Not sure who Ted is. 😉
Just like in part I, the boss, er wife has the last say, so here ya go…
Wife says: "I understand why this place is so popular: Customizable tea drinks, large variety of tea options & friendly service! This milk tea is one of my favorites! I love that you can order your drink exactly the way you want it. Drink options include everything from the amount of sugar to the size of the boba. The mini bobas are popular, but I still prefer the regular boba size (mostly because it seems like I'm swallowing the mini ones!).  I also like that you can sample the drink before they seal your cup. You can't go wrong!"
Taste Tea
1391 Kapiolani Blvd, Suite 105
Honolulu, HI 96814 (Street View)
(808) 951-8288
Mon-Thu: 10am-10:30pm
Fri-Sat: 10am-11:30pm
Sun: 10:30am-10:30pm
City Cafe
City Cafe was actually a recommendation from my social media friend Nat Nishida (@nanigurl) who read the first part in this series.
@worldwideed Great article – can't wait to see who makes it in Part II and III. Have you tried City Cafe's milk tea? It's one of my faves!

— nanigurl (@nanigurl) May 6, 2014
We've been to City Cafe years ago (when wife was preggers with #1), but only to eat their popular Taiwanese Shave Ice. Nat is a bit of a foodie herself so I had to jump on that recommendation real-quick-like.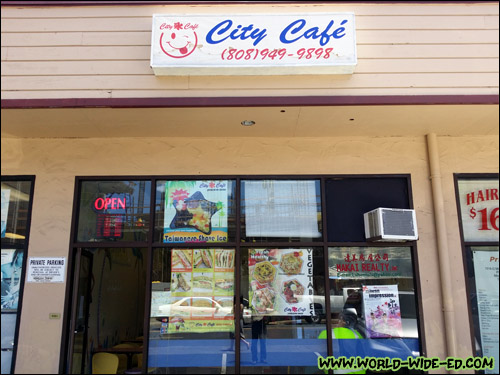 Outside City Cafe
To me, the Black Milk Tea tasted almost exactly like the one from Coffee or Tea?, which is a Facebook thumbs up in my book.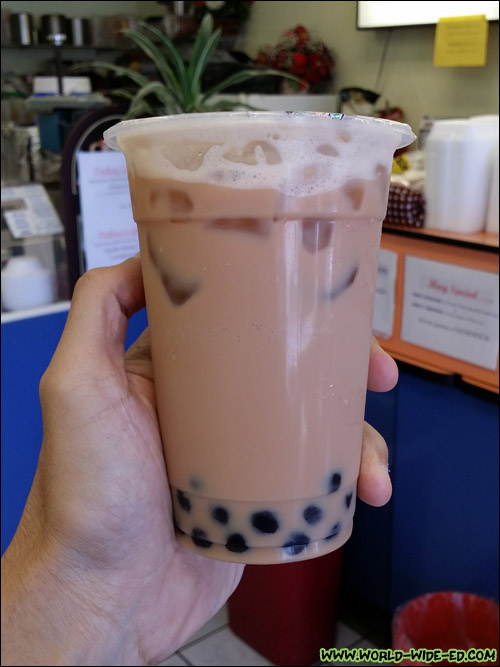 Tall Black Milk Tea from City Cafe ($2.63 + $0.72 for tapioka)
Wife Says: "This cute little shop makes some surprisingly good tea drinks! The milk tea has a stronger tea flavor than others I've tasted, but it's still taste great! The boba is soft, too. I can't say that this place is my favorite milk tea shop, but it definitely tastes authentic. I'll have to give it another try again!"
For the final portion in this part of the series, I'll be featuring two shops that specialize in fresh fruit based bubble drinks (although they do carry blended milk tea options). As a result, there will be no quotes from the wife, for, as we know, no milk tea = no wife. 8)
As mentioned in Part I, City Square Shopping Center alone has three different bubble drink specialty stores. We already mentioned Shaka Shaka Tea Express in part I. Following are the other two.
City Cafe
1518-F Makaloa St
Honolulu, HI 96814 (Street View)
(808) 398-7598
Mon-Fri: 10am-6pm
Sat: 11am-6pm
Sun: Closed
Thang II
Thang II is the second location of the popular Thang Coffee & Bubble Tea in Chinatown off Maunakea Street. Conveniently located in City Square Shopping Center, Thang II serves up a wide variety of bubble drinks and snacks.
Quite possibly my favorite fresh fruit bubble drink on the island is their #1 choice, the Pineapple Bubble Drink.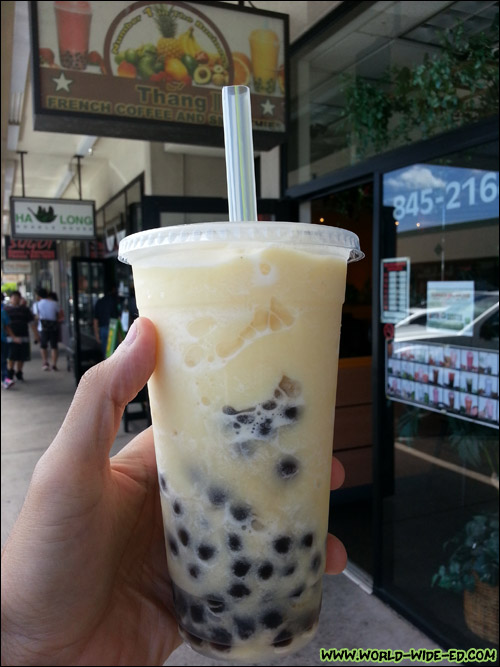 Pineapple Bubble Drink from Thang II
I've also tried their Strawberry version, which is also quite delish.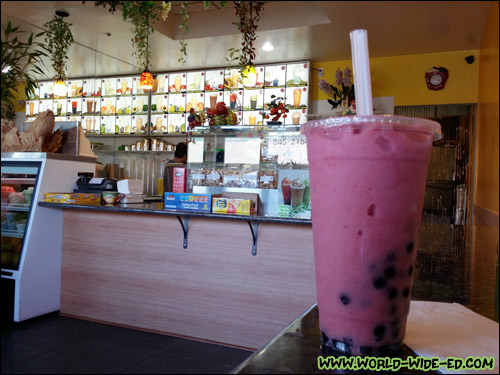 Strawberry Bubble Drink from Thang II
The drinks only come in one (rather large) size, so be sure you're thirsty before picking yours up!
Thang II
City Square Shopping Center  (TWC WiFi Here!)
1287 Kalani St
Honolulu, HI 96817 (Street View)
(808) 845-2164
Mon-Sat: 8:30am-6:30pm
Sun: 10am-3pm
Sweet Fantasies
Rounding out part II is a relative newcomer to the scene: Sweet Fantasies, which is literally right next to Shaka Shaka Tea Express!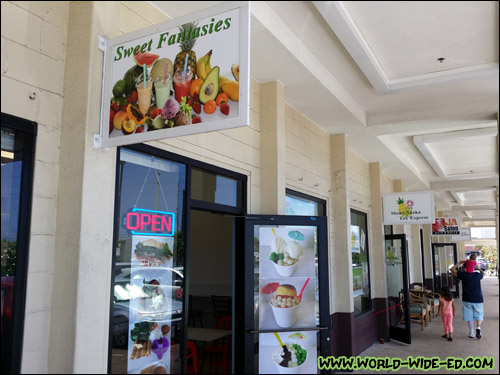 Outside Sweet Fantasies
In addition to their bubble drink options, they also offer sandwiches, salads, spring rolls, shave ice, and a whole freezer's worth of ice cream!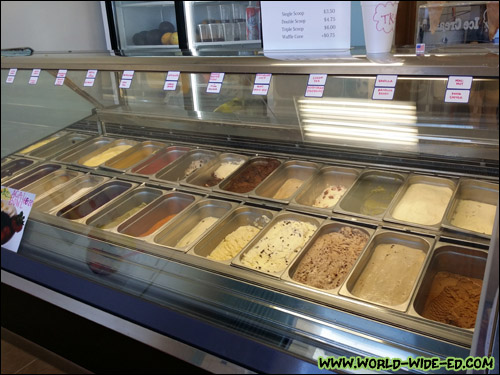 Ice Cream at Sweet Fantasies
But back to the business at hand. We're here for the bubbles!
Since there was no wife present, I "cheated" on her and went for the fresh fruit, Blueberry Bubble Drink variety. It was good, but a little too sweet for my tastes.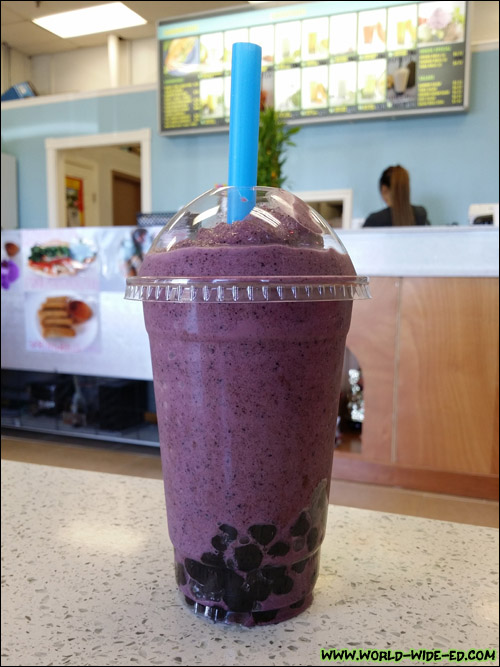 Blueberry Bubble Drink from Sweet Fantasies ($3.99)
Sweet Fantasies
City Square Shopping Center (TWC WiFi Here!)
1199 Dillingham Blvd
Honolulu, HI 96817 (Street View)
9am-7pm Daily
Next month, we'll be headed to the wessssiiiide of Oahu to review Tea Time, HulaShake, Hula Boba, HI Sandwich & Drink, Lyndliz and the brand spankin' new, second Coffee or Tea? location in Pearl Kai Shopping Center. Coincidence? I think not!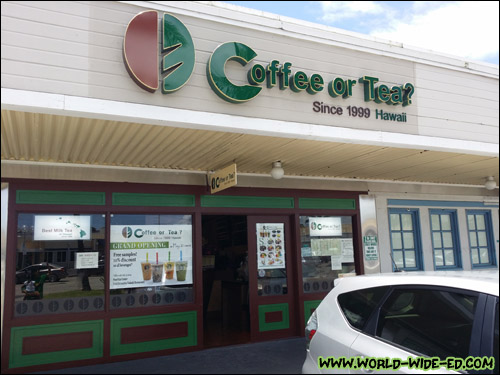 Brand New Coffee or Tea? Location at Pearl Kai Shopping Center