Whenever I mention Ethel's Grill to anyone, the reaction goes one of two ways: sheer excitement, or sheer confusion. Most people either really adore the old school Kalihi eatery or have no idea what I'm talking 'bout (Willis).
Back in the day, when I used to go golfing with my dad and my buddy Reid, we would hit up Ethel's as our 19th hole. The old school charm and literal "hole-in-the-wall" vibe it gave off was fun and tear-jerkingly nostalgic.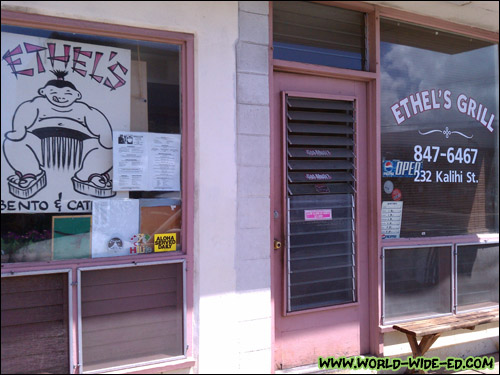 Outside Ethel's Grill in Kalihi
The food was grindz fo sho, but I never really had that "sheer excitement" sensation that many do… until a recent trip there brought me back to those 19th hole days.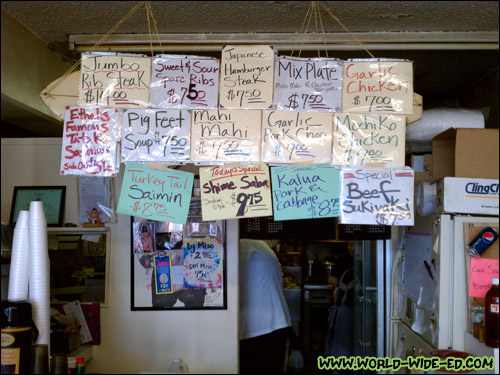 The menu inside Ethel's
A business meeting with a friend Jon, who is ironically, my golfing buddy Reid's first cousin, brought me back to Ethel's for the first time in years. I wanted to chat with Jon about some possible synergies between his company and Oceanic Mobile and since Ethel's is somewhat near his workplace, he suggested we go there. Loves it!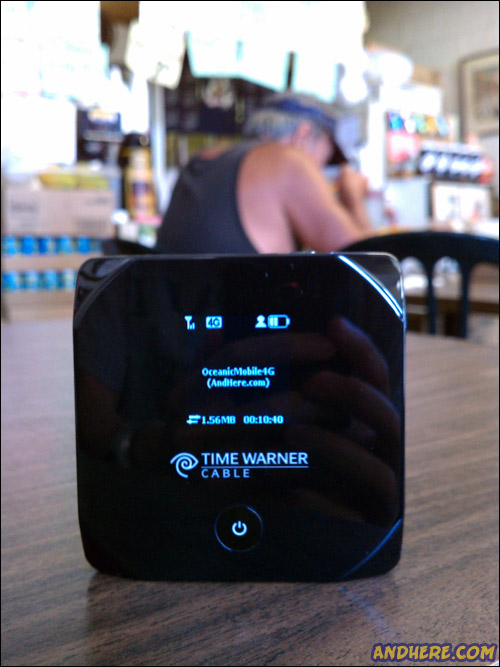 Oceanic Mobile Works at Ethel's Grill
Jon is a regular there. He knew Ryoko "Ethel" Ishii (owner) and all da oddah uncles and aunties working that day so we were hooked up with all kine stuffs, including a bag of andagi and a complimentary order of their famous tataki sashimi.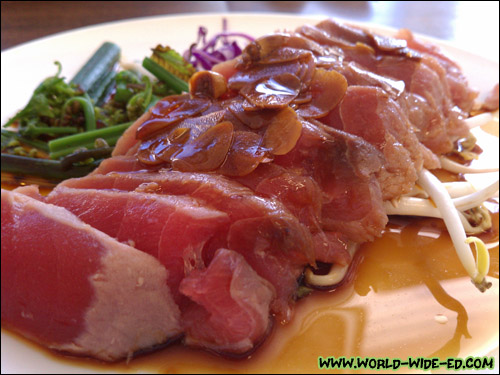 Ethel's Famous Tataki Sashimi – fresh tuna lightly seared served on a bed of bean sprouts and drizzled with sesame oil and Ethel's Garlic-Shoyu Sauce ($5)
Jon ordered the Mochiko Chicken and I ordered the Japanese Hamburger Steak, which are both very popular dishes here.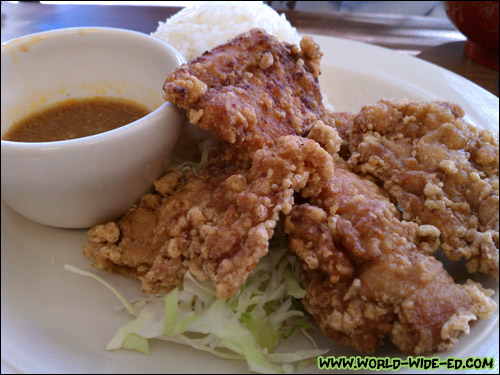 Mochiko Chicken – Crispy Mochiko fried chicken served with Ethel's Ginger-Ponzu dipping sauce ($7)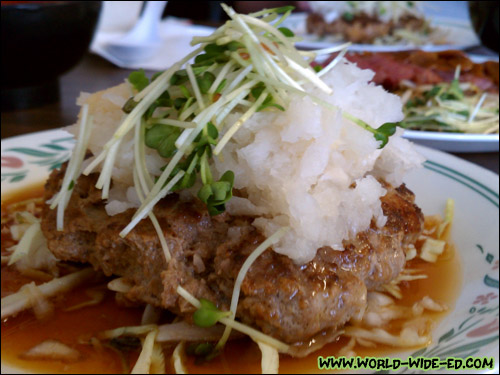 Japanese Hamburger Steak – Home-style hamburger patty topped with grated daikon, daikon sprouts, and tangy Ponzu sauce ($7.50)
Each lunch order includes rice, miso soup, green salad and a choice of punch or iced tea (with one free refill).

Green salad and miso soup
Here's a panning video of the salad, miso soup, Tataki Sashimi and my Japanese Hamburger Steak.

Food from Ethel's Grill
On the other end of the spectrum, there's my friend Rick. He had never been to or even heard about Ethel's. So when I suggested we go there after helping him out with his Lanakila Meals on Wheels route one day, it was safe to say that he fell under the "sheer confusion" group I mentioned earlier.
Needless to say, we went and he enjoyed himself. So much so that when I tried to take a picture of him, he wouldn't sit still as he was too busy stuffing his face.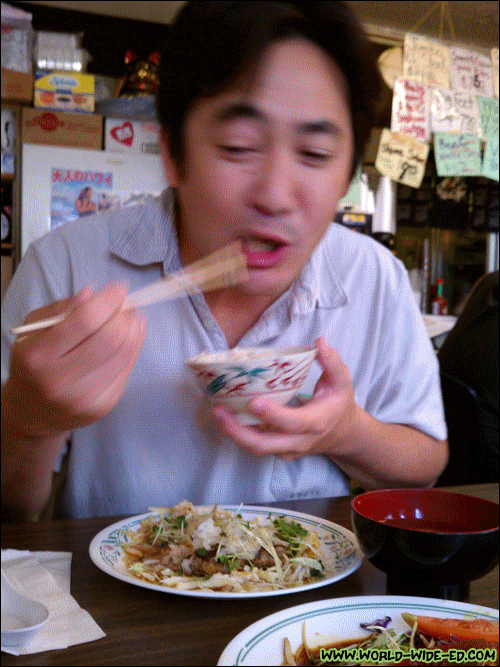 Rick enjoying his meals at Ethel's
So whether you're a Jon or a Rick, Ethel's Grill is a great place to grab some super ono, local, Japanese style eats. Just be prepared for limited parking (small apartment building lot in a busy industrial area) and a long wait (only 20-ish seats max).
Ethel's Grill
232 Kalihi St
Honolulu, HI 96819
(808) 847-6467
Mon-Sat: 5:30am-2pm