Although varying in sizes and flavors, many of the ramen shops we covered in this series have one thing in common: their noodles are supplied by the same, local, noodle factory based right here in Hawaii. So what better way to close this series out than with where ramen in Hawaii all begins… Sun Noodle.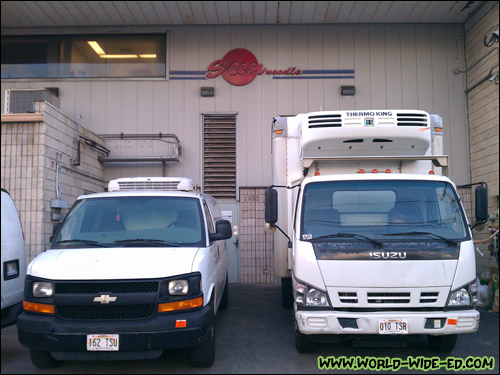 Outside Sun Noodle's Honolulu Factory
At the helm of it all is Sun Noodle Founder and President Mr. Hidehito Uki who started the business more than 30 years ago (founded way back on July 10, 1981). Uki-san in fact comes from a noodle making bloodline. His family had a fresh noodle making "ya" (store) in the Tochigi Prefecture (then) named the Ikeda Noodle Company. Here, he perfected the art of "men" before moving to Hawaii.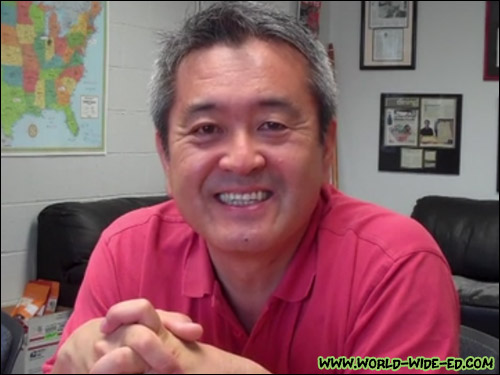 Sun Noodle President Mr. Hidehito Uki
While studying ESL (English as a Second Language) here at Hawaii Pacific University (Hawaii Pacific College at the time), he would often eat at local ramen shops looking for a place that reminded him of home. Frustrated, he set out to do something about it and that's how Sun Noodle was born.
"There's nothing more powerful than the sun. When you think of Hawaii, you think of the sun. That's why I named the business Sun Noodle."
His 10,000 square foot Honolulu factory on Colburn Street can produce up to 30,000 servings of raw noodles per 8 hour day. They churn out over 100 products like yakisoba, udon, chow fun, pancit, gyoza and won ton wrappers, and, for ramen alone, they make over 30 different styles!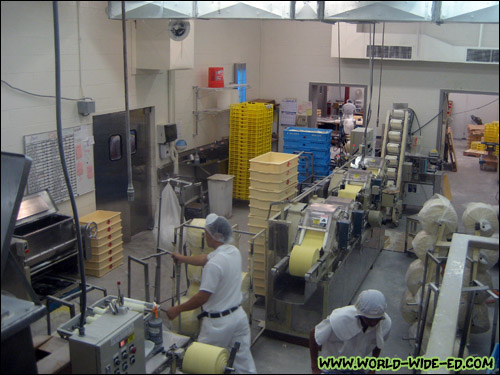 Overlooking the Sun Noodle factory from above
Amazingly, even with that many choices, Mr. Uki's philosophy is that every noodle order must be custom made for his clients based, on the flavor of their soup.
"Every soup our customer makes is their personality. The noodles and the soup have to have a nice combination. Even if you make good noodles and good soup, if it doesn't match, it's no good. That's why we go out there and taste the soup from each client and try to figure out what noodle would go best with that particular soup. We keep trying until we get it right. Sometimes I spend months to find the perfect noodle to match their soup."
Most of his factory's noodles start with the same base: flour, water, salt and potassium carbonate. It is the variances in flour type and water that makes all the difference.
"We are lucky to have good water here in Hawaii. It makes good noodles."
The ingredients are thrown in (by hand) to a large vat…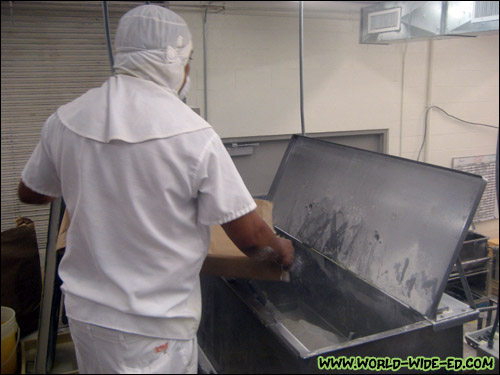 Sun Noodle employee throwing in the ingredients for this batch of noodles
… where it is mixed together…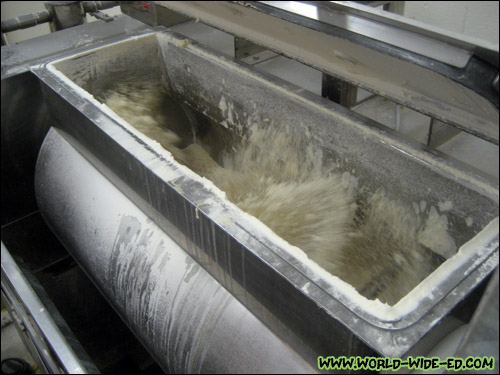 Ingredients are mixed together
… and flattened into a thin sheet by automated machinery. Large rolls of these flattened concoctions are then fed into another machine…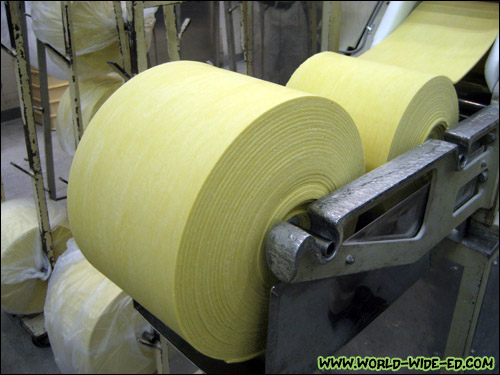 Large flour rolls feeding into the machine that cuts them into noodles
… which slices and dices them into their famous noodle shape.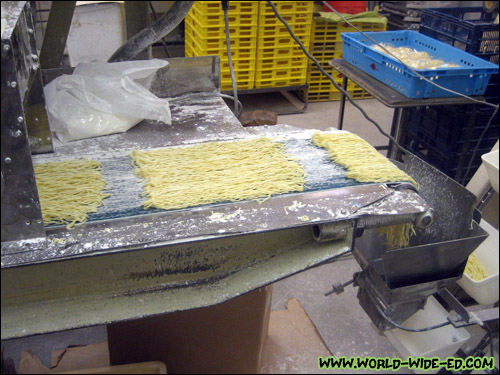 Where noodles are cut into their famous shape(s)
Some are straight, some are wavy, and some even have a different color to them (based on the type of flour). Here's a batch of noodles being prepared for Zippy's Restaurants' famous Zip Min.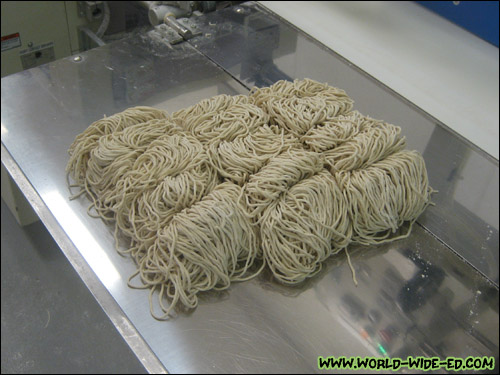 Noodles for Zippy's Restaurants' Zip Min
Depending on what is being made, the noodles are then either packaged right there or sent off to the steaming/cooking room where they (usually yakisoba or udon) take a bath before being packaged.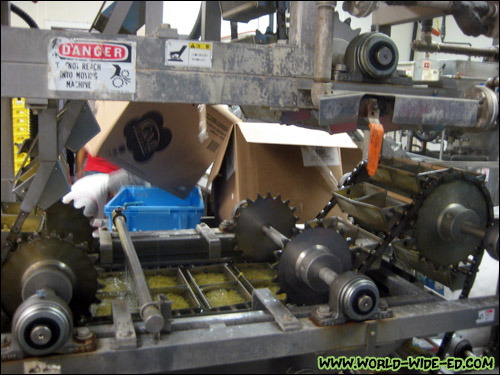 Trays of yakisoba noodles are cooked in hot water before being packaged
For a while, he tried to service his mainland customers out of this factory alone, but it proved to be a difficult task with them being spread throughout California, Washington, Nevada, Vancouver BC (Canada), and parts of the East Coast. Ultimately, in order to provide the freshest noodles possible to his mainland customers, he decided to open up another factory in the greater Los Angeles area (on W Mahalo Place ironically) in 2004. Not satisfied, he will soon open up another factory in the New Jersey area so that his East Coast customers and their clientele get the freshest Sun Noodles they can get.
"Providing fresh noodle is the best! Instead of making the noodles in L.A., freezing it, and shipping it to the East Coast, we decided to make a factory in the East Coast so we can provide the freshest noodles possible."
During the tour, I asked Mr. Uki what he thought of Saimin (compared to ramen), and his answer, which I really enjoyed, gave me that ultimate "a-ha" moment.
"Each area in Japan has their own, unique style of ramen. Kyushu has Hakata style (tonkotsu), Hokkaido has Sapporo style (miso)… Saimin is Hawaii's style of ramen."
I never thought of it that way, but it's very true! I now have a new found appreciation for saimin. Being from Hawaii, I'm required to be proud of it. 😉
I also asked him what his thoughts were on slurping as a custom. I once asked my parents (who are also from Japan) why people slurp so loudly when eating their ramen. They told me that it is a sign of respect and appreciation for the ramen chef. It tells them that the noodles are delicious and is the ultimate compliment you can give to them. Mr. Uki had a different explanation:
"It looks tasty if you slurp your noodles. If you don't smell the noodles, you can't taste it. Of course, when you slurp, you bring in the air, which is important to help you smell and taste the ramen. Nowadays, even the non-Japanese community is starting to slurp their noodles."
In my brief conversation with Mr. Uki, I could tell that his passion for noodles ran deep.
"We try to make the best noodle possible. We will try to make best noodle market in Hawaii for everybody to enjoy ramen."
He truly loves what he does and best exemplifies what I love so much about ramen: a warm base with humble beginnings… Here's to another 30 years!
Mahalo for following along during this obsessive, noodle & soup-filled expedition. Although the Hawaii Ramen Quest series has come to an end, the journey continues. See y'all at the next ramen stop!
Note: R.I.P. to Hawaii Journalism legend Mr. John Heckathorn who also covered Hidehito Uki and Sun Noodle in his noodle series: "In Search of the Ultimate Noodle".