The last time I wrote an article devoted to the ono grindz of our 9th island of "Lost Wages", Crash won Best Picture at the Academy Awards and George W Bush was our President. It was actually my very first foray into food articles at AroundHawaii (way back in April of '06) and was aptly titled "Vegas Kine Grindz". Let's take a stroll down memory lane shmall kine and continue the series with part II, an almost 6 years later!
Since we literally just completed a 5-part series on Hawaii's best ramen, and my brain can't function any other way yet 😛 , let's start off this trip with one of Las Vegas' best ramens…
Monta Japanese Noodle House
Located conveniently on Spring Mountain Road, this popular noodle house regularly receives rave reviews from tourists and locals alike.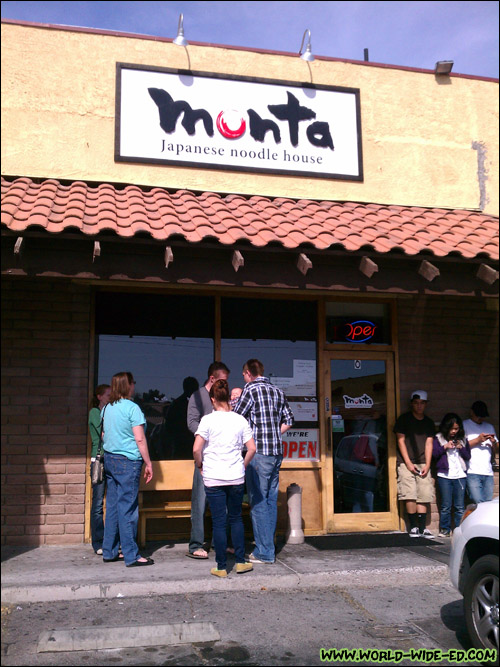 Outside Monta Japanese Noodle House. Expect to wait in a line.
Before we left, my friend Dave's friend recommended Monta, as did my friend and co-worker Shane. On this occasion, we were taken by Jeff, an old high school classmate turned Las Vegas resident. He says he goes there at least once a week and is practically an expert when ordering his bowl.

Shoyu Ramen ($6.95) with extra Chashu Pork ($2.50) and two Nitamago (soft boiled egg) ($1.50 each) [Photo Credit: Jeff Hee]
If you've been following my ramen series for the last 5 months, you'll know that I'm a tonkotsu fiend, so there really was no other option for me.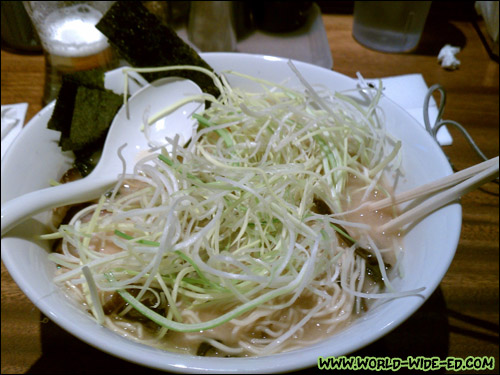 Tonkotsu Ramen ($6.95) with Nitamago ($1.50), Nori ($0.75) and Shredded Green Onion ($0.75)
If you're a big eater, portions are relatively small here. I would recommend saving some soup at the end and going for the Kaedama (extra order of noodles) for an additional $1.50.
Your other options here for ramen are Tonkotsu-Shoyu ($6.95) and Miso ($7.25), and for Toppings, Takana Mustard Leaf ($1.50), Kimchi ($1), Corn ($0.50) and Butter ($0.50).
Here's their complete menu: http://www.montaramen.com/menu.php
I would rate this as one of the top 3 ramens I've ever had in the U.S. Yes, it's THAT good. The tonkotsu broth is legit, and the Chashu pork melts in and "brokes" your mout' at the same time! 😉 This is a MUST visit on every Vegas trip.
Monta Japanese Noodle House
5030 Spring Mountain Road Suite 6
Las Vegas, Nevada 89146 (Street View)
(702) 367-4600
Daily: 11:30am-11pm
Secret Pizza (No Name Pizza Kitchen)
When a place has no signage to speak of and goes by the name of "Secret Pizza", you know you're onto something good. In fact, the only way people know about this place is by word of mouth. Heck, they even answer the phone with a plain & simple "Pizzeria"! I was super excited to eat there, primarily because of the mysteriousness of it all.
The entrance doesn't look like much of anything and is pretty much just a dark hallway. You would probably walk right past it if you weren't paying attention.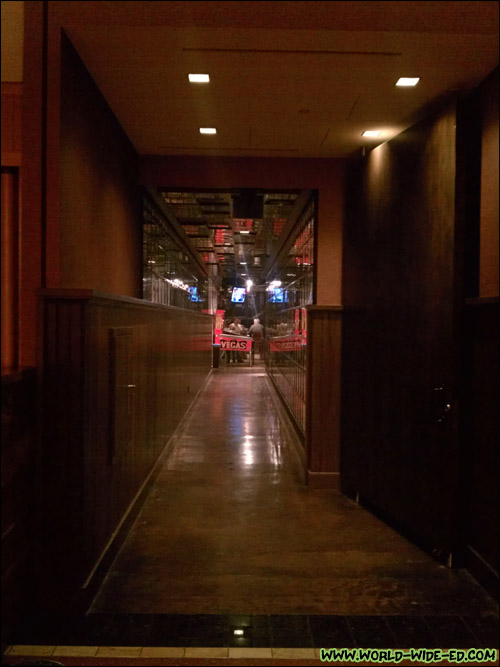 Dark, inconspicuous entrance to Secret Pizza with no signage to speak of
Also known as the "No Name Pizza Kitchen" (NNPK), you'll be sure to find the makings of a traditional pizza kitchen at the end of the hall, in addition to a long line of "in-the-know" patrons.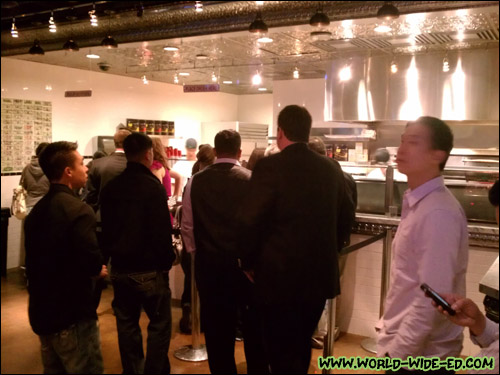 The line inside Secret Pizza
I'm not really a big pizza eater, but these pie slices literally had me panting for more. The first night I had their sausage and jalapeno slice, and the next night (yes, we went twice! 😉 ), I picked up a mushroom pepperoni slice.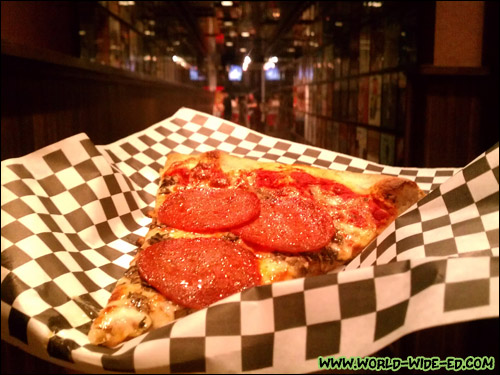 My mushroom, pepperoni slice ($4.50)
You can customize any slice of pizza for $0.50 additional per topping. Also popular is their "White" pizzas which have ricotta cheese and no red sauce. They go for $5 a slice.
Rumor has it that all of the ingredients for the pizza are actually homemade right here in the kitchen and restaurants from other hotels & casinos actually buy their ingredients from them. Another rumor is that they only use Evian water when mixing their dough. Not too sure how true these rumors are, but the pizza was really dang good!
Secret Pizza, aka No Name Pizza Kitchen, aka NNPK
At the Cosmopolitan of Las Vegas
3708 Las Vegas Blvd S
Las Vegas, NV 89109 (Street View)
(702) 698-7000
Fri-Mon: 11am-5am
Tue-Thu: 11am-4am
Sushi Mon
All-you-can-eats in Las Vegas is like saying beaches in Hawaii. You'll find them everywhere, some better than others. Sushi Mon is one of those popular all-you-can-eats off the strip that is still reasonable and maintains good quality.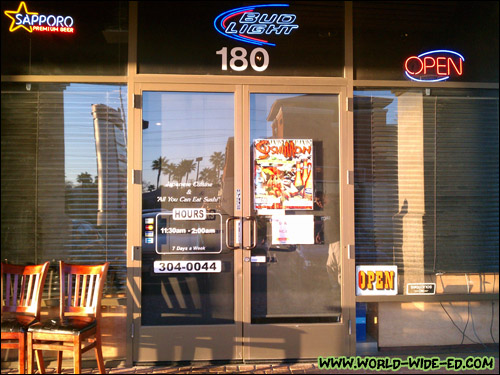 Outside Sushi Mon
There were 7 of us there that night for the $26.95 All You Can Eat Dinner special, so I'm sure they were a bit afraid of the damage we were about to cause. They churned out order after order like champs though (and fast!) so mad props to them. Here's some of what we ordered that night as well as from a previous visit there.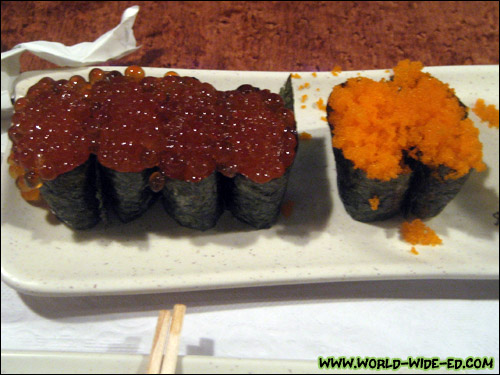 2 orders of Ikura (salmon roe) and 2 orders of Masago (smelt egg)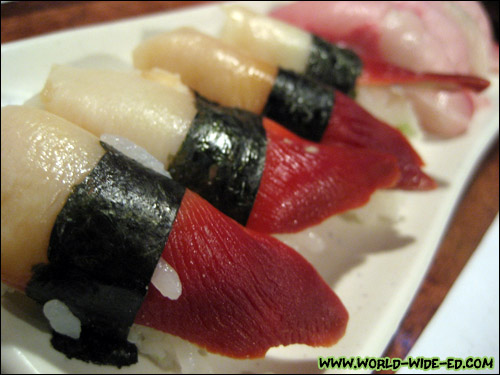 2 orders of Hokkigai (surf clam) and 2 orders of Hamachi (yellowtail tuna)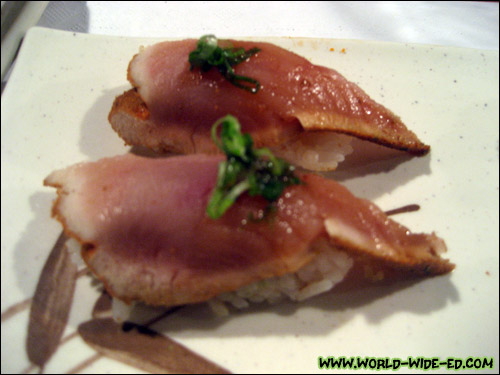 Their popular Cajun Albacore sushi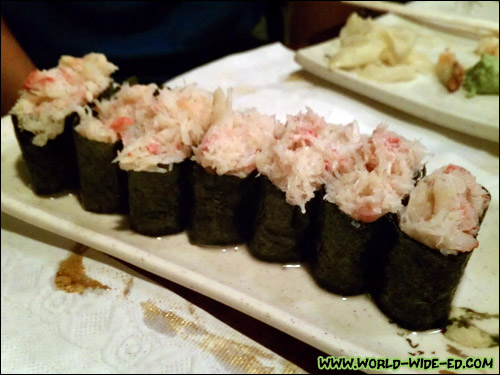 Snow Crab Meat Sushi (you're only allowed one order per person)
Ed's Tip: Be aware that you only have a 60 minute time limit here, but as mentioned above, the chefs here churned out our orders pretty quickly so it was never an issue for us.
Sushi Mon
8320 W Sahara Ave, Suite 180
Las Vegas, NV 89117 (Street View)
(702) 304-0044
Daily: 11:30am-2am
@SushiMonVegas
Hikari Japanese Steakhouse & Sushi Bar
In the mood for sushi again, 5 of us headed to a placed called Hikari, based on a tip we got.

Outside Hikari Japanese Steakhouse & Sushi Bar
You can actually get all you can eat steak here too, but you have to choose one or the other. We opted for the $26.95 sushi route.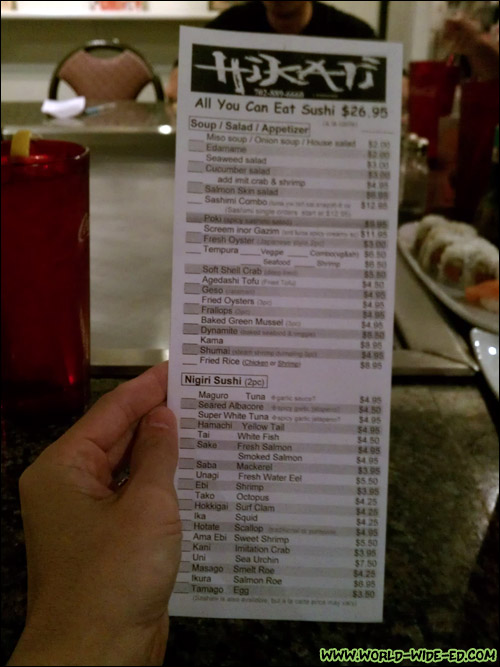 All you can eat sushi menu from Hikari
Although they were out of a few items (as was Sushi Mon), the choices here seem to be a little deeper. Here are some highlights of the choices we went with.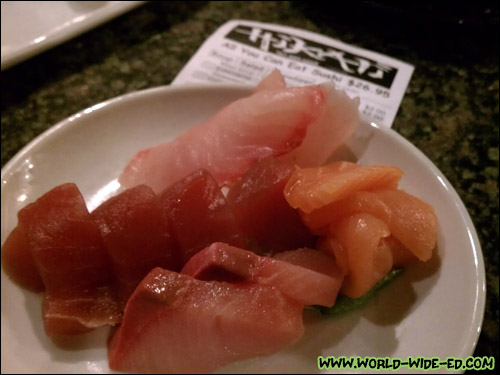 Sashimi combo
Raw fish without the rice is always a good thing during all-you-can-eat dining! 8)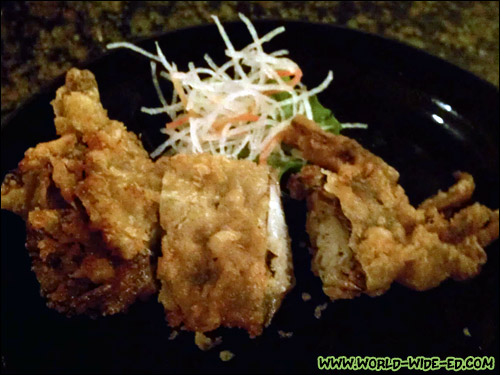 Soft Shell Crab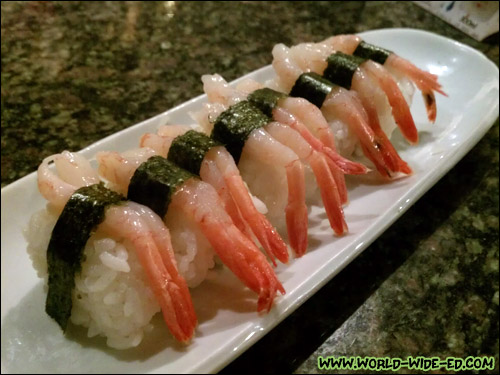 Amaebi sushi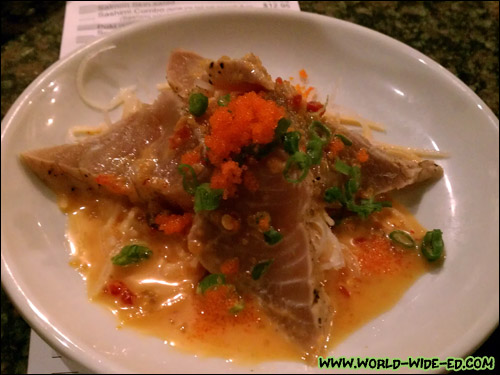 Screem Inor Gazim
Hikari
4175 S Buffalo Drive
Las Vegas, NV 89147 (Street View)
(702) 889-6660
Daily: 5pm-2am
And finally, we'll close things out with a sweet sandwich find for this sandwich obsessed lover.
Capriotti's Sandwich Shop
Capriotti's is a franchise sandwich shop with 75 locations across the U.S. (32 in Nevada alone). My friend's wife swears by their Capastrami subs (Hot pastrami, Swiss cheese, Russian dressing, and cole slaw), so we had to go and check it out.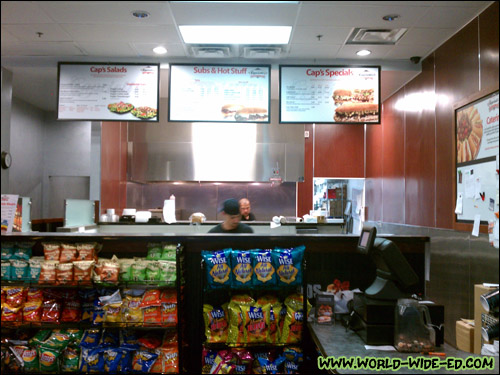 Capriotti's sandwich making station
We visited the Paradise Road location right near our hotel at the Hard Rock. In addition to the Capastrami, the New Jersey sounding guy taking our order (whom I assumed to be the owner), suggested the Bobbie (The nationally acclaimed best-seller! Hand-pulled, slow roasted, homemade Turkey, fresh cranberry sauce, homemade stuffing and mayo).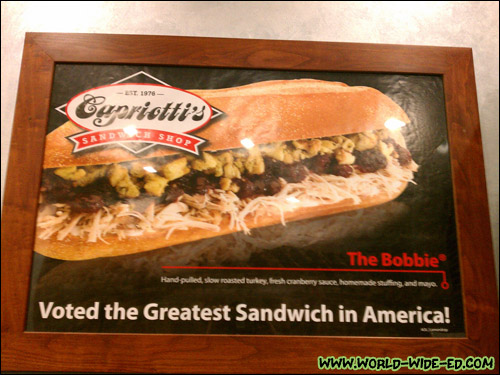 Special sign for the Bobbie
Here's a cross sectional look at the sandwich.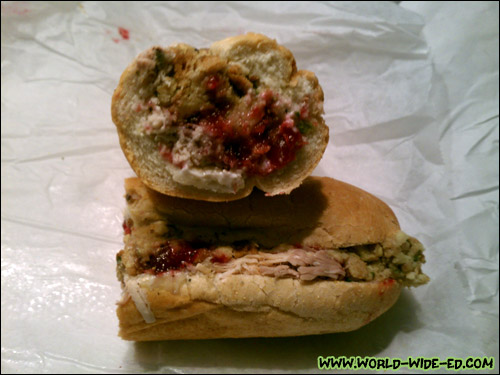 The Bobbie from Capriotti's
Buggah was grindz! I gotta go back and try some of their other subs!
Capriotti's Sandwich Shop
4480 Paradise Road
Las Vegas, NV 89169 (Street View)
(702) 736-6166
Mon-Fri: 10am-7pm
Sat-Sun: 11am-5pm
@capriottis
The primary reason for this trip was to celebrate the engagement of my brother-in-law Lee, bachelor party style. Congratulations bro!!!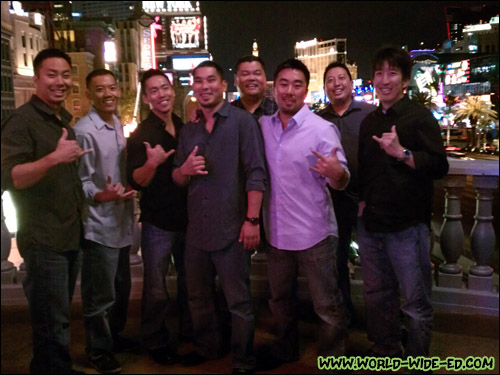 Da boyz celebrating Lee's final days as a single bachelor
Now… If we can ever find a bride for my friend Todd (center), we can work on Vegas Kine Grindz – Part III. I wouldn't hold your breath though. That may take more than 6 years… 😉