Yeah, I know "Mamma Mia!" is an Italian phrase and this place I'm about to cover is not, but "Mamaya" is not exactly the easiest word to rhyme or come up with something clever for. It was either that or something to do with Papayas. 😛
We have a tradition in the Sugimoto household where we pack up our mat, drinks and selves, head to a favorite eatery to pick up lunch, and then head to Moanalua Gardens for a family picnic. One morning, the wife excitedly exclaimed that she wanted to pick up from this new place called Mamaya that recently (December, 2012) opened up in Pearl Kai Shopping Center. She heard about it from her mom and was particularly excited because it was the same bento company that serves up her favorites at Shirokiya's Yataimura.
As a fan of new eateries and not having to drive very far, I was intrigued. So off we went, with drinks and selves in tow.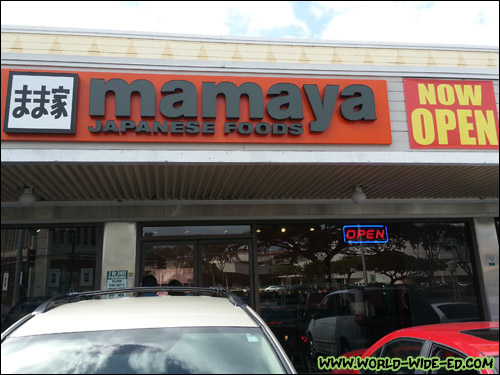 Mamaya Japanese Foods sign
It's located on the east end of the shopping center (to the left of Sprint, Kuru Kuru Sushi and Subway), where I believe BBQ Hut used to be.
When you first walk in, you'll notice a delicatessen style lineup on the right.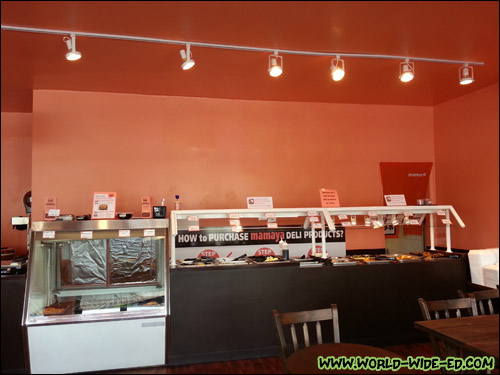 Delicatessen style options at Mamaya
Keeping things simple, everything from the "deli" – hot or cold – is Mix and Match style for $7.75 per pound. Here are the options we found that day.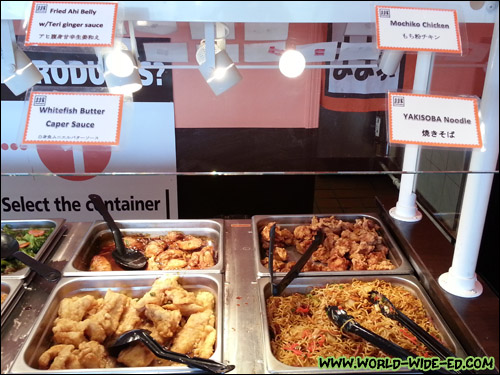 Fried Ahi Belly with Teri Ginger Sauce, Mochiko Chicken, Yakisoba Noodle, Whitefish with Butter Caper Sauce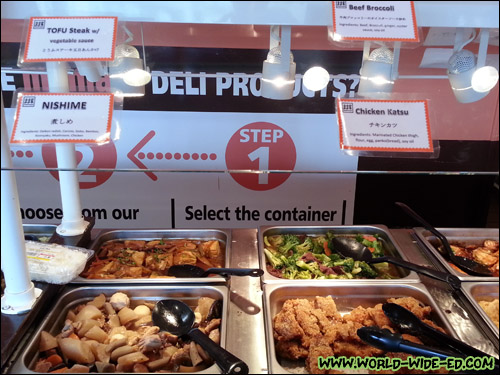 Tofu Steak with Vegetable Sauce, Beef Broccoli, Chicken Katsu, Nishime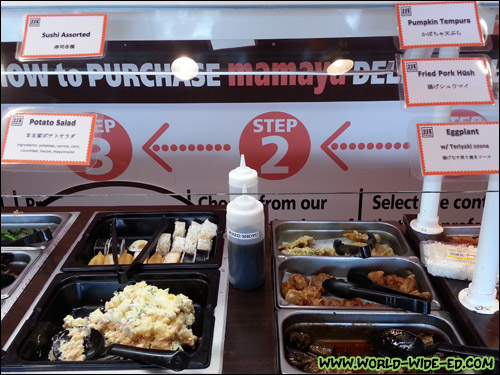 Assorted Sushi, Pumpkin Tempura, Fried Pork Hash, Eggplant with Teriyaki Sauce, Potato Salad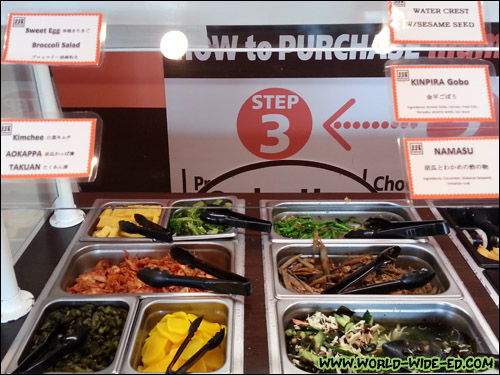 Sweet Egg, Broccoli Salad, Water Crest with Sesame Seed, Kinpira Gobo, Namasu, Takuan, Aokappa, Kim Chee
Then you move along to the left and find something unique.

Poke Bowls!
You can make a mini Poke Bowl for $5.75 or a regular sized Poke Bowl for $7.50 with your choice of rice (plain or multigrain). You can also go for the Mamaya Special Bowl for $8.25, where you can choose two kinds of Poke in addition to one side (Seaweed Salad or Won Bok Kim chee) with your rice. Looking at the per pound prices for the poke by itself ($14.50 for previously frozen ahi!), cost-wise, you're better off going with the bowl.
Just past the register, we get to the drinks and the prepackaged stuff. The neat thing about the bentos is that if you are looking for a particular kind or combo and they don't have it out, you can make a special request and they may be able to custom build your order (depending on supply) with a 10-20 minute waiting period. We were there just before lunch, and they were already decently wiped out. Luckily, we were able to find what we wanted. (Hint: the Misoyaki Butterfish and Mochiko Chicken are their popular items.) Here were some of the tasty looking options we found.

Mochiko Chicken Bento ($7.50)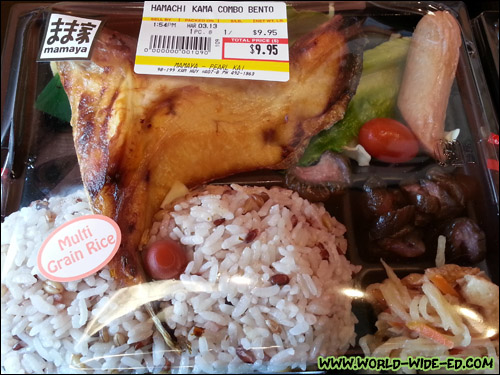 Hamachi Kama Combo Bento ($9.95)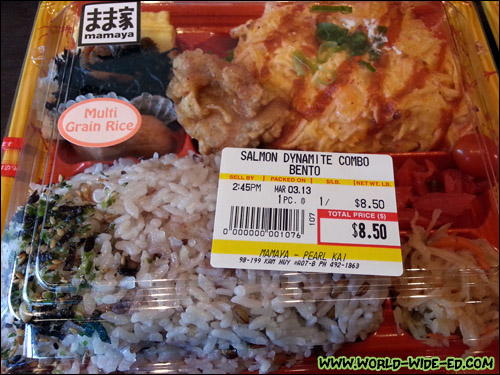 Salmon Dynamite Combo Bento ($8.50)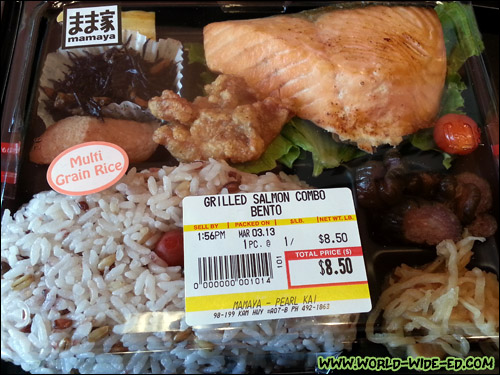 Grilled Salmon Combo Bento ($8.50)
They even have donburis, musubis, handrolls, chichidango and mochi, amongst other interesting items!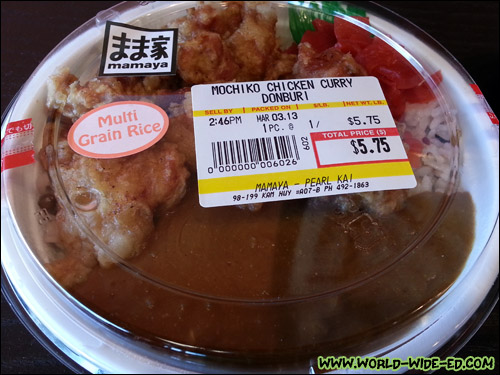 Mochiko Chicken Curry Donburi ($5.75)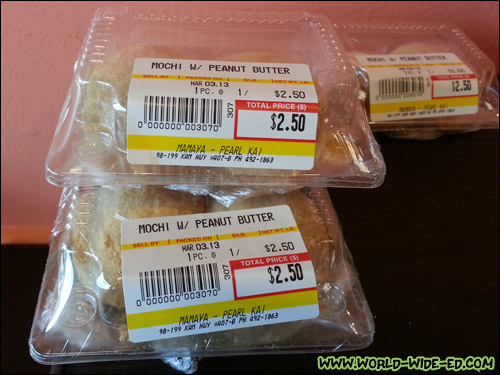 Mochi with Peanut Butter ($2.50)
Then we were off to Moanalua Gardens for our family picnic.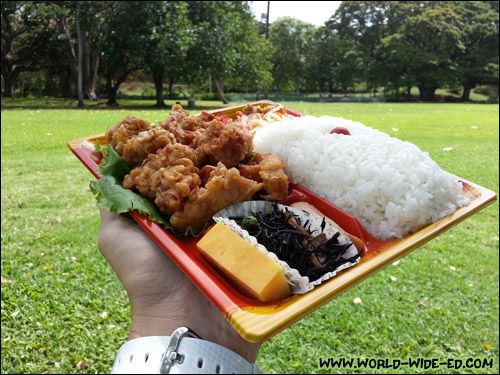 My Mochiko Chicken Bento at Moanalua Gardens
So if you're a born-again westsidah like me, check out their new, closer location at Pearl Kai Shopping Center, and then come meet us at Moanalua Gardens. Just be sure to bring some fruits too. I dunno, maybe some papayas?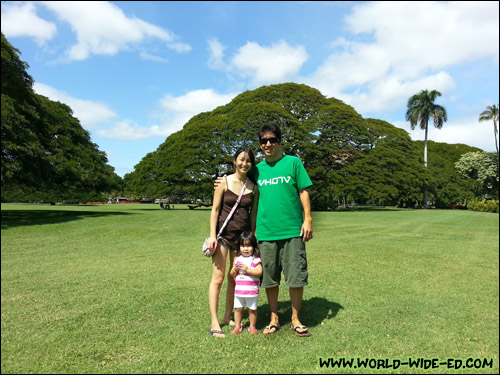 The fam
Mamaya
Pearl Kai Shopping Center
98-199 Kamehameha Hwy
Aiea, HI 96701 (Street View)
(808) 492-1863
Hours:
Mon-Sat 10am-7:30pm
Sun 10am-5pm
[youtube=http://www.youtube.com/watch?v=g6fspcsRH8U&w=500&h=400&rel=0] Tarp Surfing in Hawaii – VH07V Style (Click to Play!)