[Editor's Note: DASH Gastropub closed its doors on December 27, 2014]
Wikipedia defines the term "gastropub" as "a portmanteau of gastronomy and pub" and refers to a bar or restaurant that serves high-end beer and food. While gastronomy is the study of food and culture, with a particular focus on gourmet cuisine, a pub is not usually known for more than just beer and "bar food." So when you put the two together, it is quite the oxymoron that deserves further investigation.
Enter DASH Gastropub, the relatively new (they just celebrated their 1 year anniversary on Feb 10th), 5,000 square-foot hotspot located in the old American Savings Bank location on the corner of Young and McCully. As the first locale in Hawaii to use the term Gastropub in their name, it has come with a fair amount of self-appointed pressure. It is a powerful word with great responsibility, but they've definitely got all the right pieces in place to make it happen.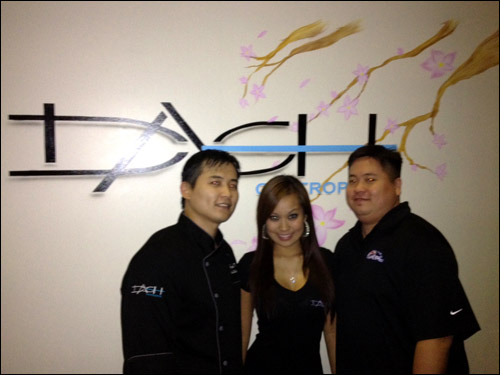 DASH Gastropub partners Hyuk Kim, Alysha Tanabe & Shane Tsubaki (Photo Courtesy: Shane Tsubaki)
DASH is actually an acronym made up of the four partners' first names. Along with a silent partner who wishes to remain anonymous, Alysha (Tanabe), Shane (Tsubaki) and Executive Chef Hyuk (Kim) have a wealth of knowledge and experience in the bar and food service industry with stints at places like Remedy Sports Lounge, Maile's Place, and the once uber popular Osake Sushi Bar & Sake Lounge. Well known food guru and local celebrity Grant Kawasaki (Hawaiian Grown TV & Hawaiian Grown Kitchen) also acts as a consultant here, so you know their food is always going to be on point.
As a lover of both food and beer, this concept of "gastropub-ery" is a dream come true. Here's a look at what we pounded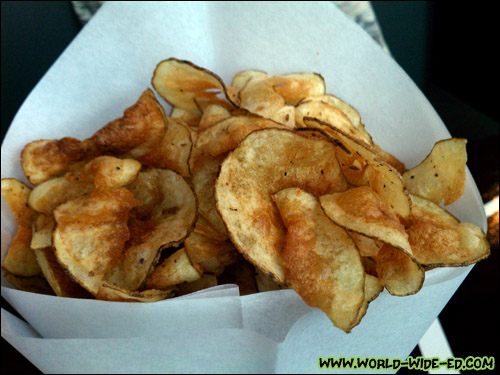 Home made Fresh Kettle Chips (Seasoned fresh cut potatoes fried golden brown and crispy served with strawberry guava ketchup – $7)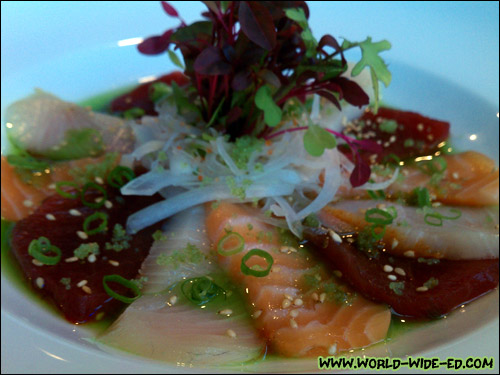 Rainbow Sashimi Special – $16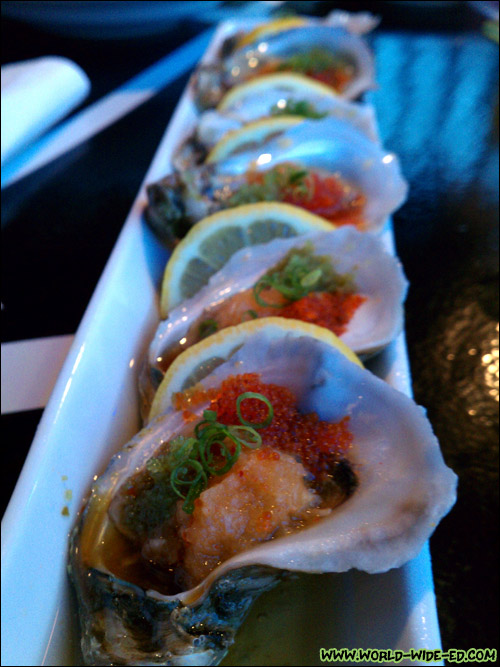 Oysters on the 1/2 Shell (Half dozen Gulf oysters served on shaved ice with citrus oroshi, tobikko, jalapeno masago, & spicy ponzu sauce – $12)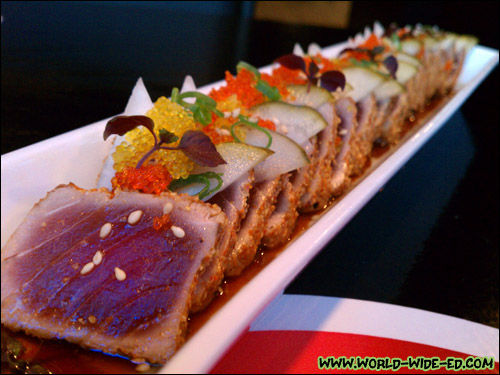 Ahi Tataki (Fresh Hawaiian Big-Eye Ahi with sunomono, yuzu, tobikko, soy vinaigrette and a dash of white truffle oil – $18)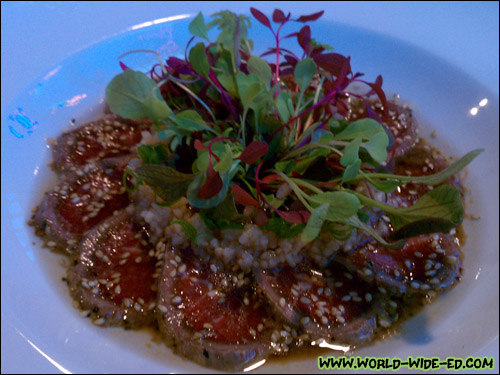 Beef Sashimi (Seared USDA Choice filet mignon with minced garlic and soy vinaigrette – $16)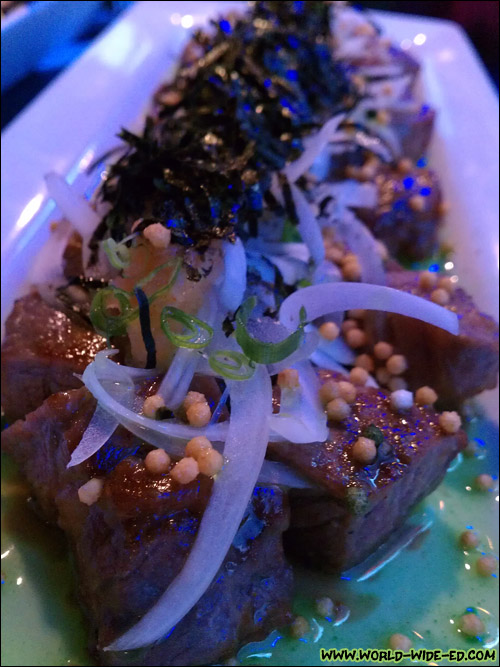 "DASH" Rib Eye (1 lb seared USDA Choice Rib-Eye cubed pupu style with sautéed Hamakua Alii oyster mushrooms and onions – $21)
As if that wasn't enough, DASH is also chock-full of wines, sakes, beers (crafts & imports) and specialty cocktails. So far, it looks like they are well on their way to living up to that self-appointed pressure. Pub? Yes. Gastropub? Definitely. But here's a portmanteau I'd like to propose to help sum up my experiences there:
Gastronomical!
(Previously published in Lawai`a Magazine)
DASH Gastropub
1018 McCully Street
Honolulu, Hawaii 96826
(808) 943-1025
Tue-Sat: 6pm-12am
Mon-Fri: 4pm-2am
Sat & Sun: 6pm-2am
(permanently closed)
[youtube=http://www.youtube.com/watch?v=g6fspcsRH8U&w=500&h=400&rel=0] Tarp Surfing in Hawaii – VH07V Style (Click to Play!)