As with all good things, our time in Brisbane had come to an end. With bags packed, we, however, had one final expedition left in us before saying goodbye to the Queensland city by the river.
We started our morning by hopping into the van of the family-owned and operated Mr. Day Tours for their half day tour package. Val, the owner and tour guide for the day navigated and narrated our course for the day.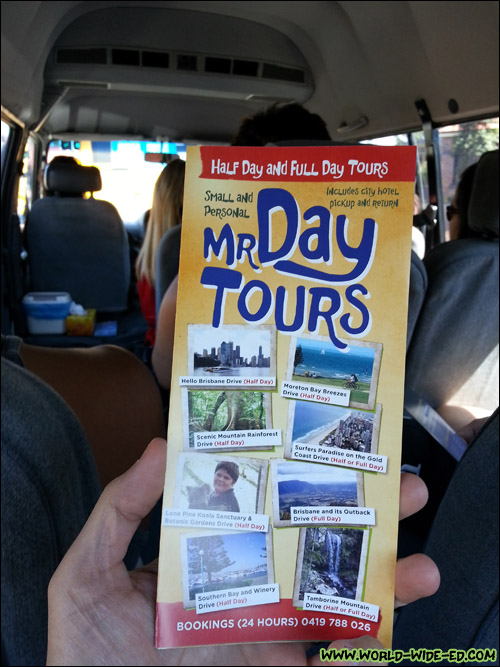 Mr Day Tours brochure
Our first stop was the Lone Pine Koala Sanctuary, the world's first & largest koala sanctuary.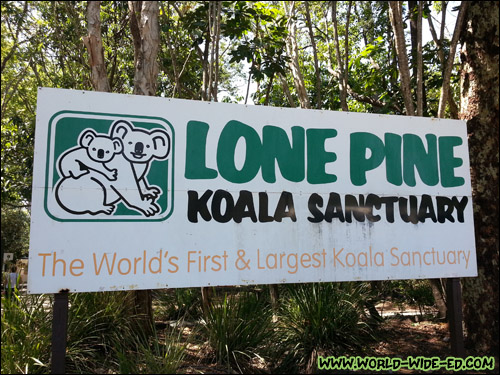 Lone Pine Koala Sanctuary sign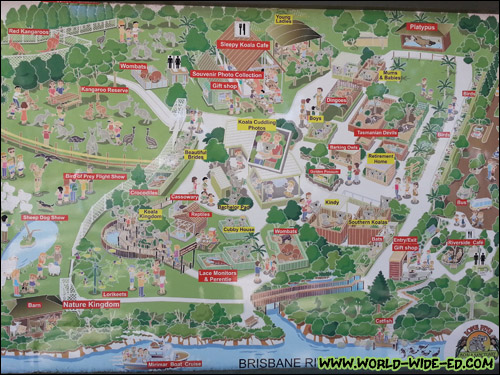 Lone Pine Koala Sanctuary map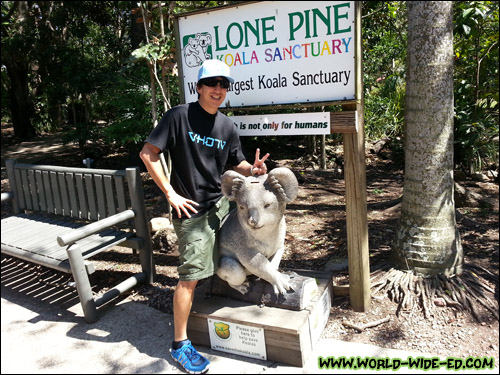 Me and da koala statue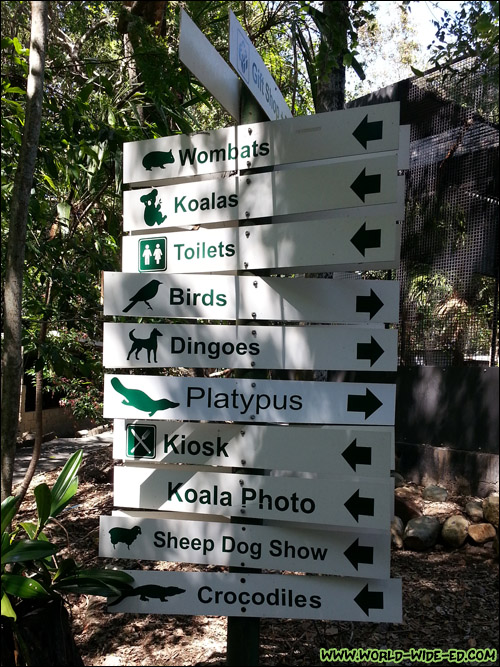 Directions at the Lone Pine Koala Sanctuary
Our first koala sighting couldn't have been any cuter. It was of this adorable little munchkin getting fed supplements. I just HAD to shoot a video of it!

Koala being fed supplements
As we continued, we saw many more, though mostly sleeping in awkward positions.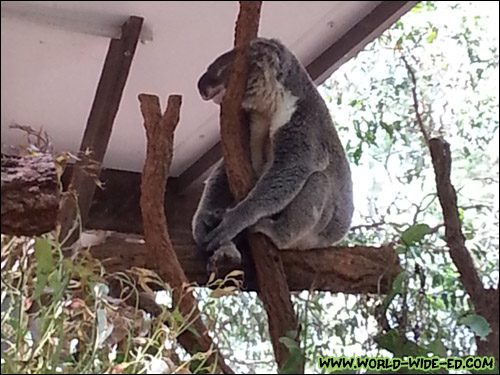 Sleeping koala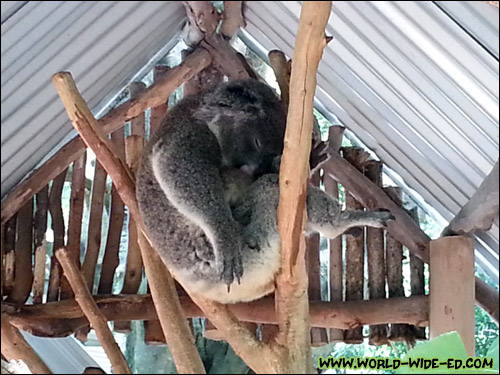 Another sleeping koala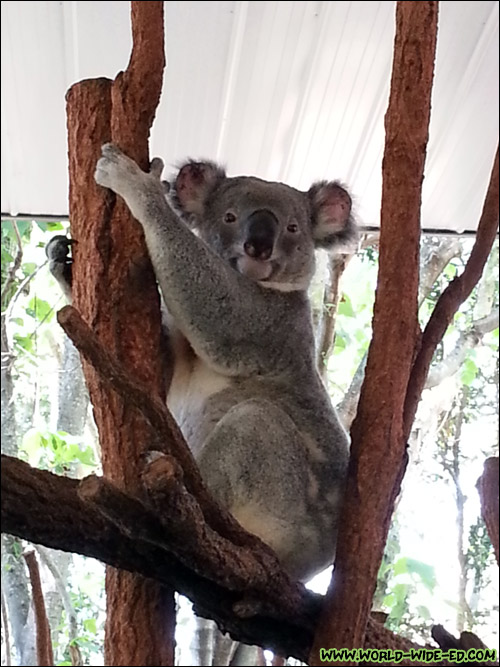 Hey! One's awake!
We saw a bunch of other animals/creatures along the way like wombats, dingoes, reptiles and birds, but let's be honest… they were all overshadowed by "the moment" that most of us were looking forward to the entire trip… It was time to hold some koalas baby!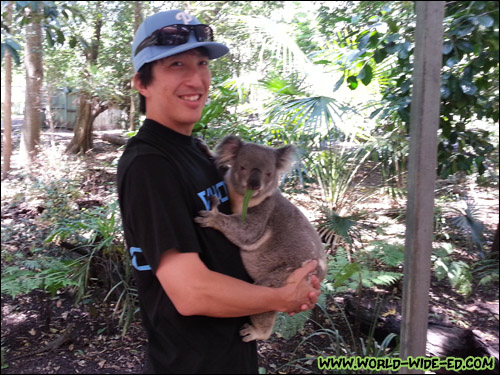 "The moment"! Koala holding time!
And here are the video clips of our various experiences:

Catherine Toth with her koala

Melissa Chang with her koala

Hawaiian Airlines' Jeremy Althof (frightened) with his koala

Hawaiian Airlines' Jesse Starmer with his koala
Eventually, with feed in hand (purchased at the gift shop), we made our way over to the kangaroo section of the sanctuary, which was equally as exhilarating.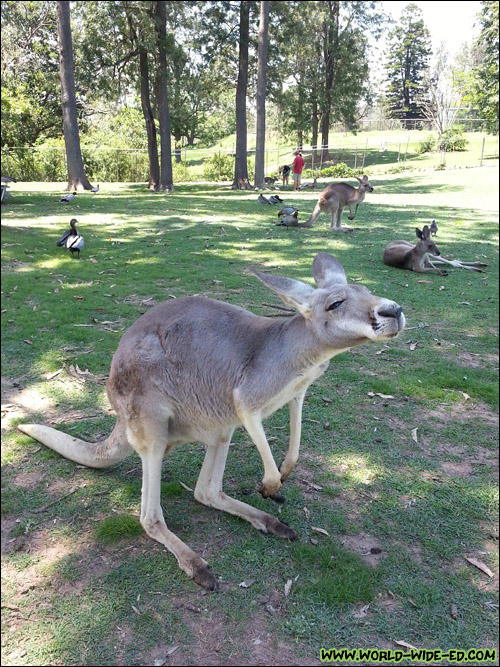 This kangaroo smells the feed in my hand. Whatchu t'ink?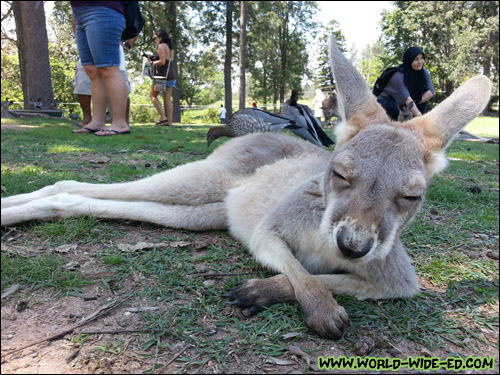 Cute baby kangaroo just lounges around next to me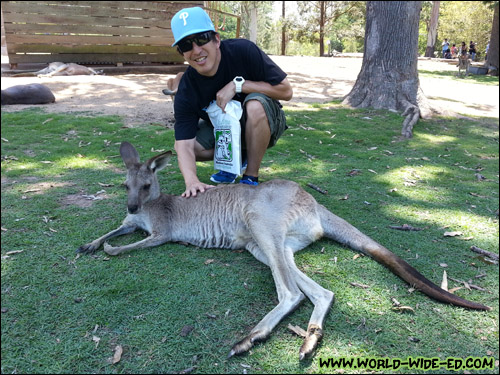 This one let me get close and pet away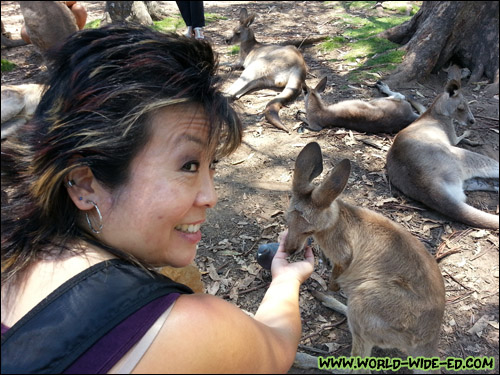 Melissa feeds a baby kangaroo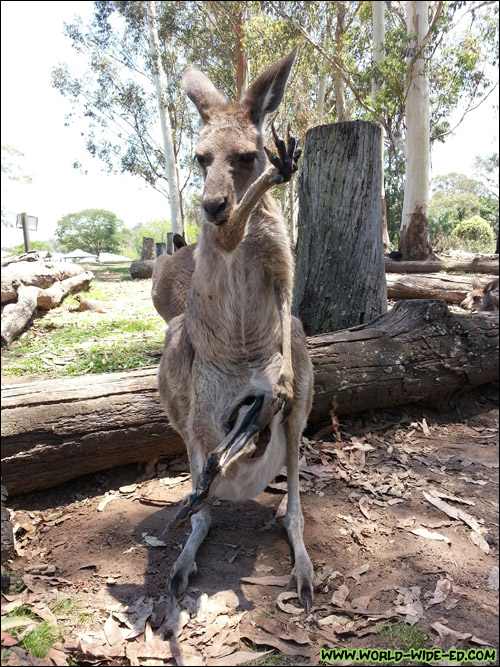 This was quite an interesting scene. It appeared to be a baby kangaroo resting in his mommy's pouch
And here's a video of it.

Baby kangaroo rests in his mommy's pouch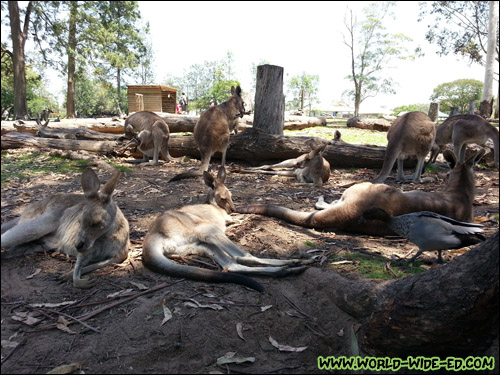 Group of kangaroos just kickin' it. Kickin' it… get it? 😛

Val then drove us up to the Brisbane Lookout at Mount Coot-tha, which offered a panoramic view of Moreton Bay.


Panoramic view atop Mount Coot-tha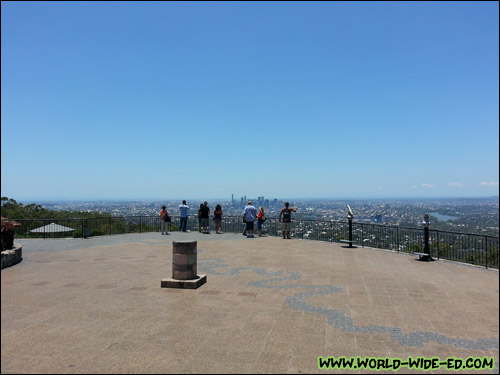 Brisbane Lookout's deck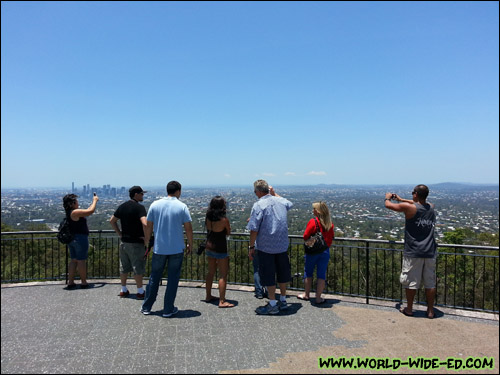 Our group snapping away. Damn tourists!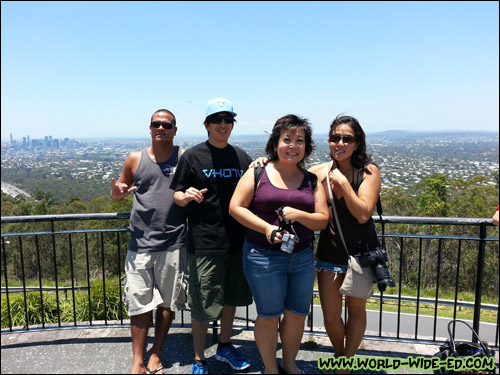 Kaleo Lancaster (@islandtrails), me (@worldwideed), Melissa Chang (@Melissa808) and Catherine Toth (@thedailydish) at the Brisbane Lookout at Mount Coot-tha
We boarded up the van again and headed up to Kangaroo Point Lookout near the Cliffs Boardwalk.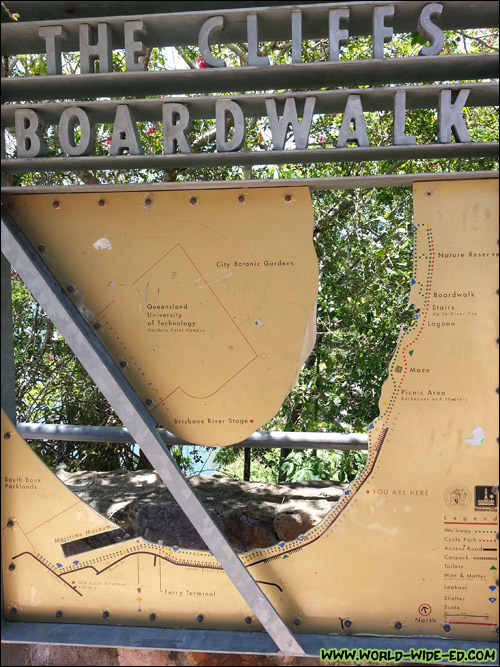 The Cliff Boardwalk sign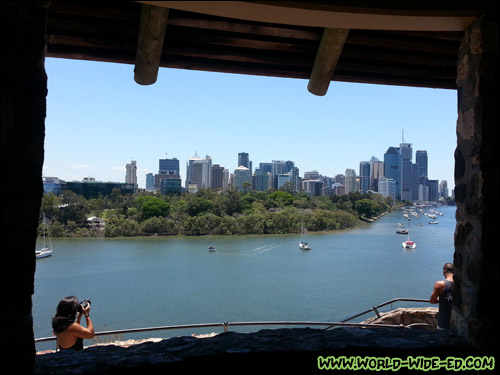 The view from inside one of the lookout points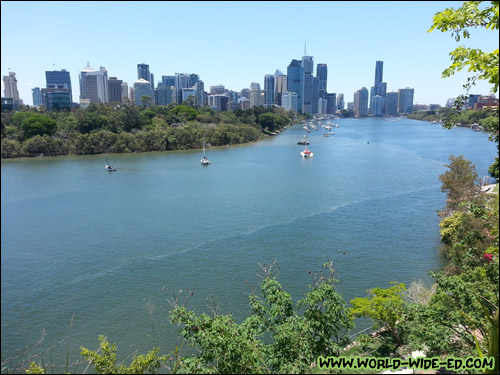 A nice look at the Brisbane River
With the grains of sand slowly vanishing from the top of the hourglass that was our tip, we had just enough time for one more stop: Lunch! The gastropub of choice? A place called The Shelter Bar, one of three restaurants at the Story Bridge Hotel, aptly named for its physical location, sheltered under the popular Story Bridge.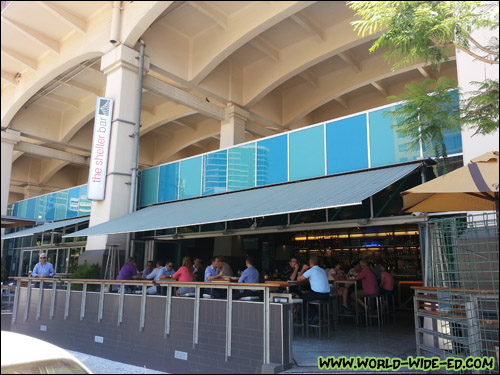 Outside the Shelter Bar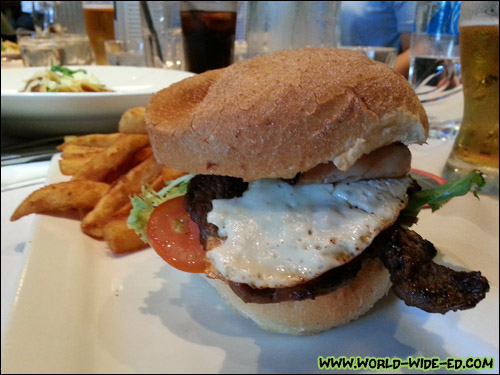 Melissa's Prime Rib Fillet Burger with bacon, egg, lettuce, tomato, caramelized onion, ranch dressing and beer battered fries ($18)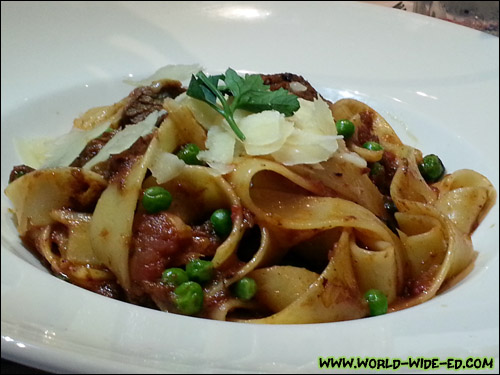 Cat's Braised Short Rib Parpadelle with baby peas, rich Napoli sauce and shaved parmesan ($22)
And my personal favorite (if I do say so myself! 😛 )…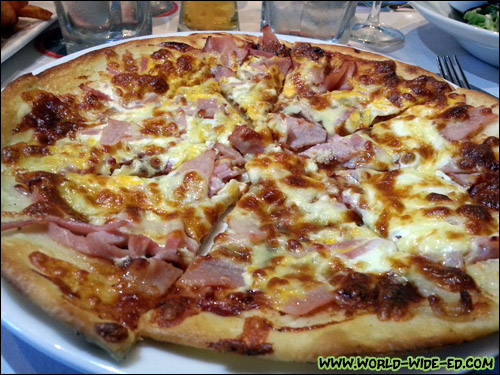 My "Aussie Pizza" with double smoked ham, bacon, free range eggs and bbq sauce ($17.50)
With our tummies full, it was time to head to the airport for our 8-ish hour flight home. The Brisbane Airport is very clean and well kept, and Hawaiian Airlines' entrance into the market looks to have played a key part in all of it. Here are some sights from the airport.

Hawaiian Airlines flight number 444 (HA444) to Hawaii, although just two days old at the time, was already bustling!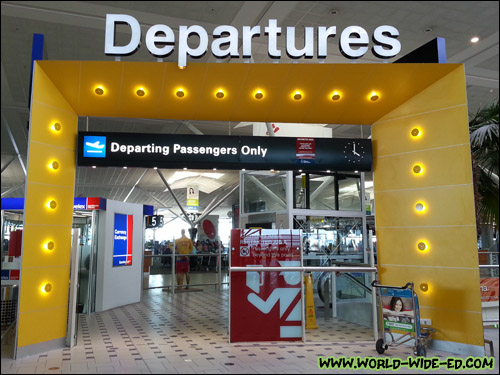 The fancy entrance to the departure area downstairs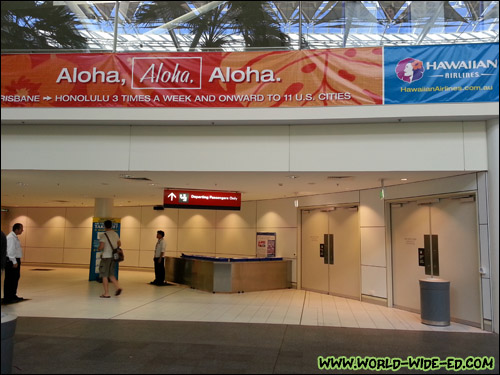 Hawaiian Airlines signage at Brisbane Airport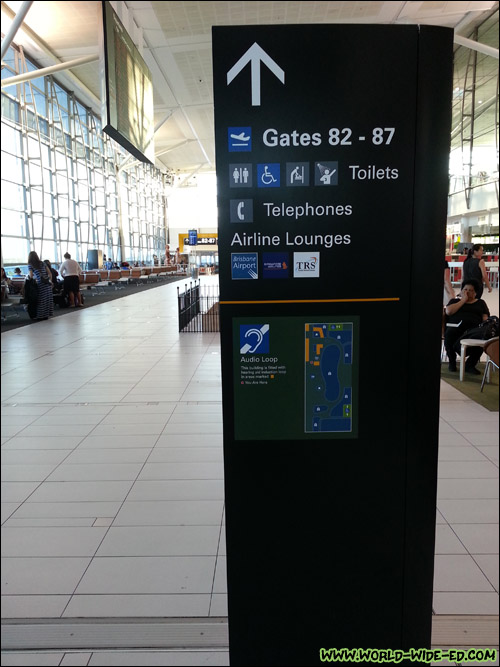 Directions at Brisbane Airport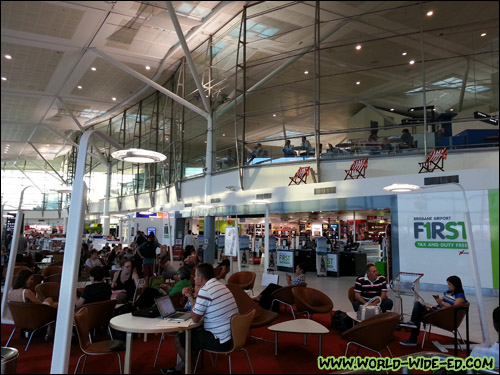 Lounge areas (with FREE public WiFi! – which is hard to come by in Brisbane) outside the gates.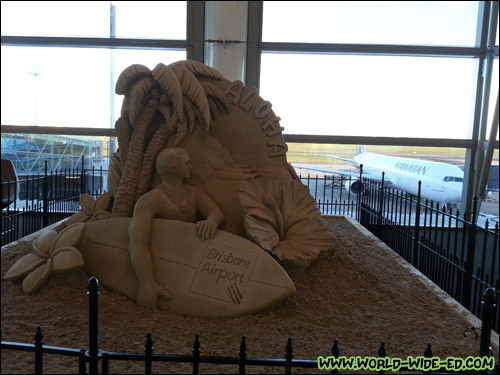 Neat sand sculpture with our Hawaiian Airlines plane in the background
Although it was a whirlwind 3 day, 2 night visit, we were able to get a lot squeezed into our tight timelines. If the adventures from any part in this series of articles interested you (part I, part II, & this part III), be sure to Fly Hawaiian when booking your flight: http://www.hawaiianairlines.com/Brisbane .
A HUGE Mahalo to Hawaiian Airlines (President and CEO Mark Dunkerley, Senior Vice President of Corporate Communications and Public Affairs Ann Botticelli, Director of Advertising and Promotions Kevin Yim, Ross Saito from Product Development, and the social media team: Asiana Ponciano, Jeremy Althof, and Jesse Starmer, etc.) for the unbelievable opportunity to cover such an event. Mahalos also to my fellow social medialites Kaleo Lancaster, Catherine Toth and Melissa Chang, who made the trip super rad! Yeah, I just said rad. 😉
And with that, we say Aloha and goodbye to Brisbane. Until we meet again!
To view all of my photos from Brisbane Australia, click here:
https://picasaweb.google.com/114302480978989244855/AlohaBrisbaneAlohaBNE
Melissa Chang's #AlohaBNE blogs:
http://www.nonstophonolulu.com/?s=brisbane&searchsubmit=Go
Catherine Toth's #AlohaBNE blogs:
http://www.thecatdish.com/?s=brisbane
Kaleo Lancaster's #AlohaBNE blog:
http://kaleolancaster.blogspot.com/2012/12/brisbane-australia-hawaiian-airlines.html
My #AlohaBNE blogs/posts:
http://www.world-wide-ed.com/?s=brisbane
Instagram search results for #AlohaBNE:
http://web.stagram.com/tag/alohabne/
Twitter search results for #AlohaBNE:
https://twitter.com/search?q=%23AlohaBNE&src=typd
[youtube=http://www.youtube.com/watch?v=g6fspcsRH8U&w=500&h=400&rel=0] Tarp Surfing in Hawaii – VH07V Style (Click to Play!)