When you hear the words Pioneer Saloon, the first thing you probably think of is an old, rowdy bar in the wild, wild west. With tumbleweeds rolling by, you picture a clean-cut sheriff greeting people with "howdy pardner" as he enters swinging batwing doors looking for the bearded bag guy.
Well, this place in Diamond Head off Monsarrat, is not quite that place.

Outside Pioneer Saloon
Although some of the exterior and interior trimmings give it that rustic, cowboy-ish vibe…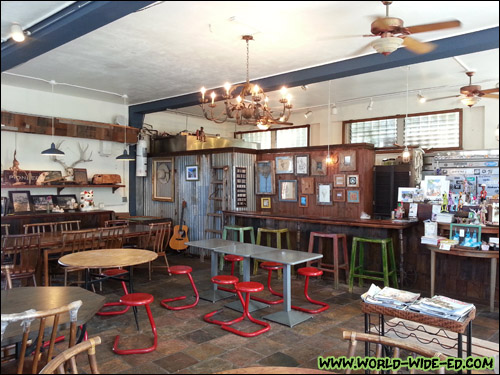 Inside Pioneer Saloon
… this Pioneer Saloon is actually a very popular, Japanese style plate lunch eatery, just minutes away from the iconic Diamond Head.
On our first visit, we were the first in line (we got there a little too early, prior to their 11am opening), but within minutes, there was a line out the door.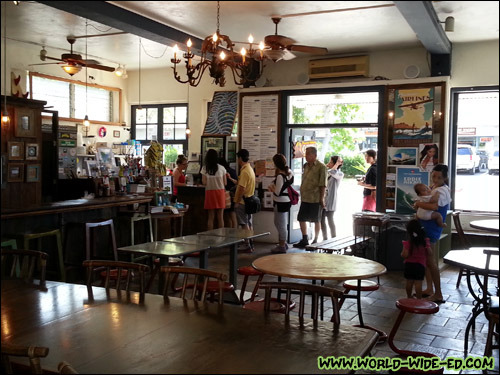 The line at Pioneer Saloon just after opening
While waiting for our food, we had the chance to peruse their other merchandise, which included apparel and cute little trinkets and tchotchkes.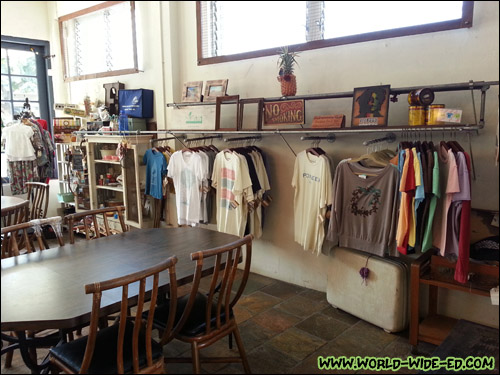 Apparel and goods at Pioneer Saloon
Because owner Chef Nori Sakamoto is from Japan, his eatery has received a good amount of coverage from the Japanese media. As a result, much of his clientele are tourists from Japan. More and more these days though, you'll see your local and mainland folk grinding his concoctions from the kitchen, which range from Ahi Katsu to Mochiko Chicken to Thai Style Green Curry.
Here's a peek at some of the dishes we tried that day.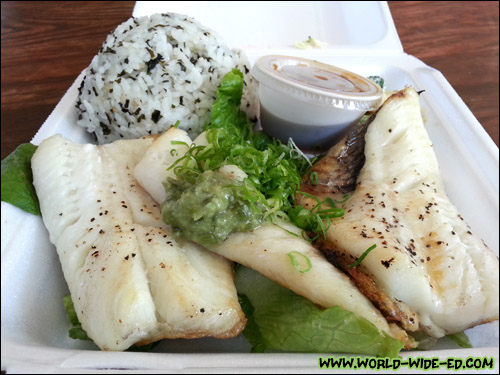 Grilled Halibut Wasabi with Ponzu – $11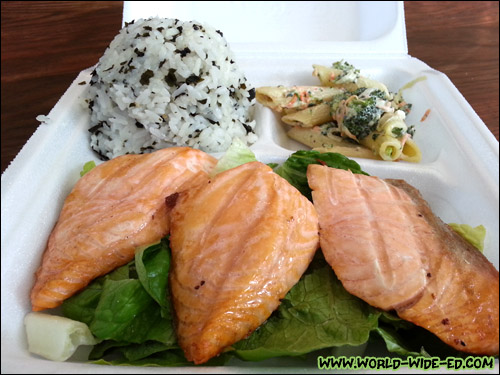 Grilled Shio Salmon – $9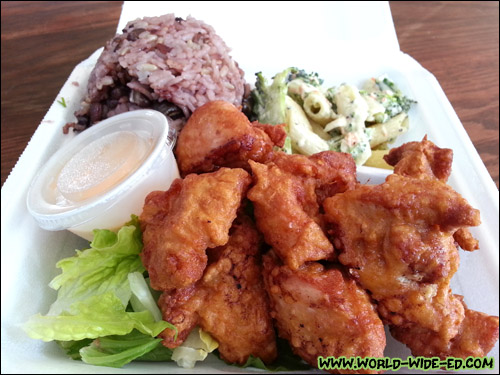 Mochiko Chicken – $8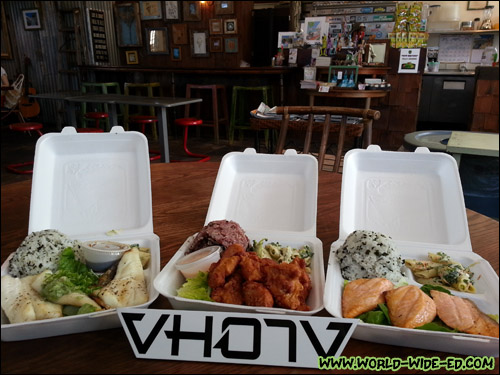 All together with a little VH07V/ALOHA 🙂
The Halibut was dope! Halibut is probably one of my favorite cooked fishes, so it wasn't easy to impress me, but the Wasabi Ponzu was something I've never tried before on that fish. On point! The wife, who split the Shio Salmon and Mochiko Chicken with her mom and our daughter, liked hers as well.
The portions are not hu-MANG-ous like we're used to at your typical kanak attack inducing "plate lunch" kine place, but it was still enough to fill us up. The neat thing about Pioneer Saloon is that you can choose from 4 very different rice options: White, Brown, Mixed Grains & Beans, and Shiso Wakame. The Mixed Grains & Beans and Shiso Wakame options are $0.50 extra but very worth it if you're looking for something different. You'll see the Mixed Grains & Beans option with the Mochiko Chicken above and the Shiso Wakame option in the other two plates above. I'm not a big fan of Shiso, but totally love this one.
With satisfied tummies, we were already eager to figure out when our next trip to town would be so we could have an excuse to visit again. That day came a few weeks later during a busy lunch hour when every single table inside was taken… more the norm. Good thing we were getting our grindz to go!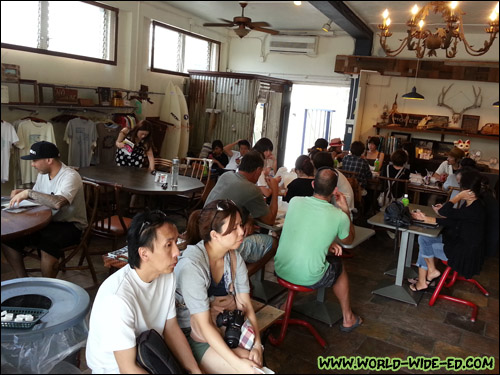 Typical crowd at Pioneer Saloon
Here's a look at some of the other options we picked up this time.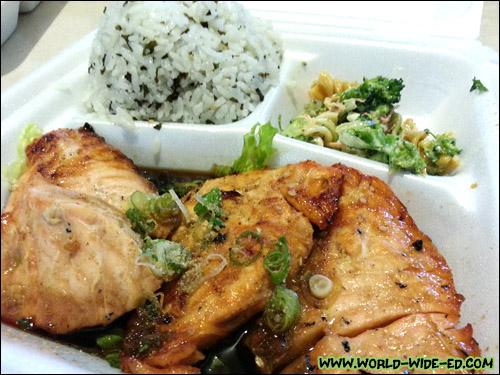 Grilled Teriyaki Salmon – $9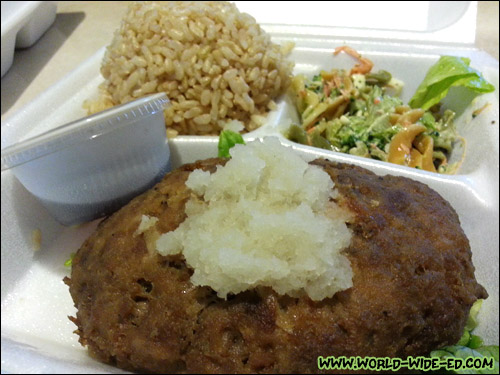 Hamburger Steak w/ Ponzu Sauce – $9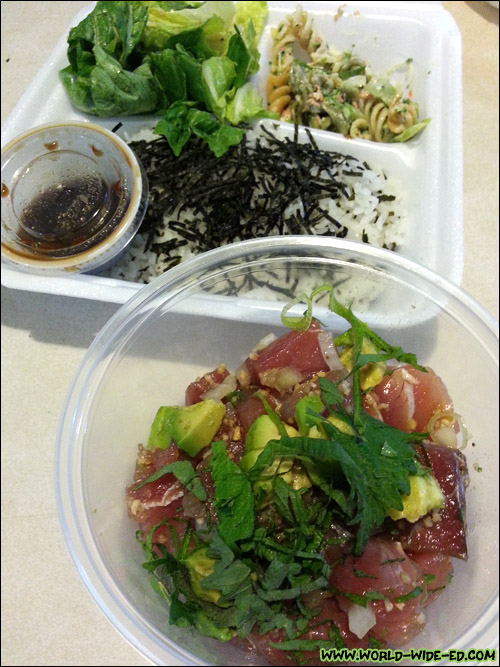 Wasabi Shoyu Ahi Poke Bowl – $11.50
Wife enjoyed her Salmon again, while we shared the Hamburger Steak with each other and my mom. It looks hard and dry in the photo, but braaaaah! She go! Was super moist and juicy. It reminded me of the ハンバーガステーキ (hanbaa-gah sutee-ki) I used to pound at this small hole in the wall in Kyoto Japan.
The ahi poke bowl to me was a slight disappointment. I don't really like avocado in my poke and this one had it in bunches. It also had shiso (see shiso reference above). Also, the tuna salad, though super delish, was VERY sparse. I think they were just running low on the visit though because it wasn't like that the last time.
Overall, love and highly recommend Pioneer Saloon. It's not really a new discovery (they took over the space vacated by the old Mi Casa Taqueria restaurant back in 2009), but it seems like it is still not widely known by us locals. Hopefully, this encourages some of you to check them out… pardner.
Pioneer Saloon
3046 Monsarrat Ave
Honolulu, HI 96815
(808) 732-4001
[youtube=http://www.youtube.com/watch?v=g6fspcsRH8U&w=500&h=400&rel=0]