So this review of the legendary Sam Sato's on Maui is more than a few years delayed. My bad. I guess it's shmall kine hahd for this Oahu boy to get around these days, especially with the little one around. But trust… It's worth the wait! 🙂
Sam Sato's is a pseudo hole-in-the-wall type eatery, located in Wailuku Maui, in the same "historical" lineage of the Hamura's Saimins (Kauai), Nori's Saimin & Snacks (Big Island) and Shiro's Saimin Havens (Oahu) of the world.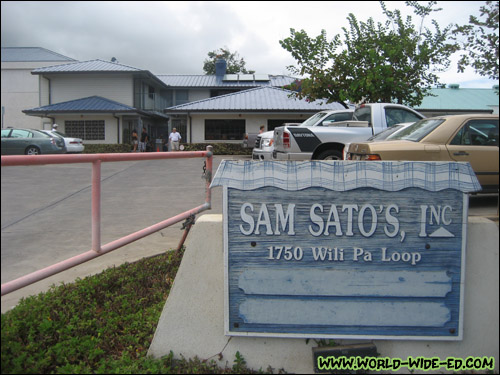 Sam Sato's sign
On any given day, there will usually always be a wait to get in. Be prepared.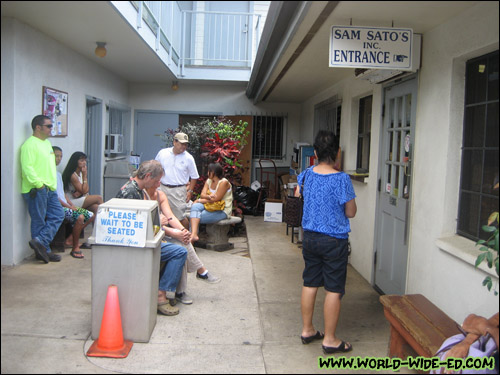 The wait outside Sam Sato's
Don't forget to sign in on their cute, self-waitlist system: a pen and a pad.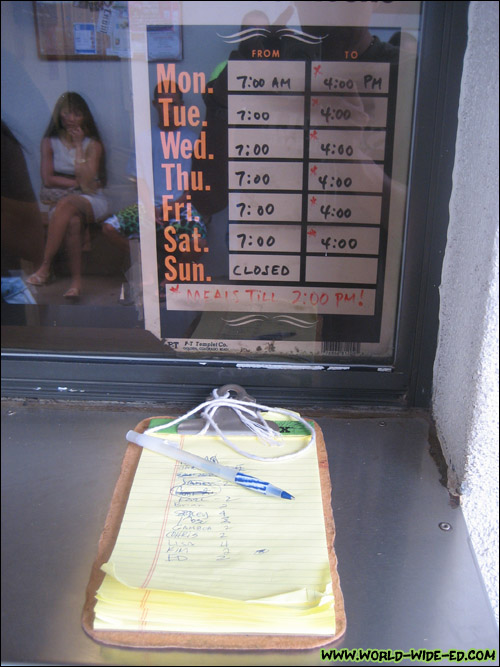 The waiting list system at Sam Sato's
Once you hit the lottery and your name gets called, you are seated inside, which has all the charm and nostalgia of yesteryear including palaka style window trimmings, old school paintings, and black & white photos from back in the day.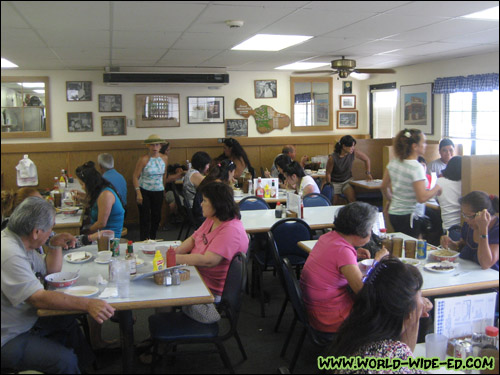 Inside Sam Sato's
You'll even find posters/photos signed by local celebrities like Na Leo, Frank DeLima, & Maui natives Ekolu, as well as our two Hawaii-born living legends BJ Penn & Shane Victorino (also a Maui boy).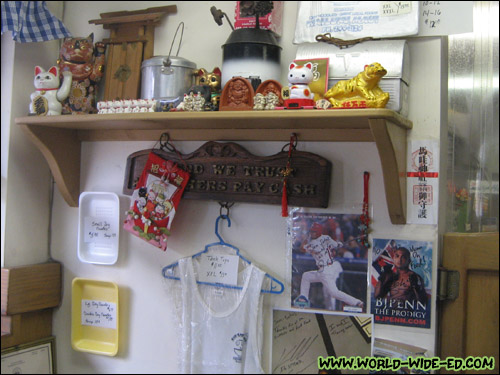 Signed photos from Shane Victorino and BJ Penn
Sam Sato's has a variety of popular noodle dishes like their Saimins, Won Ton Meins and Chow Funs, but none are as popular as their Dry Noodles, endearingly referred to as Dry Mein, due to their lack of a traditional soup base.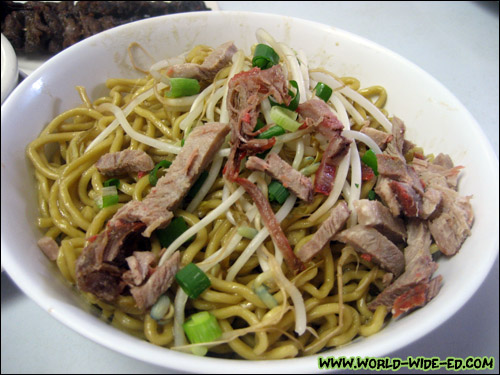 Sam Sato's Dry Noodles, aka Dry Mein
The noodles aren't exactly dry-dry. In fact, the consistency and flavor almost reminds you of a fried saimin/noodle type dish. The kicker here is that the dish comes with a small bowl of a chicken based stock/broth, which you are supposed to drizzle on before every bite.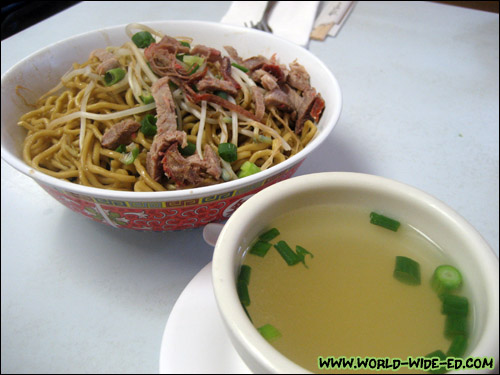 Sam Sato's Dry Mein order with broth (S – $4.95, L – $5.75, Double – $7.25)
Like many of the other old school saimin shops, Sam Sato's is also known for their BBQ sticks. My buddy Joel, a Maui native, ordered a couple BBQ Beef Sticks for good measure.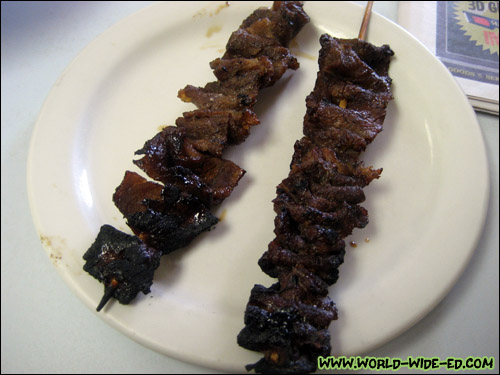 BBQ Beef Sticks from Sam Sato's ($1.25 each)
Since he's been here many times, Joel decided to forego the Dry Mein and feed his craving for Hamburger Steak, which he claims was also "Bomb." Here's a shot of our food.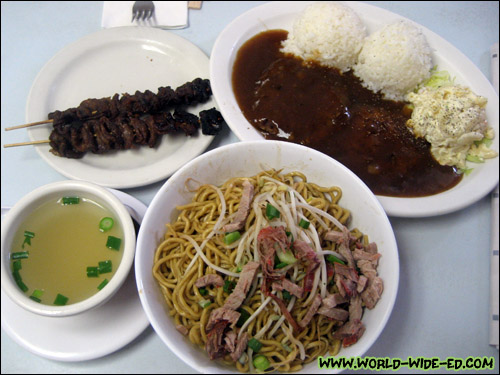 BBQ Beef Sticks, Dry Mein and Hamburger Steak ($7) from Sam Sato's
As if that weren't enough, these buggahs also make some of the most ono kine manjus & turnovers evaaaar!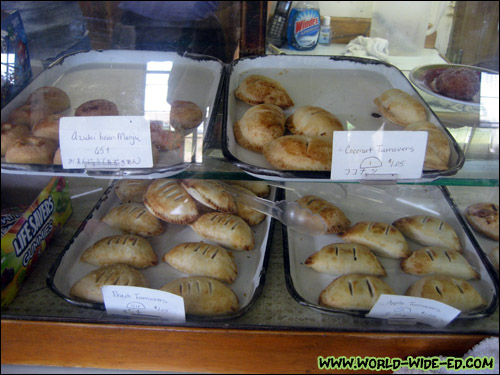 Partial Manju display at Sam Sato's
Pictured here is the Azuki Bean Manju, with the Coconut, Peach and Apple Turnovers. They also had a Lima Bean Manju along with the Pineapple-Coconut, Pineapple-Peach, and Blueberry Turnovers. I'm not really a sweets person, but bruddah ova hea went to town! For omiyage of course! 😉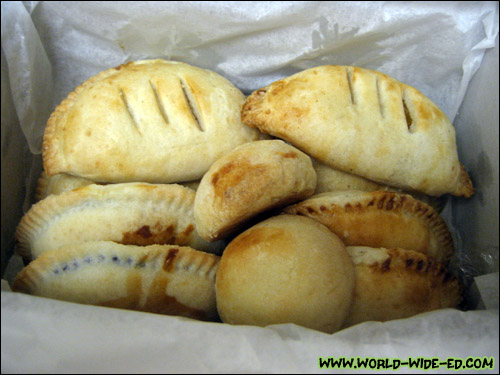 Manju and Turnovers from Sam Sato's
My favorite part was the "key" they stamped on every take out box so you knew exactly which turnover was what.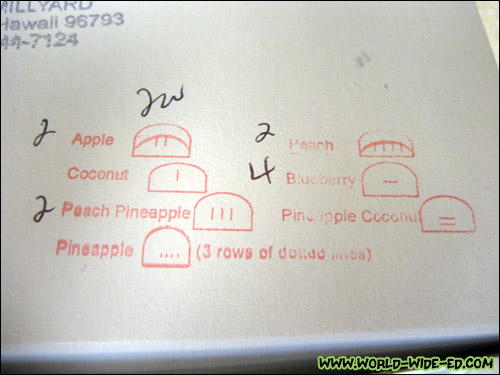 Turnover "key" stamped on take out box
Sam Sato's is one of those "must-visits" whenever you are in Maui. Personally, I'm already trying to figure out when my next visit there will be. Likely not soon enough.
Sam Sato's
1750 Wili Pa Loop
Wailuku, HI 96793 (map)
(808) 244-7124
Mon-Sat: 7am-2pm (meals), 7am-4pm (manju pick-up)
[youtube=http://www.youtube.com/watch?v=g6fspcsRH8U&w=500&h=400&rel=0] Tarp Surfing in Hawaii – VH07V Style (Click to Play!)