In part III of my Hawaii Ramen Quest, I paid IchiBen (in the Times Square Shopping Center) a visit. While walking over from my car, I noticed a fairly large crowd gathered around the entrance of another eatery nearby. That place was called Spicy Ahi & BBQ and I took a mental note to return again to give it a try. Here's what I found on that return visit.
Based on the name alone, I was pretty excited. I love me some good BBQ, and, if you've been following my Poke Paradise series at all, you'll know that I am a fanatic when it comes to raw seafood concoctions.
In addition to BBQ, Noodle and Nabemono items, Spicy Ahi & BBQ has a special "Spicy Ahi Bowl or Spicy Ahi over Fresh Vegetable" section on their menu with 14 different combinations incorporating Spicy Ahi.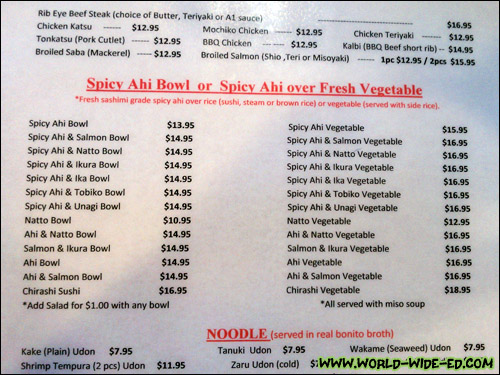 Spicy Ahi & BBQ Menu
I went with a two choice combination meal with, what else? Spicy Ahi and BBQ (Kalbi). Oh yeah!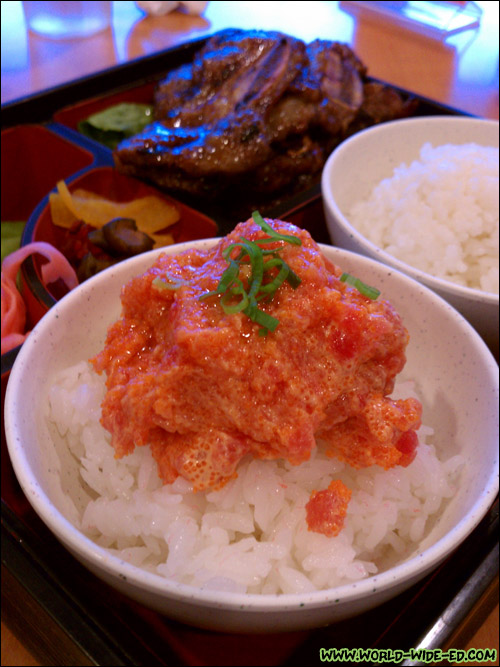 Spicy Ahi & Kalbi (BBQ Beef Short Rib) Combination Dinner – $14.95
Each combination dinner comes with a salad, miso soup, rice & pickles (tsukemono).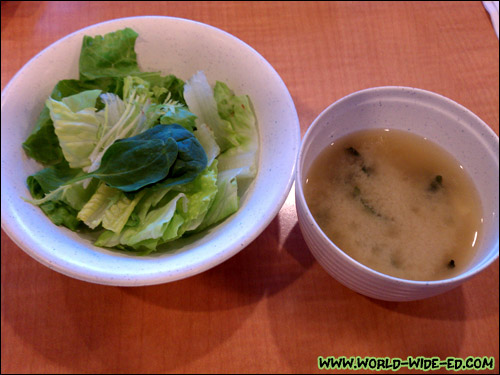 Salad and miso soup from Combination Dinner
The salad comes "dry", giving you the opportunity to use the dressing of your choice from the selection on each table.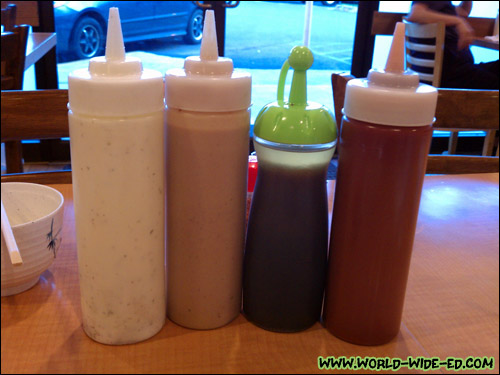 Salad dressings
Wifey also went with a little combo action, choosing Misoyaki Salmon…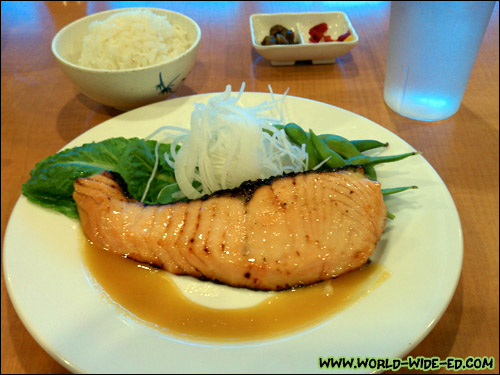 Misoyaki Salmon
… and Udon as her two options.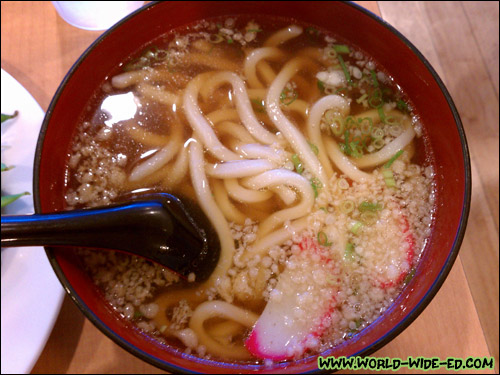 Kake Udon
Although prices are on the higher side for a casual, sit down dining type of experience, both food quality and quantity are definitely present. Outside of Waikele Center's Restaurant Kunio, I would go as far to say that Spicy Ahi & BBQ is probably one of the area's best tasting Japanese restaurants. Definitely worth the wait.
Spicy Ahi & BBQ
98-1254 Kaahumanu Street, Suite A-13
Pearl City, HI 96782
(808) 488-4851
Tue-Thu: 11am-2pm (lunch), 5pm-9pm (dinner)
Fri-Sat: 11am-2pm (lunch), 5pm-9:30pm (dinner)
[youtube=http://www.youtube.com/watch?v=g6fspcsRH8U&w=500&h=400&rel=0] Tarp Surfing in Hawaii – VH07V Style (Click to Play!)