Street eats ain't nothing new to the Japanese. Better known as yatai (food stalls), Japan is just crawling with them, often serving better tasting food than their indoor counterparts. From the Kita no Yatai district up north in Obihiro Hokkaido, all the way down south to Yatai Douri and the surrounding areas in Fukuoka, my peeps really know how to cook… And more importantly, EAT!
And while not exactly a yatai, food trucks have been picking up steam as of late here in Hawaii, so we're gonna cover two interesting ones that serve Japanese fair: Yajima-Ya (on Sheridan) and Blue Truck Teppanyaki (on University). That should be "yatai-ish" enough right? *grin*
Yajima-Ya
I first heard about this place through the Social Media grapevine. There was a buzz about this new Japanese-themed lunch truck opening up that had some kind of tie to the Yajima Service Station (Cosmo) nearby.
I asked wifey and some friends who work in the area if they've ever heard about it and I got the same response. "No, but let me know where it is so I can check it out. Sounds yummy!"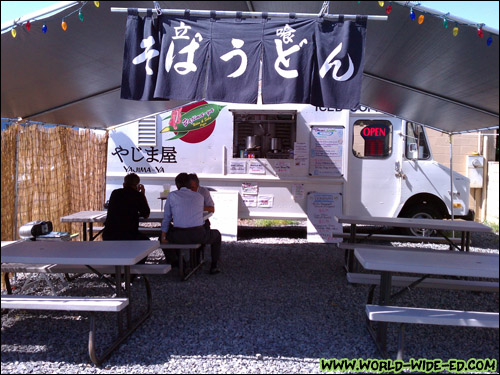 In front of Yajima-Ya's eating area
So when they opened in October of last year, I had to check it out. After several visits, I got to know Manager Tomoki Ito a little as I interacted with him in both Japanese and English (he speaks both very well). One of my first questions to him was the association with the Yajima Service Station and how it all got started.
"I was hired by service station as a manager," says Ito. "My boss, Mr. Akahane had the idea of making 'tachigui udon, soba-ya' which is a small restaurant located at every train station in Japan. They serve noodles very quick and customers eat while standing. Then, we found the truck and looked for good noodles and soup. Actually, I was the only one who had experience with cooking, so I was put in charge of the lunch truck. That's the very beginning of our lunch truck."
On a recent trip there, I ordered the Supreme Don (Pork, Beef and Shrimp Tempura over rice)…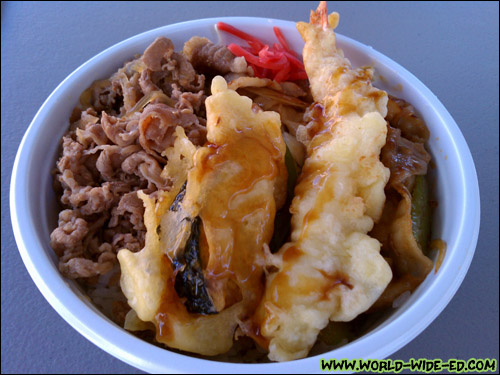 Supreme Don – $9
… while wifey got the soba with sansai (vegetable) topping.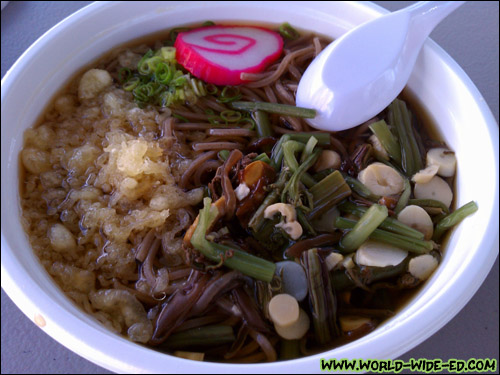 Sansai Soba – $6
Our friend Rick Nakama took his own photo of his dish, the Buta Shougayaki Donburi (pork and ginger over rice)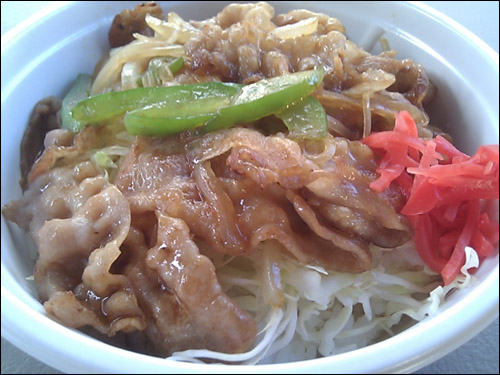 Buta Shougayaki Donburi (pork and ginger over rice) – $6.50 [Photo Credit: Rick Nakama]
According to Ito, one of their best sellers is their $8 Yajima-Ya Bukkake Udon/Soba, which is beef, seaweed, natto and mountain vegetables over cold noodles. Gotta try that next time!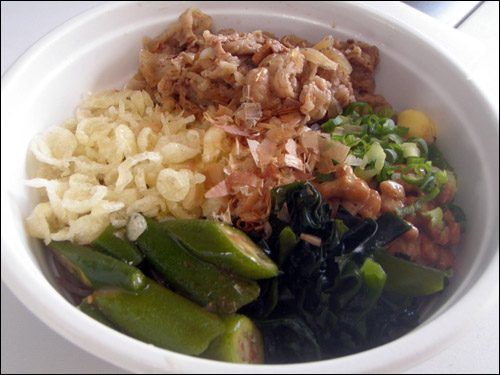 Yajima-Ya Bukkake Udon/Soba (beef, seaweed, natto and mountain vegetables over cold noodles) – $8 [Photo Credit: Tomoki Ito]
For those who can't decide between the udon/soba and donburi choices, you can get a combo of the two (just ask within). You can also try one of their breakfast items (served until 10am), Belgian Waffles, or choose from one of their daily specials, which includes Hayashi Rice on Saturdays!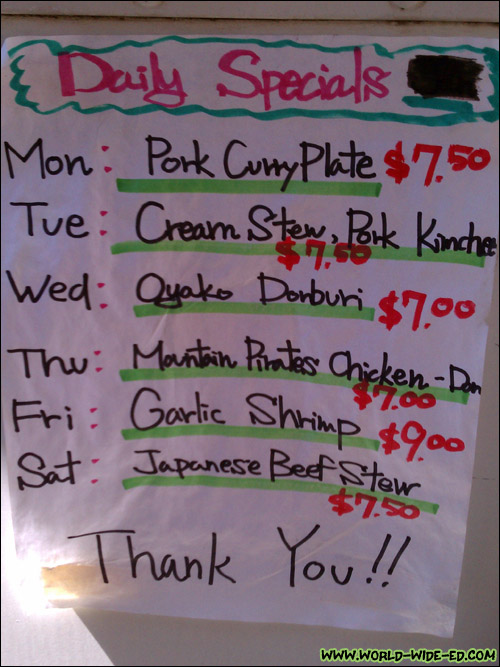 Daily Specials from Yajima-Ya
Of course, what's a visit to a lunch truck without busting out the trusty ol' Oceanic Mobile Hotspot for some 4G web surfing. Yup, it works here!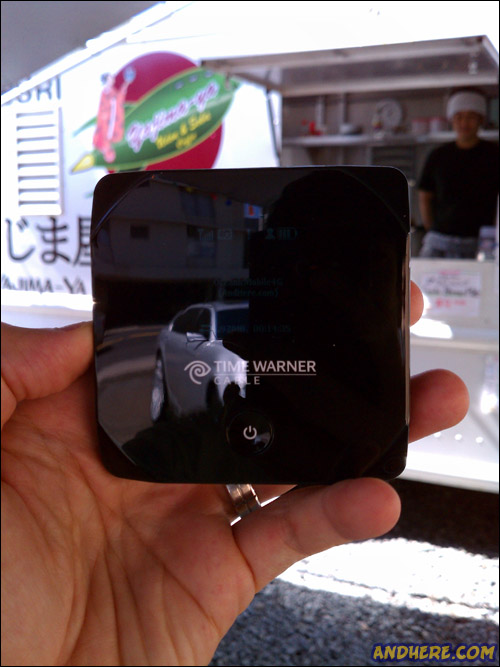 Oceanic Mobile works at Yajima-Ya on Sheridan Street [Photo Credit: AndHere.com]
Parking is a little tight here. There are only two stalls in front and the rest is street parking, which is not that easy in this area during the week. Either way, make your way here, as it's a winnah.
Yajima-Ya
@yajimayahawaii
Sheridan Street (Behind Hinone Mizunone, between South King & Liona)
Honolulu, HI. 96814 (Street View)
808-497-7991
Mon-Fri: 7:30am-7:30pm
Sat: 7:30am-5pm
Breakfast served until 10am daily.
—
Blue Truck Teppanyaki
I've always seen this bright blue truck parked out in front of the Atherton YMCA on University when I drive by, but never bothered to stop for a looksee. It wasn't until a glowing review or three from the Brother-In-Law that wifey and I decided to check it out one afternoon (they are at this location from 5pm-8pm daily).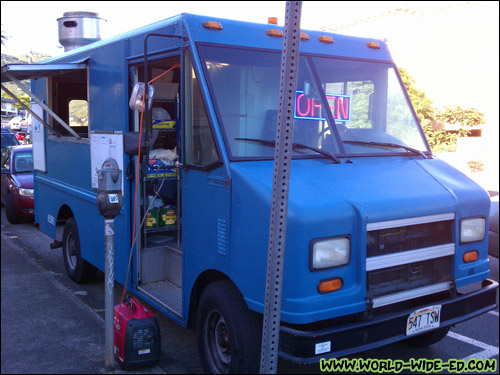 Blue Truck Teppanyaki
Teppanyaki is basically a style of cooking in Japanese culture that involves using a flat stove top/griddle (teppan). At Blue Truck, you simply choose your type of meat (juicy steak, garlic teri chicken, hamburger steak, or shrimp) and optional side order items (Portobello mushroom, eggplant, egg, etc.) and they do the rest.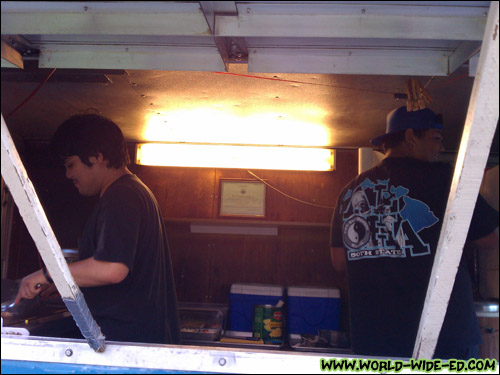 Workers preparing our teppanyaki
Basically, that involves them pan-frying/grilling your meat over the teppan range (left), adding their special sauce over it, and finally placing it on a bed of rice, corn and sautéed vegetables.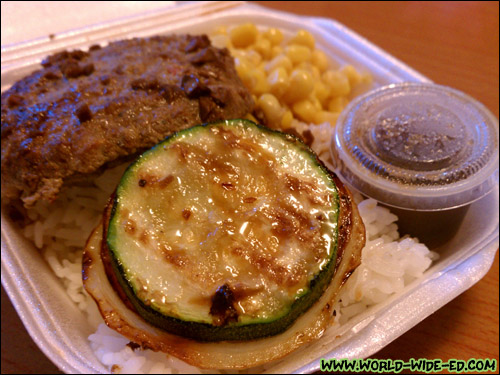 Home-Made Hamburger Steak (Mini) – $5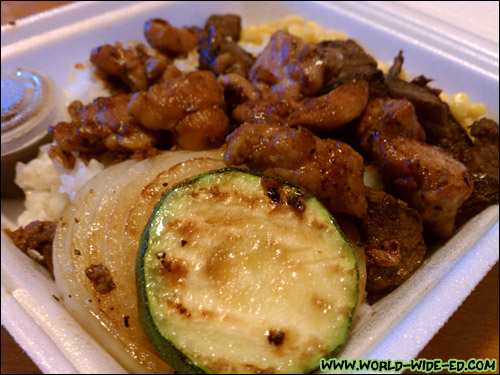 Juicy Steak & Garlic Teri Chicken Combo – $8
Prices are pretty reasonable here. If you wanted to double the amount of meat in the combo above to make 1 pound, it would only be $11.
Blue Truck Teppanyaki also serves breakfast items and specials like Spicy Tuna ($7), Steak Roll ($8), New York Sirloin Steak ($14), Pork chop ($8), Scallop ($14), Fish ($9) and Vegetable ($8) plates.
If you're looking for this truck during lunch, they are at various locations throughout the week from 11am-2pm. See sign below.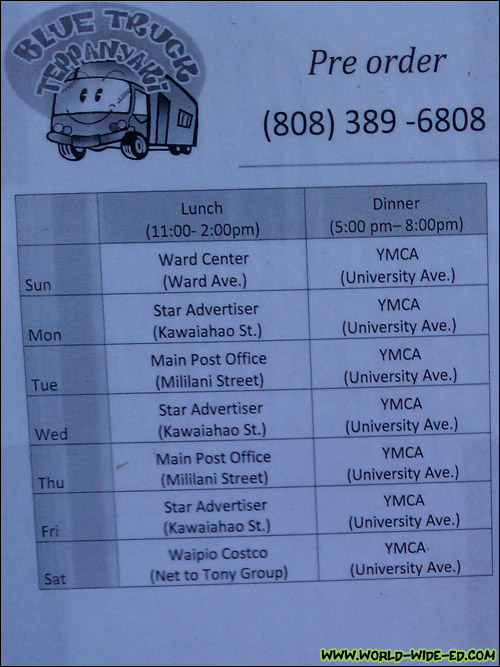 Blue Truck Teppanyaki locations
And yes, in case you were wondering, Oceanic Mobile worked at the University Avenue location too! 8)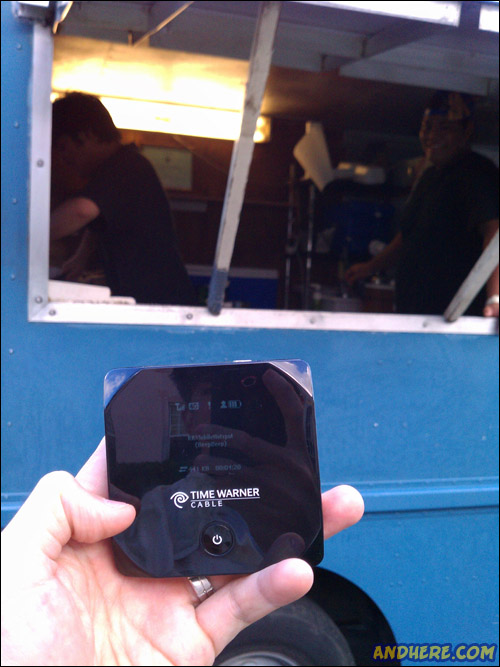 Oceanic Mobile works at Blue Truck Teppanyaki on University Avenue [Photo Credit: AndHere.com]
Blue Truck Teppanyaki
University Avenue (in front of Charles H. Atherton House – YMCA)
Honolulu, HI. 96822 (Street View)
808-389-6808
Daily: 5pm-8pm
Yatai? More like Yatta!