[A hearty welcome to all you new World Wide Ed readers from the print world… Much love for visiting! Let's make um a habit from now k? 😛 ]
About a month ago, the brand spankin' new wifey and I went back to the motherland for our honeymoon. 'Twas ten days of 'moonin bliss, complete with shopping, temples, trains, onsens, monkeys (yeah, monkeys!), snow, wedding reception #2, and, best of all… food.
I'm hoping to eventually break this out into a full-fledged review of Japan (little girl diary style 😛 ), but for purposes of this blog, let's just concentrate on the eats yo! Cool? Cool! Let's do this!
Our first night was spent touring the Odaiba area where we stayed. We walked over to the Aqua City and Decks Tokyo Beach (Tokyo Joyopolis) shopping districts for some product-browsing and sight-seeing.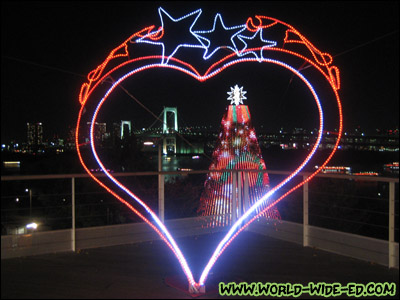 Night time view of Rainbow Bridge in Odaiba
In the mood for some good kine Japanese rahmen, we poked around the food courts at Decks to see if anything spoke to us. Nothing did. So we took it to the streets. Awesome choice, as we ran into Yotteko-Ya Ramen. Yeah, the same one that made its way to McCully Shopping Center on Oahu.
Located on the ground floor between Decks Tokyo Beach and the Yurikamome Line (local train), the flamboyant exterior quickly catches your eye.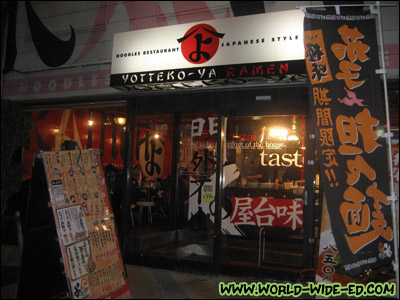 Outside Odaiba's Yotteko-Ya Ramen
I swear, every time we visited the one in McCully, they were sold out of their popular Paitan soup base ramen (the thick, creamy one). We've been there on at least 5 different occasions at 5 different times (even like 10 in the morning!), and, every single time, they were sold out. We were beginning to think that it was some kind of a conspiracy, and that they only made enough soup base for three bowls or something. We were glad to get the authentic one straight from the source.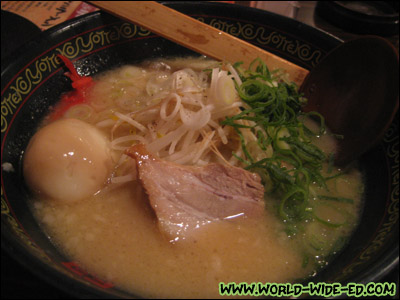 Char Siu Ramen from Yotteko-Ya Ramen
Much like some Las Vegas hotel packages, the great thing about some of the hotels in Japan is that the price of the room includes meals. The next morning, we enjoyed a delicious Japanese style buffet breakfast at Ocean Dining Restaurant.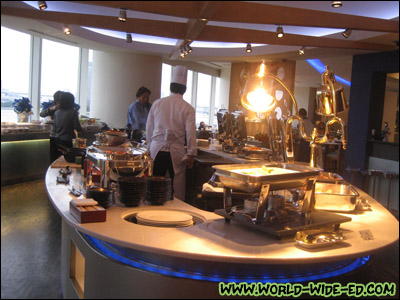 Buffet table at Ocean Dining Restaurant, Hotel Nikko Tokyo Hotel, Odaiba
Our view of Rainbow Bridge during our eats was amazing!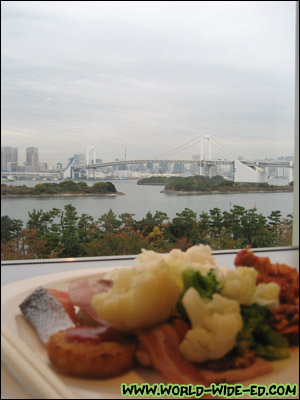 Our beautiful view with my not so beautiful mound o' food
Then, it was off to see the town baby. We took the Yurikamome line to Shimbashi Station and walked to the Ginza district. There, the wife shopped at various department stores, including the (apparently *rolling eyes*) popular H&M store from America. We also found some time to snack in between.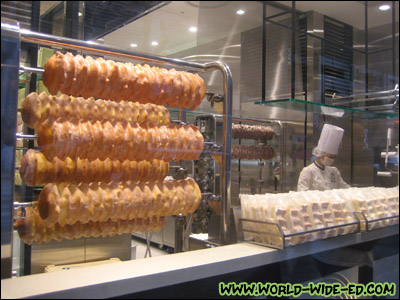 Treats at Nenrinya
Yes, we're posers. We didn't actually buy anything from here (if you saw the crazy lines, you wouldn't either! 😛 ), but we did capture some shots for you curious bees out there.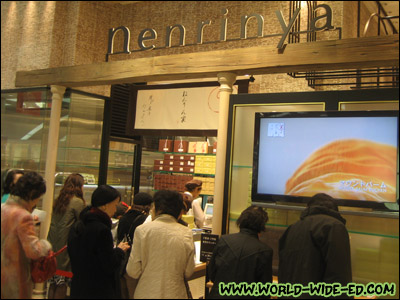 The line at Nenrinya
One place we weren't posers at was Starbucks (the Ginza Matsuya-dori store to be exact). We stopped to fill our tummies here real quick like.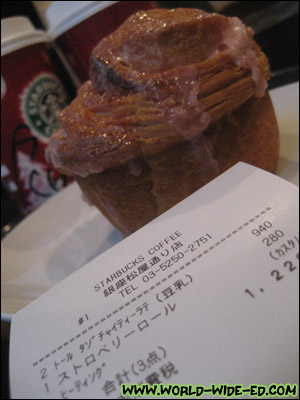 Two Tall Tazo Chai Tea Lattes (¥940) and one Strawberry Roll (¥280). Typical Starbucks prices…
On the wall, we noticed a sign that said "Starbucks Coffee Japan, Ltd. The 1st Store August 2nd 1996″… Pretty cool! We've been to the first store in America (Seattle) and now Japan. Where's next? 🙂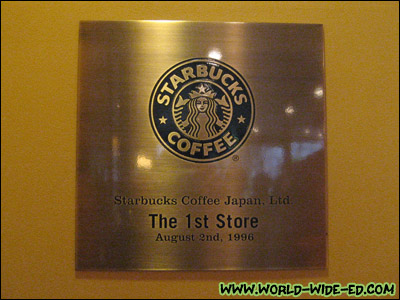 Sign at Starbucks Ginza Matsuya-dori store: "Starbucks Coffee Japan, Ltd. The 1st Store August 2nd 1996"
Refueled, we caught the JR Yamanote Line to Harajuku to check out the famous Takeshita Doori. There we went to a food court and ate at the best looking option: Umaya.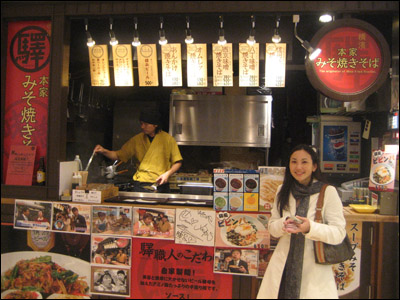 Umaya
They are famous for their Miso Fried Noodles, which I loaded up with all the toppings I could get my hands on (including Nori, Katsuobushi (dried tuna), Sansho (Sichuan pepper), and Black Pepper)!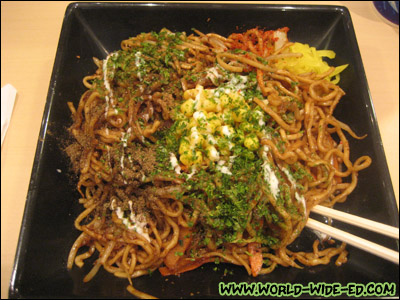 Miso Yakisoba (Fried Noodles) from Umaya (with my bevy of sprinkles!)
The next day, we headed to Ueno to check out the popular Ameyayokocho shopping street.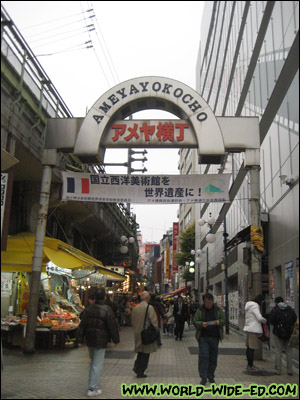 Ameyayokocho, also known as Ameyoko, in Ueno
This area is good for buying snack-type omiyage or produce if you were gonna whip up something yourself at home. We walked by a fresh fish/sashimi type street stand that seemed to be getting a lot of action Jackson. Perhaps, if it were lunchtime we would've checked it out, but, ah, next time!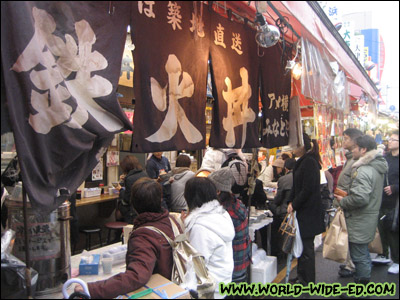 The line at a popular sushi/sashimi stand in Ameyoko
Next stop: Sensoji Temple in Asakusa.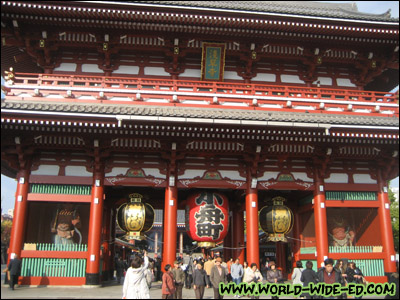 Sensoji Temple in Asakusa
The path leading to the temple is full of vendors selling anything from gifts, to good luck charms, to food.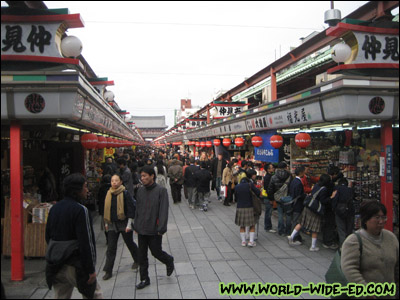 Mall leading to Sensoji Temple in Asakusa
We ate our share of fresh snacks like kinako mochi on a stick, fresh senbei (cooked right in front of you) and red bean manju in the shape of birds.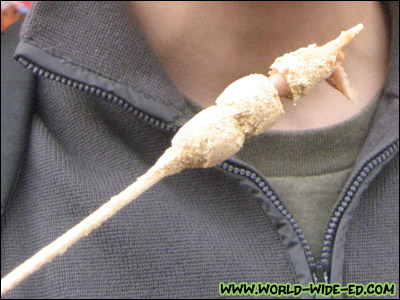 For lack of a better name, let's call this one mochi-on-a-stick. 😛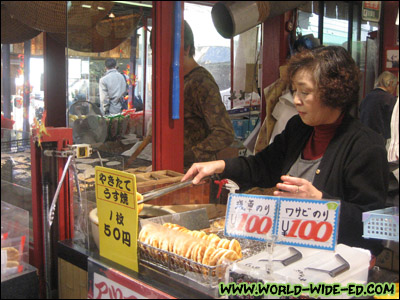 Frying up fresh senbei and dipping it in their shoyu-sugar base. YUM!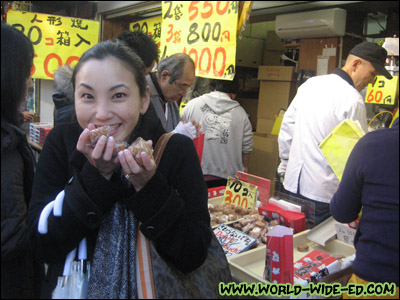 Wifey got her hands on all the warm, an filled manju
Then it was back to Ginza for a kushikatsu restaurant recommended by pops. To kill time, we did more browsing/shopping and ended up at a neat, little Tea Lounge on the top floor of Ito-Ya (a popular paper/pen/office supply type store).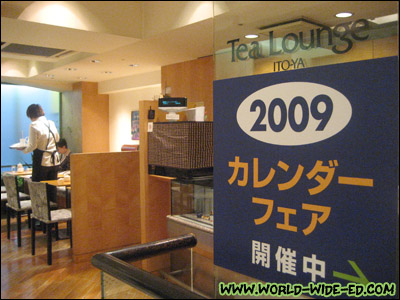 Ito-Ya Tea Lounge, Ginza, Japan
There, we rested our bones from the day's travel, next to a hot (and cold) cup of Joe, er Tea.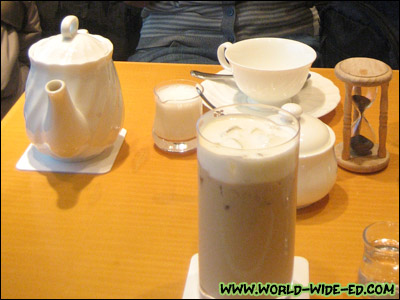 Hot and Cold Tea from Ito-Ya's Tea Lounge
And that concludes Part I yo. WHEW!
Sorry, but there are CHOKE photos from the kushikatsu restaurant, so you're gonna have to wait for those in part II. *grin*
Talk to me!
* Been to any of these hotspots yourself?
* How were your experiences there?
* Gonna check um out next time you go to Japan?
* What are the "must-trys" at the places I went to so far, but missed?
* Did I make you hungry yet? 😛
Happy New Year y'all! Hope you're still holding strong by your resolutions this, what, 4th day into the new year. 😉 Shoots!