And… we're… back. I know, I know, it's been a while since part one, but no get all habuts. Takes long time fo put this together you know. 🙂
We last left off sipping tea at Ito-Ya, waiting for the pops-recommended, kushikatsu joint to open up (opens at 5PM). When the clock hit 5, it was time to head over to Isomura's in Ginza.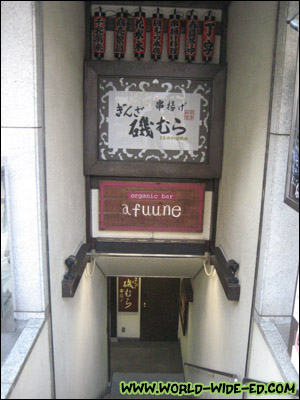 Isomura's in Ginza
The general concept of kushikatsu is that you get a variety of food items, battered up, deep fried, and served to you on a stick (kushi). The secret, according to pops, is to go right when they open, as they have a happy hour special: 12 courses (items), beer, soup, rice, tea and dessert all for X Yen. Hehe, sorry, I don't remember how much it was, but I believe it was around $20 U.S.
The jubilee of choices came in the following sequence:
Beef
Shi-wrapped Shrimp
Shiitake Mushroom
Scallop
Snow Peas
Corn
Asparagus
Shrimp/Prawn
Pork
Bacon-wrapped Potato
Tofu
Fish Eggs
Here's a lil' preview: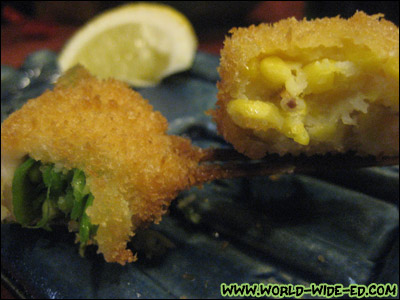 Snow peas and corn kushikatsu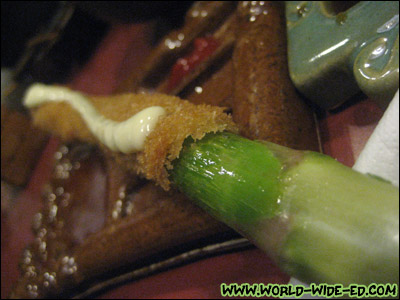 Biggest, deep fried asparagus you've ever seen!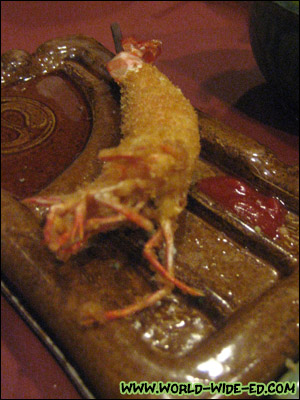 Prawn kushikatsu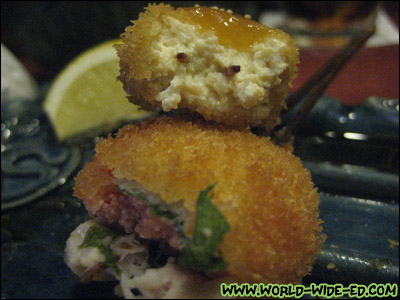 Tofu and fish eggs kushikatsu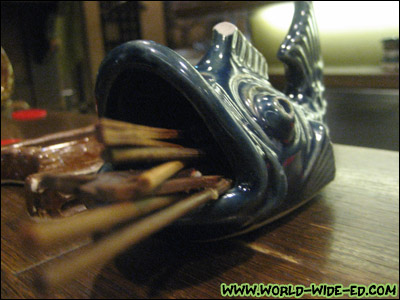 You put your stick in the fishy's mouth after your done. We did some work son!
The next morning, we tried the other breakfast buffet option in our hotel, Taronga.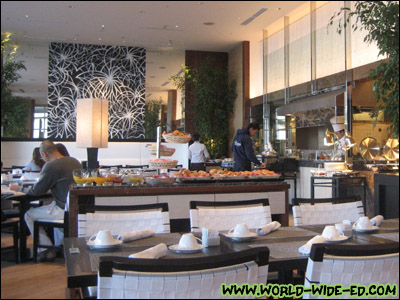 Inside Taronga Grill and Wine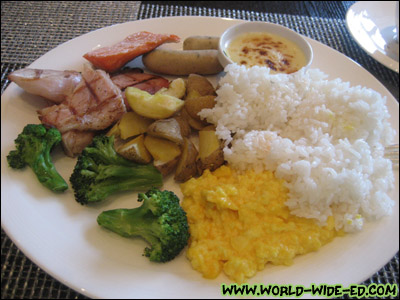 My plate full o' goodies
The atmosphere and food choices seemed a little higher scaled, but the options weren't as plentiful. If I were to choose one, I'd stick with Ocean Dining.
With our fill of the Tokyo/Odaiba areas, it was off to adventure the rest of this beautiful country. We headed to Nagano, whose specialty is soba.
Since we were in the mood for rahmen yet again, we combined our hunger with Nagano's finest and found a little shop that served soba, rahmen style.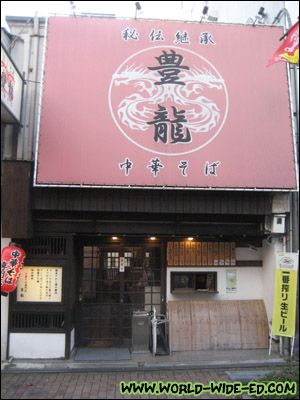 I wish I could read kanji better so I could tell you the name of this place. 😛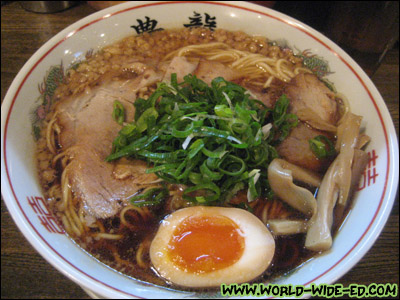 Char siu rahmen soba
Some city browsing/touring followed and, on the way back to our hotel, we came across this neat little restaurant called Mountain Q Hawaiian Diner. Yep, that's right, "Hawaiian" food in the middle of Japan.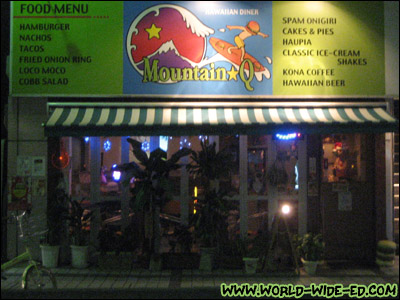 Mountain Q Hawaiian Diner
Inside Mountain Q was real kitchie (sp?), with your typical hula girl and grass skirt-type decorations, but the most interesting thing was eating "SPAM nigiri" (instead of SPAM musubi) while listening to KSSK on the radio.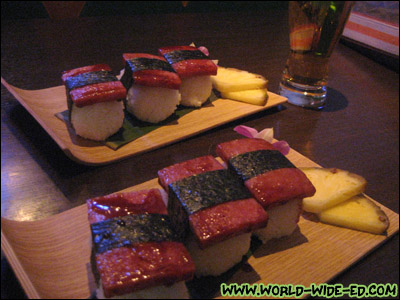 SPAM Onigiri
The next morning, we woke up early to go check out what Nagano is also famous for: Oyaki, a baked, almost mochi type shell, stuffed with veggies. On the way to Zenkoji temple, you will find this town's popular oyaki shop on the right hand side.

Popular Oyaki Shop in Nagano
Inside, there is an omiyage area, where you can buy your oyaki to go. In the back however, is where the magic happens… the area where they actually make the oyaki over an open fire. This is where we had to be.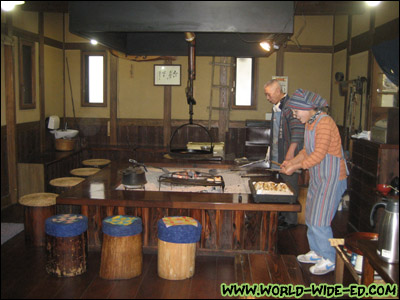 Where the oyaki are made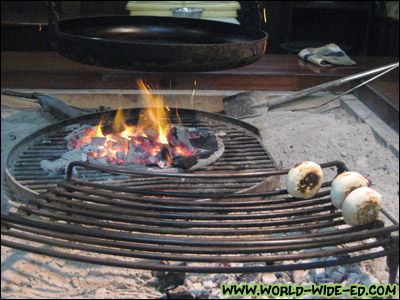 Flames for two cooking spots, one to cook the flat sides, and one to cook the edges
The family seemed to take a liking to us, as they fed us a complete meal (soup and tea) with our oyaki, and they also offered to teach us how to make them ourselves (a class usually reserved for special days).

Our oyaki meal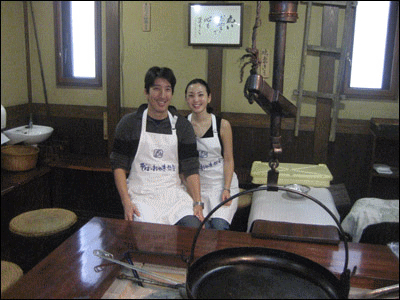 Us gettin' our oyaki on
Then it was off to another town in Yudanaka for more adventures. We stayed at Ryokan Biyunoyado (Yudanaka View Hotel), an excellent Western style Ryokan (onsen hotel) in the middle of a town known for onsens (hot springs).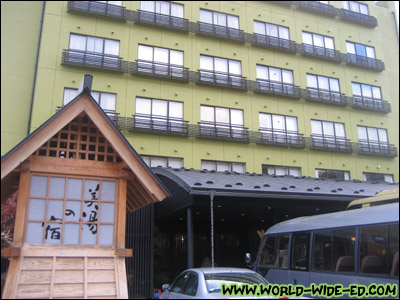 Yudanaka View Hotel
That evening, we were treated to the hotel's inclusive dinner, which included soup, sashimi, soba, saba, buttered beef, mushroom (straight from the bark!), fresh fruits (Nagano is also known for their apples), sake, and the local beer Shiga Kogen Pale Ale.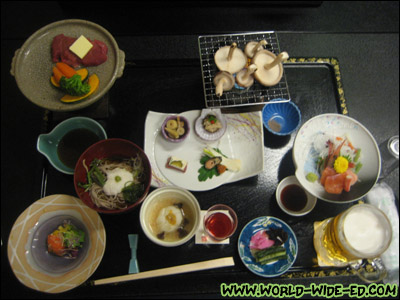 Our Spread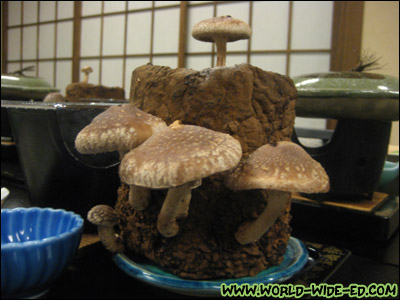 Mushrooms, as fresh as you can get. Nuts yeah?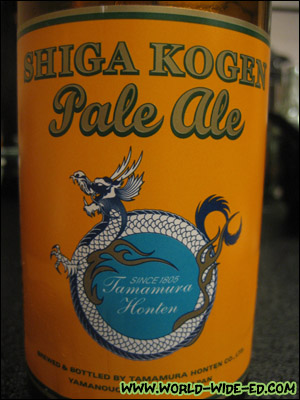 Shiga Kogen Pale Ale
The next morning, we had breakfast at the hotel as well, which included miso soup, salad, ham, eggs, salmon, udon, and fresh apple juice.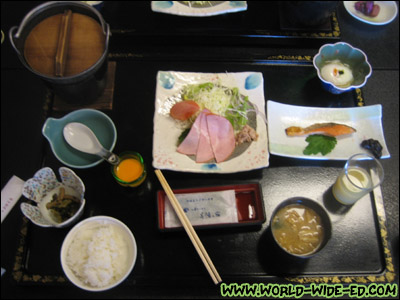 Our morning spread
To leave enough for part 3, I think we'll end it here… But before we go, here's a parting shot from Yudanaka's famous monkey park. Yep, sending you off with a little monkey bidness. 🙂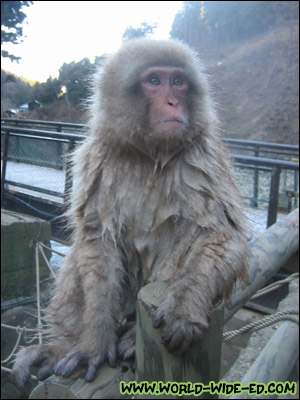 Monkeys from Yudanaka Monkey Park
Have a fun day Monday y'all!